Recruitment is the process of identifying and attracting potential resources who can assume the vacant positions in your organization. You will need to identify which position(s) is vacant, analyze the job requirements review applications, screen, shortlist and interview potential candidates who might be the right fit for the job.
Out of the several candidates who will have applied, you can be assured that all of them are qualified. But the real challenge is to find candidates who are also the right fit for the workplace culture in your organization.
Importance Of A Strong Recruitment Process
Any good recruitment process is targeted at extremely well-qualified candidates and encourages the maximum number of job-seekers to apply for the position. This makes it easier for you to build a pool of talented candidates who can meet the current and future requirements of your company, as well as selecting the one(s) who will be the best fit for your workplace culture.
A strong recruitment process will help your hiring team to filter the right candidates and minimizes the time and effort taken to find the eligible candidates. The recruitment process doesn't just reflect on your organization's professionalism; it also helps to save the money spent on identifying, attracting, engaging and recruiting and retaining talent in your company.
What Goes Into The Recruitment Process?
An effective recruitment process is a step-by-step approach to bringing in talented and qualified people who will help the company grow further. It is aimed at finding the right fit for the right job at the right time. The perfect recruitment process is all-inclusive and goes through 5 phases of recruitment, but this might vary depending on the structure and size of your organization, existing work-force and workflow, selection process and nature of operations.
Steps In Recruitment Process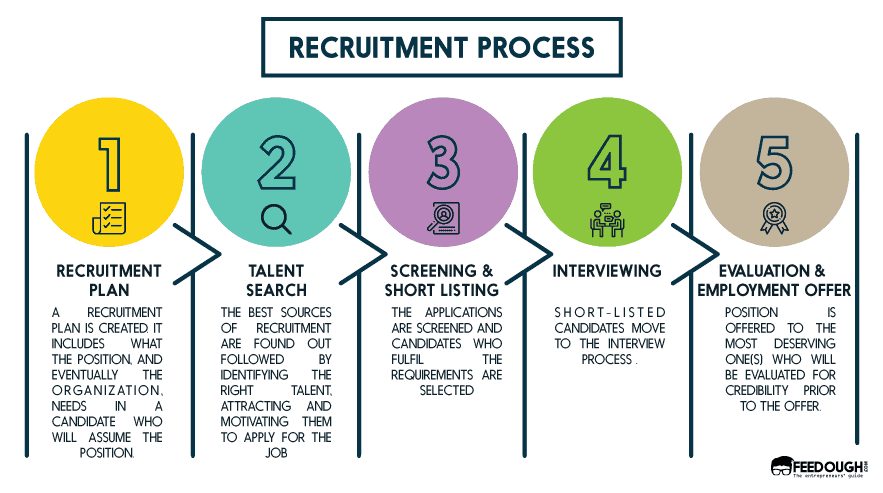 The process of recruitment undergoes 5 inter-related steps in order to find the perfect fit for your organization. They are:
Creating a Recruitment Plan- If a job opening has been newly formed, or vacated recently, it is important to find out what the position, and eventually your organization, needs in a candidate who will assume the position.
Talent Search- Finding the best sources of recruitment, identifying the right talent, attracting and motivating them to apply for the job help you bring in a fresh perspective to your organization.
Screening & Short-listing- In order to zero-in on the right candidate for the job and move along with the recruitment process, it is important to effectively screen your candidates.
Interviewing- Short-listed candidates will move to the interview process after which you will determine whether the candidate is to be offered the job or rejected.
Evaluation & Offer of Employment- Once you have screened through all the potential candidates, you will have to offer the position to the most deserving one(s) who will be evaluated for credibility prior to the offer.
Creating A Recruitment Plan
The first step in the process of recruitment is creating a recruitment plan. Your recruitment process should start with identifying which job positions and analyzing the job specifications, including the amount of knowledge, skills and experience required for the vacant position. Here are a few ways that can help you determine your hiring needs-
Check whether your current work-force has any gaps that need to be filled. Ask yourself and your current team whether there is a situation at work that is not yet being addressed. If there is a need for a fresh perspective, performance, personality, talent or ability, chances are that there is a hiring need.
Keep a track of input versus output when it comes to your team. If there is an increase in the workload that can be solved by hiring, you may do so.
Analyze the performance of your team and list down the qualities and skills that might make a positive difference in the organization.
Be mindful when an existing employee is being promoted or leaving so that you'll know when you need to hire new talent.
Preparing The Job Description
The next step in the recruitment plan is preparing a job description that will help you understand what skills and experience your potential employees must have in order to qualify for the job opening. It also helps potential candidates make a check-list to determine whether they'd be right for the job. Good job description includes:
Company name and description
Core values of your organization
Benefits you offer
Location
Job title
Department
Industry pay
Description of duties
Skill-set, experience, knowledge and training required
Qualities that will make a difference
Do's Of Job Descriptions
Keep it short and simple
Be specific
Use the right keywords
Use bullet points if possible
Keep the tone conversational
Provide enough details
Don'ts Of Job Descriptions
Don't use too much text
Refrain from too many jargons or heavy words
Do not gloss over the challenging aspects of the job.
Talent Search
Candidates for the job opening(s) can be internally or externally sourced. Talent search is one of the most important parts of the recruitment process. It helps generate referrals internally, as well as externally on social media and job boards.
Internally Sourced
When you use internal sources of recruitment, it motivates your current employees to be more productive and maximizes job satisfaction. Recruiting through internal sources reduces cost and effort.
Transfer- You can choose to recruit from within your organization by transferring your employee(s) from one department to another, if they are better suited for a different position.
Promotion- You can choose to promote an employee with high-performance rates to take over a senior position in the organization.
Demotion- Depending on the performance and demand for workforce, employees could sometimes be moved to a lower position.
Job Referrals- The employees in your organization can create a buzz on their social media accounts to generate job referrals for the vacancy.
Retired Employees- Sometimes, if there is an urgent need or emergency, a retired employee can be called to fill in for a vacancy for a short period until someone else can step in.
Previous Applicants- Candidates who applied previously, but did not make the cut can be reached out to when appropriate job positions open up.
Externally Sourced
Recruiting from an external source can offer you a much wider scope of selection from a large number of candidates.
Advertisements- Advertisements, whether they're digital or in print, help create a strong brand identity and attract efficient manpower.
Job Portals- With an increase in the use of the internet, you can also list job openings on job portals where those seeking for jobs and better opportunities provide you with a great way to tap into industry talent.
Company's Career Site- A career page on your company's website can help those interested in your organization to apply for vacant positions.
Social Network- Social media is the best place to look for potential employees these days. It is a great way to look for industry talent, as well as attract job seekers looking for opportunities.
Job Fairs- Job fairs offer access to a large pool of talent and help you create brand awareness and build a brand identity, all while also saving cost, time and effort.
Campus Placements- Recruiting young students who are enthusiastic and energetic can bring in fresh perspectives.
Screening & Short-Listing
This is where the recruitment process can get a little challenging. Almost all candidates who have applied for the job are well qualified. So how can you zero-in on the right candidate(s)?
By screening applications based on the minimum education requirement.
Sort resumes by selecting the candidates who have the qualifications, skills, experience and expertise in the relevant field.
Then shortlist candidates who have both the minimum qualifications and requirements.
Finally, make sure that you mark any possible queries or clarifications that you might want during the interview rounds.
Interviewing
Depending upon the size of your hiring team and unique requirement needs, more than one interview can be scheduled for the candidates who have been selected. Interviews were traditionally done face-to-face and usually still are, but with the growth in the use of internet and more companies employing candidates from different cities or due to time constraints, interviews are also done via telephone and video calls.
Sometimes, you can also choose to schedule a personal interview after a telephone or video screening, for a final evaluation before you can make a job offer to the candidate(s). This privilege is only extended to candidates who particularly stand out during other phases of the recruitment process.
Evaluation & Offer of Employment
Even after selecting the final candidate(s) who might be the right fit for your organization, you can't be sure that they will accept the offer of employment that you make them. However, before you can make an offer, it is important to evaluate the credibility of your chosen candidate(s).
Before drafting a contract, make sure that the candidate's professional references are credible and that the information that they have provided in their resume checks out. While drafting a contract and offer letter, it is important to include the details such as work hours, compensation, work conditions and salary. Ensure that the details are clear and specific.
What Comes After The Recruitment Process?
The recruitment process doesn't always end with hiring the candidate. When a new employee is hired, it is natural for them to feel awkward and out of place initially in a completely new workplace environment. As an employer or a senior employee, it is up to you to make them feel welcome in your organization, not only by showing them around but also by making a few special arrangements like a team lunch or dinner to break the ice and talk about things that are not related to the workplace.
Bottom-Line?
A good recruitment strategy will help your organization to not only save cost, time and effort that go into hiring new employees for a vacant or a new job position but also help you choose the best out of the candidates who have applied for the position. This will ensure better job satisfaction and work performance rates that can help your organization grow.
Go On, Tell Us What You Think!
Did we miss something?  Come on! Tell us what you think about our article on the recruitment process in the comments section.
A literature enthusiast, an avid reader, a blogger and an experienced social media marketer. She loves to travel whenever she can and has an eye for all things aesthetic.