"Guess what, my day just got made – I received this fabulous cold email!"
…said no person ever.
Whether you're a new SaaS startup looking for corporate clients to sign on or a content writer pitching your skills to magazines, cold emailing is a crucial part of getting your business up and running. It can be the most disheartening thing in the world to keep sending out emails and getting no response, but you keep on doing it.
Because you have to.
Let's get the harsh truth out of the way — Your prospective clients aren't interested in your emails.
Your clients are likely busy people with jobs and responsibilities, and getting yet another cold email in an already-full inbox is not their idea of a mood-booster.
Here's the thing, though. It is possible to use cold emails to get people's attention.
It is possible to score meetings, close deals and land contracts with cold emails.
And no matter how fancy you get with social media, cold emailing done right remains the best way to get real leads that convert into real sales.
Interested in nailing the art of the cold email? We've put together the perfect guide for you.
What Is Cold Emailing?
A cold email is simply an email sent to a potential customer with whom you currently don't have any connection.
It's less intrusive than a cold call, in that you're allowing your client to read your email at a time of his or her choosing.
But in every other way, it's like a one-on-one conversation.
A cold email is typically sent from one business to another with the purpose of starting a conversation. While the underlying objective is usually to make a sale or some other form of conversion, it could also be a request for assistance – to ask for an introduction to someone else, for instance, or to pitch an article for publication in the recipient's blog/magazine.
Is Cold Emailing The Same As Spam?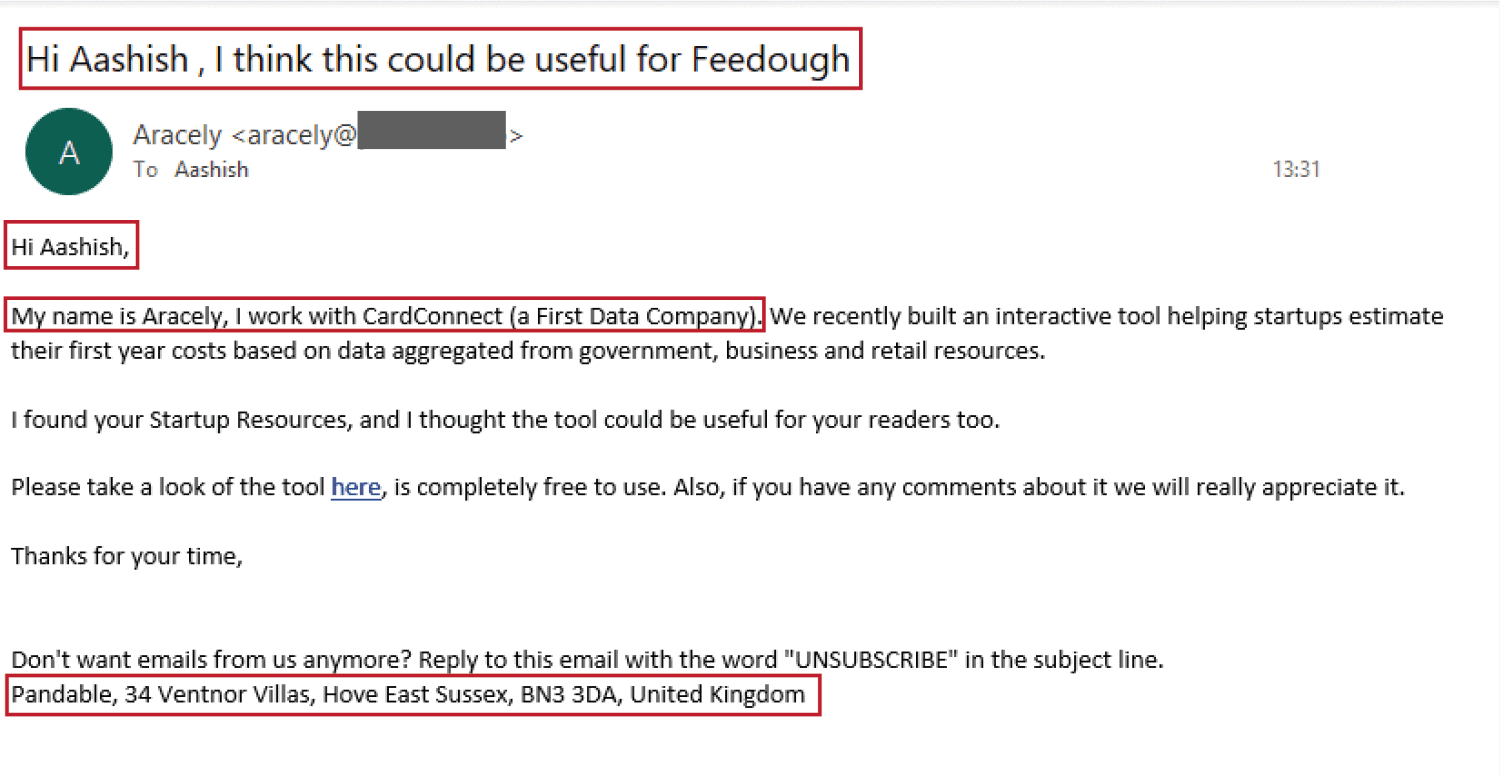 The biggest question people ask in the context of cold emailing is – "Is it spam?"
It might surprise you to know that cold email is actually the opposite of spam.
Here's how.
Spam, that bane of mailboxes, has some common features.
It has a generic sales message.
It uses a fake name.
It has a misleading subject line.
It doesn't include the sender's contact information.
It always has a commercial motive.
These stand in direct contrast to the features of a cold email.
It has a specific message tailored to the recipient.
It uses a real name.
The subject line is accurate.
It always includes the sender's contact information.
It may not necessarily have a commercial motive.
A spam mail is basically a mass email sent without taking the recipient into account. A cold email, on the other hand, is designed specifically with the recipient in mind.
How To Craft The Perfect Cold Email
You could have the best writing skills in the world, but it won't get you anywhere unless you have a solid list of leads to send your emails to. Sales representatives call this prospecting – which is essentially the act of seeking out new customers for your business.
Prospecting can be tough given that businesses often start with no existing leads or contacts – 40% of sales representatives say, in fact, that it's the hardest part of their job.
We've got you covered, though! Read on to know about targeting and segmenting (the two elements of prospecting), as well as some solid tips on crafting the perfect cold email.
Targeting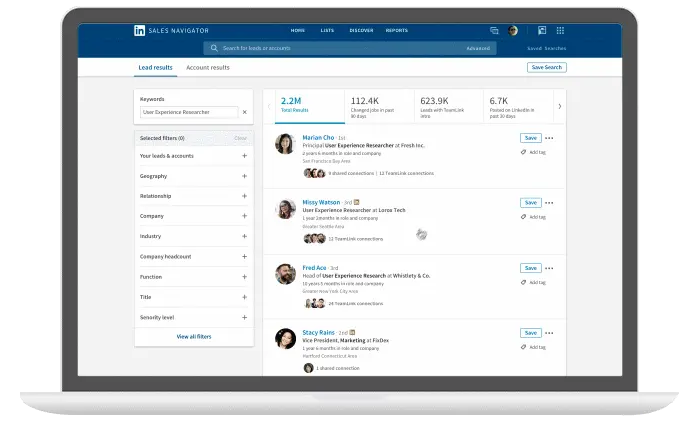 This is the first part of prospecting, in which you build up a lead list of potential clients with whom you are likelier to close deals. Rather than trawling through your team's LinkedIn profiles for possible names, however, use these tried-and-tested tips to build your list.
Use tools to help you find relevant contacts and companies. Tools like LinkedIn Sales Navigator help you build lists based on specified criteria, and also get you the email addresses of the leads.
Find the prospects your competitors are targeting. These prospects already have an interest in the type of product you offer, and they're also interacting with your competitors. Tools like Smart Lead List can help you reach out to these prospects and make your own pitch to them.
Search for companies that use a specific technology. For instance, if you're targeting companies that use Hootsuite, use tools like SimilarTech or WhatRuns to find companies using Hootsuite.
Segmenting

This is the part where you divide your overall lead list into segments based on industry, geography, job title, mutual contacts etc. Segmented email campaigns have a whopping 100.95% click-through rate (CTR) than non-segmented campaigns, so there's a clear reason for you to give this step due attention.
Creating
Now that you have your leads segmented and in place, it's time to start writing your emails!
Like any good piece of writing, cold emails should go through at least a couple of drafts before you send them out. Take your time with composing something that is brief, outlines a clear value for the customer and lets them know how to reach you. Keep the following best practices in mind when you are composing your emails.
Use a crisp, accurate subject line – 47% of emails are opened or ignored based on their subject line – so make sure you pick a good one. The best email subject lines are short, crisp and eye-catching – for instance, "2x your inbound leads like XYZ Company". Generic subject lines such as "Can you chat?" get ignored 98 out of 100 times, so avoid them. Above all, don't use misleading subject lines of the sort that go 'YOU'VE JUST WON A FREE IPAD!!!!' They're a one-way ticket to your recipient's block list.
Personalise as much as you can –While this might be a little tough if you're emailing a mass list, you should at the very least address the client by their first name. Personalised emails have a 29% higher open rate and a 41% higher click-through rate, so take the time and compose a mail as though you're talking directly to John, Sarah or whoever your client is.
Keep your personal information for the signature – Nothing ticks off a potential client as much as receiving yet another email that goes 'Hi, I'm John from XYZ Company'. That's clearly a sales pitch opening, and your email will end up in the junk folder faster than you can say 'hold on'. Instead, create a smart, professional-looking email signature with your name, company, designation, phone number and a photo. That way you can free up the body of the email for your message – and you can show the recipient that you're a real person and not a spam bot!
Keep it short – Please, now is not the time to show off how beautifully you can craft sentences. Get to the point and say what you need to say if you want any chance at converting this lead. If you really must give your recipient a virtual tour of your business, include it as an attached brochure or video clip that he or she can open at their leisure.
Include a specific request – Do you want the client to share his or her phone number for a talk? Ask for it and suggest a date and time for a call. Are you looking for their response in a survey? Say so and include the link to the survey. Do you need the contact details of other leads from them? Ask for it. All too often cold emails get so caught up in formalities and explanations that the client ends up missing the point. Include your request in a clear, direct and polite manner, and cut the fluff out.
When To Send Your Cold Email
You've targeted and segmented like a pro and crafted a cold email that's a work of art…and it never gets opened.
It could, of course, have been deleted or ignored – however, one major reason cold emails don't get opened is that they were sent at the wrong time. While people do tend to check their email off and on throughout the day, there are certain times at which you're likelier to get a response. Based on an analysis by LeadCandy, here are the best times to send out your emails.
In North America:
Weekdays – 6:00AM-6: 30 AM PST
Weekends – 5:00PM-7: 00 PM PST
In Asia:
On all days – 10:30 AM-11:30 AM, 2:30 PM-3:30 PM, 8:00 PM-9:00 PM IST
Schedule your emails to be sent out within this window and see whether there's a noticeable uptick in open rates. You should, of course, experiment around these time frames and see what's working best for you.
Following Up On A Cold Email
This can be as nerve-wracking (or even more so) than the process of sending the original email. Questions commonly asked include – how far apart should I send follow-ups? What do I write in a follow-up email? Should I even follow up in the first place?
We'll answer the first question right away – yes, of course, you should follow up! Around 80% of cold emails need 5 follow-ups after the initial email, so there's no question of giving up after just one try. It's quite likely that the recipient overlooked your email the first time or simply forgot about it. A follow-up also acts as a gentle nudge that shows the recipient that you're interested in hearing from them.
There are a few things you should keep in mind when planning a follow-up email.
Include an opt-out option – First off, give your recipient the option to not hear back from you. Instead of using the 'unsubscribe' button, which comes off as a little cold, add a line towards the end of your email that goes something like "Please let me know if you are not the right person to contact for this." That way, you don't bother someone with emails they don't want, and you can devote more time to searching for the right leads.
Keep the tone conversational – Don't add accusatory sentences like 'You didn't respond to my last mail'. Keep it friendly and casual. For instance, you could say 'Just thought I'd check in again to see whether you had a chance to go through the offering I shared with you last week'. Follow-up emails shouldn't be information-heavy at all – they're designed to act as a nudge, not to be a new sales pitch.
Send follow-ups a week apart – Daily follow-ups are annoying, intrusive and highly likely to get you blocked. Allow a reasonable amount of time to elapse before you send a second email. A week is usually good enough to allow for your recipient to get back to you. In case the first follow-up doesn't elicit an answer, you can send a second one a week later.
Consider sending a final 'thank you' email – If a fifth or even a sixth follow-up doesn't get you a response, it's likely your recipient isn't interested in what you have to offer. A good way to sign off is by sending an email that thanks them for their time and informs them that they won't be receiving any further emails from your end. Always include your contact information in such a mail, so that the recipient can reach you if he or she has a change of heart.
Testing, Testing
There's a reason cold emailing is so tough to get right. You can't just pick a strategy and assume it will work! It's critical to test each and every email campaign you plan so as to maximise your chances of making it work. Keep the following tips in mind when you're testing your next campaign.
Preview and proof your content – Your email may look a certain way when you're drafting it and a different way in the recipient's inbox. Make sure you preview each email to check that the alignments, picture sizes, spacing and other elements are exactly right.
Test on multiple email accounts – Send your email to test accounts on Gmail, Hotmail, Yahoo and other mail servers to see whether it appears optimally on each of them.
Make sure your content is mobile-optimised – Most people check their mail on their phones while on the go, so make sure all your content loads easily on a mobile screen.
A/B test each aspect of your email – Sometimes little things like your font size or call-to-action can make all the difference, so remember to A/B test for everything! Have a sample size of at least 200 for each version so that your results are statistically significant. Some of the things you can test for include font, link formatting, colours, button sizes, date/time of delivery etc.
Our Favourite Tools
Cold emailing doesn't have to be a game of darts! There are plenty of tools available to help you out with different stages of your email campaign – pick the ones that make the most sense to your needs.
Some Cold Emailing Best Practices
We've curated handy tips and tricks from some of the best cold emailing practitioners out there, and, here's what they have to say.
Don't use your primary domain – Despite your best efforts, your recipients could mark your cold emails as spam. Too many of these cases and your domain could get flagged as spam, which would cause even non-cold emails to bounce. Instead, purchase a handful of domains related to your primary domain and use them for your cold emailing campaigns. In addition, avoid using .com domains as they are the likeliest to be marked as spam.
Don't use too many images – Most spammers send out emails heavy in images because they can sneak links into the pictures. Such emails, therefore, are likely to be sent straight to spam. MailChimp recommends that you aim for an 80:20 text to images ratio.
G-Suite is your best bet for cold emailing – G Suite allows you to create email addresses based on the domains you purchased and send them out to cold emailing prospects. They're also pretty strict about you sending out emails 'like a human', so stick to the daily limit of 200 emails per day if you want to avoid getting blocked as spam.
Pace out the emails you send – Don't get over-excited and send out emails in a blast – the more emails you send out at one go, the greater the risk of getting flagged as spam. Revise your email platform's settings to pace out your sending rate to about one email every 20-30 seconds. You can also use tools like Yesware that do the job for you.
Cold Email Examples To Learn From
Ultimate guides notwithstanding, the best way to learn is from real-life examples. While there are millions of mediocre or cringe-worthy cold emails sent out every day, some individuals have honed their cold emailing craft to master-level. Have a look at some cold emails that generated major business from their recipients by checking all the right boxes.
The one that nailed a contract worth $3000
Too often, businesses underestimate the power of giving value to their clients for free. And sure, it requires extra effort and may not always yield results. On the other hand, it's also likely to earn you major deals with high-profile clients, like this email did:

This short but powerful email does all the right things:
It establishes that the sender is an existing customer of the client.
It mentions a major competing brand.
It provides social proof of the sender's work.
It includes a distinct offer value for the client in the form of a demo.
It closes with a direct question, heightening his chance of getting a response.
The next time you're emailing a big-league prospect, try devoting some extra time to create something especially for them. It's bound to earn you at least a call-back.
The one that scored 1.5x more meetings than personal introductions
When you're selling a product that requires installation to be demonstrated, it can be tough to nail meetings. But craft an email that's personalised to solve one recipient's problem and you're well on your way to success. Take this email, for instance, about a debugging technology:
This message sets itself apart in several ways:
It gets to the point right away with a short introduction about what the brand does.
It links the recipient to the Scala-focused webpage as the recipient is a user of Scala.
It mentions the recipient's existing projects, demonstrating awareness about what the recipient does.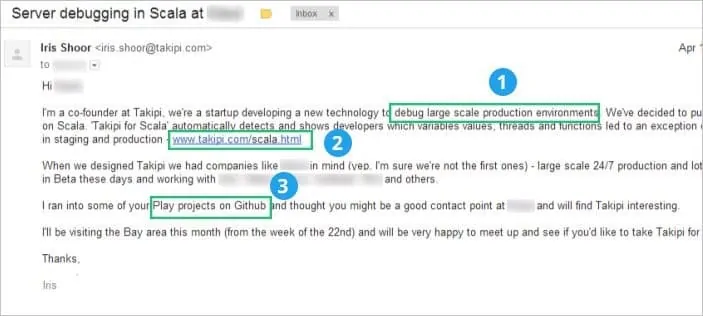 Lesson to be learnt – write an email that shows how you can provide a solution specifically for your recipient. That way, they have a concrete reason to call you back.
The one where the picture does the talking
When can you skip the intro in a cold email? When you want to grab your recipient's attention right away. In this email, the sender jumps straight into showing where he can add value for the recipient.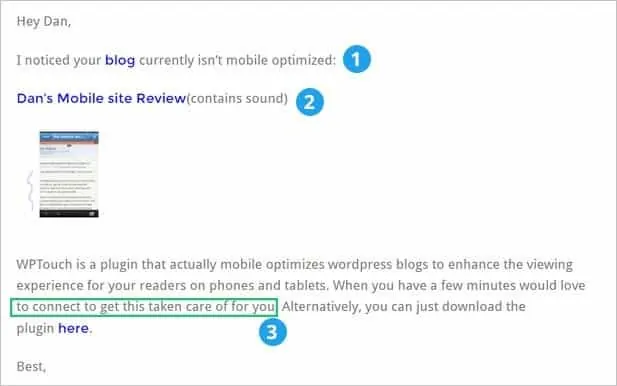 So why does this email work?
It ditches the intro in favour of calling attention to a clear problem the recipient is facing – in this case, a blog not being optimised for mobile.
It demonstrates exactly where the problem lies through a visual presentation.
It points out that the sender can solve this problem for the recipient if they connect.
The golden rule – show, don't tell!
The one that keeps it simple
Sometimes, you can skip the catchy lines and fancy add-ons and still score a $15000 project – like this gem here: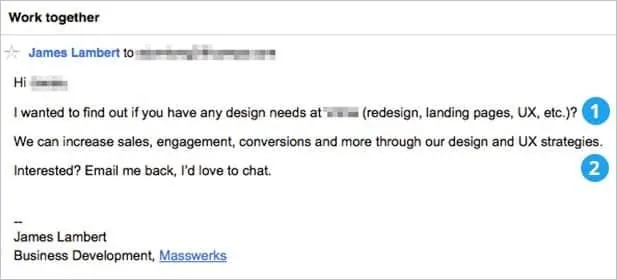 At first glance, this looks fairly ordinary. But a closer glance reveals the genius behind it.
The sender, Messwerks, is targeting businesses that have already taken off and are now looking for ways to optimise their websites. So the services being pitched – UX and redesigning – are highly relevant ones.
It emphasises what Messwerks can do for the recipient – every business wants more conversions!
It ends with a crisp invitation to chat. No fluff, only business – a clear indicator of how committed the sender is.
The bottom line – do your homework on the client you're emailing and offer them exactly what they're looking for. And you don't even need fancy one-liners!
Go On, Tell Us What You Think!
Did we miss something?  Come on! Tell us what you think about our article on cold emailing in the comments section.
I'm always up for a party. In a library. With unlimited brewed coffee. And Chopin on the playlist.