Whether you are an employee, an entrepreneur or a blogger, a working professional, or one aspiring to be one, writing good professional emails is an essential element of your business communication skills. With the complexities of English grammar and the ever-increasing busy schedules that people have these days, garnering people's attention and making them read what you have to say is no cakewalk.
So here's the ultimate guide teaching you how to write better business emails and some mistakes that you should avoid in the same.
What Are Business Emails And Their Types?
A business email is one that you compose when corresponding with colleagues, clients or other people connected to your line of business. In simple terms, a business email is simply an email that is sent to carry out a transaction or conduct business, such as attending a meeting, sending someone an invoice, networking with new people etc.
Business emails come in several types, some of which are more formal than others. Depending on the context, recipient, and motive, a business email can be considered a cold or warm email.
Cold Emails
If your email is sent to someone you don't know or haven't done business with before (or ever met), it is termed as a cold email.
This type of email requires the writer to include all relevant information for their message to be understood clearly and without confusion. Cold emails are often related to requests for a particular transaction or have a specific purpose. For example, an email sent to a prospective client (who probably doesn't know you) asking for their business is considered a cold email.
When such an email is sent as part of the marketing process (such as sending out mass newsletters), it's also referred to as a 'cold marketing email. They're called 'cold lead emails when they're sent to try and secure new business opportunities.
Warm Emails
A warm email is sent out to someone who knows you or has contacted you before.
This could be a current customer of yours, a co-worker or even your boss. Warm emails are usually briefer, less formal and only include the key information needed to know without any unnecessary details.
For example, if you are attending an important meeting with your manager, after which you would be discussing your promotion within the company, the email can be kept brief and to the point by stating what you want (the promotion), the reason why you deserve it (because of your good work in the past) and when you would like to meet (after the meeting).
The Components Of A Business Email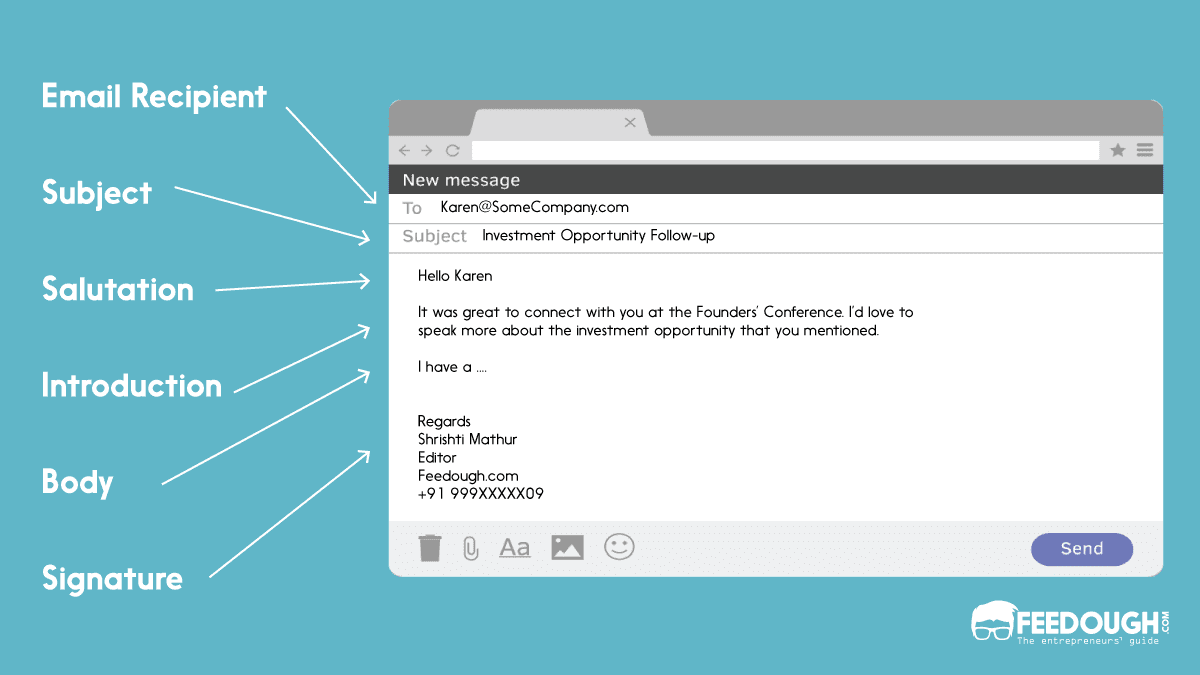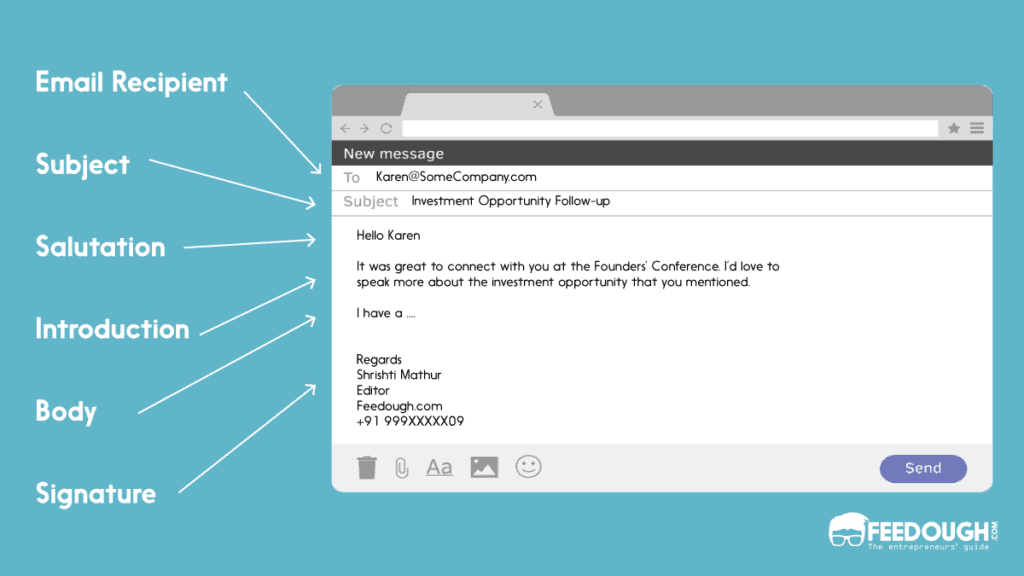 Most business emails tend to contain certain elements. If these are not included, the email may not achieve its goal, and that would be a waste of your time and effort. Some of these elements you must have in every business email are:
Subject
Every business email requires a subject. It is a kind of title or identifier that will make the reader open up the email. The subject should be simple, relevant and command attention. For example, if your boss sends an email to update everyone about the company meeting, the subject would be 'Company Meeting'.
It may also include a colon, after which you can add additional information that you feel is important to get across. For example, if you are working on a project with multiple people involved and want to inform them about some changes applied to the plan, then 'Project Status: New Changes' can be added as a subject.
Salutation
Salutation is the phrase used to address the recipient in the business email. The salutation should be formal and courteous, depending on who your email is addressed to. For example, if you send an email to your superior, your salutation should be 'Dear Mr De Silva' or 'Dear Sir'. If it is to a client or someone not directly associated with the organisation, 'Dear Valued Customer' would suffice.
Body And Structure
Most business emails are formal in nature. As such, they require a formal structure that will enable the recipient to respond accordingly. The most common structure used is IBC (Introductory Message, Body and Closing)
Introduction: This section briefly mentions who you are and how you know the recipient. For example, if you are introducing yourself as a new staff member, 'I am the new marketing executive' can be used as your introduction. You can also indicate why they should read the email. For example, 'I am sure you will be interested in this information or 'This may interest you'.
Body: This section contains the main part of the business email. You have to write it concisely and precisely so that the recipient will be able to understand it quickly rather than reading through a rambling paragraph. Include everything you want to say without any unnecessary details. For example, if you want to request a business partner for a business proposal, start with 'Request you to send the business proposal so..'.
Closing: In this section, you respectfully request what you want from the other person. You can also indicate that you expect a reply if they have any questions or concerns regarding your request. For example, 'I hope that I'll hear positive news at tomorrow's meeting and look forward to working with you in the future.'
Signature
This section includes your name and contact information. If the email is formal, it should also include your job title and designation. For example, 'Rasha Al-Najjar – Personal Assistant to Mr John Smith.' You can also add your contact details such as email address, phone number and mailing address to the signature.
Eight Steps For Writing A Great Business Email
If you are new to writing business emails, it is advisable to follow the eight-step below:
Identify your purpose: Before you start to write the business email, identify the purpose of it. Is it a request, an invitation? If possible, summarise your purpose in about two sentences. This will help you to stay focused and include only what is relevant.
Study your recipient: You should target your email only to the person you are addressing it to, not to the masses. You do this by studying your recipient. Who are they? What are their interests and behaviours? This stage is crucial because it helps you to connect with your reader on a personal level. You can even try to identify any mutual connections or friends in common. This way, you can mention them briefly in the email to personalise it. Also, check the recipient's profile on social media sites like LinkedIn. This will give you an indication of their age group and interests. It is not wise to include words they may not understand, especially if they are from a different generation.
Write the subject line: In business, the subject of your email is very important as it sets the tone for what's inside. A poorly written or vague subject will lead to confusion and possibly a misunderstanding on the part of the recipient. Keep your subject short and place the most important words in the beginning. Also, make sure that your subject line doesn't sound spammy as the recipient may delete your email without even opening it.
Address your reader: Like any other communication, you must address your recipient correctly. Make sure to use the proper salutation (i.e., Dear Sir, Hello Mr Smith) and avoid using phrases like "To Whom It May Concern" or "Dear Miss, Dear Mister". If you want to be formal even without knowing your recipient, address their job title, for example, "Dear Founder of Feedough.com". Or simply use phrases like "Hi there" or "Hello".
Write the body: In the business email, you need to clearly and precisely communicate your message. First comes first: address your topic and then move on to what you want from them and why they should give it to you. If possible, use bullet points as this makes the information easy for the recipient to read. Close your request with a question or a call to action. Try to keep your email short, use different paragraphs for different arguments, and try to sound conversational but be very specific.
Develop and add your signature: Using your name and job title is not enough. A good signature will include a brief description of your role at the company, a contact number and an email address. You can also add your social media handles to make it easy for your recipient to reach out to you.
Proofread for grammar, spelling errors and typos: Always read your email from a reader's perspective. Ensure that it is free of any grammar, spelling and typing errors as these mistakes can be a deal-breaker on part of the recipient.
Send the email and wait: Once you're done writing your email, proofread it one more time and send the email to the intended recipient. Then wait for their response.
Key Things To Remember While Writing A Business Email
When it comes to business emails, second chances do not exist. It is important that you follow certain rules and policies to ensure your email is professional and has a good impact on the reader:
Keep Your Email Short
The shorter your email, the better. Long emails are usually ignored or not read completely. Be concise and get straight to the point.
For example, instead of elongating a sentence such as "Our past clients are very popular and renowned in their respective fields, and we take pride in paving one step forward to their success", you can use "We take pride in having served some very renowned clients in the past".
Keep Your Email Simple
If possible, avoid long, industry-related words and use a simpler vocabulary while writing your email. Use easy-to-understand words that are quick to read.
For example, instead of trying to sound smart by using the phrase "multi-faceted, cross-platform technology", you can use "multifunctional website".
Keep Your Email Formal
Keep your email formal and respectful. It may be easier to write a casual tone but try to keep it professional. But don't keep it too professional as well. Try to strike the perfect balance between too formal and too casual, and keep in mind the kind of relationship you have or want to build with the recipient. Moreover, adding a touch of warmth and respect in the email helps connect better with the recipient.
Make Use Of An AI Copywriting Tool
Today, you can write compelling business emails even if you are new to the process. There are a number of AI copywriting tools that can help you write emails in the simplest way possible. For example, ClosersCopy, Jasper, and Rytr are AI-based email writing tools that can help you draft emails in the shortest time- without you having to make the necessary tweaks.
Avoid Passive Voice
Passive voice sounds vague and may make it difficult for the reader to understand what you are trying to say. Try using active voice instead. For example, instead of writing "The opportunity will be discussed by us soon", use "We will discuss this opportunity soon".
Use Bullet Points To Make It Easy To Read
Lengthy paragraphs can be difficult to read and understand. They can confuse your reader and lose their attention completely. Use bullet points instead for an easy and quick understanding of the topic.
For example, instead of writing "We are the leading e-commerce website in this industry because we provide superior quality services to our customers, which include the availability of an extensive range of products, providing 24×7 customer service and so on", use
"Our online retail store provides:
An extensive range of product
24/7 customer service."
Try Not To Sound Robotic
A too formal tone is not recommended. Using words like "in the capacity of", "owing to the fact that" or "it would be my pleasure if" makes your email sound robotic. Use simple words instead for better clarity.
For example, instead of saying "In compliance with your request", use "As per your request".
Proofread Your Email Before Sending It
Proofread your email and check for spelling and punctuation errors. These may not be a big deal when you're writing to friends using casual language, but in business emails, any small mistake can harm the image of your organisation or brand.
Grammarly and Hemingway are two of the most popular AI tools that you can use to double-check your emails before you send them out. These tools highlight grammatical errors, spelling mistakes, wordiness and overall readability and suggest changes so that you can make your email less complicated, easier to read and improve overall clarity.
Avoid Hedging
Hedging is when people use linguistic devices that express uncertainty and hesitancy to seem polite. Words and phrases like "maybe," "I think", "I feel like", "It would be great if", "Should be able to" and "Basically" may seem like a good idea at the time, but ultimately end up weakening an otherwise strong statement.
For example, instead of writing "I think we might be able to do this" try ", We can do this".
Use Attachments And Links Cautiously
Since the recipient could be someone who hasn't heard of you before, they could be extra cautious about opening any attachment or link that you attach to your email. Try not to bombard your initial emails with excessive links or attachments.
How To Format Your Business Email
Formatting your email correctly makes it easier to read and understand. Like in the case of bullet points, words in bold or italics can help draw attention to specific information. Using caps and underline is not advisable as they make your email look unprofessional and difficult to read.
Moreover, if your email will be forwarded to various departments or people, use BOLD and CAPITAL LETTERS for important information to clearly see the most important information in the email.
As a general rule of thumb:
Use a font size of 10-12 for body text,
Serif fonts are easier to read on-screen,
Arial, Helvetica, Times New Roman, and Verdana are some of the best fonts you can use for your email,
Avoid using all uppercase letters in your subject line (it feels like you're yelling),
Bold important information for better readability,
Use indentations and line breaks to make email structure easy to follow,
Avoid using multiple font colours,
Keep a standard font size throughout your email,
Don't use more than two fonts styles.
Bottom-Line?
There's no doubt that modern business communication has become a lot more casual. However, it is important to keep in mind that even though you're sending out a less formal email, the recipient might see it as your official brand or company representative communicating with them.
Using formal language and being concise increases the chances of getting a response from your reader because they can clearly understand what you want to say without any confusion. This tactic will go a long way in improving customer satisfaction.
Finally… remember, don't be afraid to use emoticons! The world wouldn't be the same without 🙂
And we hope these tips will help you write better emails and get more responses!
Go On, Tell Us What You Think!
Did we miss something? Come on! Tell us what you think of this article on how to write business emails in the comments section.
An economics aficionado and a researcher at heart, Shrishti has also worked as a consultant to assist startups and NGOs in varied verticals. When not working, she is a passionate dancer and painter.