Most credit card users face the hassle of handling multiple cards, making timely payments and clearing dues through cumbersome processes. However, CRED is a fintech startup that provides a one-stop solution to all such problems by making the process tremendously simplified and seamless.
With a customer base of over a whopping 6 million users, CRED has turned into a startup unicorn with a $2.2 billion valuation in a very short span of time.
Could a company be built focussing on just the elite and cream population, specifically filtering just 3% of the Indian population that uses credit cards? How can it even manage to give back rewards to its users and still, not just sustain but become one of the fastest-growing startup unicorns?
Pondering what the idea behind CRED exactly is and how it works?
Let us demystify CRED business model, operating model, and revenue model in this article.
What is CRED?
CRED is a fintech startup that provides users with a platform to pay their credit dues, rent and other bills, all in one place while earning additional rewards for doing so on time. It provides users with an instant credit line and enables a safe space for P2P lending between high trust individuals at interest rates which are way more beneficial than the traditional lending sources.
The Idea Behind CRED Business Model
A brainchild of Kunal Shah, CRED was launched in April 2018, with the idea of capitalising on the industry of high trust individuals who would be rewarded for their responsible financial behaviour.
The idea behind CRED is to create a gated ecosystem of high trust credible individuals and eventually build ways for them to link and connect with one another. It is a credit-based ecosystem that provides a safe space for individual lenders and financial institutions to lend money to trustworthy individuals.
It uses the creditworthiness of individuals in the form of their credit scores as a measure to filter the community. Then to retain customers, it rewards them in the form of CRED coins if they make timely payments through the platform.
Who Are CRED's Customers?
CRED targets to garner a significant share of wealthy, affluent, and trustworthy customers who own and use credit cards. It creates a gated community of loyal and credible individuals to eventually build mechanisms for them to connect and expand on many other possibilities in the future.
CRED's Value Proposition
Famous for its excellent user experience, CRED's business model stands out by providing the following value to its customers:
It is an all in one application for paying credit dues, rent and other bills in just five taps. It reduces the hassle of handling multiple credit cards by making the process tremendously simplified, easy and convenient.
It provides users with an instant credit line and facilitates P2P lending at an interest rate of 9% to lenders, which is way more than what savings accounts and deposits usually offer.
It records loan caps, analyses hidden costs and overall expenses of the users and tracks due dates and sends them timely reminders to make payments.
If users make timely payments, it rewards them with CRED coins which they can redeem on the platform 'Discover' to avail discounts on different products offered by CRED partners.
Users can also calculate their credit scores for free and use CRED's help to maintain a good credit profile and make good financial decisions.
Most importantly, CRED is a niche community of high-trust creditworthy individuals. It works along the lines of the velvet rope effect, where people 'pay together and can play together'. This creates a social network with a tremendous scope of connecting people with a realm of other possibilities!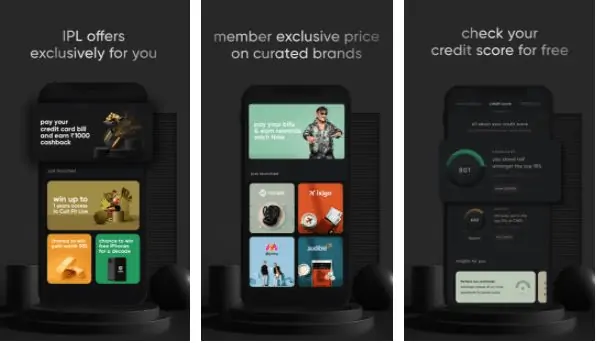 How Does CRED Operate?
Once the user downloads the app and enters their mobile number, the app checks the cards connected to the registered phone number till the account gets configured. If the credit score is greater than 750, the person is allowed to use the app. If not, he is sent to the waiting list. After receiving access, CRED apps will have access to the mail identification for reading and scanning credit card receipts like due dates and service statements.
Key Activities
The key activities that CRED provides its users are CREDIT management, CRED Stash, CRED Mint, RentPay, CRED Store and CRED travel.
CREDIT Payments
CRED provides a unified payments interface to the users and enables them to pay their credit card and other bills through the app and receive rewards in the form of CRED coins if they do so on time. They can then use these vouchers and discounts to avail offers on products of companies CRED has tie-ups with. It analyses user expenses and sends reminders for timely payments.
CRED Stash
CRED Stash is an instant credit line offered by CRED to provide its customers credit with greater ease at an interest rate equivalent to about one-third of the usual charges of using a credit card. It has a credit limit of Rs 5,00,000. It eliminates the tedious verification and application processes typically associated with loans and makes the process smooth and convenient for the users. It has partnered with various banks, like the IDFC bank for providing these loans to the customers.
RentPay
CRED's RentPay feature allows users to pay their recurring household expenses and rent payments through the app. It gives users reminders to pay the bills timely, and making payments through the app eventually leads to rewards which they can avail on the purchase of other products.
CRED Mint
CRED launched its peer to peer lending product, CRED mint, in partnership with Liquiloans, an RBI registered P2P non-banking financial corporation(NBFC). It enables its users to lend their money and earn interest rates of up to 9 percent per annum, which is way higher than savings accounts and other traditional forms of deposits. Lenders can invest between ₹1,00,000 and ₹10,00,000, and earn returns for the period invested.
The investments made in CRED Mint are to be lent out through CRED Cash, a lending product for high trust individuals and over Rs 2415 crore have been disbursed through regulated partners.
CRED Store
CRED has partnered with various companies in multiple domains of health, travel, e-commerce and so on to allow users to spend the CRED coins they earn and avail offers and discounts while purchasing these products and services through the platform. It has partnered with over 2000 brands that offer CRED exclusive prices to the customers that they can easily access through the CRED store. This also helps those companies enhance their visibility and boost their sales through their presence on the app.
CRED Travel
CRED lets its users purchase flight tickets, book hotels, and manage their culinary expenses through the app and get rewarded with CRED coins that they can use to purchase different other products from the CRED store.
Key Channels
CRED has a website and an app as key channels through which people can make use of the platform.
Key Partners
CRED has partnerships and tie-ups with over 2000 brands that offer their products on the platform at exclusive prices to CRED customers.
It has tie-ups with more than 34 banks. For instance, its product CRED Stash provides its users cheap credit in partnership with the IDFC bank. Moreover, P2P lending has been facilitated through collaboration with Liquiloans; an RBI registered NBFC. It facilitates payments through the Axis Bank and participates in UPI through the Payments Service Provider(PSP) bank since it has a tripartite agreement with the sponsor PSP(Axis Bank) and NPCI, that is, the National Payments Corporation of India.
Key Resources
Human capital: As of 2019, CRED has approximately over 615 employees.
Technological inputs: It uses 19 technology products and services, some of which include HTML 5, jQuery and Google Analytics. It also uses other technologies like Viewport Media and iPhone/ Media Compatible.
Financial resources: The company meets its financial requirements through investors like Sequoia Capital, DST Global, General Catalyst, Coatue Management, Ribbit Capital, Insight Partners, Gemini Investments, Dragoneer Investment Group, Falcon Edge Capital and many more.
Cred Market Valuation And Funding
CRED has a market valuation of $2.2 billion and has received total funding of around $551.4 million. Its growth and spike in google trends are tremendously disruptive.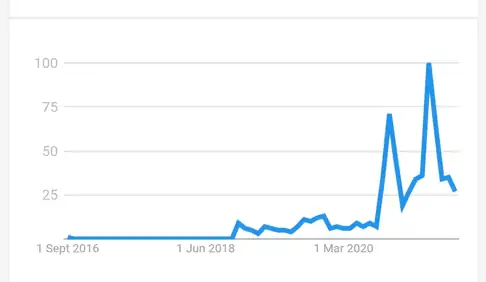 Cred Revenue Model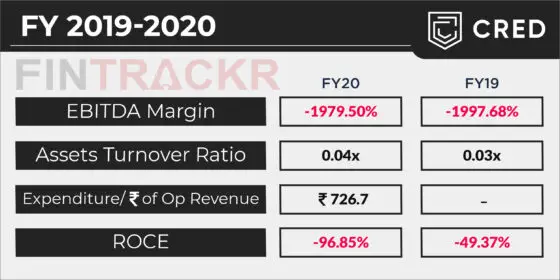 CRED is a free application. The company is more inclined towards scaling and expanding its customer base before becoming more oriented towards profit generation. Thus, they are making a 'deliberate choice' to focus on achieving scale rather than revenue generation, according to what most internet-based startups follow in their initial stages.
Sources Of Revenue For CRED
CRED has an enormous potential of generating revenues. Some sources of revenue that are either currently being used by them include:
Affiliate Income
CRED partners and ties up with different businesses who offer their products to the users on the 'Discover' platform. This provides CRED users with a greater variety to pick from while redeeming their CRED coins. On the other hand, businesses gain from visibility and draw user attention. Thus, every time a user picks an offer from the app, the business pays a fee to CRED for sending the business to them.
Revenue From Advertisements
CRED's target audience is the 1% cream population and having data about their purchases and spending patterns helps it optimise advertisements to encourage more spending through the platform and earn commissions on sales of those products.

Transaction Fees
It also charges a processing fee of around 1 to 1.5% on transactions made through the platform.
Revenue From Loans
The introduction of P2P lending has led to lenders earning interest rates of around 9 percent and loans being disbursed at interest rates between 10 to 12%. Moreover, CRED also lends customers loans through an instant credit line, CRED Stash, on which it earns interest rates lesser than the charges of using usual credit cards. These are thus good sources of revenue for CRED.
Costs Incurred
CRED has experienced a massive jump in its marketing costs – a sharp increase from Rs 19 crore to Rs 180 crore in the past couple of years. A large share of it can be attributed to the IPL sponsorship it signed up for last year. It helped the company create awareness in the market and gave it tailwinds. It has also experienced an increase in employee expenses from Rs 17 crore to Rs 75 crore in the past years.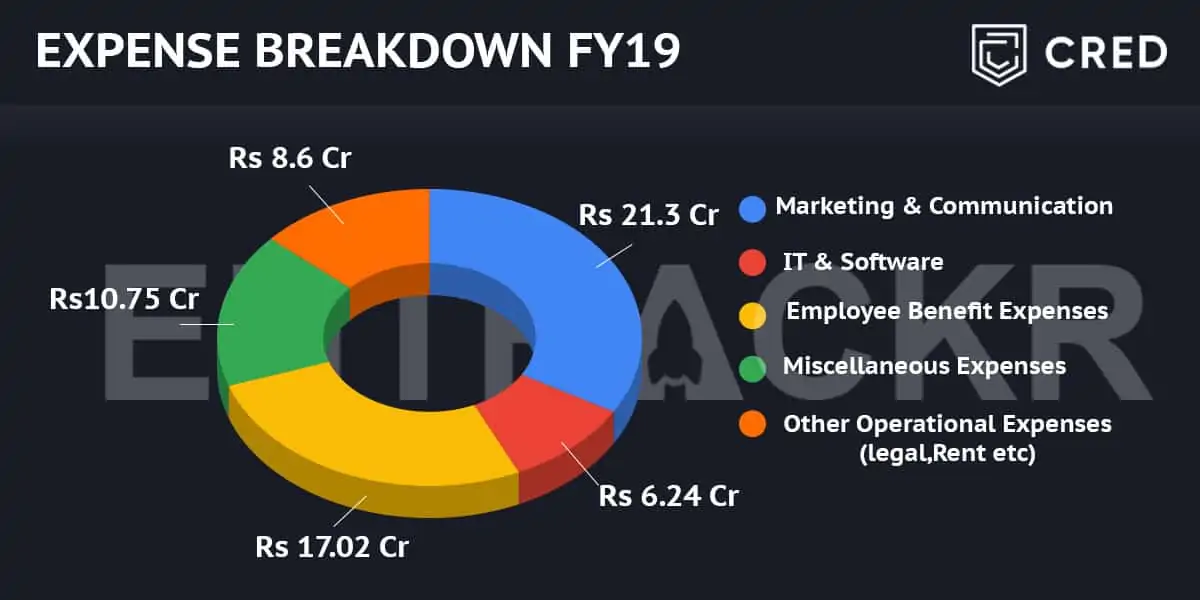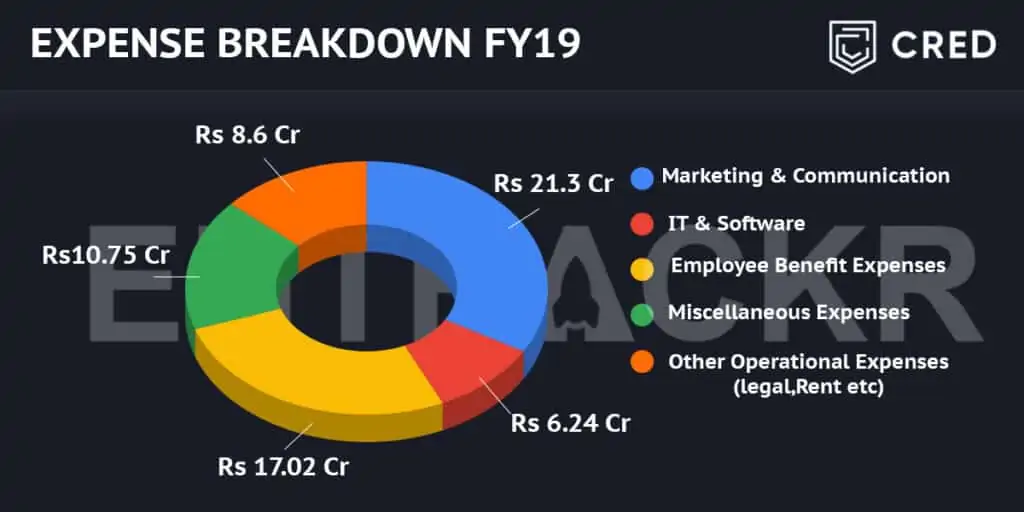 Bottom-Line?
CRED has a very innovative and creative way to market itself. It delivers cakes to its users' offices so that other people get to know about it and create a buzz effect. This helps the company initiate a viral loop, generate more customers, and create a 'brag-worthy proposition'.
As customers continue to pay their bills and use the platform, the company will have a lot of their financial data, which they can monetise in the future. Even if they don't sell it to some other financial institution or bank for privacy reasons, they can use the data to enhance and personalise users' experience of the app.
It emphasises building a gated community and implementing the idea behind the startup before expanding it further and becoming profit-oriented. Another important takeaway is that founder Kunal Shah focuses more on how the demand for services or products should determine the idea behind a startup and have a unique and brag-worthy proposition.
Go On, Tell Us What You Think!
Did we miss something? Come on! Tell us what you think of this article on CRED business model in the comments section.
An economics aficionado and a researcher at heart, Shrishti has also worked as a consultant to assist startups and NGOs in varied verticals. When not working, she is a passionate dancer and painter.