Before Facebook, there was Myspace.
The company launched six months prior to Facebook, Myspace grew rapidly and was even the largest social network site world from 2005 to 2008. It was also almost to be bought by Facebook at one time.
But Myspace is almost obscure now in the eyes of many.
How did this come to be?
Let's find out.
History of Myspace
The history of Myspace is one of true simplicity. Myspace (earlier stylized as MySpace) was launched on August 1, 2003, by Tom Anderson, Chris DeWolfe, and Brad Greenspan as their very own take on what a social network site should look like.
The three drew their inspirations for Myspace from Friendster (a social network site) that they were a part of – they took the most popular features of Friendster and implemented them with a few tweaks. The group had the first version of the Myspace site ready in about 10 days.
Myspace allowed its users to be able to create and fully customize their own profiles and allowed for you to send friendship requests – this was all the rage back in the early days of social networking sites. It also allowed its users to post photos, videos and music onto your profile using their subsections Myspace photos, Myspace videos, and Myspace music.
All this could be done by the users by using basic HTML and Myspace allowed for almost any type of content to be posted on its site. The only thing that Myspace censored was hate speech and extreme nudity.
All this meant that Myspace was very popular with the younger demographic of 16 to 25-year-olds. This popularity and the media capabilities support within the site meant it also drew in a lot of celebrities from the media industry onto their site – mainly music artists.
This popularity bought wide-spread attention to Myspace, which was soon acquired by the News Corporation (Rupert Murdoch's media conglomerate) for about $580 million (£443m) in July 2005. Within a year after its acquisition, Myspace tripled in value and even overtook Google and Yahoo! to become the most visited site in the US in June 2006. Myspace became the largest social media site from 2005 to 2008, with over 80 million unique users a month at its peak in 2008.
Myspace earned a lot during this period and its only source of income was ad-revenue that it got from allowing adverts to be shown on their site.
Myspace Net Worth
In 2007, Myspace net worth peaked at $12 billion upon the attempted merger between News Corporation and Yahoo!. Later on, Myspace was valued at around $35 million –when Myspace was purchased by Specific Media and Justin Timberlake in 2011.
Among the three co-founders, Tom Anderson has the highest net worth – at around $65 million as of January 2020. Chris DeWolfe is estimated to have a net worth of $50 million and Brad Greenspan is estimated to have a net worth of $20 million.
So –
What caused Myspace to fail? Why isn't Myspace as popular as Facebook or Twitter today?
Why Did Myspace Fail?
Myspace's main competitor was Facebook. Even though both platforms had different visions and futures, they were the closest to one another at the time. This leads to direct comparisons between the platforms.
Here are several reasons as to why Myspace lost to its competitors – mainly Facebook – and isn't relevant anymore –
Unintuitive User-Interface
Myspace was focused on allowing customizations by the user. While that is all well and good, it required users to know a bit of HTML in order to customize their profiles at the beginning. Though it later tried to remedy these problems by offering a cleaner UI and better design, it was too late and users had already moved on.
Too Many Advertisements
Myspace's only source of revenue was by serving advertisements and they were pressured by their investors and partners to take an even aggressive approach on serving advertisements in order to make up for the dwindling user base. Though this helps them stay afloat, their site looked much cluttered with the presence of a lot of advertisements. This looked downright unattractive compared to the interface Facebook offered at the time.
Constant Redesign
Myspace has changed hands between 4 different companies and this meant a lot of changes were made by every owner. This meant a constant change in the direction and design of the site which frustrated the user base even more. It is estimated that 50% of Myspace users simply left because of this back in 2010 itself. Tom Anderson, also expressed his distaste on the ever-changing design and direction of the site he helped co-found –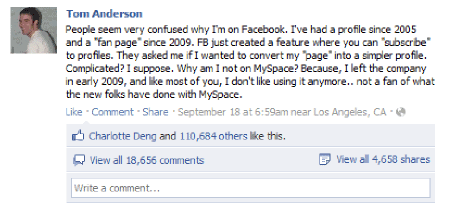 Bleak Censorship
Though not censoring anything except for illegal content, hate speech and extreme nudity is a revolutionary feature in today's online space, this meant that there was a higher chance of a youngster coming across age-inappropriate content while using the site. This made Myspace gain negative among the press and parents.
Use of Screennames
Myspace allowed its users to use any email to sign up and didn't require you to be a part of any academic institution per se during the early days. It also allowed its users to anonymous usernames and details (screennames) instead of forcing them to use their real names. This made connecting with other users feel a bit disconnected compared to Facebook, where the users were forced to use their real names which made it much easier to connect on a personal level.
Slow Innovation
Social networking sites like Facebook and Twitter were adding newer and creative features which made it much easier to use. This is the reason Facebook is considered the "grandfather of social networking" even though they weren't the first. Myspace, on the other hand, failed to innovate and bring about newer features – even those that were doing well on other platforms quickly. This just accelerated users to move onto other platforms.
In an interview with Businessweek, former co-founder Chris DeWolfe mentioned that he thought the reason for Myspace's decline was due to their overenthusiasm and under execution on the product side.
We tried to create every feature in the world and said, 'O.K., we can do it, why should we let a third party do it?' We should have picked five to ten key features that we totally focused on and let other people innovate on everything else.
As a result of all this, April 2008 saw Myspace lose to Facebook, never to recover again.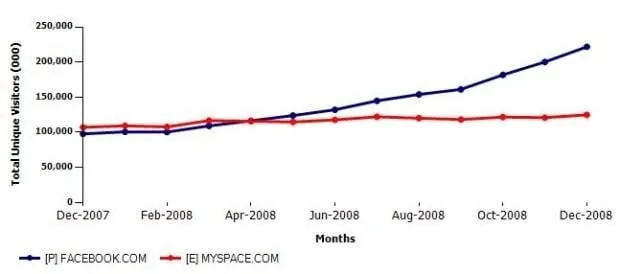 Which brings us to –
Does Myspace still exist?
Does Myspace Still Exist?
Yes, Myspace still exists and it is far from dead. It still has its Myspace domain up and running. Myspace was purchased and currently owned by Time Inc. since February 2016 and numerous redesigns and relaunches have occurred since then.
The Myspace desktop site is still receiving millions of visits every month and according to AdAge, it had around 15 million globally unique monthly visitors by the end of 2015.
Myspace also used to have its very own smartphone app on Android and iOS. But users can access the Myspace mobile web app by visiting Myspace.com from their mobile device.
There have also been a lot of security and data mishaps recently. In 2016, Myspace was hacked and user login details from accounts that were created prior to June 11, 2013, were stolen from the site.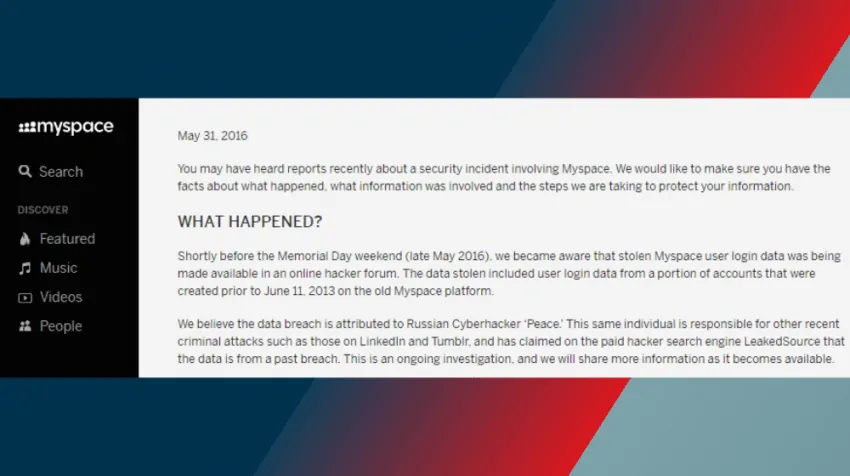 Also, Myspace deleted 12 years' (2003 and 2015) worth of user data accidentally in a mishap while migrating from one server to another at the beginning of 2019.

The files got corrupted during the transfer and failed to show up on the updated platform.
Final Thoughts
Myspace is still a long way behind Facebook. That is not to say that Myspace never got anything right. It has tasted some success in recent years as a music-orientated social media site. Myspace had a superb marketing strategy. It allowed you to post any code – embed anything as long as you knew what you were doing.
Had the co-founders held onto Myspace and brought along new features and options to the table, things would have been quite different. Myspace still has a lot of things going for it such as the data of its users spanning decades, which is quite valuable than we think of it to be. The newer site is also more polished than ever. It may even see a resurgence to its glory days quickly upon the decline of Facebook.
Go On, Tell Us What You Think!
Did we miss something? Come on! Tell us what you think about our article on Why Did Myspace Fail in the comments section.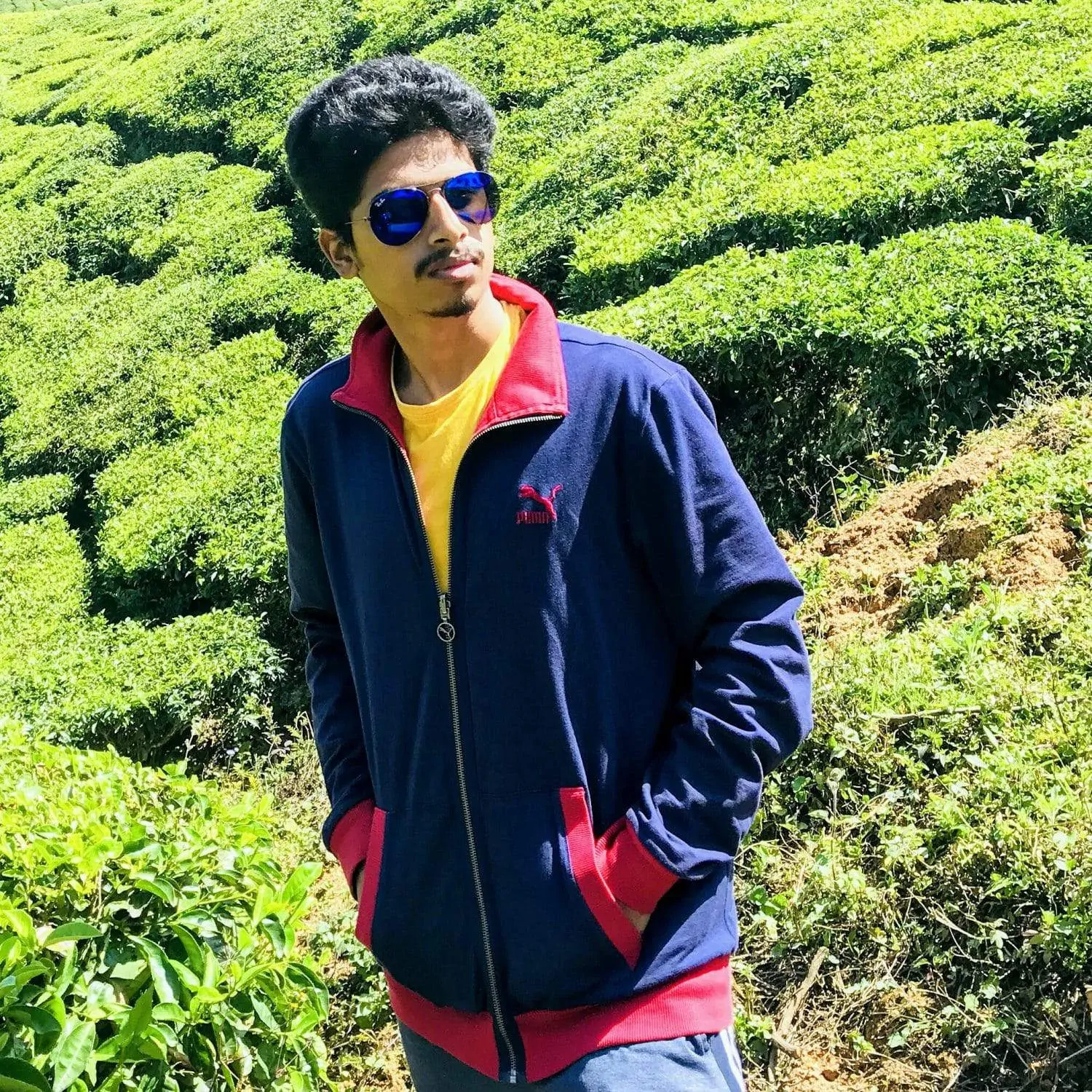 Started out to become a developer but felt at home in the home of startups. The journey started from a single novel. Been an entrepreneur since schooling days. Interested in coding, reading and movies.