It was 2007 when Netflix took a pledge of labelling cable TV as old school and bringing a new content consumption trend of on-demand videos among the internet users. Who would have known that TV would return in the most unexpectable way ambushing Netflix and proclaiming that its throne can never be taken away?
Welcome Hulu. The biggest competitor of Netflix (and your sleep).
What Is Hulu?
Hulu is a premium over-the-top media service (internet based TV streaming service) that allows users to stream TV shows, movies, documentaries and more on a wide range of Internet-connected devices.
Launched on October 29, 2007 as a joint venture among AOL, Comcast, Facebook, MSN, Myspace, and Yahoo!, Hulu focused on TV shows more than movies and other video content. Hollywood executives saw potential in this positioning and the service soon became a platform to watch current episodes of television shows on.
The company has partnered with most of the USA's cable TV channels like ABC, NBC, Fox, CNBC, etc. to position itself as one of the biggest online TV show library. It has also partnered with local and national channels like National Geographic, Fox, Disney Channel, etc. to provide the live TV experience on the internet without any need to install cable TV.
Here are some features provided by Hulu –
One of the largest on-demand TV shows and movie screening library
TV episodes from almost all the TV channels the day after they air
Exclusive access to Hulu original shows like The Handmaid's Tale, The Looming Tower, etc.
Live TV from broadcast networks in over 200 USA markets.
A Cloud DVR
HBO, SHOWTIME, Cinemax, STARZ and other exclusive add-ons to stream exclusives like Game of Thrones, Shameless, etc.
Hulu Business Model
The premium video streaming service Hulu currently boasts over 25 million subscribers and its exclusive library which gives its users access to shows from every major U.S. broadcast network, libraries of hit TV series and films, and acclaimed Hulu Originals.
But how does Hulu work and why has it been so successful, you ask?
How Does Hulu Work?
Let's dig deep into a brief history of Hulu to get a clear picture of how the company used to operate and what all have changed in the business model of Hulu from 2007 to 2019.
The company was started with an ad-supported business model where you could stream the TV shows for free but had to watch advertisements which interrupted the stream. This business model was similar to today's Youtube business model.
The company launched its paid subscription service (plus) in 2010 to compete with the likes of Netflix. The paid subscription was initially launched at a price of $9.99 per month but was soon lowered to $7.99. This paid subscription, however, wasn't ad-free. It contained as many ads as the free version but provided a wider array of viewing choices in terms of shows that were available and the devices on which Hulu could be streamed on.
In 2015, a no-commercial premium subscription plan was launched by the company for around $12 to $14 per month, though few shows were to retain the pre-roll and post-roll ad pods. The company also partnered with Yahoo! to move its free content to content to Yahoo! View and converted its business model to a fully-fledged subscription business model like that of Netflix's business model.
In 2017, Hulu strengthened its positioning as an online TV by launching the Live TV service which made it possible to live stream more than 50 broadcast and cable-originated channels. Many new channels and shows were announced soon after this. Money making addons like HBO, Showtime, Cinemax, etc. and additional features like cloud DVR, six account profiles, etc. were also launched subsequently.
As of March 2019, the company has over 25 million paid subscribers and provide the following subscription plans –
| | | |
| --- | --- | --- |
| Price Per Month | Screens | Subscription Package |
| $5.99 | 1 | Hulu On Demand with ads |
| $11.99 | 1 | Hulu On Demand without ads |
| $44.99 | 2 | Hulu Live TV and On Demand with ads |
| $50.99 | 2 | Hulu Live TV and On Demand without ads |
Add-ons provided by Hulu are as follows –
| Price Per Month | Add-on |
| --- | --- |
| $9.99 | Hulu Live TV – add Enhanced DVR (200 hours) |
| $9.99 | Hulu Live TV – add Unlimited Streams |
| $14.99 | Hulu Live TV – add Unlimited Streams AND Enhanced DVR |
| $10.99 | SHOWTIME® on Hulu |
| $14.99 | HBO® on Hulu |
| $9.99 | Cinemax® on Hulu |
| $8.99 | STARZ® on Hulu |
| $7.99 | Entertainment Add-on (additional lifestyle content) |
How Does Hulu Make Money?
The revenue model of Hulu is fairly easy to understand. The revenue earning sources can be divided into two categories –
Revenue from subscriptions
Revenue from advertisements
Revenue From Subscriptions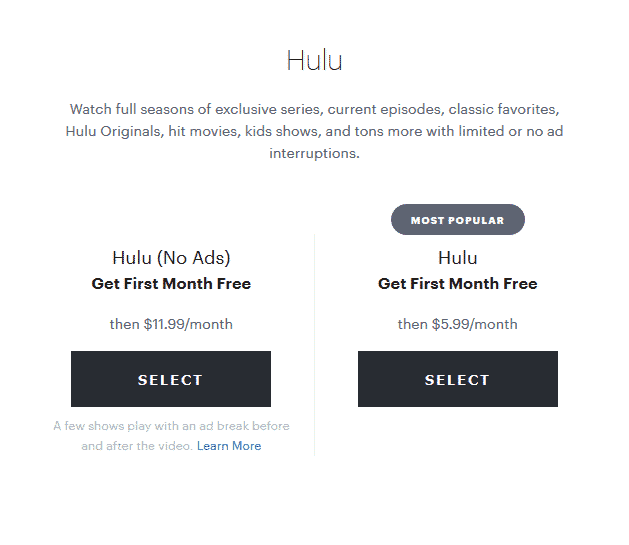 Since the company scrapped its free streaming model altogether, all of the 25 million users pay to use the service. These monthly subscriptions contribute a substantial amount of revenue to the company.
The company provides four basic subscription plans starting from $5.99 per month. These upgrades of the base plan include options for no-ad-interruption, live TV, and no-ad-interruption + Live TV.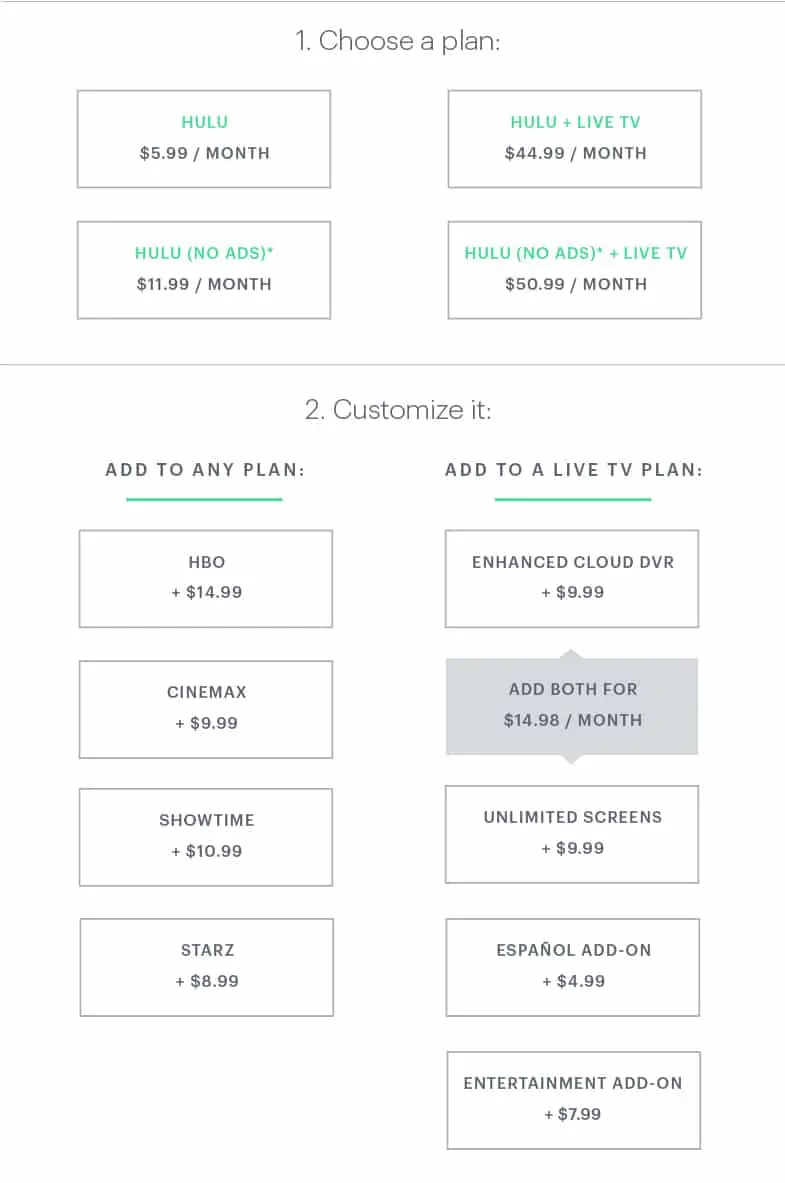 Revenue From Advertisements
If you're one of the subscribers of Hulu, you would have noticed that even the no-ad subscription plans have some shows which include pre-roll and post-roll ad blocks. Advertisements are indeed the biggest revenue earning source of Hulu. According to the company, it earned an ad revenue of $1.5 billion in 2018, which was 45% more than what it earned in 2017.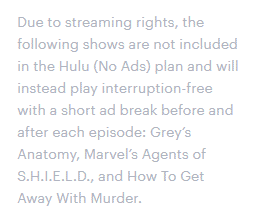 Unlike Netflix, this on-demand video streaming platform doesn't stay behind in wooing advertisers to advertise to its users. The company provides three ad-targeting options to increase the reach of the advertisers. These are –
Splash – Where the advertiser intercepts nearly every unique viewer on a single day.
DMA targeting – Where the advertiser intercepts nearly every viewer within a specific market.
Targeted – Where the advertiser can target the ad according to the demographics, geographic area, content length, genre, and more.
Besides this, Hulu also provides seasonal ad targeting options like on Earth day, Mother's day, Father's day, etc.
The company provides a variety of advertisement options to the advertisers who can choose from just a normal interstitial ad to those big brand integrations in the Hulu original shows. These are –
Custom Integrated Commercial
Custom integrated commercial is an exclusive video solution by Hulu which is strategically developed to integrate the advertiser's brand values and message with Hulu's in a custom developed commercial which feels more like a part of the content rather than a commercial.
Here's an example of a custom integrated commercial of Hotels.com developed on the lines of Castle Rock.
Custom Integrated Slates
Custom Integrated slates are similar to custom integrated commercials but these are 7 seconds long pre-roll slates with integrated brand values and message which are created to match the content in a way to introduce viewers to the commercial and content that follows.
Spotlight
Spotlight is a solution for theatrical, TV tune-in, or video game advertisers to amplify their message and drive awareness for any new release by using Hulu as a marketing tool where they release their trailers and teasers.
Premium Slate
A premium slate is a brand's 7 seconds video asset which runs as the first video in pre-roll which. These videos appear in premier positioning before the advertiser's video commercial at the beginning of the show and are accompanied by intro text and "presented by" voice over.
T-Commerce
Hulu also provides complete marketing and sales solutions when it comes to T-commerce. The company had partnered with Tomb Raider in the past which used this feature to develop a solution for users to purchase movie tickets on their smart TVs.
Brand Integration
The company has 40+ original programs which are exclusive to Hulu. Since these are produced in-house, the advertisers can also partner with the brand for brand integration solutions for these shows.
Future Of Hulu
Hulu was never short of money and the company was also able to position its brand perfectly as a TV show library. Contrary to what it seems, the biggest competitor of Hulu today isn't Netflix but Youtube TV. Nevertheless, the brand was a pioneer to create a new demand for online streaming of TV shows. The company was also able to bring down the costs of watching TV shows from an average of $100 to just $5.99 per month.
Hulu still has an incredible growth rate of 48 per cent and is no less a scaleup than Netflix or Amazon Prime. The present favours Hulu and it seems it'll be the same in the future as well.
Go On, Tell Us What You Think!
Did we miss something? Come on! Tell us what you think about our article on how does Hulu work and make money in the comments section.
A startup consultant, digital marketer, traveller, and philomath. Aashish has worked with over 20 startups and successfully helped them ideate, raise money, and succeed. When not working, he can be found hiking, camping, and stargazing.