Right from newspapers in 1685 to modern online dating apps today, people have been using media to propel their love life and relationships. It is interesting how dating through media has evolved through the ages. Today dating websites are frequented often by many men and women who want to get involved with their potential significant other.
One project too, started by a group of young individuals who were alone, set out with its goal to help people find love. Today this website is not what it was intended to be, but something even greater. When you want to look up a video, learn a skill, get more acquainted with any topic, or simply just want to laugh when you're alone and keep yourself interested, which is the first thing that comes to your mind? Yes, we're thinking about the same thing. Although most people know about this humongous website and its many features, how much do you really know about its inception and the way it grew to be such a feat in innovation and strategizing.
YouTube – The Dating Website That Pivoted To video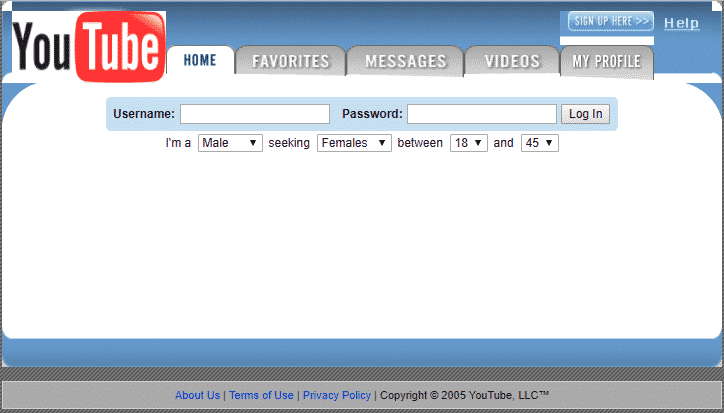 A really odd beginning and with an inspiring story, YouTube's growth from start to end is truly brilliant and something we all can learn from.
Getting deeper
YouTube, the majestic empire of a video-sharing website that it is today, was founded by Chad Hurley, Steve Chen, and Jawed Karim. These three founded the site while they were still employees at PayPal. The domain name "www.youtube.com" got activated on 14th February, 2005 at 9:13pm (there is a special significance to this date which you will get to know more about in just a moment).
The Beginning
Before Tinder ever existed, there was a dating site for people looking out for potential partners: YouTube. Yes. YouTube, being the dominating video-sharing site today, initially started off as a dating website for lonely lovers.
At the South by Southwest tech, film and music conference in Austin, Texas, Chen said:
"We always thought there was something with video there, but what would be the actual practical application? We thought dating would be the obvious choice".
Karim said, at his University of Illinois commencement speech back in 2007, said,
"We didn't even know how to describe our new product. To generate interest, we just said it was a new kind of dating site. We even had a slogan for it: Tune in, Hook up."
The site's purpose was to allow its users to upload a video profile of themselves for others to view. They would give an introduction about themselves and state what they were interested in. This is was the whole initial idea of YouTube; this is why it was created in the first place.
"Just three guys on Valentine's Day that had nothing to do," said Chen.
The dating site had very few users. The server used to host the videos at $100 a month and no one was using it. Karim, Steve Chen, and Chad Hurley took out ads on Craigslist in which they offered to pay $20 to women to upload videos of themselves to the site. But it was all for naught.
The Pivot
And so, in the first 5 days since it commenced, not a single video had been uploaded. At that moment, Chen, and his colleagues decided to scrap the matchmaking objective of the website and switch to a general website for video sharing.
"OK, forget the dating aspect, let's just open it up to any video" said Chen.
This is what Karim said, at the University of Illinois:
"We didn't have any videos. Realizing videos of anything would be better than no videos, I populated our new dating site with videos of 747s taking off and landing. The whole thing didn't make any sense. We were so desperate for some actual dating videos, whatever that even means, that we turned to the website any desperate person would turn to, Craigslist."
As we read earlier, the co-founders tried many things to get the site more traffic and inflow and get people to upload videos, but it was all a waste. Karim stated that their users were ahead of them; that they began using YouTube to share all kinds of videos: their dogs, vacations, anything. The co-founders then decided to let the users define YouTube for the world. Karim uploaded his, and the, first video on YouTube on 23rd April, 2005: Meet me at the Zoo. It was under the username "jawed" and was recorded by his high school friend Yakov Lapitsky.
By June they had completely revamped the website, making it general and open. And their efforts had finally paid off. This pivot, this turning point, could be stated as the greatest thing that ever happened to the site.
The Growth
Since June 2005, YouTube started blooming magnificently. It was hosting more than 65,000 video uploads and getting an average of 100 million video views per day in July. On Alexa, it was ranked as the fifth-most-popular website (outpacing MySpace's rate of growth) with an average of nearly 20 million visitors per month.
YouTube entered into a marketing and advertising partnership with NBC in June 2006. Moving on a year ahead, on October 2006, it was announced that Google purchased Youtube for US$1.65 billion in stock.
However, YouTube decided to continue its operations independently but with its co-founders and 67 employees working within Google. In 2007, YouTube started the YouTube awards. Its purpose was to give recognition to the best of the YouTube videos, voted by the community.
In 2007, YouTube started the YouTube awards. Its purpose was to give recognition to the best of the YouTube videos, voted by the community.
In 2011 the Google+ social networking site was integrated with YouTube and Google Chrome, allowing YouTube videos to be viewed from the Google+ interface.
In that year, in December, it changed its interface and at the same time, they changed their logo (their first design change since 2006).


Similar to this, YouTube has made many changes since its inception, which is one of the main reasons why it has been such a success throughout. Today YouTube is a behemoth in video-sharing. More than a billion hours are spent, each day, watching YouTube videos, and there are more than 400 hours of content uploaded every minute (as of February 2017).
Why did their strategy work? The secret of a pivot.
Initially, when YouTube's website's idea of a dating platform failed, they immediately decided to change it to a general platform for all kinds of videos. Now, there is more to this than most might observe. It was a successful complete pivot. A complete change in its motive and vision.
Most entrepreneurs are not ready to give up their initial vision and because of this they are even ready to jeopardize their entire business. This is a mistake so often made and the issue at hand is actually a simple one. In fact, if you go to see in reality, most of the world's leading businesses had a successful pivot after which their success skyrocketed.
Just like YouTube and many more successful businesses, never be afraid to question the motive and vision of your business and whether or not it is actually a viable one. The key is to respond well to your customer's reactions and be ready to face the challenge that might be to change your plan and pivot.
It might just be the best thing that would happen to your business.
Go On, Tell Us What You Think!
Did we miss something?  Come on! Tell us what you think about our article on History of Youtube in the comments section.
A social entrepreneur who loves to read books on self-help, motivation, businesses, entrepreneurship, and social dynamics. To me a life without health, wealth, love, and happiness is a life not worth living.