From shawarma to kebabs and from pizzas to doughnuts, everything that can have you drooling is now available at your doorstep, in less than an hour.
All thanks to technology and food delivery services these days. Food delivery startups have, hands down, made life a lot more convenient for us.
But the question is-
How do these food delivery services work? How do they earn money for themselves from the little margins that they have? How do they satisfy their customers as well as their partners, along with maintaining a stable situation?
Here's how.
A hyperlocal on-demand business model is what enables them to perform all these tasks with the utmost amount of profit and the least amount of hassle and mess.
Let's study the business model of a major name in food delivery companies- Uber Eats, the fourth most successful food delivery app in the world.
It is an American online food ordering and delivery platform launched by the well-known taxi brand, Uber, in August 2014, based in San Francisco, California.
Both Uber and Uber Eats have similar strategies for functioning. With just a few taps, you can have a fair amount of cab drivers willing to drop you to the desired destination, via the Uber app.
Same works with Uber Eats. With just a few taps, you can locate a lot of restaurants as well as Uber Eats drivers near you, so you can order your favourite food and track it while it reaches your doorstep in less than 30 minutes.
How Does Uber Eats Work?
Uber Eats is basically a perfectly designed food triangle between-
End customers
Delivery partners
Restaurant partners
The process is quick and easy for everyone involved: restaurants list their brand and menu on the platform; customers in that area can find them and order from their menu using their phone or computer; and then one of Uber Eats partner-drivers will pick it up from the restaurant and drop it off at the customer's door.
Here's how Uber Eats brings this 3 tiered association into action:-
End Customers

Customers get to order food from a large variety of restaurants near them and can order food via 2 methods:
Real Time Ordering: Customers who wish to receive their food immediately after ordering can select the ASAP option while placing the order. The food is delivered to them within 30 minutes.
Scheduled Ordering: Customers may pre-schedule an order for the future. They can customize their orders with respect to the delivery date, time and destination address.
Delivery Partners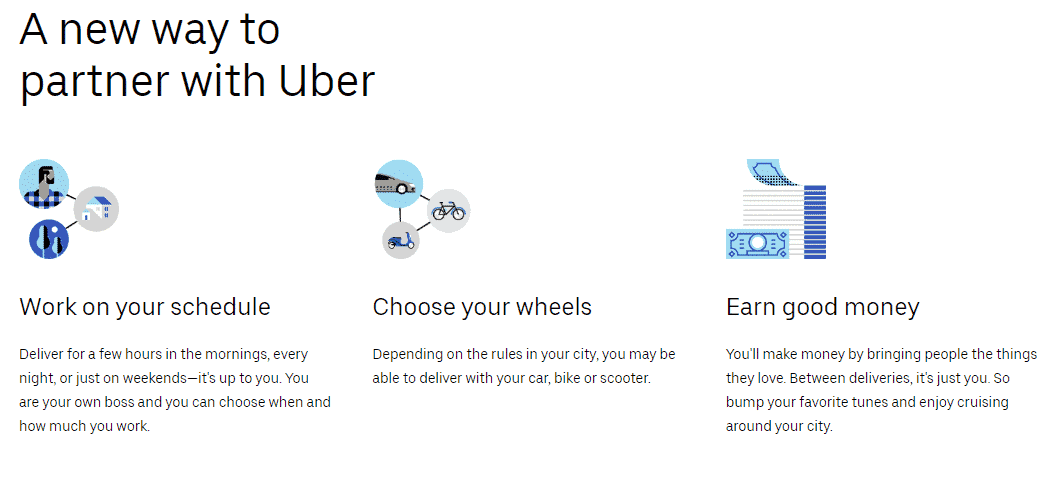 Uber Eats delivery partners (also called Uber Eats Drivers) are independent individuals who pick up food from the restaurant associates and transport it to the customers. They get delivery tasks based on their location and proximity to the restaurant as well as the customer.
Uber Eats drivers receive one pick up fee every time they go to a new restaurant, one drop-off fee for each separate order they deliver, and a fixed amount for every kilometre/mile they travel to deliver. The approximate minimum payment before Uber's service fee which they receive for each delivery is ~$4.
A service fee ranging from 15-30% is charged from every driver's final payment by the company depending upon the are of operation.
Restaurant Partners
Restaurants that partner with Uber Eats get a virtual presence on the platform. Uber Eats gets 30% commission from the restaurant partners on the cost of each item delivered. The restaurants decide upon the price of each item they display on Uber Eats' menu (which OFTEN differs from the rates at the physical restaurant).
In return, the restaurants receive publicity, technological improvements and 24*7 connectivity with their customers.
Uber Eats Business Model
Uber Eats functions on a 4 step operating model which includes the following steps:
Searching of the right restaurants by the customer
Placing the order by the customer
Picking up the order from the restaurant by Uber Eats drivers
Delivery of orders and receiving the payment
Uber Eats combines the Aggregator business model and the Hyper-Local On Demand business model.
It has 3 major transactional segments. These are the 3 avenues through which Uber Eats earns/invests money.
It operates on a 3 tiered transactional strategy: one, Business to Business (B2B); two, Business to Partner (B2P); and three, Business to Customer (B2C).
Restaurant partners with Uber Eats fall under the business to business (B2B) aspect of the strategy. They are already existing businesses, which benefits from another business (Uber Eats in this case), in return for money.
The Uber Eats drivers are not the employees but the partners of the brand. They come under the business to partners aspect of the strategy. They are the independent partners who benefit from the business and earn revenue via it.
The third aspect is the customers, who receive food for cash, and are often entitled to exciting discounts and offers.
How Does Uber Eats Make Money?
Commission On Orders
Uber Eats receives 30% commission from the restaurant partners on the cost of each item that is ordered by the customers.
Promotions
Many restaurants and food chains like McDonald's sign special contracts with the company to run exclusive promotions on the application and to get more traction and sales. These brands which get into special contracts pay special commissions according to those contracts. The partnership includes special discount codes, features, or even advertisements by Uber Eats.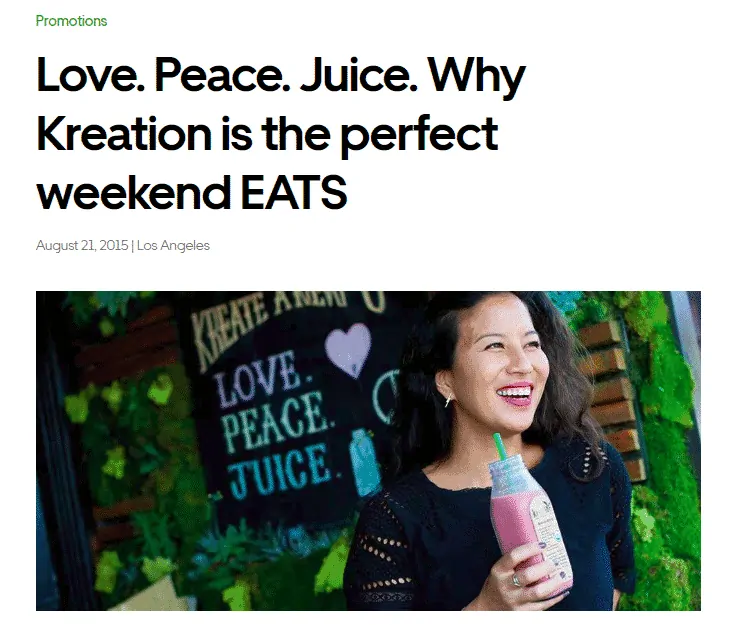 Delivery Charges
Uber Eats charges its customers for the food delivered via its services. The delivery charges are divided into three categories –
A variable delivery fee which depends on the customer's location and the availability of the couriers.
A service fee which amounts to 15% of an orders subtotal.
A small order fee of $2 which is charged when the order amounts to less than $10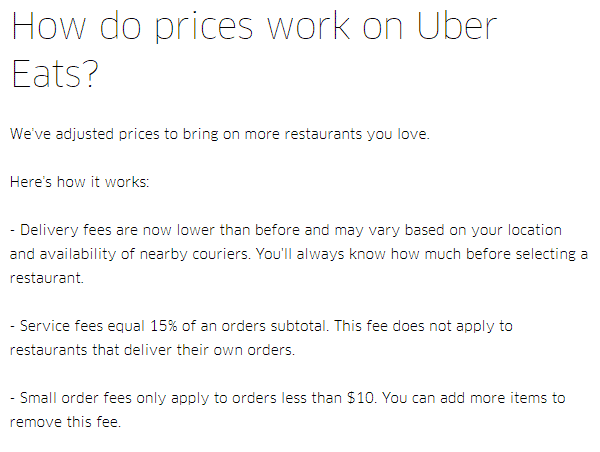 The calculations involved in the process of revenue generation by Uber Eats are-
If a customer orders a dish worth $7.58 from a restaurant in Dallas via Uber Eats driver,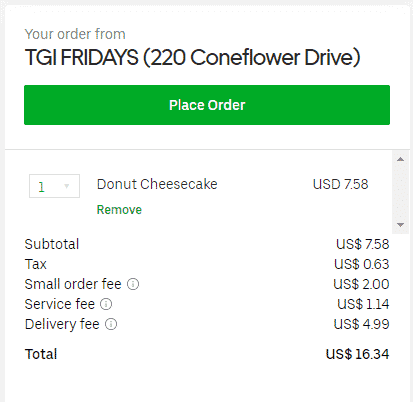 Total paid by customer : $7.58 + $4.99(delivery fee) + $2 (small order fee) + $1.14 (service fee)= $15.71 + tax ($0.63)
Total received by restaurant : 0.7 * $7.58 = $5.306 (70% share of restaurant per dish)
Total earned by Uber Eats driver (considering the delivery was just a kilometer away): $5.50 (per visit to the restaurant, irrespective of the number of dishes picked up) + $3.50 per drop off (irrespective of no. of dishes) + $2.20 per km = $11.20
Uber's cut from the driver's fee (17% of the amount earned by the driver) = $1.9
Total received by the driver: $11.20 – $1.9 + Tip = $9.3 + X
Total retained by Uber : $15.71 – $5.3 – $9.3 = $1.11
Surge Pricing
Just like the parent company, Uber Eats also employ a dynamic pricing algorithm for surge hours. This surge fee (called the Busy Fee) is calculated according to the number of orders in the area and the availability of the delivery partners. It can be as less as 1.13x or as huge as 3x of the delivery fee depending upon the demand and rider availability.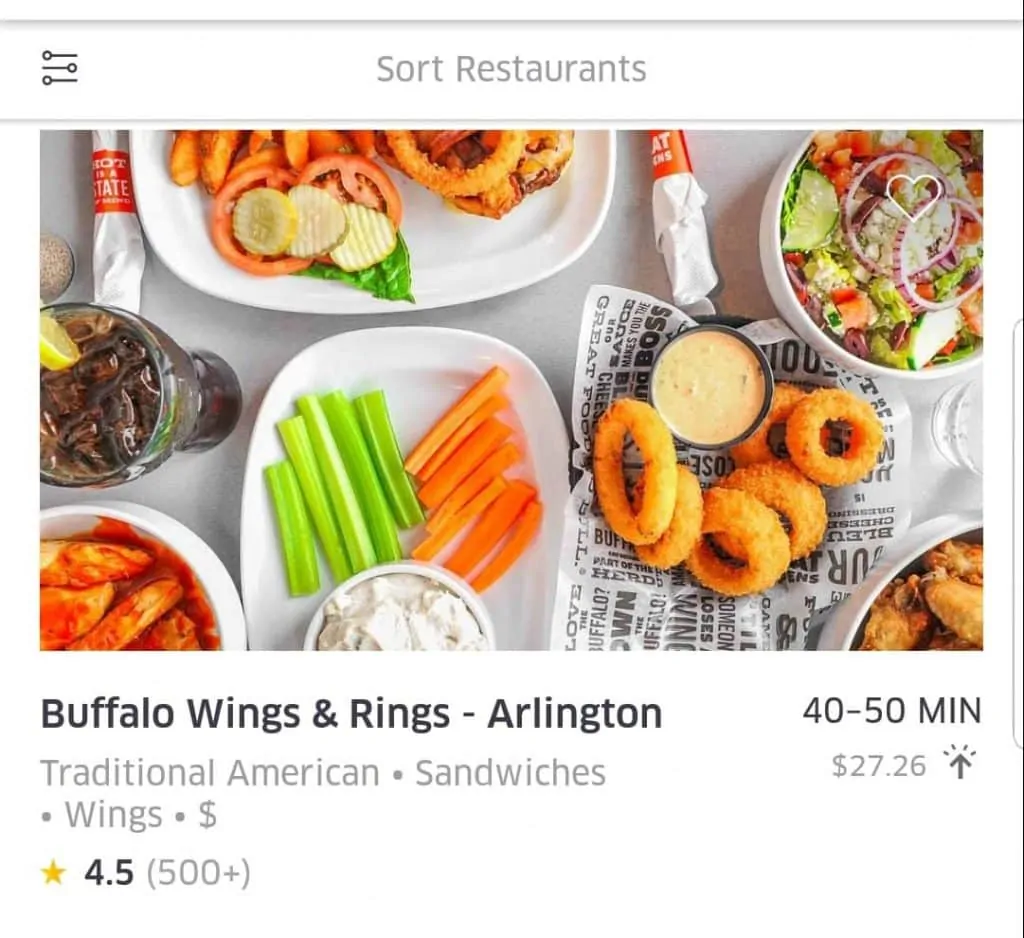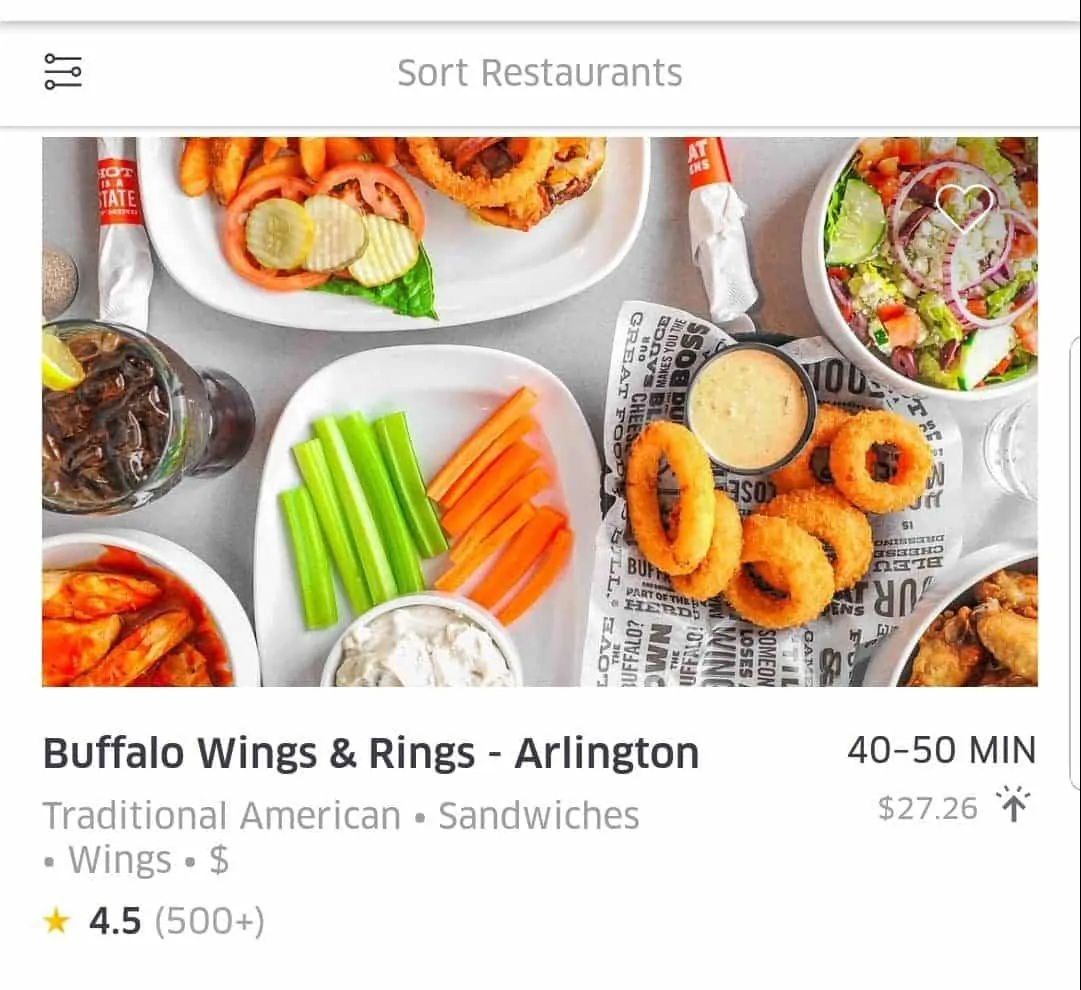 Delivering in the surge zones (or boost zones, as the company likes to call it) benefits the riders as well. More drivers are notified about the boost promotion amount available in a certain area which eventually benefits in terms of more delivery fee them but brings down the surge pricing by increasing the supply.
Future Of Uber Eats
Almost no delivery service is growing as fast or is as popular with customers as Uber Eats in the USA.  It has seen a huge rise in the past years and aims for an even brighter future.
Eats is an exploding business in a good way. It's now at a $6 billion bookings run rate, growing over 200 per cent. – CEO Dara Khosrowshahi at Code Conference at Rancho Palos Verdes, Calif.
Uber Eats has already proven itself to be a scaleup company and within three years, the Uber Eats restaurant food delivery service has grown from an experiment to serving much of the U.S. and major cities worldwide.
Uber Eats has a bright future secured for itself if it is able to either maintain or uplift the standards it currently possesses. Keeping the customers as well as the delivery and food partners satisfied is the major aspect to focus on.
Go On, Tell Us What You Think!
Did we miss something?  Come on! Tell us what you think about our article on How Does UberEats Make Money in the comments section.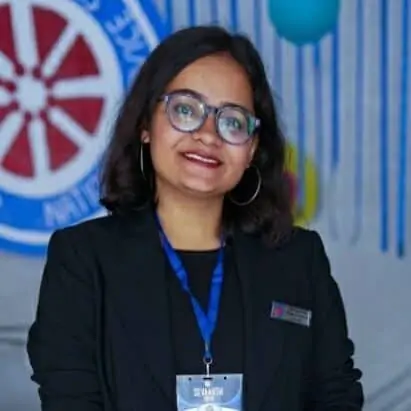 A relationship marketing enthusiast, Kanika loves to work on the psychological dynamics of connecting with people. When not working, she can be found gazing at infinity.