The on-demand economy has disrupted traditional businesses across industries, and the food business is no different. With customers wanting their food faster and more conveniently, restaurants have had to scramble to keep up. Some have turned to technology, others to delivery services, and still, others have gotten creative with their menu offerings.
But there's one solution that's become increasingly popular in recent years, particularly in urban areas: the cloud kitchen – a restaurant that exists only for delivery, with no dine-in option.
Thanks to the Covid pandemic, the food and beverage industry have been forced to re-evaluate the way it does business. And one of the most popular trends to emerge has been the cloud kitchen.
So, what exactly are they? How do they work? And perhaps most importantly – how do they make money?
What is a Cloud Kitchen?
A cloud kitchen, also referred to as a ghost kitchen or virtual kitchen, is a fully or partially equipped commercial kitchen space in a strategic location, used by multiple food businesses to prepare their food for delivery. These kitchens are often smaller and do not have seating arrangements or dine-in facilities. Instead, it is a delivery-only restaurant where the online ordering and delivery are done via food aggregators or the restaurant's app.
This way, the restaurant can do away with the expensive overhead costs associated with running a dine-in establishment, such as rent, waitstaff, decorations, etc. And since they save on these costs, they can pass on the savings to the consumer in the form of lower prices and high quality.
Cloud Kitchens are becoming popular in the food sector because of their ease of establishment and operation, minimal investment, capacity to manage various brands under a single roof, and less space consumption. In fact, according to statistics, the global cloud kitchen market, valued at USD 51.96 billion in 2020, is expected to rise by 12.4 % CAGR from 2021 to 2028 and can create a $1 trillion global opportunity by 2030.
The Idea Behind Cloud Kitchen Business Model
The idea of delivery-only restaurant facilities isn't new. In fact, Grubhub and Seamless were already operating 10% of their New York business from cloud kitchens as early as 2015.
However, with the COVID-19 pandemic and the resulting lockdown, people's dining habits have changed drastically. More and more people are now opting to order in food rather than dine out.
While the dine-in business took a hit due to the pandemic, the on-demand delivery business model saw a surge in demand.
The on-demand startups like Zomato, Swiggy, and Uber Eats saw a boom in their business and accelerated their growth plans by including cloud kitchens in their portfolio.
All this accelerated the growth of dark kitchens by five years within three months in 2020.
Today, a single company may run five different cloud kitchen brands dealing in different cuisines out of a single location.
Who Are The Customers Of Cloud Kitchen?
Cloud Kitchens targets to garner a significant share of working professionals and youth mass willing to spend on high-quality food delivered to their doorsteps. The independent cloud kitchen's primary customers are those who prefer a single cuisine without going out of their houses and rely heavily on third-party applications for food delivery.
What Value Do Cloud Kitchens Provide To Their Customers?
Millennials and Gen Z are heavily conditioned to technology-enabled convenience. They demand more variety of quality food but are unwilling to spend time cooking it themselves or going out to eat. They also prefer not to pay the high service charges that come with dine-in restaurants.
This is where Cloud Kitchens comes in. Combined with the on-demand economy, they provide a solution that is tailored to the needs of this target audience.
Customers get food with just a few taps.
It's less pricey than the dine-in alternative.
They get a variety of cuisines to choose from.
The process is simple and easy to follow.
Several cloud kitchens operate 24×7.
Customers also get hassle-free payment options such as UPI, Credit or Debit Cards, Internet banking etc.
How Do Cloud Kitchens Operate?
Cloud kitchens operate on a delivery-only basis. To deliver meals for off-premises eating, these restaurants rely on orders from their website or delivery apps like UberEats, Grubhub, Deliveroo, Zomato, Swiggy, etc.
This business strategy enables restaurants to diversify and extend their customer base while reducing the highest operating costs—rent and labour. With cheap overhead and just kitchen staff, restaurants save expenses while increasing orders.
Moreover, since customer acquisition is handled through digital channels, cloud kitchens substantially invest in technology that leverages the entire business operation. Besides technology, other significant expenditures include well-equipped kitchen equipment and labour, such as chefs and delivery personnel.
Some cloud restaurants use their delivery application to customise their service, while others partner with delivery aggregators.
There are several ways to run a cloud kitchen. It can range from adding a delivery-only brand to an existing restaurant kitchen to running a purpose-built commissary kitchen housing multiple brands. However, the primary reason for the success of the cloud kitchen business is its ability to generate revenue through various business models.
The cloud kitchens operate on the following business models:
Independent cloud kitchen: This is the classic cloud kitchen model. It is a restaurant with no physical presence. As the demand for online food grew, so did this concept. It consists of a single brand that prepares food in a kitchen based on online orders. Typically, such kitchens focus on a single cuisine. It is a self-sufficient business model for receiving orders and delivering packed meals.
Multi-brand cloud kitchen: Rebel Foods developed this business model in 2011. This cloud kitchen business model is slightly more complex and employs data intelligence to develop business strategies. It is based on an in-depth assessment of food consumption trends in a specific location. The most popular or ordered cuisines in a particular area or demographic are identified and catered to using this cloud kitchen model. Food is prepared in a shared commercial kitchen where various brands prepare and package the meals. It is a strategic and efficient model that generates profits while reducing operational costs.
Hybrid cloud kitchen: This model is a combination of a takeaway restaurant and a cloud kitchen. It functions similarly to a cloud kitchen but has a storefront where customers can come and get their food. Here, the food delivery process can be done independently or by an aggregator food delivery app like Zomato or Swiggy. The hybrid model employs a single brand in a single kitchen. However, it also has multiple walk-in outlets that provide takeaway and delivery services for food orders.
Co-working cloud kitchen: In this cloud kitchen model, entrepreneurs make a living by renting out space to other cloud kitchen businesses. The kitchen space is rented out to multiple third-party brands, which acts as a co-working space and an incubator for other cloud kitchens. The entrepreneur here acts as a landlord rather than a business owner. Furthermore, the business owner is expected to provide utility services and supplies that make operating a cloud kitchen easier in a shared kitchen.
Delivery app-owned cloud kitchen: In this business model, a delivery app company leases or buys a kitchen space and allocates it to various emerging food brands. These food delivery apps manage the orders and the delivery fleet. The delivery app company and the food brand have a symbiotic relationship in this model. Food brands use the app's reach to gain more customers, and the app uses the food brand to provide more options to its users. For instance, this cloud kitchen model is used by food aggregator apps such as Zomato and Swiggy.
Fully outsourced cloud kitchen: As a novel concept, this cloud kitchen model was introduced by the food delivery aggregator Kitopi. First, most food preparation is outsourced and delivered to the kitchen. Then, the chef only adds the finishing touches. And finally, the delivery of the order is handled by Kitopi.
Key Activities Of Cloud Kitchen
The key activities of Cloud Kitchen include:
Developing relationships with restaurants and retail stores.
Recruiting delivery companies and suppliers. They can work full-time, part-time, or as freelancers.
Acquiring customers and managing their orders.
Managing the Payment and Delivery Process.
Managing technical operations.
Developing and updating the IT infrastructure required to run the business.
Resolving customers' and partners' queries and concerns.
Key Channels
Cloud kitchens can reach the customers either directly – through their own application or website – or indirectly, through marketplaces such as Zomato, Swiggy, and Foodpanda. They can also partner with delivery companies such as Dunzo, Shadowfax, and Rapido to get orders from customers who use their platforms.
Key Partners Of Cloud Kitchen
The operating model of Cloud Kitchen focuses on two key partners —
Enabling Partners: It includes entrepreneurs who provide commercial kitchen spaces to allow cloud kitchens to function and prepare delivery optimised menu items. The kitchen spaces may be either partially or fully equipped.
Fulfilment Partners: Cloud kitchens collaborate to complete their business framework with the fulfilment partners. It includes Delivery partners, Packaging Partners, and Payment Processors.

Delivery Partners: These individuals work as partners for the cloud kitchens and help them deliver the food to their customers on time—for example, Foodpanda, Zomato, Swiggy etc.
Packaging Partners: Packaging partners help cloud kitchen businesses optimise their orders' packaging.
Payment Processors: The Cloud Kitchens must have a payment gateway or processor. Payment gateways aid in the tracking of all consumer payments and the flawless execution of orders. Payment gateways such as UPI, Paypal, and others provide similar services to Cloud Kitchens.
Key Resources Of Cloud Kitchen
Cloud Kitchens build their operations on the following key resources:
Human Capital: Human capital is an intangible asset of any business. It boosts productivity and, thus, increases the profits of the company. Hence, cloud kitchens investing in their employees are more likely to be productive and successful.
Technical inputs: Technology is essential for the seamless operation of a cloud kitchen business, promoting operational efficiency. A comprehensive technology platform will seamlessly integrate the Point of Sale (POS) system, Integrated Kitchen Display System (KDS), and inventory management. As a result, it will assure operational efficiency and the smooth running of your cloud kitchen business.
Financial resources: As the demand for online food delivery is growing, cloud kitchens are becoming popular for starting a new restaurant business. Besides, they require less financial assistance than a traditional restaurant. Hence, the investors in cloud kitchen can meet the financial needs of the cloud kitchen businesses through funding.
How Do Cloud Kitchens Make Money?
Cloud kitchen revenue model isn't too different from that of a restaurant. The main difference is that the former doesn't entertain dine-in customers.
The revenue streams and costs of a cloud kitchen are often similar to a usual restaurant.
Revenue Streams of Cloud Kitchens
A cloud kitchen generates revenue much the way a traditional kitchen does. They earn from the sale of their food per order basis.
The kitchen can also earn money on a subscription basis. For instance, customers who subscribe to meals from the cloud kitchen can pay for their food at regular intervals, like weekly or monthly.
Besides this, cloud kitchens that operate independently may also charge customers certain delivery fees.
Costs Incurred by Cloud Kitchens
The typical costs for a cloud kitchen include the following:
Rental space for setting up the kitchen: The cloud kitchen model has a cost advantage over other restaurants. The kitchen space can be cheaper and does not need to be in a prime location commanding premium rentals.
Cost of equipment and packaging
Ingredient costs.
Staff costs include salaries of chefs, delivery personnel, and support staff.
Marketing: Brand promotion and marketing costs to ensure customer brand recall.
Technology that streamlines operations and automates business processes.
POS and Inventory management that focuses on reducing waste and handles lost orders.
For example, let's see the cost breakdown for setting up a cloud kitchen in the US.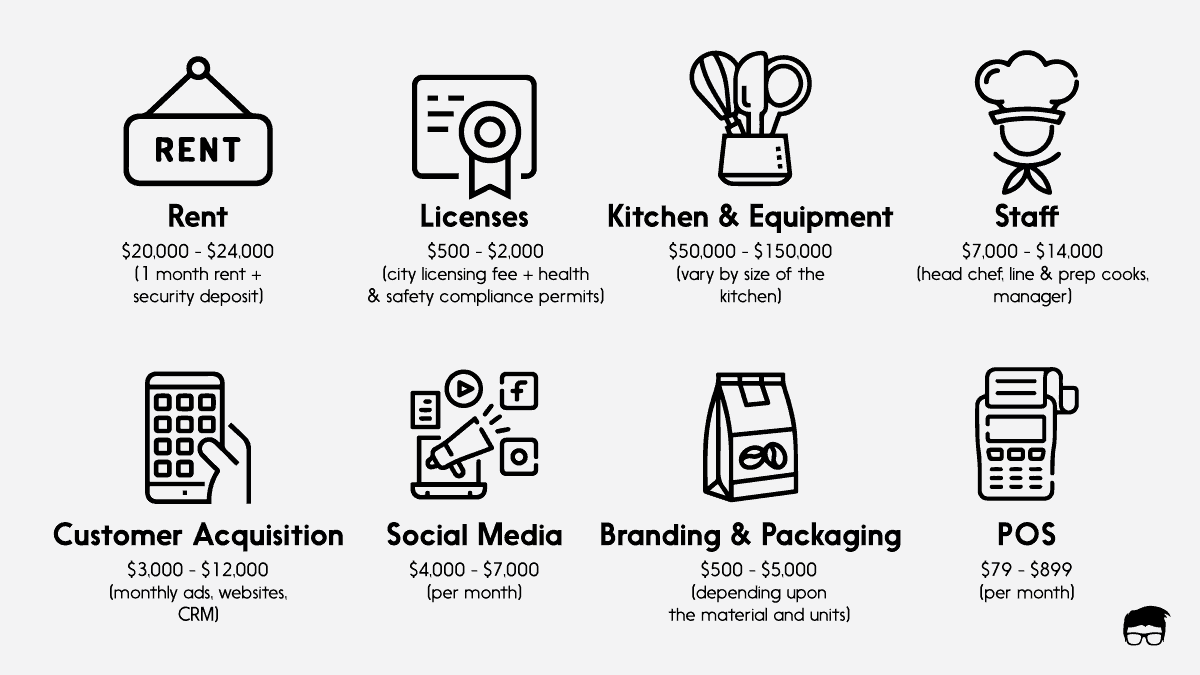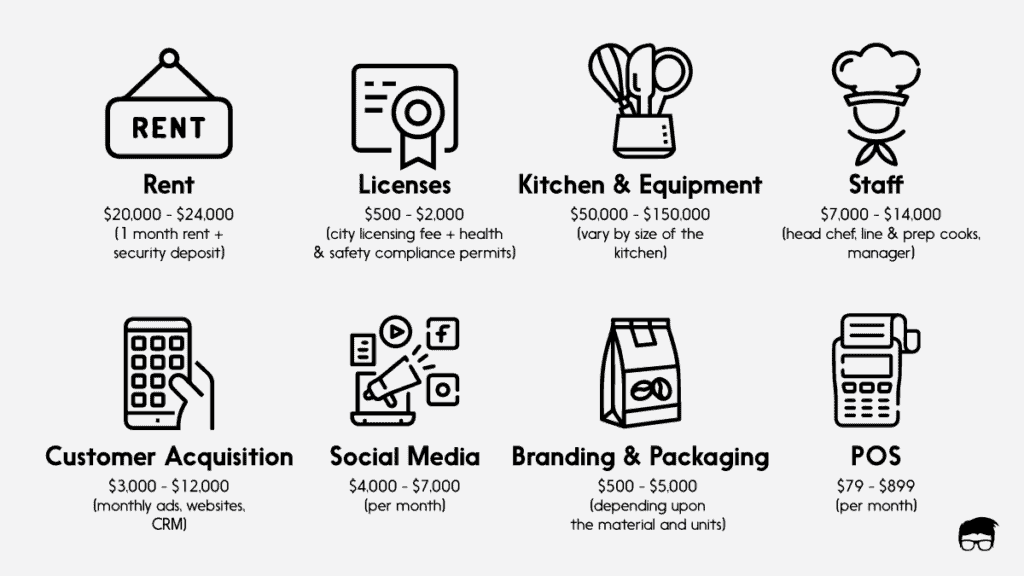 Bottom-Line?
Cloud kitchens are disrupting the food industry as food lovers are increasingly shifting towards ordering their food online and getting it delivered to their doorsteps. While restaurants will always have a stronghold due to their dine-in experience, cloud kitchens are still emerging as strong competitors due to their convenience and variety.
Moreover, cloud kitchens are here to stay, with social distancing becoming the new normal after the COVID-19 pandemic. They have already started capturing the market and piqued investors' interest.
Go On, Tell Us What You Think!
Did we miss something? Come on! Tell us what you think about our article on cloud kitchen business model in the comments section.
A lawyer and an avid reader with a keen interest in company laws. Anwesha has good experience of writing in the legal and startup industries for well over 10 companies. In her free time, you can find her reading fiction and stargazing.