They say food makes its way to one's heart directly, but have you ever thought how does that eye-pleasing and lip-smacking food makes its way to your homes, even before you grub on it? Well, if you're in the United Kingdom, Deliveroo is doing this for you, every day.
Their mission is very simple, to bring amazing local restaurants direct to everyone's doorstep. It does not matter if you want milkshakes for breakfast, salad for lunch or Italian main course for dinner, Deliveroo brings every cuisine you can imagine to your home or office as soon as possible or as they claim, in less than 30 minutes.
Making people feel the essence of eating piping hot food in a gourmet restaurant, Deliveroo has outshined everyone else in their niche. An outstanding food delivery platform, it is currently valued at around $2 billions and employs over 1000 people in their London office and has operations in several global locations.
Deliveroo Business Model
Founded in 2013 by William Shu and his childhood friend and partner Greg Orlowski, this food ordering and delivery platform is very similar to unicorn startups such as Grubhub in the United States of America and Swiggy in India.
Disrupting the traditional business models where ordering partners like Just Eat used to operate separately from delivery partners like Onfleet, Deliveroo combined the aggregator business model with the marketplace and logistics business model to create an all-new hyperlocal on-demand business model.

The company operates on a dual partnership model where it aims to solve the problem of bad restaurants and bad delivery. These partners are:
Restaurant Partners

Restaurant partners are premium restaurants in the localities that may or may not offer a doorstep delivery service but are willing to expand their clientele by joining hands with Deliveroo. These Premium restaurants are some of the world's best-known eateries and they have seen their businesses grow substantially since the time they've partnered with Deliveroo. According to Deliveroo, their revenues have increased at an average rate of around 30% every year. Some of the great opportunities that Deliveroo provides which various other food delivery businesses in the United Kingdom have failed to bring to these restaurants are:
Brand Promotion: These restaurants are constantly promoted through their channel and various growth programmes.
Support: Deliveroo provides its restaurants and gourmet kitchen partners continuous assistance in terms of Performance analytics to monitor the health of their businesses apart from the highly efficient 24×7 Customer support and dedicated account management.
Tech: Deliveroo has worked to provide these restaurants completely automated processes with easy to learn and simple to access technology which helps them take and dispatch orders in the simplest manner.
POS Integration: The company has also developed a Restaurant partner API which allows for an integration between Deliveroo and restaurants' Point of Sale (POS) systems. This helps the restaurants to see all the Deliveroo orders in their POS system in real time.
Growth: Deliveroo also has an Editions program where it helps restaurants open new outlets in new localities based on their algorithm and technology-driven market research about the choices of food and eating patterns of people in that particular area. It usually takes around 8-12 weeks to set up a new outlet and guides the restaurants through all forms of logistical and managerial support. This way it not only increases its revenue but helps in multilateral growth of the restaurants as well, which other players on a similar platform do not.
Perks: Restaurants are also provided with several perks like free 4G internet, website & online presence, recruitment support, free employee benefits program, print & merchandising, free customer wifi, and discounted packaging materials, and several other discounted offers to help them grow.
Delivery Partners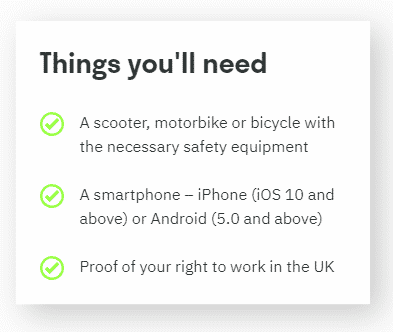 Deliveroo's delivery channel consists of a fleet of over 30,000 riders, who pick up freshly prepared food from the restaurants and deliver it to the customers on their bicycles, motorbikes and scooters within a stipulated time of 30 minutes. These riders are one of the most iconic parts of this successful business model and Deliveroo gives a lot of credit to these hustling riders who are willing to go the extra mile to accomplish Will Shu's mission of changing the food delivery platform scenario. These riders not only make sufficient amount of earnings but also receive great perks and assistance which have led them to prefer Deliveroo over other food delivery platforms. Some of these include:
Flexible Work Hours: These riders are provided high flexibility in terms of work hours and can choose the time of the day they want to work for. Deliveroo rider app makes them plan their schedule accordingly where they simply have to log in and start riding anytime.
Tips & Referrals: Depending on the number of hours spent these riders earn around £7-8 per hour. They also get to keep all of the tips that the consumer gives at the time of placing the order on the app. This way an everyday rider usually earns £120 per week on an average. They also get £250 for referring riders to Deliveroo.
Insurance: Deliveroo makes sure that its riders are safe on the roads. Their vehicles are given pay on the go Insurance with the help of the Zego app which is integrated to this platform.
Other Perks: The riders are provided with high-quality safety gear, Deliveroo essentials, free international money transfers, coupons and discounts. They are also provided free online resources and they form social groups like Deliveroo riders' community.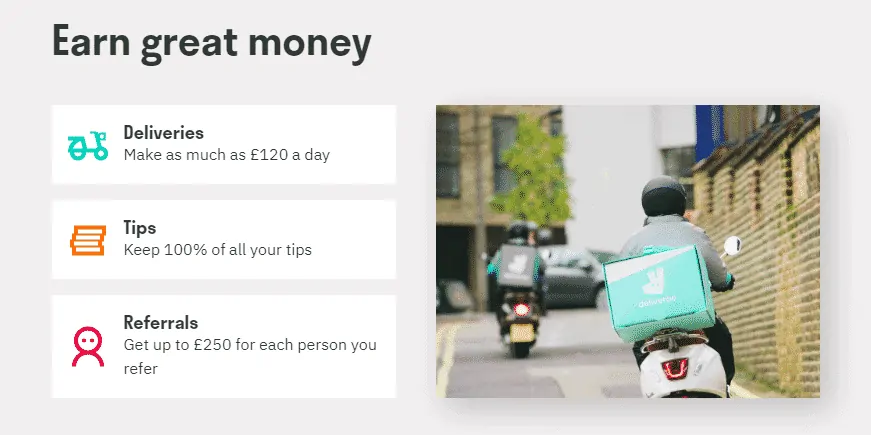 Deliveroo's ultimate consumers are those individuals who want to buy food from premium restaurants and best eateries of the town but want to enjoy that facility in their homes and offices. Deliveroo has been highly successful in this segment because it has been able to cater to the needs of a large customer base in an efficient manner. Deliveroo not only pays attention to the food delivered by the restaurants but ensures that consumers get what they want. This is one of the main reason that Deliveroo has tried to provide customers with a great choice of meals to choose from, different cuisines for different meals. Deliveroo's customers have been highly satisfied because of its simplicity and efficiency.
How Does Deliveroo Work?
Working towards its aim of revolutionising the experience of doorstep delivered food for its consumers, Deliveroo works all of this out in a simple but dynamic model. Deliveroo has done thorough market research and has performed extensive data analysis operations to develop a food delivery platform which is easy to access for the consumers, restaurants and delivery riders.
Deliveroo's main operational channel is through its app and website platform. These platforms have been curated by a technology-driven innovation and expansion process and the ordering of food takes place in the following way:
Consumers are provided with a wide choice of dishes from numerous cuisines which they look up on Deliveroo's website or mobile phone application. They can select the locality they want to get food delivered to on the basis of the postal code and nearby restaurants are listed on the app.
Source: pixeloute.com
After having chosen their food from the partner restaurants, consumers can place their order and proceed to checkout by completing the payment through highly secure payment gateways such as Credit cards, PayPal, Apple pay and much more. The process of ordering takes hardly a minute to complete through the app.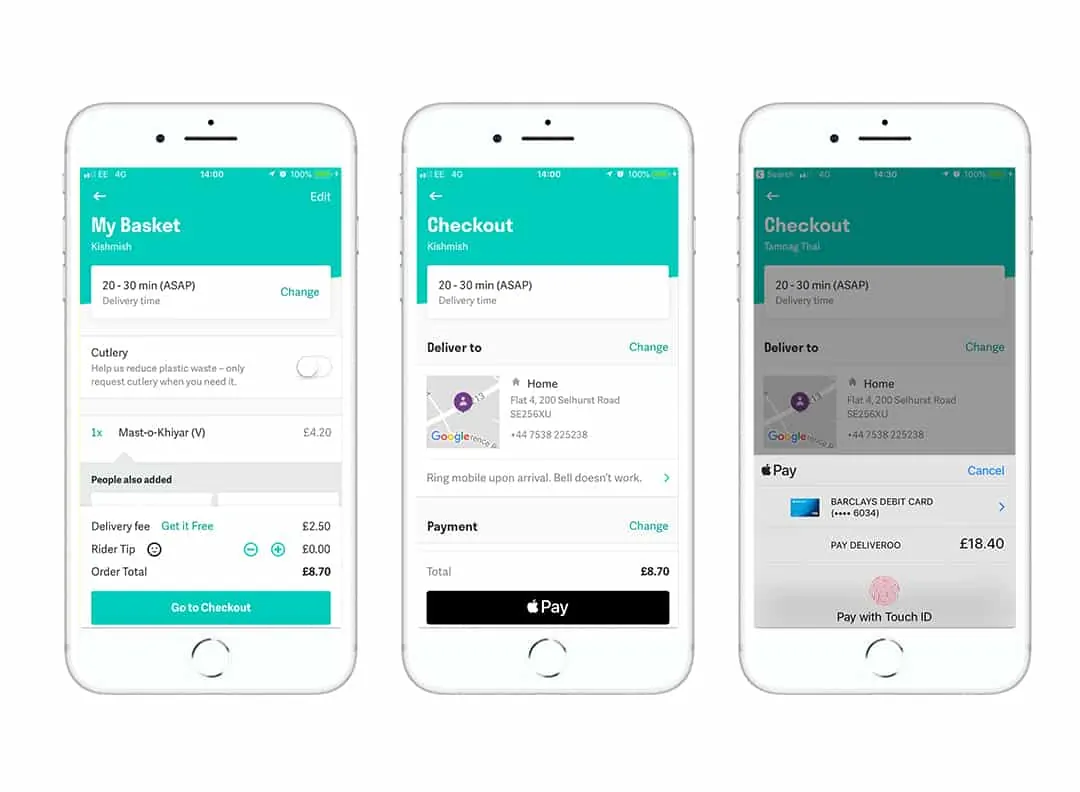 With the completion of the order, the restaurants are notified about the food to be prepared with additional information, if fed by the consumer. At the same time, the people who place the order can track their food on the Google maps API linked to Deliveroo's application.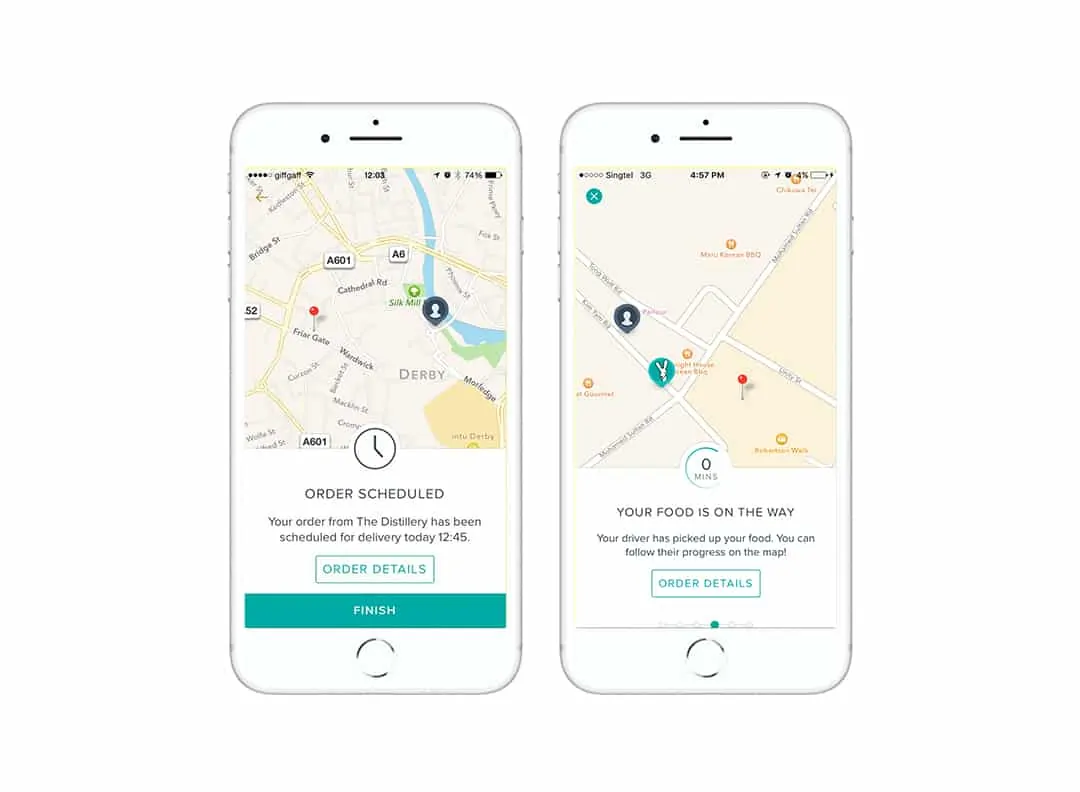 Since Deliveroo focuses a lot on the timely delivery of this delicious food, the riders are stationed within a 2.2 km radius of the eateries they sign up for so that the collection and the dispatch are quite convenient. As soon as the order is placed by the customer, these riders are notified on their respective app to reach the pickup location. These riders make sure that hot and sizzling food is delivered to the consumers in less than 30 minutes without the quality of the food being hampered.
How Does Deliveroo Make Money?
Sources of revenue:
A big share of Deliveroo's revenue comes from its direct customers. They charge a delivery fee of £2.50 per order and commission fees from their partner restaurants which usually falls under the bracket of 10%- 20% per order (restaurants are charged more if they have more than one on-demand delivery partner).
Deliveroo also earns a fair share of the revenue from its promotions and partner perks which it provides to partner restaurants for a certain fee.
Sources of Expenses
Deliveroo pays its riders in the UK a wage of £6-7 per hour and additional £1 per delivery. Additional bonuses are paid to the drivers performing well during the peak hours. Riders with scooters and motorbikes are paid 25p more per hour and petrol costs of 0.09£ for every 1km. The company also runs some promotions where the riders are provided with the cycles and other equipment for free.
Other expenses can be classified but are not limited to
Application and website development charges
Application and website maintenance charges
Salaries and provisions to full-time employees (Deliveroo has over 800 full-time employees all over the world)
Administrative costs
Advertising and marketing costs
Benefits provided to customers in the form of offers
Returns and refunds
Miscellaneous expenses
What makes Deliveroo Successful?
A key ingredient to Deliveroo's success is its unique values which have been the strongest aspects of Shu's brainchild. Deliveroo not only caters to the needs of the people but it also enhances their experiences with the help of their highly motivated team and its top-notch services. Deliveroo has laid emphasis on various principles which have helped it lead the on-demand platform. They are:
Accessibility & Convenience: Deliveroo has made food ordering as simple as it could have been. Starting from the choice of food to the doorstep delivery of amazing food, Deliveroo takes care that every part of this process is done in a quality manner. Its ratings in the global food scenario have been increasing at a great margin.
Technology: The company boasts its innovative strategies to serve the consumers. It has already been successful in reducing the delivery time by 20% with the help of its 'Frank' algorithm which is based on powerful predictive technology that evaluates the most efficient way of distributing orders based on the location of restaurants, riders and customers.
Affordability: Deliveroo has made sure that people can afford any type of meal at a normal price without losing the experience of dining in a restaurant at a meagre amount of money.
Brand Development: This startup has been able to create a brand of its own, all thanks to its indispensable services and plummeting numbers. Deliveroo has been expanding ever since, seeing revenue growth of around 650% every year. Deliveroo has grown an extraordinary amount of revenue for its high profile restaurant partners. Deliveroo's seasonal programmes and advertisement campaigns have focussed on developing a strong customer base for the brand.
Future of Deliveroo
Deliveroo's name takes its reference from Kangaroos, animals who are highly protective for their young ones. Similarly, Deliveroo has aimed to be the protectors of the dining experience. Their dynamic business model is profitable but has a lot of competition with respect to its services and the niche that it has targeted. The future of Deliveroo rests upon the significant changes in their revenue model to lower down the costs and maximise the profits for riders, restaurants and the company itself. The company is already operating in over 200 cities across 12 countries and is constantly innovating and expanding its operations to reach more consumers throughout the world.
Go On, Tell Us What You Think!
Did we miss something?  Come on! Tell us what you think about our article on Deliveroo business Model | How does Deliveroo work & make money? in the comments section.
A startup consultant, digital marketer, traveller, and philomath. Aashish has worked with over 20 startups and successfully helped them ideate, raise money, and succeed. When not working, he can be found hiking, camping, and stargazing.