Whether you have just started a new enterprise or are the owner of a well-settled business, it is not easy to find freelancers. Although the recent rise of the gig economy has left no shortage of independent workers, you still need to put a lot of effort into finding and selecting the right people.
Good freelancers are assets for an organisation. Besides being economical in terms of wages, they help you avoid overhead charges like paid leave or relocation costs and assure a better quality of work. Freelancers are the experts who thrive on their regular clientele and referrals, so they are more inclined to produce satisfactory work. They also tend to make themselves useful by offering constructive feedback, suggestions, and guidance. Their exposure to the industry ensures that they are better than regular employees on this front. Therefore, it is not surprising to see small, medium, and large enterprises hiring freelancers for even their core tasks, along with the non-core ones.
Core jobs like product development, inventory management, and tax accounting haven't been outsourced for a long time because any disruption would hamper the whole business. However, the situation has changed now. Upwork's Future Workforce Report released in 2020 revealed that 57% of the hiring managers engaged freelancers for ongoing strategic partnerships across multiple channels.
As of March 2019, even a corporate giant like Google's workforce comprised 54% freelancers and contract workers. Research shows that 45% of freelancers provide programming, marketing, and other consulting services, while web designing, SEO specialisation, and sales representation are the top three in-demand jobs in 2021.
When the situation is this broad, competitive, and diverse, it's challenging to find a freelancer. Here, we have curated a guide to assist you with this tricky piece of work.
Where do I Find Freelancers?
The most challenging part about hiring a freelancer is looking for them. Most of the founders fail in this first step because of the many online portals and social media channels that have only made their jobs more challenging. Although you get many options, you don't have one decent choice.
So, the question is, "Where should one start searching for freelancers?" Simple! Among your known ones!
Approach your entrepreneur friends and tell them about the job you want to get done. They might be able to guide you to the right person. Remember that freelancing thrives on referrals, and this is the most trusted way to hire.
You can also approach freelance communities like Facebook groups and Reddit circles. Talk to people there about your business and the kind of work you want to get done. Be clear, and they might be able to get you in touch with the right freelancers.
Another effective way to find gig workers is through online platforms like virtual freelance portals and social media channels.
Fiverr
One of the most widely used freelance websites, Fiverr lets you access high-quality services at every price point. Here, freelancers from different niches post about their skills and wait for hirers like you to approach them, thus making Fiverr the 'Amazon' for freelancing services.
To use Fiverr, start by creating a hirer's profile and then search for the job you are hiring for. You will be guided to a page that lists the freelancers' posts or 'gigs'. These gigs contain details about their past works, experiences, charges and other things you might want to know.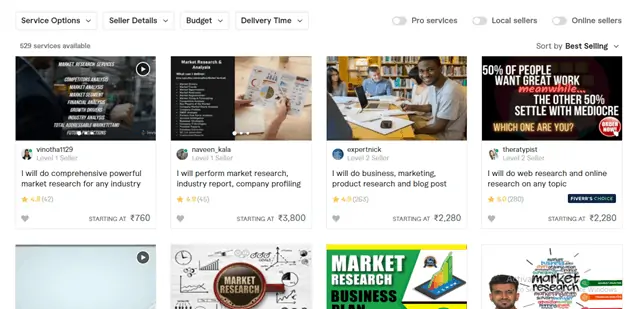 Filter these search results based on the experiences, ratings, charges, delivery time and other criteria. Remember that, besides experience and work profile, ethnicity also defines a freelancer's charges; for instance, people from developing countries usually sell their services cheaper. So, you might want to hire someone from India rather than from the US.
Gigs contain almost all the relevant details about the person and their offering.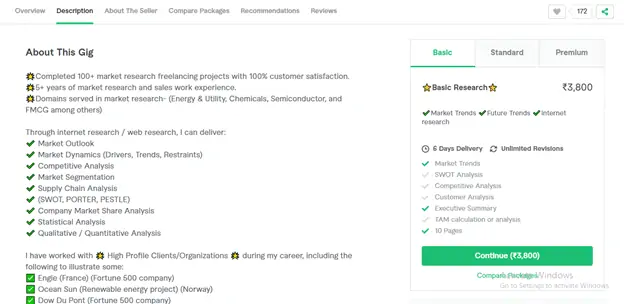 After you have gone through enough profiles and shortlisted a few names, get in touch with these freelancers. Have conversations, conduct interviews, ask for more details and only then make the hire.
Since Fiverr is a place for people having varying degrees of experience, it is difficult to meet certified experts. You can upgrade to Fiverr Pro for this. This platform has one more premium mode: Fiverr Business. It helps you manage projects and collaborate with your freelancers effectively.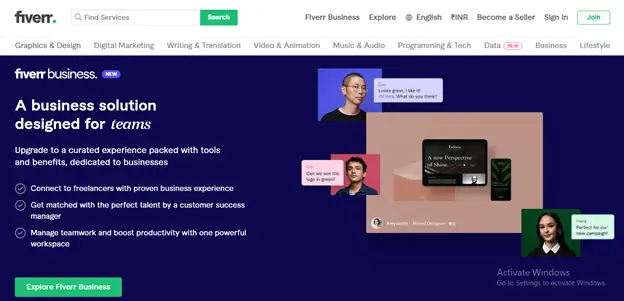 Upwork
Upwork is the "world's work market space". Here, hirers post their offerings and freelancers approach them, opposite to what happens on Fiverr.
You can use Upwork in three ways:
You post: Create a profile, and after that, watch guide videos to learn how to list your offering.

Fill in all the required sections and be as detailed as possible. Once done, Upwork will show you a list of freelancers especially curated for your needs. In some time, you will start receiving proposals. Go through them carefully, compare the freelancers against each other, interview them, and select the best for yourself.
You browse: Upwork has a project catalogue in place for your most pressing needs. In the search bar, type the job you want to get done, and it will show you a list of predefined projects relevant to your needs.

You can filter these based on project attributes, delivery time, price, and other relevant categories. Go through them properly before buying the most appropriate one.
You Talent Scout: Upwork has a Talent Scout feature wherein you tell them about the skills and expertise of the person you want to hire, and they connect you to the right people.

Just give all the details to Upwork recruiters and wait for them to shortlist the apt freelancers for you. Once done, you can go through their profiles, interview them using the platform's video conferencing feature, and make the right choice.
If you want additional benefits like assistance during the hiring process, collaborative tools, more filtering options, and a badge of credibility, you may as well switch to Upwork Plus.
Freeup
Freeup gives you access to its handpicked selection of freelancers from all across the world and connects you with entry-level, mid-level, and expert-level professionals depending on your requirements.
A distinguishing feature of Freeup is that it evaluates the freelancers' skills before selecting only the top 1% of the applications so that you get to work with the best from the start.
Here, you work in three steps:
Create an account. Make sure that it looks credible.

Fill in the project details to let the platform know what you are looking for.

Wait while Freeup matches you with 1 to 3 freelancers. You can connect with them, talk, and decide whom to hire.
One more thing to know here is that Freeup bills you on an hourly basis. It has tools to track the number of hours worked by freelancers. Moreover, its support team is ready to help you with the hiring process and anytime during your work.
Speedlancer
Speedlancer is another website that recruits freelancers only after interviews and evaluations. It partners with the top 500 freelancers worldwide, many of whom have worked with companies like Foundr, Bloomberg, and Facebook.
Here, you start by creating a free account but have to pay to post your offering.
This job offer is then circulated among the freelancers on the platform.
Now, either of the two situations arises here:
No one accepts it in the next 8 hours, and all your money is credited back to your account.
OR
A freelancer accepts the job, and you have your task delivered within the next four hours.
However, staying active the whole time would be best because the person working on your project might need some clarification or extra input. After you get the finished work, go through it and ask for revisions if needed. You can talk to Speedlancer's support team in case of a query or issue.
Toptal
Toptal is a freelance platform specifically designed to help startups hire top freelance talent. It is trusted by rising brands like Duolingo, Shopify, etc., for their business, technology, and design needs.
You follow four steps to work on this platform:
Create an account.
Submit your job description. Toptal asks you a few basic questions; answer them as accurately as possible.

Wait for Toptal's team of experts to review your application and match you with the right people. They may get in touch with you if needed.
Once you get your match (typically within 24 hours), connect with them and see if you are compatible.
Toptal allows you a no-risk trial period when you can work with a freelancer and decide if they suit your requirements. If things don't go well, the platform covers you up with absolutely no replacement costs.
99 Designs
99 Designs is a creative platform specifically tailored to your design needs. The professionals here design everything from logos and websites to advertising campaigns and books.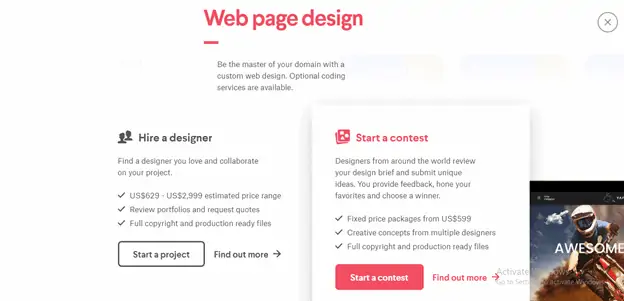 You can work in either of the two ways here:
Go through freelancers' profiles just like on Fiverr and decide whom to approach.
Organise design contests wherein you post a description of what you need and freelancers submit their ideas for it; you can then select the best among them and pay for that design.
99 Designs also has a few other features to assist you in designing for your brand.
99 Designs Studio offers design insights from experts around the world
You can also use 99 Designs Select, which handpicks a small team of a few of the best designers to support your brand.
Scripted
Scripted is the freelance portal distinctively tailored to your writing needs. Whether you want to create SEO-friendly content to boost your website's organic reach or curate email newsletters for your marketing needs, Scripted is the one-stop solution.
After you have created your account here, you need to work in three phases:
Scrutinising phase: After creating an account, post your project on Scripted. Freelancers will propose their ideas for it. You can select the one or two that you like and go forward with them.

Waiting phase: You will receive the first draft of your work within a week. Be patient till then.
Editing phase: Now that you have your draft ready, go through it and request edits if needed. Scripted's efficient review-and-approve system eases the revision phase.
Later, when you are comfortable with the platform, you can post invite-only projects; that is, only the freelancers you invite can bid for it.
LinkedIn
Not exactly a job portal, but LinkedIn is the most widely used professional networking service globally, with a user base of about 740 million. It is a Facebook-type platform where students and working professionals maintain profiles, share posts, and interact with each other's content. However, instead of making friends, you build professional connections on LinkedIn.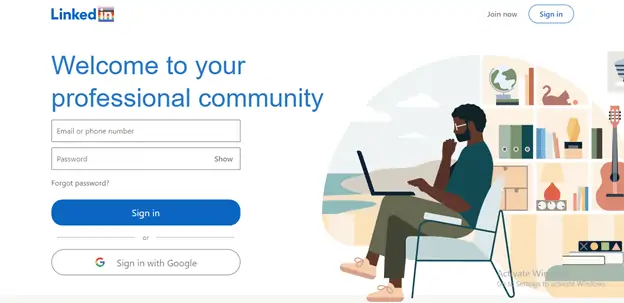 It is relatively simpler to look for freelancers here. You create a LinkedIn profile with all the relevant details about yourself and your organisation.
Then, search for the hashtags, circles, and pages related to the profile you want to hire for, and LinkedIn will guide you to the right people.
After finding a few relevant profiles, go through them, check these people's activities and experiences, and directly connect with them. LinkedIn also has a call feature to facilitate interviews.
Moreover, the platform allows you to post about vacancies in its job section.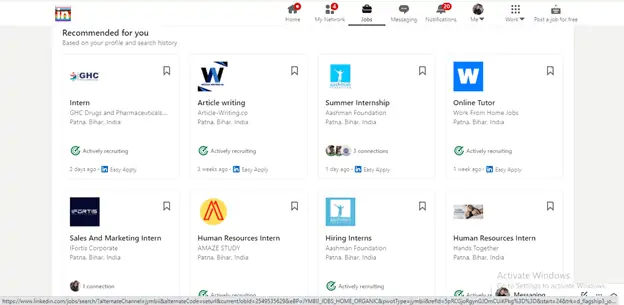 Freelancers who skim through this section can apply directly to you. Then, you can review them and pick the right person.
How do Freelance Portals Charge You?
Freelance portals work on escrow accounts; that is, they collect payments from you before starting the project and disburse payments to freelancers after each milestone is achieved. You may also enter into a contract where the freelancer is paid at the end of the project.
However, you must remember that these portals do not pay the freelancers unless you have approved of the project. They also allow you to ask for revisions and edits.
How to Hire the Right Freelancer?
The above-mentioned online platforms house the best talent. However, they are cluttered with freelancers from various fields and niches and seem tiresome, especially when you are new in the game. So, it is essential to understand how to find the most appropriate person for your job.
Communicate: Communication is the key to gauging a person's capabilities. So, strike a meaningful conversation with a prospective freelancer and make sure that you're compatible. Also, while you are at it, don't forget to look for red flags.
Ask their charges: One of the first things you should ask a freelancer is their charges. Remember that it does not depend only on their experience but also ethnicity. Make sure that their services are within your budget. Also, be careful while deciding on the budget. You need to consider the hard work required for the job, the extent to which it will benefit your business and the industry trends.
Do your research: While a freelancer may have a great profile and excellent conversational skills, you also need to be sure of their work's quality. Do a background check on them, especially when hiring through platforms like Reddit circles or LinkedIn. Go through their posts and activities, and try to know more about their past experiences. Although portals like Fiverr let you access the freelancers' profile, be sure to still ask about their previous work history. Don't hesitate to ask them for portfolios and referrals.
Don't ask for free samples: While extremely obvious, there is a need to mention this point. If you are not satisfied with a prospective worker's portfolio and want them to create something specific to your needs, pay them for it. Asking for free samples is undignified and may bring a bad name to you and your organisation.
Let them understand your company: One needs to know a business before working for it. So, communicate freely with the people who may hire. Let them understand your company, its culture, and ethics so that they make an informed decision.
Draw a contract: Now that you have chosen the right freelancer, don't forget to sign a contract. A freelance contract outlines the terms of work between you and the freelancer. It describes the scope of work, deadlines, payments, and expectations of both parties. Usually, these documents are either independent contractor agreements, that is, the ones signed by people who will work for your business or consulting services agreements, that is, the ones signed by people who are supposed to provide you with consulting services. You may also need to ask the freelancers to sign non-disclosure agreements (NDAs), especially when you let them in on sensitive information.
Tips to Manage Freelancers
Although freelancers work on a contract basis, they tend to look for long-term and regular relations with their clients. More often than not, they are assets for your organisation. Therefore, it is mandatory to deal with them wisely.
Treat freelancers as you would treat a regular employee
Set clear expectations, time frames, and deadlines
Ensure effective communication and collaboration
Make time for discussions and feedbacks
Pay them on time and fulfil your side of the bargain
Go On, Tell Us What You Think!
Did we miss something? Come on! Tell us what you think about our article on how to find freelancers in the comments section.
A finance enthusiast, literature beau and lifelong learner. Working her way up the success ladder and her personal philosophy textbook, Kavvya believes that a good conversation is worth more than a good book. When not working, she can be found reading, writing and engaging in long walks.