If you thought LinkedIn is just for professionals and job seekers, you've had a wrong impression of this professional social media network. While analysing LinkedIn's business model a few months back, I mentioned about the marketing and sales tools it provides to the businesses. This article is dedicated to using those tools to market on LinkedIn, generate leads, and convert them.
But before we start, here are some facts about LinkedIn and LinkedIn marketing that you should know –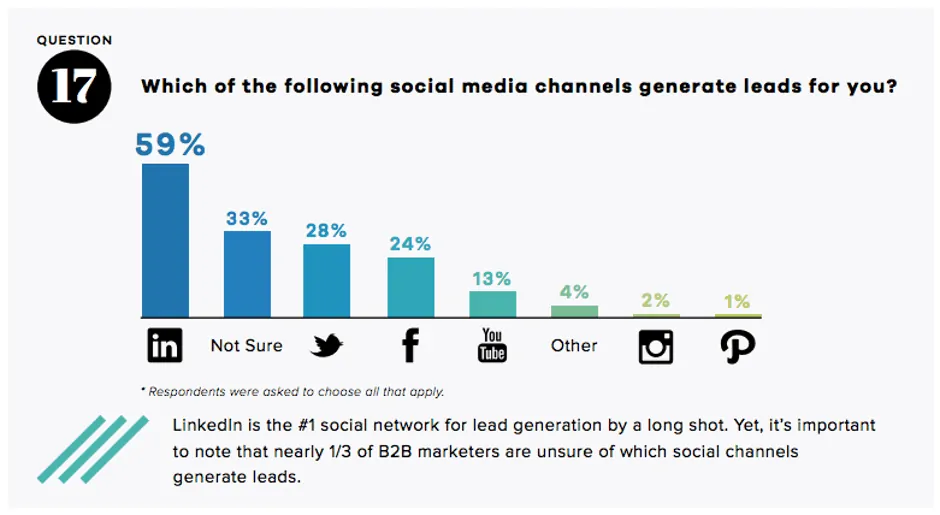 If you're a B2B marketer, chances are that many of your prospective customers are already on LinkedIn. All you need now is to learn how you can use this #1 professional social network to help you generate leads for your business.
What Is LinkedIn & How Does It Work?
Linkedin is a professional social network with a focus on making it easy for people to connect with other professionals and grow their careers and businesses.
You can call it as Facebook for professionals – the difference being LinkedIn's target audience is more professional and their focus is to build their personal brand, grow their professional network, land a better job, and generate more leads for their businesses.
Other than this, the user-side operating model is similar to that of Facebook's. You can add a connection by sending requests and publish textual or multimedia statuses which appear on other people's (usually your connection's) newsfeed. You build your profile as a personal brand mentioning what you do, where do you work, and what all have you achieved till now. You also have the ability to interact with other community members by sending InMails to your connections, joining groups, and replying to other's posts using comments.
Besides this, the platform lets you create a company page for your business as well. These pages were originally thought of HR landing pages for brands, but things have changed a lot since its launch. Now, the company pages act as a great tool to raise brand awareness, educate potential customers about your products, collect leads, and promote career opportunities.
LinkedIn also provides with a lot of marketing tools to promote this company page and increase the brand exposure among the targeted audience.
What Is LinkedIn Marketing And Why Should You Use It?
Just like Facebook, Twitter, & even Whatsapp, brands use LinkedIn to market their offering to prospective customers. The difference being –
LinkedIn marketing is used majorly by B2B brands. ~94% of B2B marketers use LinkedIn to distribute content.
It is a leads mine. 79% of B2B Marketers consider LinkedIn to be an effective source of generating leads.
Many also use this platform to send decision-makers to their website. 46% percent of social media traffic to B2B websites comes from LinkedIn.
In simple terms – B2B companies use LinkedIn as a marketing platform to execute inbound marketing, outbound marketing, as well as personalised marketing to generate and convert leads to drive business results.
Developing A LinkedIn Marketing Strategy
Unlike Facebook which people visit to spend their free time, your target audience sees LinkedIn as a place where they invest time. An effective LinkedIn marketing strategy aligns their objectives with your business objectives to get the result you look for. It involves a mix of pull and push marketing strategies to attract as many leads as you can, pitching them about your business, and converting them.
Here's how you can develop your own LinkedIn marketing strategy.
Develop A Business Presence
LinkedIn marketing starts with developing a business presence on the platform. This is done by creating a company page.
Creating a business page on LinkedIn is as easy as creating a Facebook Page. The only prerequisite is that you should have your own LinkedIn profile before creating a page.
Simply, visit this page.
Choose the type of your business.
Enter the required information and upload the required images. Make sure to align them to your brand guidelines.
Write a professional 'about us' describing your target audience, mission, and vision. Make sure you include your industry related keywords in your about us section which will increase the chances of you appearing in search whenever someone searches for something similar.
And add your website, industry, and additional business information below that.
Once done, invite and encourage all your employees to add your company's page in their profile to increase the reach.
Define Your Goals
LinkedIn marketing is highly goal-oriented. Most of the times, the goals relate to lead generation and lead conversion. And more often than not, LinkedIn marketing uses both personal and brand efforts to fulfil those goals.
Develop SMART goals. State why are you here on LinkedIn. It could be to –
Start With Organic Traction
LinkedIn marketing, just like social media marketing on other platforms, requires both paid and organic efforts. While paid is good for targeted advertising, LinkedIn is also a perfect platform to make your target audience aware of your brand and its offerings organically.
Many people ignore this step because they don't understand that not knowing how social media algorithms work leads to overspending. To save you from the trouble, here's how LinkedIn algorithm works –
Filter #1: A bot decides whether your content is spam, low-quality, or good-to-go. It never appears on the feed of other members if it is regarded as spam or low-quality.
Filter#2: Good-to-go content appears temporary in the feed of audience which has shown interest in that particular profile, page, or niche. This filter tests whether the audience actually engages with the content in the form of likes, comment, click, or share. It also checks whether the audience reports it or hides it from its feed.
Filter #3: The observation from previous filter results either in the content being removed or being shared to other profiles who might like it.
Filter #4: Actual humans review the posts to determine if it should continue to be displayed in the feed, or even given an organic boost.
Use this knowledge to post content which aligns with your goals. I suggest you use a mix of all the types of posts available on LinkedIn. Videos perform extremely well (3 times more than textual statuses). Articles, too, have a great appeal as they get discovered not only on LinkedIn but also on search engines (hence, helping you in SEO).
Reach Out Using Paid Marketing Tools
LinkedIn provides the following marketing tools –
Sponsored Content (native ads): Ads which look like posts within the feed but are paid, have a sponsored tag, and have way more reach than organic posts.
Message Ads: Targeted ads sent directly to the inbox of the target audience along with a CTA. These ads have a lot more engagement.
Text Ads: Simple goal-oriented ads which don't stand out much.
Dynamic Ads: Ads which change their form according to the activities, connections, and other factors related to the target audience.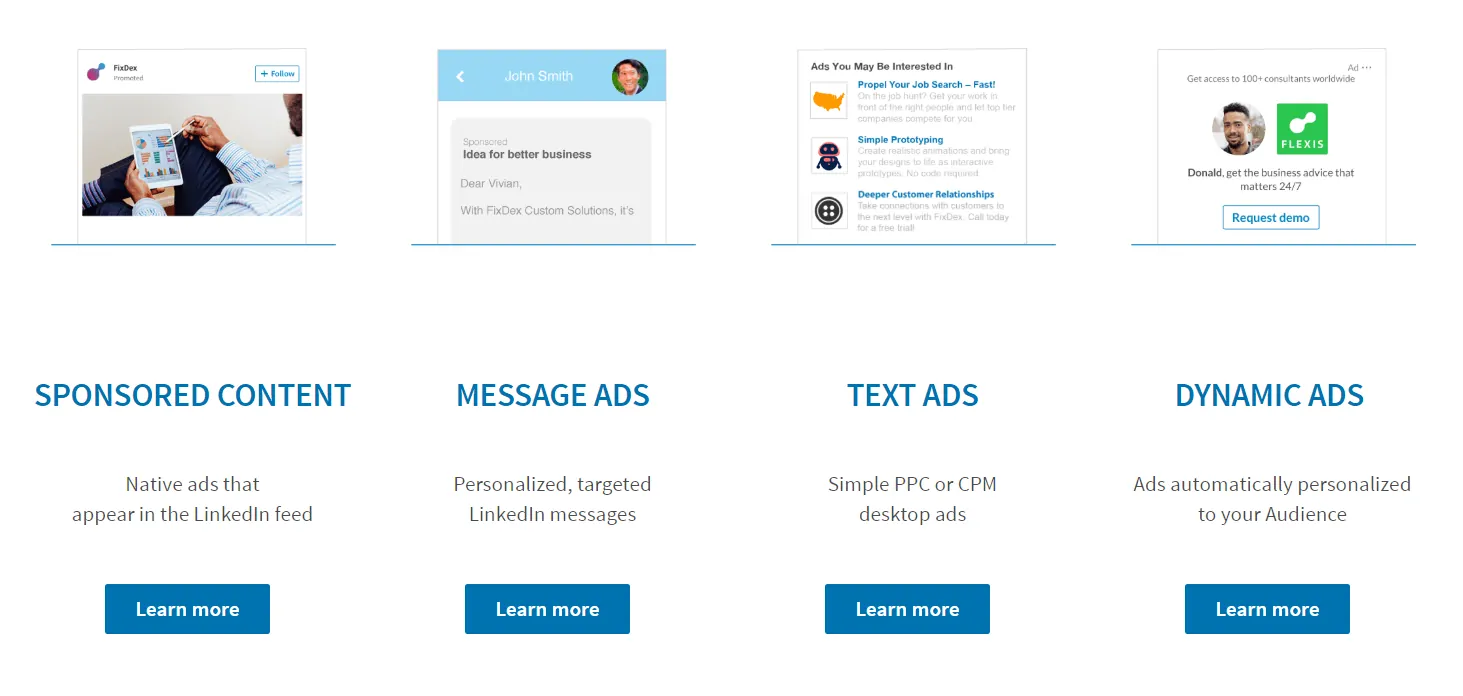 In simple terms, use LinkedIn marketing tools to increase your brand awareness and drive targeted users to a particular landing page. Subscribe to the sales plan to
Collect Better Leads Using Premium Subscription
LinkedIn isn't totally free, and this is what separates this platform from other social media platforms.
The platform operates on a freemium business model and offers subscription plans and paid tools according to the needs of the person.
Make use of the sales plan to up your social selling game even more.
Unlike the free plan, which only lets you search for 100 profiles, the sales plan offers –
Unlimited people browsing
20 InMail™ messages (free doesn't let you message people you aren't connected with)
CRM integration
Advanced search options
Lead recommendations and saved leads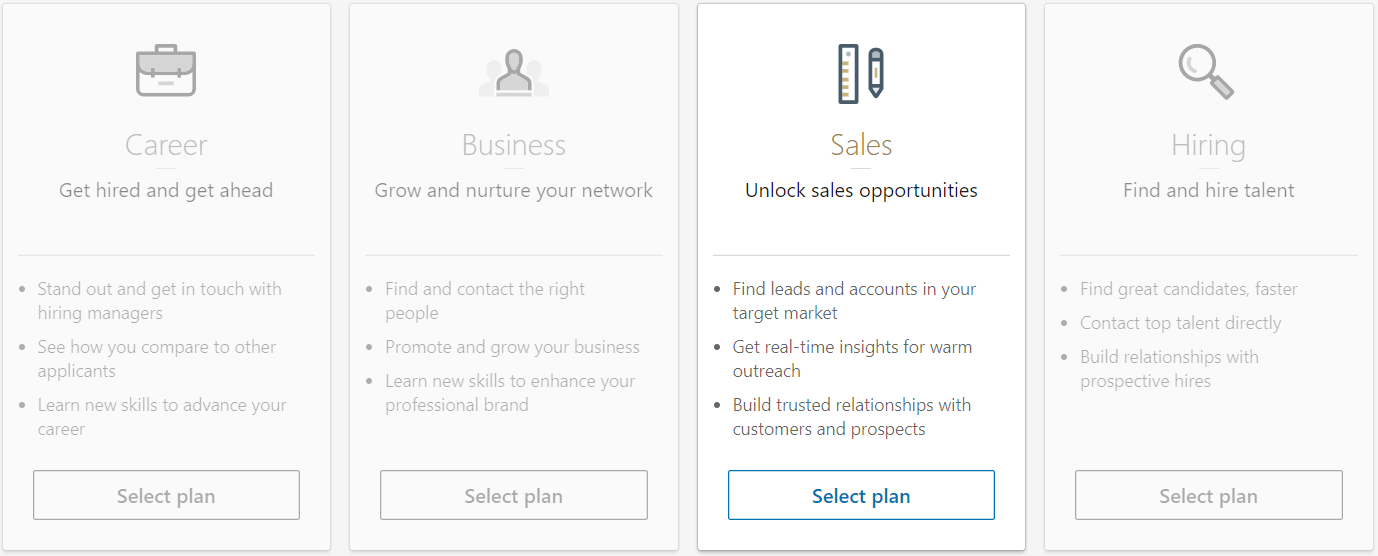 Convert The Leads Using Personalised Marketing
The fact that people are on LinkedIn to invest their time makes it a perfect place to use personalised marketing to convert leads. LinkedIn users love to check their messages, posts they or their business is mentioned in, and opportunities that might benefit them.
The best part?
Their every activity is visible on their profile, even their comments.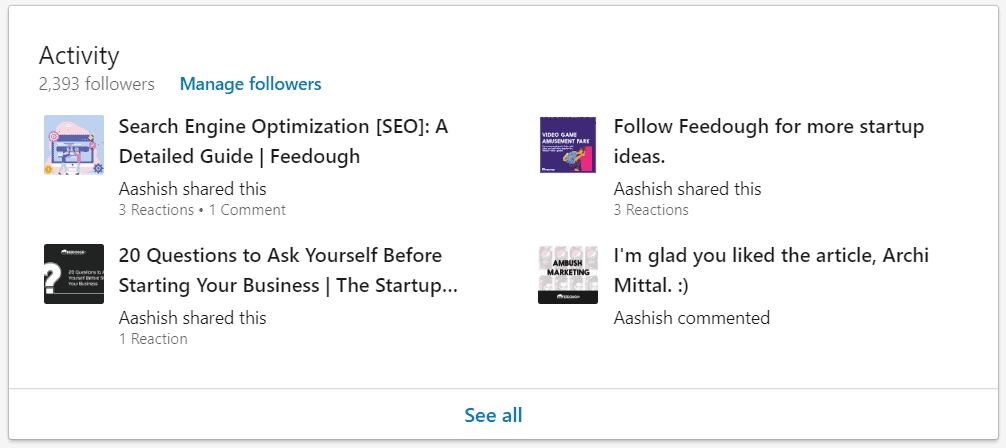 Use this opportunity to know more about your prospective customer and hit them up with your best pitch possible.
Simply, use LinkedIn as a user information database to find the prospective customers, send them a connection request or an InMail introducing yourself and your business, generate interest and desire in him to purchase your offering, and even convert him using your sales abilities.
Bottom-Line?
If you run a B2B business, LinkedIn is a great social media platform to market your brand and even do social selling. All you need is a synergy between your marketing and selling team. Make your marketing team plan campaigns for brand awareness and your selling team to do the rest – connect with aware prospective customers to make them move further in the marketing funnel.
Go On, Tell Us What You Think!
Did we miss something? Come on! Tell us what you think about our article on LinkedIn Marketing in the comments section.
A startup consultant, digital marketer, traveller, and philomath. Aashish has worked with over 20 startups and successfully helped them ideate, raise money, and succeed. When not working, he can be found hiking, camping, and stargazing.