You want to eat your favourite food from your favourite restaurant, but there is the usual tedious task in front of you – from getting ready to arriving at the restaurant through modern-day traffic to waiting for your table.
You suddenly decide to postpone your dine-out plan and eat home-cooked food instead. Available are food ordering options but you still have to pick it up from the restaurant. Hence, eating at home often seems to be a better option after a tiring day at work.
Worry no more because Swiggy has come to the rescue.
Prior to Swiggy, all options available were food ordering services, but Swiggy introduced ordering & delivering food services at your doorsteps – much needed by the customers.
Let us now understand how Swiggy works and makes money by diving deep into Swiggy's business model.
Swiggy Business Model
Just like Grubhub in the USA, Swiggy operates on a hyperlocal on-demand food delivery business model. It not only aggregates restaurants but also organises a fleet of delivery partners which deliver the food (in less than 30 minutes) on-demand.
Owned and operated by Bundl Technologies Private Limited, this unicorn startup followed the path paved by Uber and crafted a business model which relied on a dual partnership model. The partners can be divided into two categories:
Restaurant Partners: The restaurant partners are restaurants which opt to deliver to customers that come from the Swiggy application and website.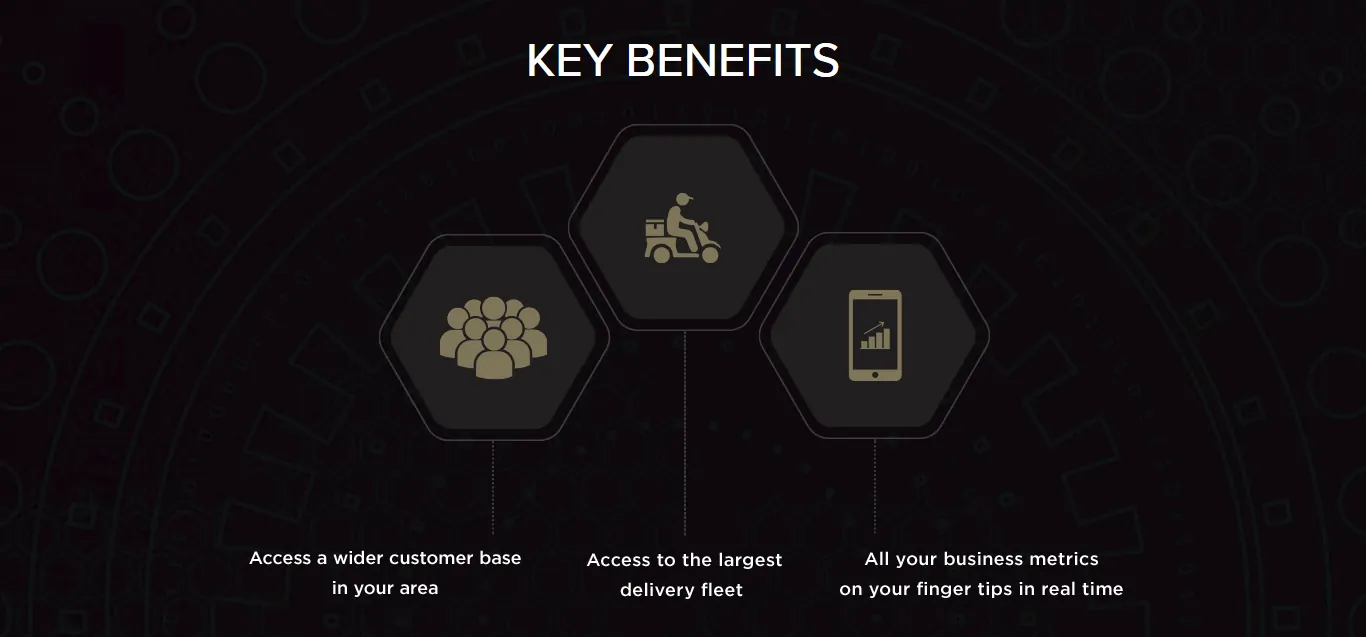 Delivery Partners: They form the delivery fleet which is given the responsibility to pick up the order from the partner restaurant and deliver it to the end consumer.
How Swiggy Works?
Swiggy provides an online platform for ordering from a wide range of listed neighbourhood partner restaurants and has its own fleet of delivery personnel who pick up the orders from the partner restaurants and deliver them to the customers at their doorsteps.
Swiggy works by providing a complete food ordering and delivery solution that connects the existing neighbourhood restaurants with the urban foodies proving to be beneficial for both.
You can open the Swiggy application on your mobile phone or visit the Swiggy website, and you will find a whole list of restaurants to order from.
Once the restaurant is selected and the order placed, the restaurant which has its own Swiggy application receives the order details and starts preparing the order.
A broadcast signal is then sent to all the drivers in the vicinity who have their own driver applications. Those willing to accept the order can choose to accept and deliver it.
Like other on-demand delivery startups, Swiggy also has integrated the Google Maps API, which lets the customers know where their order is and the amount of time it will take for their order to get delivered in real-time.
How Swiggy Makes Money?
Swiggy's business model has made Swiggy an early mover in the food service space in India and has had a set base model on which its business is based, but it has started earning revenues from other related avenues ever since it established itself.
The following are the different sources that Swiggy makes money from:-
Commissions
Swiggy typically charges a 15% – 25% commission on the order bill amount received by the restaurant. This commission is charged on the full bill amount, including the Goods and Service Tax charged over and above the menu price.
Swiggy continuously tries to get restaurants on board to be available on Swiggy exclusively. On this account, certain benefits are given to restaurants, like greater visibility and sometimes a drop in the commission of about 2% – 3%. But since the resulting benefit is far more than the drop in revenue, Swiggy does this aggressively.
The percentage of the commission depends on various factors like the frequency of orders received, location of the restaurant, dependency of the restaurant on Swiggy, the percentage charged by competitors, penetration to a new city etc.
Delivery charges
Swiggy does not have a minimum order requirement for delivery, so Swiggy often receives orders amounting to less than Rs 100. This increases the logistics cost per order.
So, after Swiggy got a stronghold of the market, it started charging delivery charges to low order amounts (depending on and varying from city to city). Delivery charges are typically around Rs 20 for orders less than Rs 250. Swiggy sometimes also charges a surge in delivery prices in times of high demand, rains, special occasions and midnight delivery in select markets.
This additionally helps in pushing customers to order above the threshold to avoid paying delivery charges.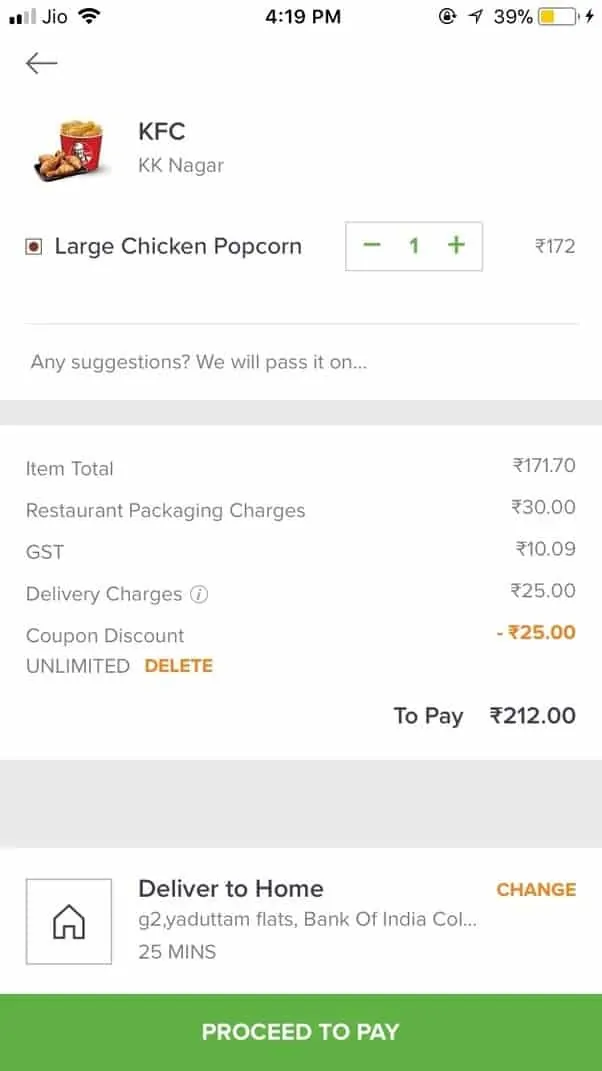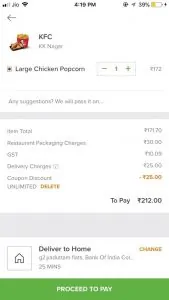 Advertising
Swiggy started earning advertising revenue via two models – Banner promotions and priority listing of restaurants.
Swiggy recently started with Banner promotions to take a leaf out of Zomato and Foodpanda's books. Restaurants are promoted and displayed in their app and website pertaining to regions. Different regions on the displayed page vary in their rates based on the visibility that the restaurant is to receive via the banner promotion.
The only limitation is that Swiggy does not share customer data, so the restaurants rely on generating raw revenue through higher visibility only.
Swiggy typically displays a list of available restaurants to the customers. It has tapped this very potential into a revenue stream by charging a premium from restaurants in return for giving priority listing to the restaurants. The higher up the list the restaurant is displayed, the higher the cost the restaurant has to pay.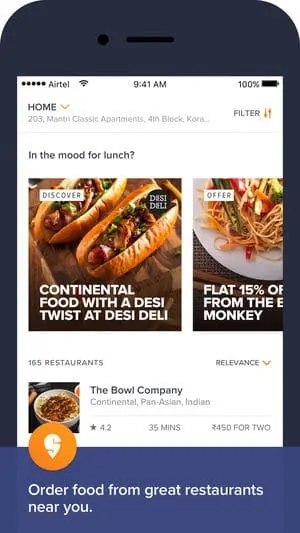 Restaurants
Swiggy has started its own restaurants, which are prominently displayed on the application and website with the highest amount of visibility you can imagine. This started in Bangalore and is said to be replicated soon in markets like Mumbai and Hyderabad.
Swiggy Access
Swiggy has recently launched Swiggy Access, a central kitchen base-like facility which houses kitchens of different restaurants, including Swiggy's private labels. This cloud kitchen business model will help restaurants to set up kitchens in locations even where they are not present.
Launched in Bangalore last year, it has expanded to include 30 restaurants with 36 kitchens in new cities, including Kolkata, Delhi, Mumbai and Hyderabad.
This inter-city model is expected to be a game-changer for penetration into tier 2 and tier 3 cities.
Currently, in markets where it is launched, about 8% – 25% of order volumes come via Access kitchens. Restaurants on Access have to pay higher commissions than the existing average commissions that the platform charges for delivery only.
Swiggy Super
Swiggy has recently launched Swiggy Super which is a membership program for customers. It offers unlimited free delivery on orders above Rs 99 and no surge pricing for which the customer has to pay a fixed amount.
Available options include a one-month membership for Rs 149 and a 3-month membership for Rs 349, which are being offered at introductory prices of Rs 49 and Rs 129, respectively. This amount, in addition to the repeat orders Swiggy expects through this membership program, is expected to increase revenue.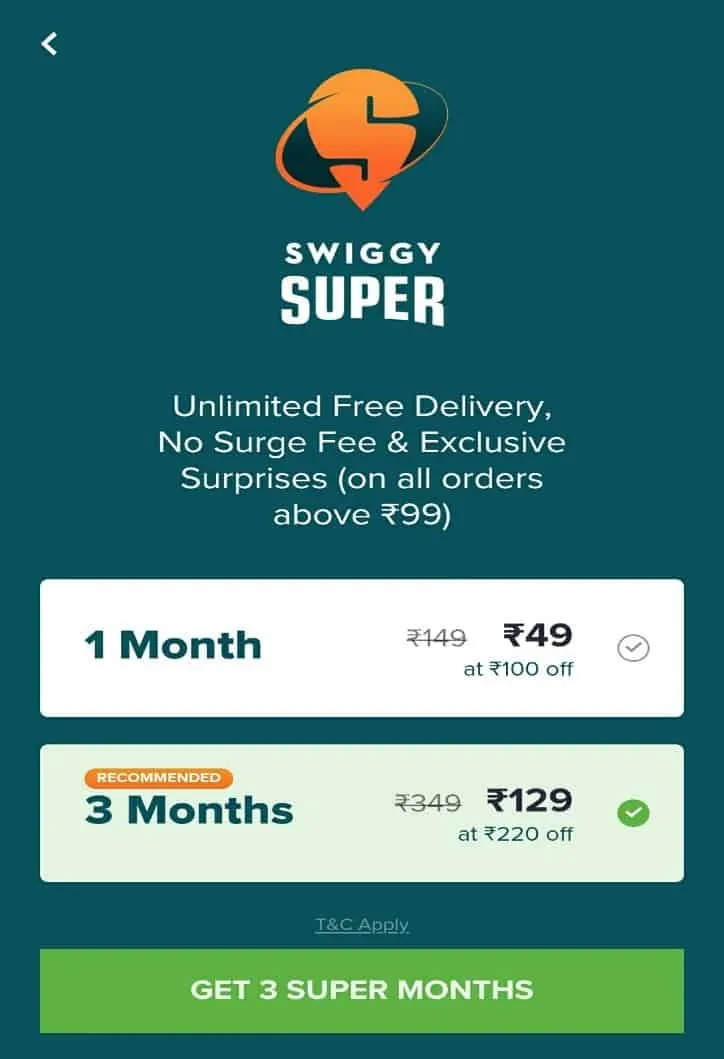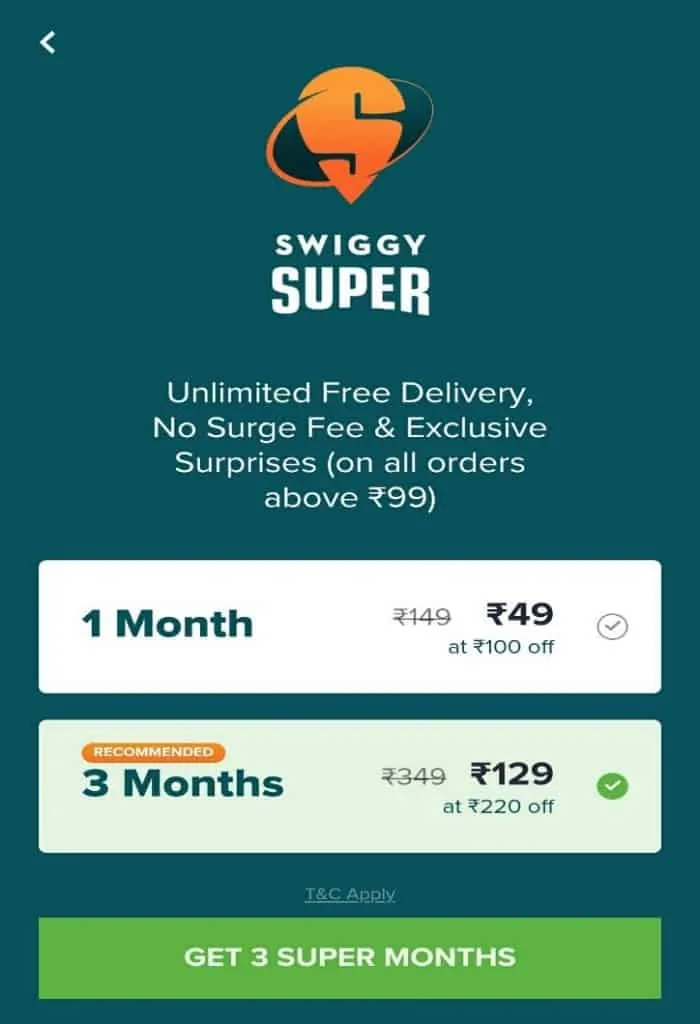 Affiliate Income
Besides the core business practices, Swiggy also makes money in the form of affiliate income by referring credit cards to its customers. The company has partnered with financial institutions and banks like American Express, Citibank, ICICI bank, HSBC, etc. to sell their credit cards to customers.
Customers see the credit card offers on the order tracking screen.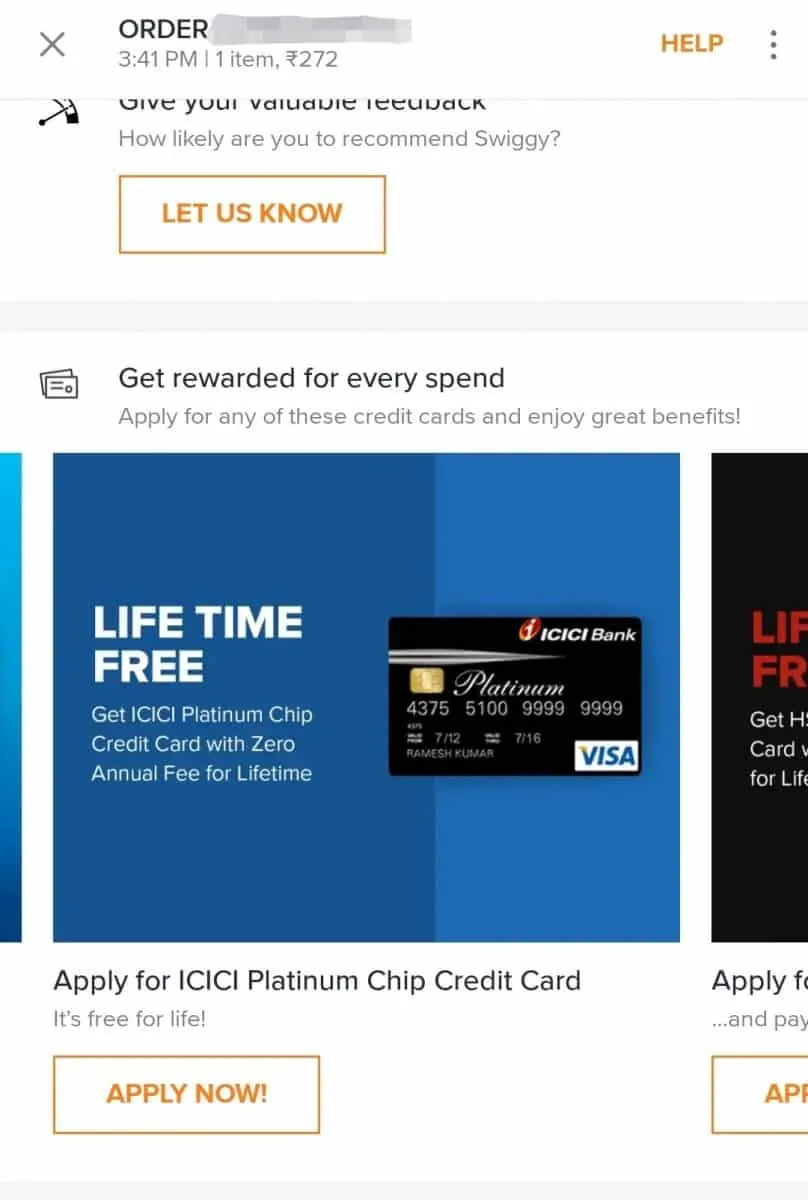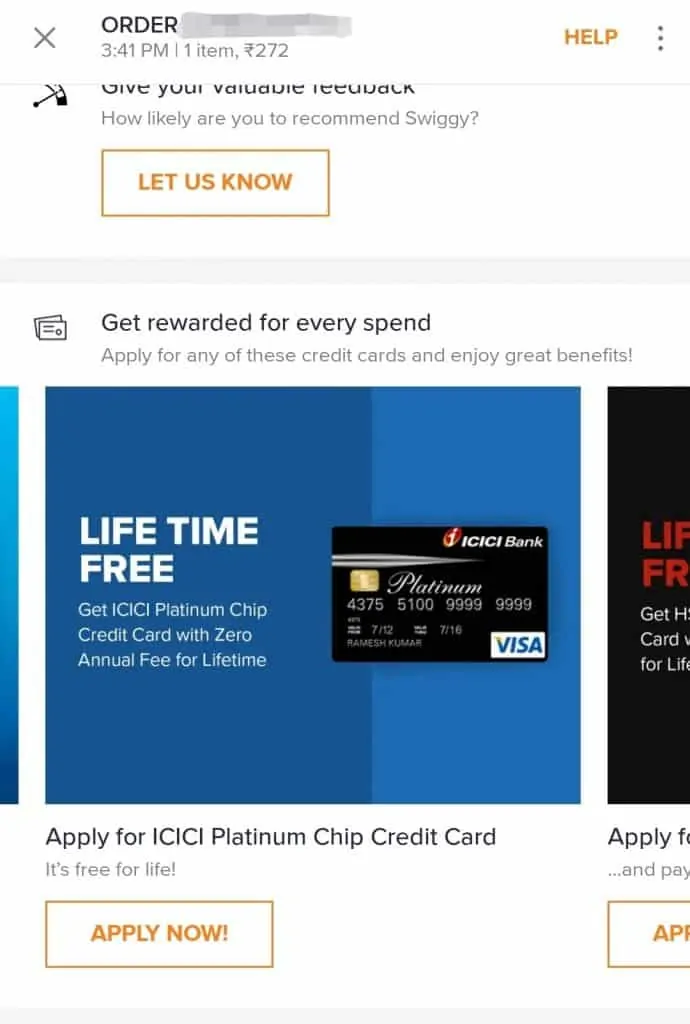 Sources Of Expenses For Swiggy
Apart from the revenue streams, Swiggy also has to incur expenses for its day-to-day functioning. These expenses, coupled with Swiggy's motive to gain market share aggressively, led Swiggy to lose Rs. 1.5 for every Re. 1 it earned in 2017. But, Swiggy owing to its expansion strategies across the country and having gained considerable market share, has managed to earn Rs. 1.1 for every rupee it lost in 2018.
Payments and incentives to delivery partners (the amount varies according to the experience, place of operation, and the number and time of delivery)
Application and website development charges
Application and website maintenance charges
Salaries and provisions for full-time employees
Administrative costs
Advertising and marketing costs
Benefits given to customers in the form of offers
Returns and refunds
Miscellaneous expenses
Future Of Swiggy
Swiggy recently became the first aggregator to offer the 30 minutes or free delivery feature to customers. It is available at select restaurants in select cities but it solves a huge pain point of customers having to wait for 40-60 minutes for their food to get delivered. Once it is fully launched – Swiggy will bear 70% – 80% of the cost in case it fails to deliver on time, while the restaurants will bear the rest.
Swiggy also launched the Swiggy POP, which focuses on providing single-serve meals that save time. It is aimed at time-pressed professionals who are on the move and want a foolproof mix for their daily needs.
Swiggy now also allows customers to pre-order their meals through Swiggy scheduled. They can now place their orders in slots of 30 minutes, a minimum of two hours and a maximum of 48 hours in advance. This enhances the experience of those who order from Swiggy regularly.
Bottom Line?
Due to such different features and a host of different options provided by Swiggy, it might soon gain a competitive advantage and increase its customer base, as we already see happening. Additionally, due to its innovation, the resultant growth would be purely organic in nature – something that every company dreams of.
Go On, Tell Us What You Think!
Did we miss something? Come on! Tell us what you think about our article on swiggy business model in the comments section.
A marketing professional, enthusiastic about connecting with new people and exchanging ideas. An avid traveler open to exploring new cultures and experiences