Everybody is getting into blogging these days, and for a good reason. Blogging can be a great way to share your passions, build an audience, and even earn some money.
While blogging started as a hobby, it has quickly turned into a viable career option for many people. In fact, there are now professional bloggers (like me) who make a living solely from their blogs.
If you're thinking about starting a blog or are already blogging but want to make money from it, this guide is for you. I'll try to be your mentor blogger and answer all your queries related to making money from blogging.
Blogging As A Career – Is It Viable?
The answer is YES! Blogging can most definitely be a full-time career.
In fact, there are bloggers making millions by typing out their thoughts, experiences, and knowledge on their blogs.
However, it's essential to understand that making money blogging is not a get-rich-quick scheme. It takes dedication, consistency, and hard work (like any other job) to make it as a blogger.
Blogging is just like working for a digital publication or newspaper, but you do everything yourself – from content creation to site maintenance to social media outreach.
The best part about blogging is that you can do it from anywhere in the world, as long as you have a laptop or computer and an internet connection.
How Much Money Can You Make From Blogging?
This is a tricky question to answer because there is no one-size-fits-all answer.
How much money you make from your blog depends on several factors, including:
The niche or topic you write about,
The strategies you use to monetise your blog,
The amount of traffic your blog receives,
Your writing style and ability to engage your audience,
How consistent you are with creating new content,
Generally speaking, it takes a lot of traffic to make a decent income from blogging. Professional bloggers typically earn $1,000 – $10,000 per month from their blogs, but this can vary greatly depending on the individual blogger.
Money Making Strategies For Bloggers
Like any other business, blogging doesn't and shouldn't rely on just one revenue stream. The best bloggers diversify their earnings by using several different money making strategies.
Here are some of the most popular (and effective) ways to make money blogging:
Advertisements
One of the most common ways that bloggers make money is through advertisements. You've probably seen ads on many popular blogs before – they come in all shapes and sizes, from simple banner ads to sponsored widgets.
Here's how you can use ads to make money blogging:
Google Adsense & Other Ad Networks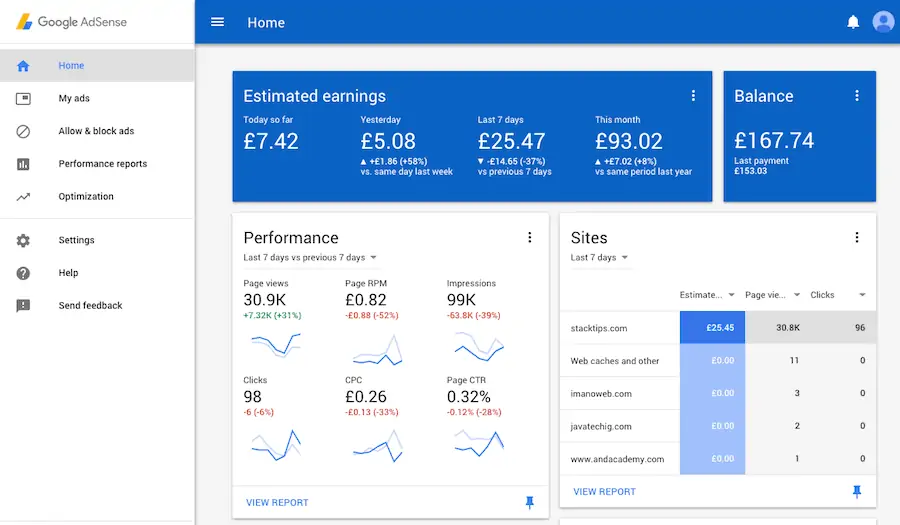 An advertisement network is an intermediary that connects bloggers with advertisers. The most popular ad network is Google Adsense, but there are others like Media.net and AdThrive.
To use an ad network, you simply sign up for an account and then add a snippet of code to your blog. Once the code is added, the ad network will serve relevant ads on your blog, and you'll earn money every time someone clicks or views an ad.
These ad networks use three models to pay bloggers: cost-per-click (CPC), cost-per-mille (CPM), and cost-per-action (CPA).
CPC means that you earn a commission every time someone clicks on an ad. This is the most common way that ad networks pay bloggers. Adsense follows this.
CPM is short for cost per thousand. It means that you earn your revenue based on the price of 1,000 advertisement impressions. So, if an advertiser is willing to pay $10 CPM, you'll earn $10 for every 1,000 ad impressions.
CPA is short for cost per action. It means that you only get paid if someone clicks on an ad and then takes a specific action, such as signing up for a newsletter or making a purchase.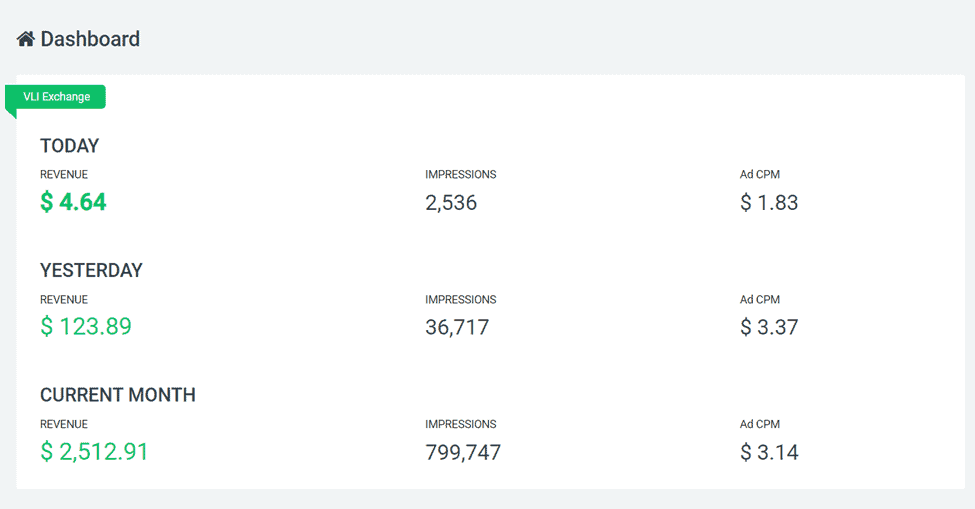 Google Adsense isn't the only network out there. In fact, there are many other ad networks that can be more effective (and pay more) than Adsense. But try to make sure that any partner you choose should be Google Certified Publishing Partner. Find the list here.
Direct Advertising
For blogs with high traffic and a loyal following, direct advertising can be an effective way to make money.
With direct advertising, you work with companies or brands to create sponsored content or ads that are specifically designed for your blog. This means that the companies or brands will pay you a flat fee for every person that sees or clicks on the ad.
There is no middleman involved, which means you'll usually make more money per view or click than you would with an ad network.
The downside of direct advertising is that it can be difficult to find advertisers that are a good fit for your blog. You also need to have a pretty large audience before companies will start approaching you with offers.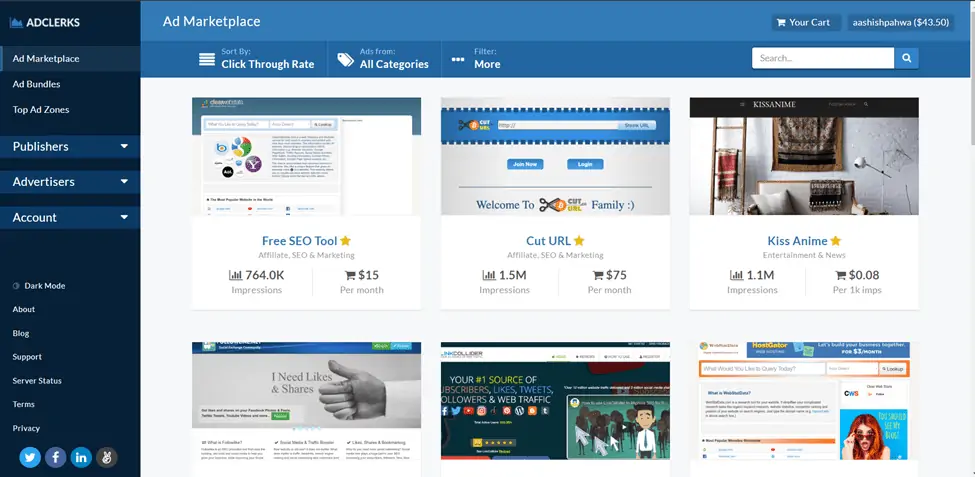 A workaround could be to find direct advertisers on advertisement marketplace like Adclerks.
Native Advertising
Native advertising is very similar to direct advertising but with one key difference: native ads are designed to blend in with your blog content.
Instead of being a clearly labelled ad, native ads are designed to look like normal blog posts. This can make them more effective (and less intrusive) than traditional banner ads.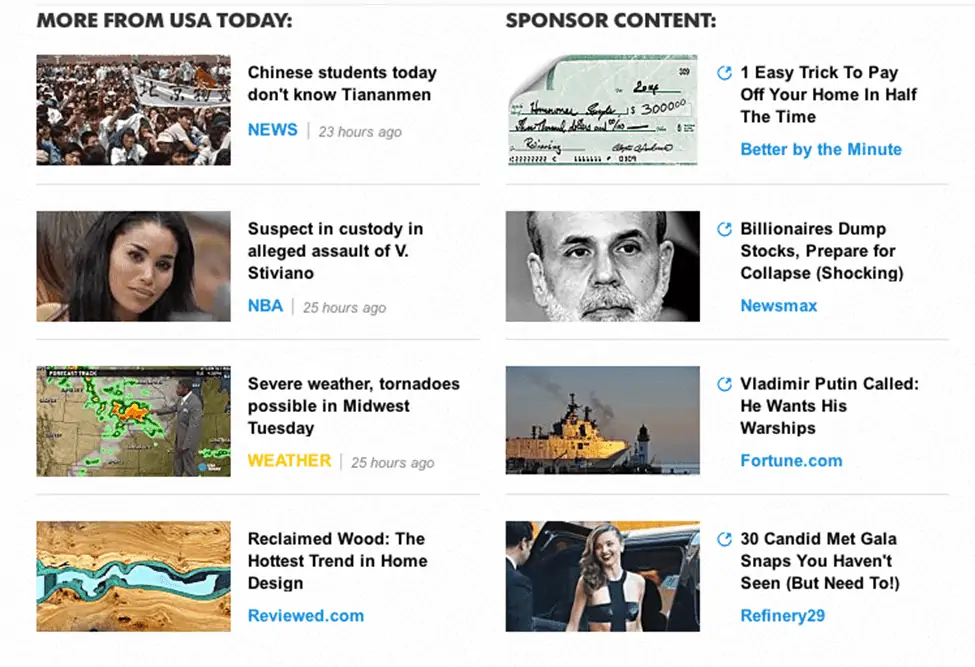 The downside of native advertising is that it can hamper your reader experience by showing some unwanted ads that don't go along with your blog. But this can be ruled out if you choose a reliable native ad network.
Some ad networks like Taboola, Mgid, and Outbrain specialise in native advertising and can be a good place to start if you're interested in this type of advertising.
However, know that native advertising is not a high-paying form of advertising. The CPCs are usually quite low, so you'll need a lot of traffic to make any decent money.
Affiliate Marketing
Affiliate marketing is a type of performance-based marketing in which a business rewards you, the affiliate, for each visitor or customer that you bring to their site.
To put it simply, affiliate marketing is when you recommend a product or service to your readers and if they end up buying it, you earn a commission.
For example, let's say you have a blog about hiking. You could write a post about the best hiking boots and then include a link to where your readers can buy them. If someone clicks on your link and ends up buying the boots, you'll earn a commission.
Affiliate marketing can be often more rewarding than ads because there are brands that even offer recurring commissions, so you can earn money from the same reader multiple times.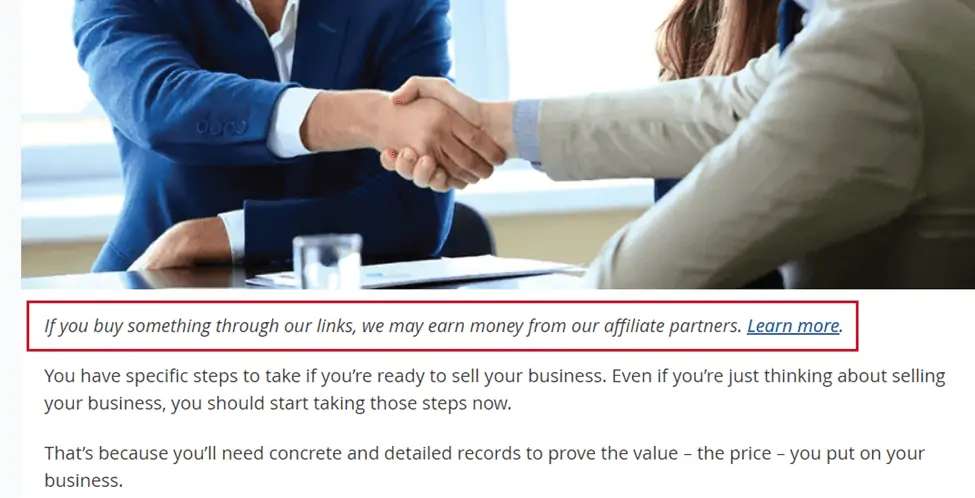 To find affiliate programs, you can search in affiliate networks like:
CJ Affiliate
Impact
ShareASale
Rakuten
Partnerstack
MaxBounty
Digital Products
Besides ads and affiliate marketing, another way to make money from your blog is by selling digital products.
Digital products are any type of product that can be downloaded or accessed online. This includes things like eBooks, courses, etc., that you sell from your own website.
The great thing about digital products is that you can sell them repeatedly without having to create new inventory. This means that once you've put in the work to create a digital product, it can continue to generate revenue for months or even years.
These products include:
Courses: Courses can be in any format, including video, audio, text, or a combination of all three. They can be offered as part of a membership site or sold individually.
EBooks: Ebooks are usually PDFs and can be about anything from cooking to business to dating, depending on your niche.
PDF Guides & SOPs: PDF guides and SOPs (standard operating procedures) are usually shorter than ebooks and can be about anything from starting a blog to fixing a leaky faucet.
Tools & Templates: Tools and templates can be things like Excel spreadsheets, PPT templates, etc.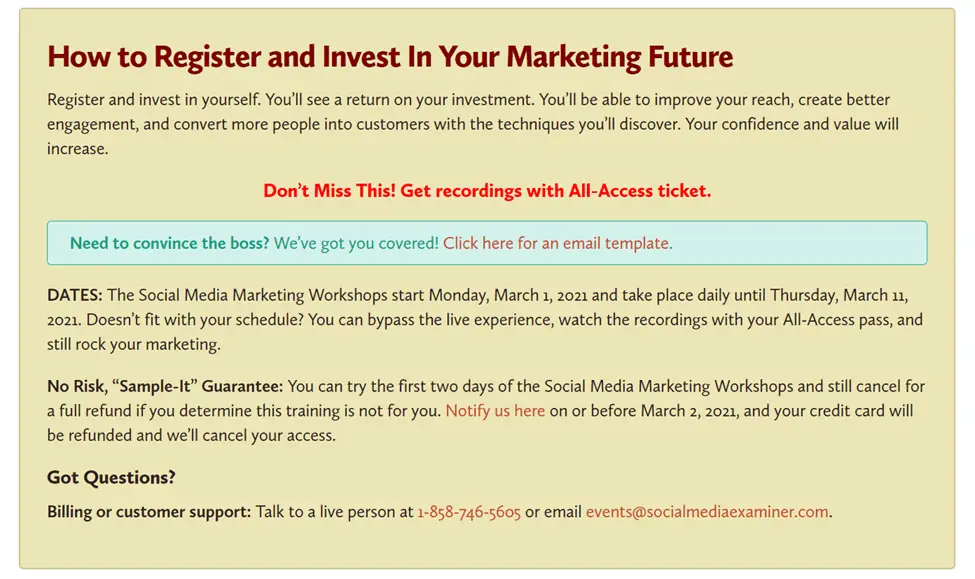 The problem with digital products is that they can be time-consuming to create, and you need a large audience before you can start selling them.
Link Sales
Search engine optimisation revolves around link building. This is the process of getting other websites to link back to your site.
The reason why backlinks are important is that they're one of the ranking factors that search engines like Google use to rank websites.
If you have an authoritative website with high-quality content, you can start selling links on your website. A single link in an article can range from $10 to $500, depending on your website's authority.
But know that this strategy should only be used as a secondary income source as it can lead to your website being penalised by Google if done incorrectly.
Services
Your blog already has a built-in audience of people interested in what you have to say. You can leverage this by offering consulting, teaching, or coaching services.
For example, if you're a financial planner, you could offer your services to help people with their finances. Or, if you're a fitness coach, you could offer online personal training.
The great thing about combining blogs with services is that it allows you to build a personal brand and really connect with your audience. This can lead to higher-paying consulting or coaching gigs down the road.
Sponsored Posts
You could start charging for sponsored posts if you got a blog with decent traffic. Sponsored posts are basically when a brand pays you to write about their product or service on your blog.
This is a great way to monetise your blog along with ads and affiliate marketing.
Get Into Videos
Blogging is not just about writing articles. You can also make money by creating videos and posting them on YouTube or other video sharing sites. Such platforms offer great opportunities for bloggers to build an audience and make money from their content.
This is a great way to connect with your audience and offer them something different than just text-based content.
Moreover, according to research, it is predicted that by 2022, videos have already taken up 82% of all Internet traffic.
So if you're not creating videos already, now is the time to start.
Blog Flipping & Sales
Blogs are assets that can be bought and sold just like any other business. If you've built up a successful blog with a strong following, you can sell it for a profit.
The best part?
Blogs sell for 10x to 100x of their monthly revenue depending upon the niche and monetisation strategy (affiliate blogs sell for more). So if your blog is making $1,000/month, you could sell it for $10,000 to $100,000.
This is a great exit strategy for those looking to cash out.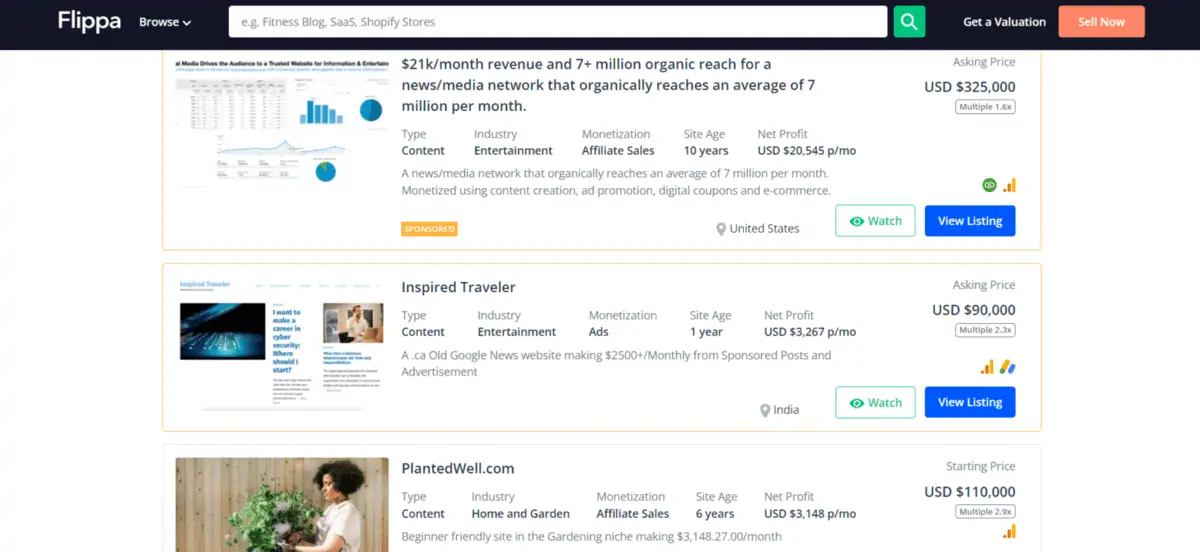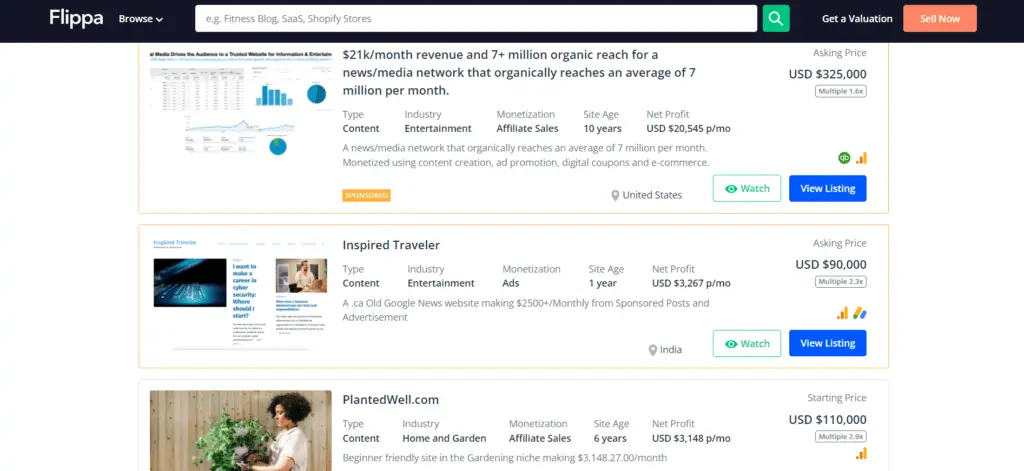 You can even choose to flip some blogs where you buy an existing blog, improve it, and then sell it for a profit.
There are several marketplaces for blogs including Flippa and Empire Flippers.
Other Blogging FAQs
Now that we've gone over the different ways you can make money from your blog, let's answer some other common questions about blogging.
What type of blogs make the most money?
There are definitely some types of blogs that make more money than others. Here are a few of the most profitable niches of blogs:
Insurance: Insurance blogs tend to be very profitable, thanks to high-paying advertisers in the space.
Finance: Personal finance, investing, and business finance are all popular topics that people are always searching for information on. This high demand proves to be very profitable for bloggers.
Online education: People are always looking for ways to learn new skills or improve existing ones. Moreover, with the rise of online education, this niche is only going to become more profitable.
Travel: Everyone loves to travel, which is why blogs in this niche are so popular. If you can provide helpful information and advice about travel, you can make a lot of money from your blog.
Health & fitness: Everyone wants to live a healthier lifestyle and people are always searching for information on how to do that. That's why blogs in the health and fitness niche can be very profitable.
Parenting: Parenting is another huge niche that is always in demand. It's a great niche for an affiliate marketing blog.
Crypto: The cryptocurrency market is booming and people are always looking for information on which coins to invest in. Besides this, it also includes some of the highest paying advertisers.
Technology: Though highly competitive, technology is also a very profitable niche for bloggers.
Can a beginner make money in blogging?
Blogging is just like any other profession, in that it takes time and effort to be successful. However, if you're willing to put in the work, it is possible for a beginner to make money in blogging.
The best way for a beginner to make money in blogging is to start with affiliate marketing or selling digital products. Once you've built up your audience, you can start charging for sponsored posts or other services.
How many views do you need to make money on a blog?
There is no one answer to this question, as it depends on a number of factors such as your niche, the type of content you're creating, and the monetisation strategies you're using.
If you rely just on advertisements to make money from your blog, you will need a lot of traffic to make a decent amount of money (more than 100,000 per month). However, you can also make money with fewer views if you use other monetisation strategies like affiliate marketing or selling digital products.
Bottom-Line?
Choosing blogging as a career is a great decision as it offers numerous benefits. It is a very flexible career option and can be started with little to no investment. Not to mention, the earning potential is also very high.
But make sure to use a good mix of monetisation strategies to ensure that you make the most out of your blog.
And more than anything, focus on your providing the best experience to your readers. After all, they are the ones that will help you make money blogging!
Go On, Tell Us What You Think!
Did we miss something? Come on! Tell us what you think about our article on make money blogging in the comments section.
A startup consultant, digital marketer, traveller, and philomath. Aashish has worked with over 20 startups and successfully helped them ideate, raise money, and succeed. When not working, he can be found hiking, camping, and stargazing.