It all started with a few clickable web-ad banners on Yahoo!
Then Google disrupted the scenario by launching search ads and Adwords.
Next came Facebook which added the term social media marketing to the old dictionaries.
And then came Instagram.
Things were never the same after that.
Consumers became active participants in the marketing activities than just passive spectators. Many opinion leaders emerged among them. Followers became a real thing. And marketers joined hands with these opinion leaders to market for them.
This was just an onset of influencer marketing.
The trend spread faster than coronavirus, and the launch of niche-based and demographics-targeted social media platforms like Twitch, LinkedIn, and TikTok etc. boosted its growth. But there wasn't just a rise in influencers, the trend grew because the consumer's buying habits and even the buying journey changed.
Today, influencer marketing isn't just an ancillary marketing tactic. It is a whopping $5-10 billion dollar industry.
Here's a guide for anyone who's new to this industry and wants to learn the intricacies of influencer marketing, the current state of influencer marketing, and how to create an influencer marketing strategy.
But first, what is an influencer?
What Is An Influencer?
An influencer is a person, a business, or an organisation that has the power to influence the decisions of a target audience because of its popularity, authority, knowledge, position, or relationship with its audience on a digital platform.
Usually, an individual who has a lot of followers and an influence over the target audience is considered to be an influencer. But the trends are changing and organizations and influencer brands have started to emerge.
These influencers are divided into four types –
Mega Influencers: Usually celebrities, online niche experts, or opinion leaders with over 1 million followers on at least one social media platform.
Macro Influencers: Opinion leaders, niche experts, and famous personalities who have followers within the range of 500,000 and 1 million on at least one social media platform.
Mid-Tier Influencers: These are budding niche experts or famous personalities with followers ranging between 50,000 and 500,000.
Micro Influencers: Ordinary everyday people who have become famous because of their knowledge for a niche or because of some other reason. These influencers have followers within the range of 10,000 and 50,000 on at least one social media platform.
Nano Influencers: Influencers with usually less number of followers (1,000-10,000) but those having a very high engagement with them as they are known for their knowledge and are considered experts in their niches.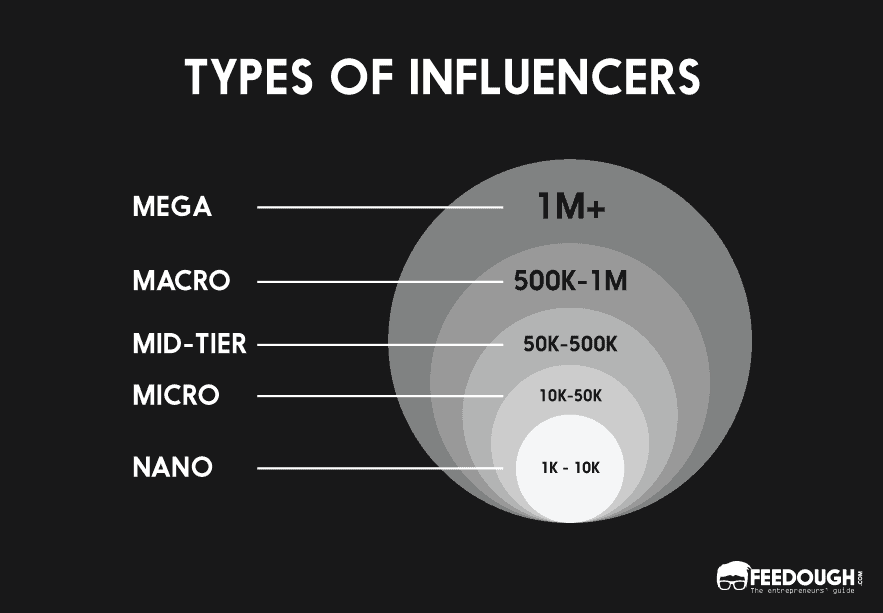 No matter what their type be, influencers possess these characteristics-
Authenticity: Influencers are genuine opinion leaders who post authentic content that which is appreciated by his target audience. Often, he uses his personal experience, expertise, and unbiased approach to gain the trust of his followers.
Authority: Influencers are considered to be an expert of their niche. This is what labels them as opinion leaders.
Relevance: The content influencers post is highly relevant to their niche and their target audience which makes their reach and engagement more than any usual brand.
Engagement: Influencers are known for developing highly engaging content. They also actively engage with the audience and develop a relationship with them which increases their reach and likability.
What Is Influencer Marketing?
Influencer marketing is a practice where a brand partners with influencer(s) who have considerable online authority, to market its offering.
In simple terms, influencer marketing is a marketing strategy where a brand makes use of an influential person to market itself and/or its offerings to his followers. This influential person has the ability and authority to reach the brand's target audience, build trust, and drive engagement in a way the brand can't.
It can be considered as a more evolved version of endorsements or referral marketing where marketers choose and focus on a few referrers who have a considerably big network to refer to. In return, these referrers get monetary and/or non-monetary benefits from the brand.
Benefits Of Influencer Marketing
Influencer marketing has a greater reach and ROI compared to traditional direct-brand-to-customer marketing approach as the customer buying journey has become more layered and he has a lot more options to choose from than before.
Makes The Brand More Trustworthy
The biggest advantage of influencer marketing is that it helps the brand to borrow the trustworthiness of the influencer to promote its products. This quick trustworthiness helps increasing brand awareness, driving more conversions, and even aids other branding and selling strategies of the brand.
Highly Focused And Relevant
Unlike mass-marketing techniques like advertisements, influencer marketing is highly focused towards the specified target audience and the messages prove to a lot more relevant to them as this is what they expect from the influencer.
Better ROI
According to a study, almost 90% of the marketers find ROI from influencer marketing campaigns to be comparable or better than other marketing channels. Another study proved that every dollar spent on influencer marketing resulted in an average earned media value of $5.20.
Acts As A Pull Marketing Technique
Unlike other interruption marketing techniques like advertisements, sales promotion, etc. influencer marketing is usually appreciated by the target market. It is considered to be a pull technique where the influencer pulls the target audience towards the brand and trying its offerings.
Helps Convey A Lot More Information Than Ads
Ads are interruptive. Hence, they can only run for a few seconds and often include only the highlights of the offering. However, an influencer marketing campaign can include everything the parties wish to include. This campaign involves the data provided by the brand and the delivery strategy developed by the influencer.
More often than not, the contract between a brand and an influencer is more than just one social media post. It usually includes a holistic approach where the influencer promotes the brand in every way he can.
How Does Influencer Marketing Work?
Influencer marketing makes use of opinion leaders, niche celebrities, and experts to drive the brand's message to the intended target audience. It conforms to a popular belief that the market has more faith in social proof and validation than the brand's communication messages.
What Does An Influencer Do?
Influencers capitalize on priming and the psychology of memory where they build authentic and genuine relationships with their audience by creating original content, guiding them through tough situations, and answering their questions. As a result, these followers start to listen to whatever these influencers say.
How Does An Influencer Make Money?
Over time, these followers usually add them as a layer which validates their niche-related decisions – be it forming an opinion about a brand or buying its offerings.
This is where marketers come to play. They partner with such high authority influencers to promote their brands or offerings without making it sound like a promotion. An influencer does what it usually does – reviewing the brand, comparing it with other brands, suggesting it to the audience, or making them see how useful it is; and gets monetary and/or non-monetary benefits from the brand in return – be it one-time payment, a periodic retainer, free products, or commission.
The Current State Of Influencer Marketing
The influencer marketing industry was valued at $8billion in 2019 and is predicted to be worth up to $15 billion by 2022.
Instagram is the king platform when it comes to influencer marketing. Nearly 80% of the brands tap Instagram for influencer campaigns, 46% tap Facebook, 36% tap Youtube, 24% tap Twitter, and 12% go for LinkedIn as per Influencer Marketing Hub.
With over 1.5 billion users and an engagement rate of 29%, TikTok is becoming the go-to place for influencer marketing.
The most common objective to run influencer marketing campaigns is to generate awareness, followed by the product sales.
Types Of Influencer Marketing Campaigns (With Examples)
An influencer marketing campaign is not carried out like an advertisement by the influencer or a brand. It is a well-strategized campaign usually disguised as an organic post by the influencer.
However, many influencers do mention about their partnerships with brands by using phrases like branded content, sponsored content, etc.
There are six types of influencer marketing campaigns
Sponsored Content
Reviews
Giveaways
Product and content collaborations
Influencer brand ambassadors
Takeovers
Sponsored Content (Paid Partnerships)
Sponsored content or paid partnerships are simple promotions of the brand and/or its offerings by the influencers in return of some monetary or non-monetary benefits.
For example, Kendall Jenner's paid partnership with tods.
Reviews
Often times, brands send their products to their niche influencers for free in return of a review post from their side. These posts can be image posts, video posts or even blog posts depending upon the partnership between the brand and the influencer.
Here's an example of a review post by Zoella – a known fashion, beauty and lifestyle influencer.
Giveaways
Many brands, with a goal to increase their brand exposure and social reach, team up with influencers and host a giveaway. This type of partnership usually results in the highest ROI.
Product and content collaborations
These partnerships are just like sponsored posts, but the difference is that these partnerships are often long term and usually the influencer has more role than just being a brand promoter. It involves brands to work closely with the influencer to co-create products or content. This not only increases brand awareness but getting the influencer's name associated with the offering increases its sales too.
For example, Jaclyn Hill, a famous beauty influencer, partnered with a makeup brand, Morphe, to create her own eyeshadow palette which saw a great response from her audience.
Influencer Brand Ambassadors
There have been cases when brands, instead of taking the traditional approach of partnering with celebrities to become their brand ambassadors, partner with influencers instead.
These types of contracts are long term and contract-based rather than result based.
For example, Malia Manuel is a known influencer when it comes to surfing. Besides being an opinion leader, she's also a brand ambassador of Sanuk, a footwear company which develops beach-oriented products.
Takeovers
Takeovers are when brands let influencer(s) take over their social media accounts for a limited period of time to attract more followers and engage with them.
Kimberly Drew, a known curator and influencer, took over Prada's account to lend her popularity, followers, and her brand essence to the partner brand.
Go On, Tell Us What You Think!
Did we miss something? Come on! Tell us what you think about this article on influencer marketingin the comments section.
A startup consultant, digital marketer, traveller, and philomath. Aashish has worked with over 20 startups and successfully helped them ideate, raise money, and succeed. When not working, he can be found hiking, camping, and stargazing.