On 4th February 2020, Facebook turned 15 years old with over 2.3 billion monthly active users. That accounts for 30% of the world's population.
Facebook has become an integral part of our lives and we have been using Facebook's services or products in some way or the other – at least once in the past. Facebook helped usher in a new wave of internet – Web 2.0 and Facebook was one of the front-runners.
Let's find out how a dorm room site went on to become one of the most influential tech firms in history and have over a quarter of the world's population among its user base.
The Harvard Beginnings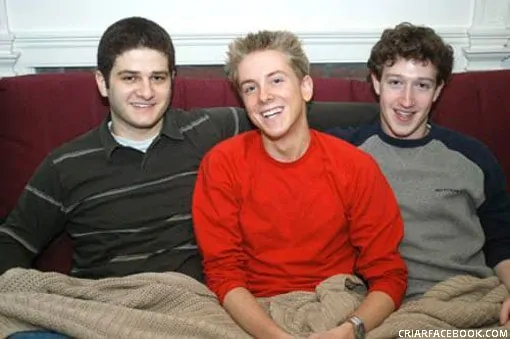 Facebook was founded on February 4th by Mark Zuckerberg, Eduardo Saverin, Dustin Moskovitz and Chris Hughes in their Harvard dorm room and was initially called "Thefacebook".
But Facebook was not Mark Zuckerberg's first site – he had created a few other sites similar to Facebook which eventually led to the idea of creating a centralized online site for people to post their information.
And one of those sites was FaceMash.
FaceMash
FaceMash was a "Hot or Not" type of website that Mark had created during his sophomore year. On FaceMash, Mark had put up pictures of different Harvard students' faces side by side – obtained illegally from online facebooks of Harvard's nine Houses – for users to vote on who was the better looking of the two.
A "facebook" is a web directory maintained by a few American universities that contained its student's contact details and photographs.
FaceMash drew over 450 visitors and over 22,000 image-views within four hours after launch. But FaceMash was shut down within a few days and Zuckerberg was charged by Harvard administration for violating individual privacy rights – he had used photos of the individuals without their consent that had been hacked from the institution-maintained website.
Eventually, the charges were dropped and Mark got away scot-free after giving a public apology. After tasting success and the potential for an interactive online site, he set his sights on creating a centralized website for use within the college.
Creation of Thefacebook
During the same semester, Mark created another site for the final art exams where he posted images of art that also featured a section for users to be able to post comments. Mark shared this site with his classmates and they started sharing notes using the comments section. This later was implemented on Facebook as user posts.
This further reinforced his previous idea of centralized facebook for the university students to post, share and discover one another. Mark set out to create just that and joined a fellow Harvard student Eduardo Saverin, with both agreeing to invest $1000 dollars on the site.
On February 4th, 2004, Mark Zuckerberg released "Thefacebook" in the presence of his roommates and partners – Eduardo Saverin, Andrew McCollum, and Chris Huges.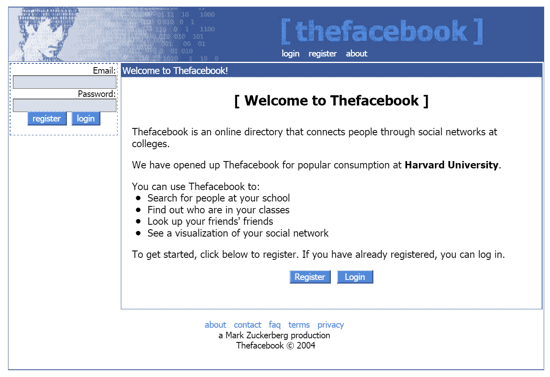 Thefacebook was supposed to be the first iteration of the social networking site under the domain name thefacebook.com and got a great reception. But it was not going to be without its fair share of litigations.
ConnectU sues Facebook
Within six days of launching Thefacebook, Zuckerberg was accused by three senior Harvard students – Tyler Winklevoss, Cameron Winklevoss, and Divya Narendra – stating that Mark had stolen their idea of a creating a social network called ConnectU (originally HarvardConnection) that would allow for users to add other users as friends, message, and post pictures of themselves and used it to create Facebook.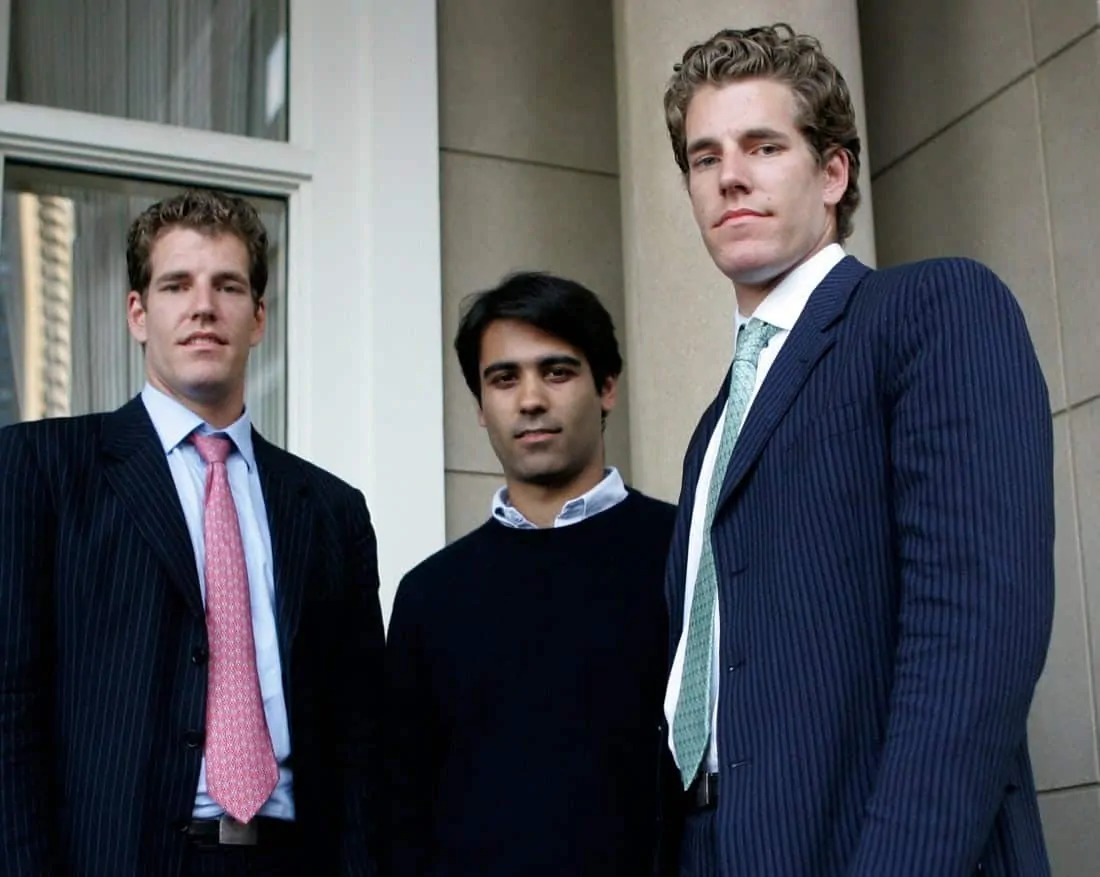 The ConnectU team had initially hired Zuckerberg to help create their ConnectU site and found about "Thefacebook" via a press release days after its launch. It was finally settled with each of the ConnectU trio receiving 1.2 million shares of Facebook and Facebook acquiring ConnectU.
Massive Growth
Apart from the ConnectU lawsuit, thefacebook was a massive hit and grew rapidly –
Upon a suggestion, Mark posted the site on the Kirkland mailing list which contained about 300 people. Within 24 hours of posting to the mailing list, the number of registered users grew over 1,300.
Initially, Facebook was restricted to Harvard students alone and by the end of the first month, half of Harvard's undergraduates had already signed up.
It was then opened up to other Ivy-League universities and soon was opened to most other colleges and universities in the US and Canada.
In June 2004, Facebook moved to a new rental house in Palo Alto, California and kept innovating on the sites' features and functions.
In July 2004, Facebook was incorporated and Sean Parker – from the Napster fame and previously acted as an "informal" advisor to Mark when creating Facebook – became the first president of the company.
In September 2004, Thefacebook launched its "wall". The Facebook wall allowed its users to post messages and receive messages from friends.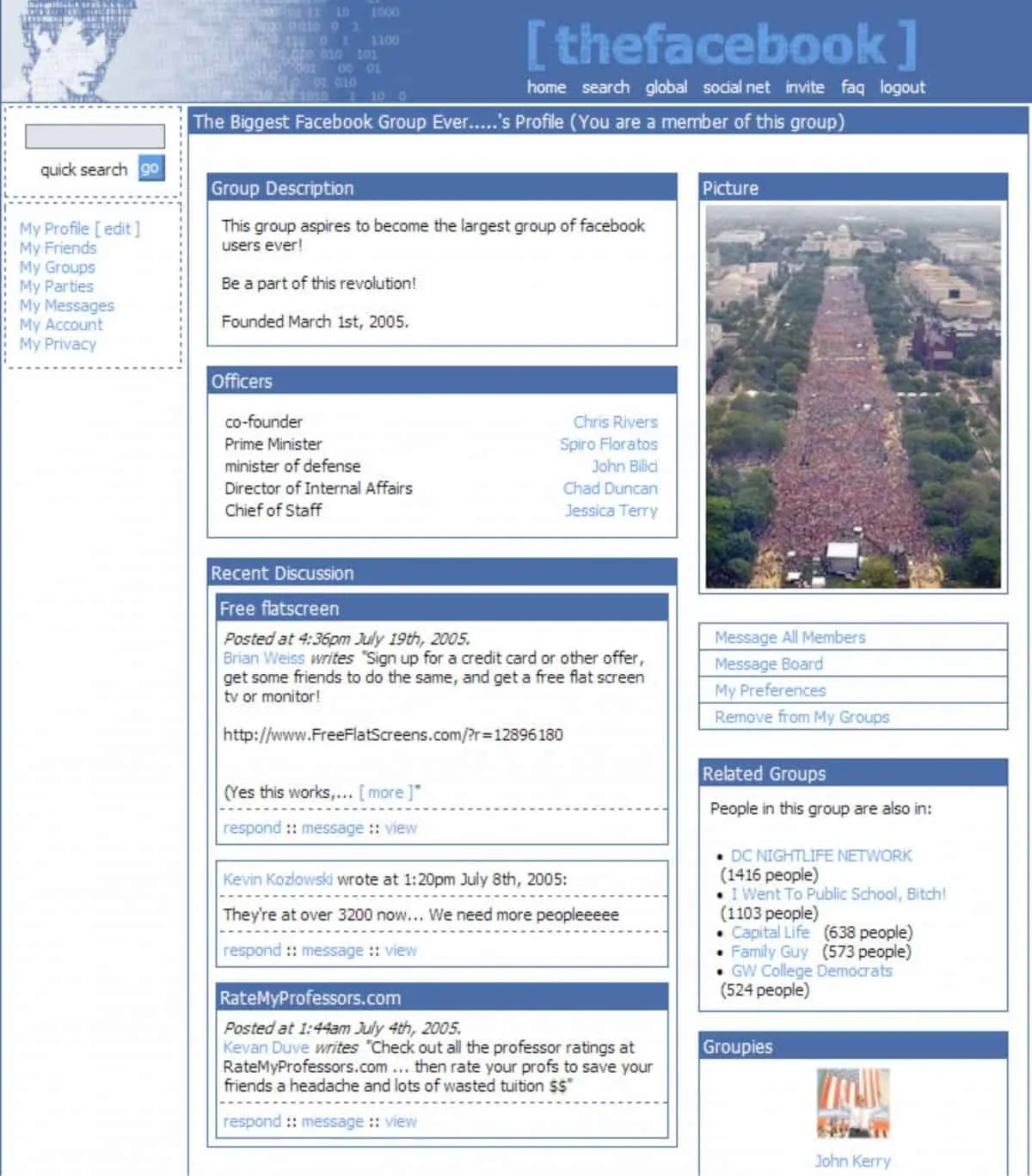 Facebook kept growing at a breakneck pace and by the end of 2004, it hit 1 million users – and all this from just the registrations of US and Canada university students alone. With numbers like these, it was easier for Facebook to find investors and obtain funding.
Initial Funding
In the beginning, the costs incurred on running Facebook were taken care of by Mark Zuckerberg and Eduardo Saverin themselves – both held equity stakes in the company. Facebook also ran advertisements on their website to get additional revenue to cover their costs.
Sean Parker approached Reid Hoffman, the co-founder of LinkedIn, to help fund the company. Though Reid was interested in the concept of Facebook, investing in it would be against his LinkedIn duties. Instead, Reid recommended approaching Peter Thiel – one of the co-founders of PayPal.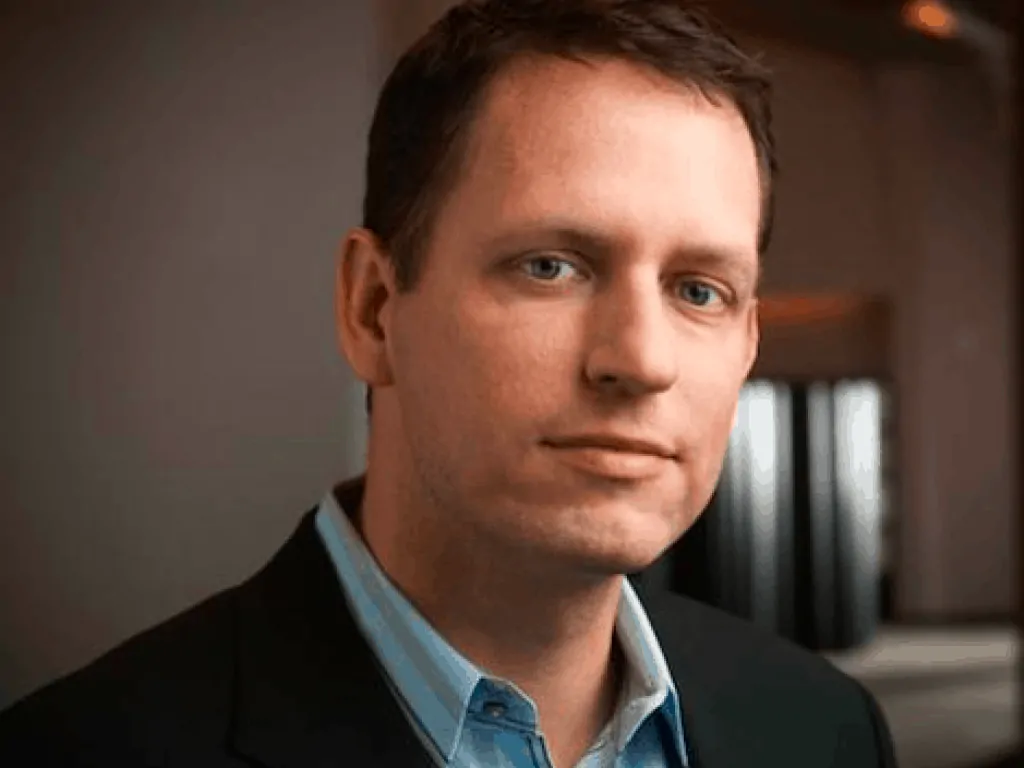 This proved to be a good call since Peter Thiel quickly made an angel investment of $500,000 to Facebook and joined as one of the board members with 10.2% ownership in the company. This made Peter Thiel Facebook's first outside investor.
Thefacebook becomes Facebook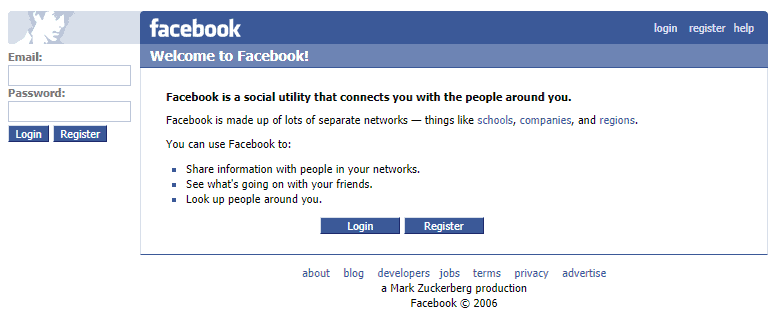 With the funding at hand, Facebook expanded to over 800 college campuses and in September 2005, dropped "The" from "Thefacebook" to become Facebook (facebook.com domain was purchased for $200,000). Facebook also finally opened up for high school students to be able to join the platform, along with Microsoft and Apple employees.
The remaining months of 2005 was a period of rapid expansion for Facebook. In October 2005, Facebook added photos to its site and expanded to countries other than the US and Canada. In December 2005, Facebook introduced the ability for its users to tag photos and also reached over 6 million users.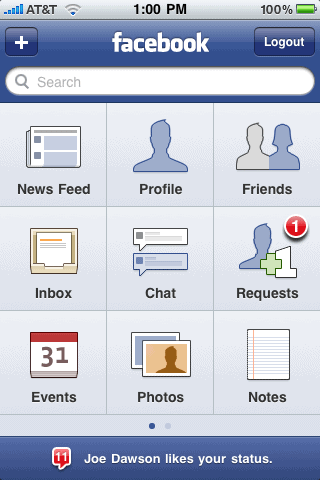 In April 2006, Facebook launched its mobile-optimized site located at m.facebook.com. The bigger change came about in September 2006 – the site was opened allowing anyone above 13 years of age with a valid email to join Facebook. With that, Facebook was no longer just restricted to high schools, colleges, universities or businesses.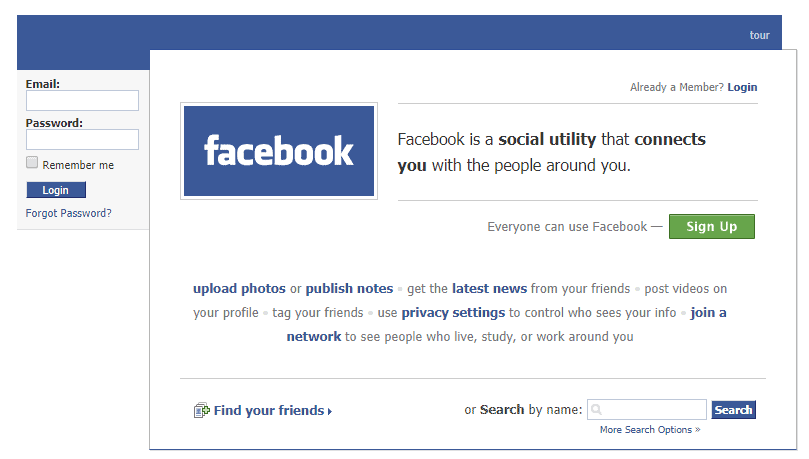 This led to the doubling of the user base from 6 million at the start of 2006 to 12 million by the end of the year.
In September 2006, Facebook launched one of its most defining features – News Feed.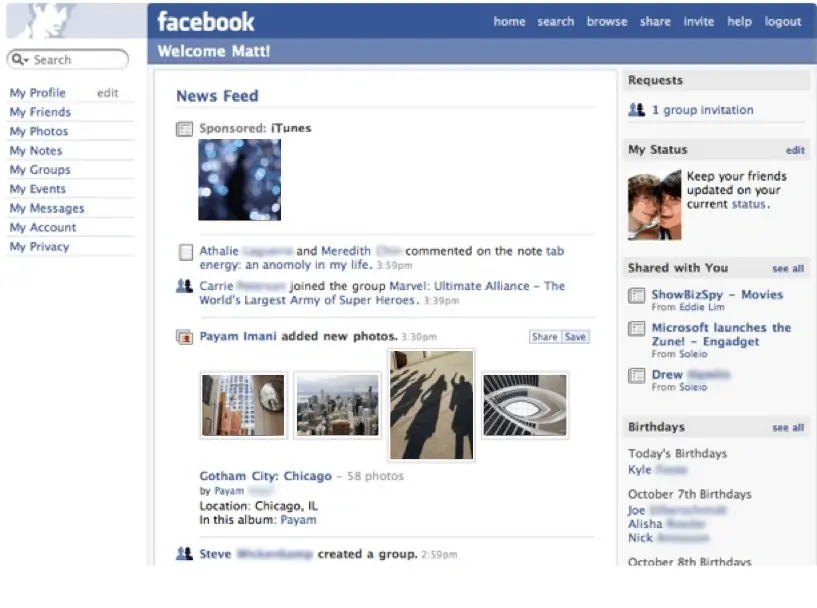 Before this users had to hop from one user profile to another to look at their latest posts. But, News Feed created a centralized stream right on the homepage from which one can view all their friends' posts and updates.
Dodging the Bullet
In July 2006, Yahoo! approached Facebook in order to buy it for $1 billion. At the time, Facebook had around 8-9 million users and was making $30 million in revenue.
When approached with the acquisition offer, Facebook's three board members at the time – Mark Zuckerberg, Peter Thiel and Jim Beyer (VC) – met to and here's how the meeting went:
Mark Zuckerberg: This is kind of a formality, just a quick board meeting, it shouldn't take more than 10 minutes. We're obviously not going to sell here.
Peter Thiel: We should probably talk about this. A billion dollars is a lot of money. You own 25 percent. There's so much you could do with the money.
Mark: I don't know what I could do with the money. I'd just start another social networking site. I kind of like the one I already have. [Yahoo] had no definitive idea about the future. They did not properly value things that did not yet exist so they were, therefore, undervaluing the business.
With that, the Yahoo! deal was off and things went on as usual.
Word Of Mouth Boost
With Facebook having not sold their business to Yahoo! and having opened up to everyone led to a massive influx of users joining the platform.
At the end of 2007, the number of monthly active users on Facebook increased by 80% to 58 million. Facebook also made its first-ever acquisition in 2007 – it acquired ParaKey in July 2007. ParaKey was founded by Firefox's co-creators and was developing a web-based OS which was then integrated and used by Facebook in order to create and power their mobile site.
Facebook also launched its standalone Facebook for iPhone app in July 2008.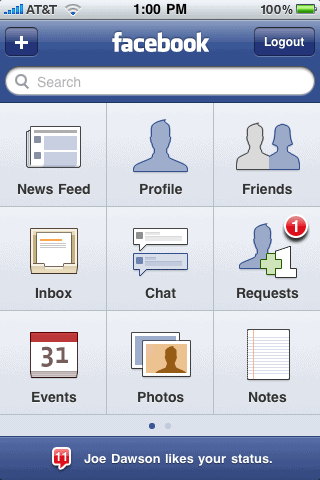 But it was 2009 that Facebook changed the way people used social media and the internet in general with the introduction of a simple yet very effective feature – the "Like" button.
Facebook Like Button
The "Like button" is one of the simplest features ever to be added on Facebook but it has been effective in influencing what was to be posted on Facebook and the internet in general.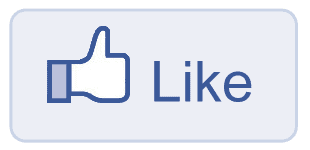 The Like button was actually going to be called the "awesome button" after Mark Zuckerberg chose the name for it. The symbol for like button was considered from a set of signs containing a star, thumbs up and plus sign.
Facebook was also not the first to introduce the like button; FriendFeed, a social aggregator site operating around the same time as Facebook had already launched a "like" feature back in 2007, while Facebook launched its "like" feature only on February 9, 2009.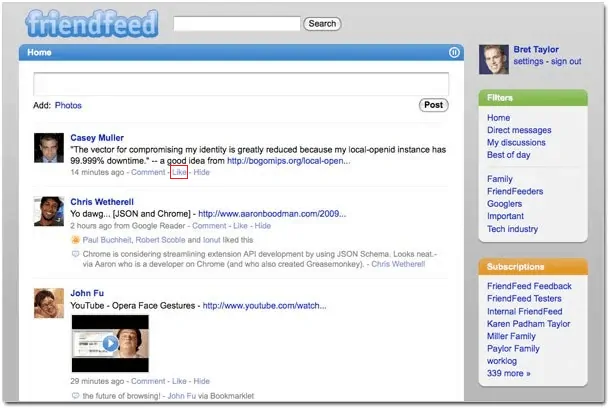 Ironically, within months after Facebook introduced the Like button on its site, it acquired FriendFeed on August 10, 2009.
Soon after, Facebook reached 500 million monthly active users in July 2010. Facebook had a great run during 2010, especially with its acquisitions. Facebook acquired the following startups and companies in order to improve and offer newer features on its site –
Divvyshot (Photo Management) – Facebook Photos
ShareGrove (Forums) – Facebook Groups
Hot Potato (Check-ins/Status Updates) – Facebook Places
Facebook Introduces Timeline
In June 2011, Facebook replaced the "Facebook wall" with the introduction of Facebook Timeline. This new feature allowed users to arrange posts in chronological order and grouped various items into their respective categories.

This was a major (and jarring) change from the previous "wall", majorly focused on telling the "story of the users' life", allowing for the inclusion of interactable posts and pictures.
Facebook Introduces Messenger App
Facebook had quite an uneventful 2011 in terms of product releases and updates, with the only major product released being the Facebook Messenger for iOS and Android. The instant messaging app allowed Facebook users to send messages, photos, videos, and documents to other users using the internet.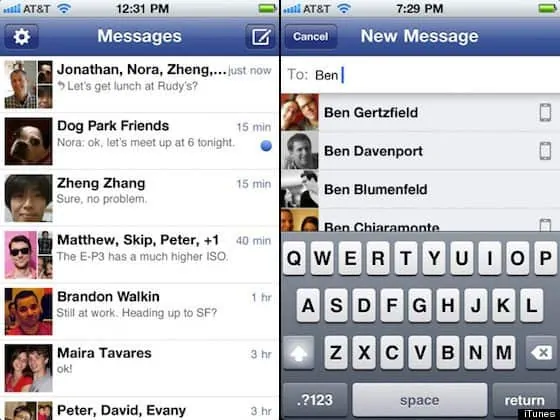 In December 2011, Facebook shifted its operations to a bigger headquarters in Menlo Park, California. The 10 building campus was the former space of Sun Microsystems and until then, Facebook had been moving around from one location to another within Palo Alto.

Soon after the launch of Facebook Messenger and shifting to its new headquarters, Facebook announced that it would acquire Instagram for $1 billion.
Facebook Buys Instagram
In April 2012, Facebook acquired Instagram – a photo-sharing app – for about $1 billion, which made it Facebook's biggest ever acquisition ever.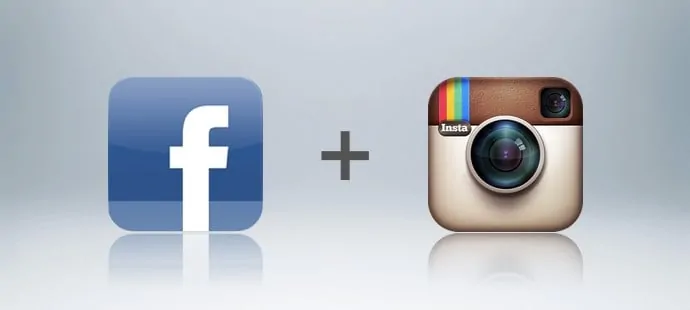 Instagram received $1 billion as cash and stocks and with the acquisition of Instagram, Facebook established a stable footing in the mobile sector – a space that was seen as a weakness for Facebook since Facebook Messenger was not doing as expected.
The next big milestone for Facebook was its announcement of going public.
Facebook IPO
Facebook filed for its initial public offering on February 1, 2012, and went public on May 18, 2012 – a month after it acquired Instagram for a billion dollars – and was considered to be one of the biggest and most anticipated IPOs of all time. At the time of filing the IPO, Facebook announced that it had around 845 million active users and over 2.7 billion daily likes and comments.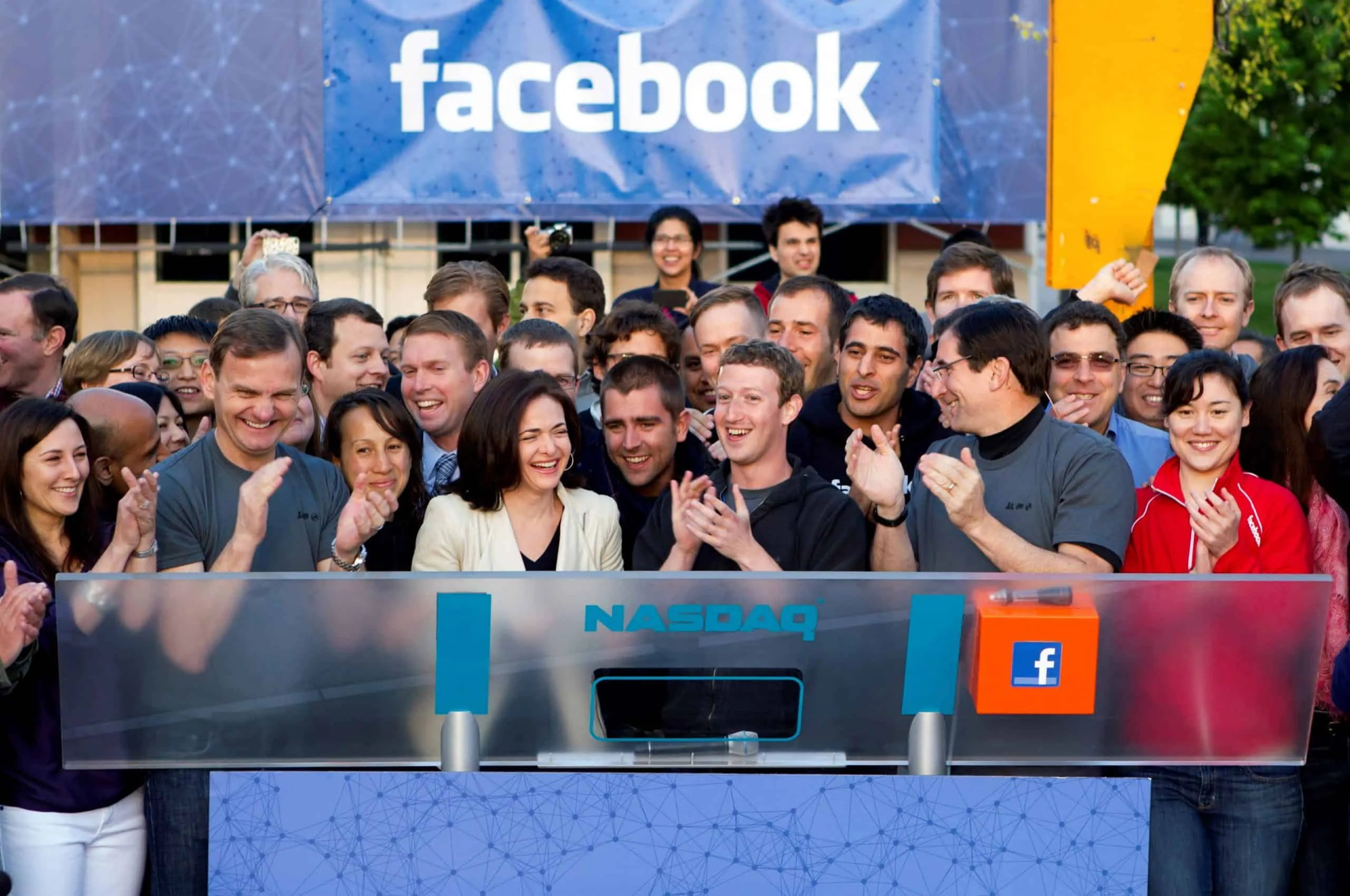 The Facebook IPO was valued at $38 per share, raising $16 billion at launch. This meant if you had invested $1,000 during the IPO, it would amount to $4,992 ($192/share as of February 2020). After the IPO, Mark Zuckerberg retained a 22% ownership stake in Facebook.
Also, within four months after its IPO, Facebook hit the 1 billion monthly user mark becoming the first service of its kind to reach such user numbers. It took Facebook only 8 years to reach the billion-user mark – which meant that Facebook was being used by 1 out of every 7 people on the planet at that point.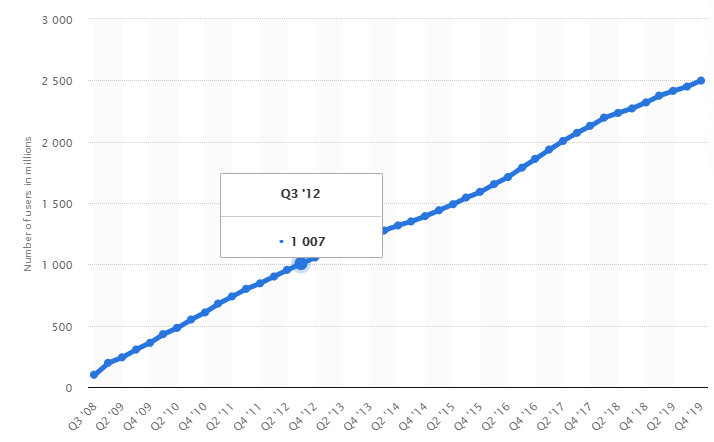 Facebook kept introducing newer products and incremental updates – with most of them focussed on the social network site – for about the next two years. A few notable ones include –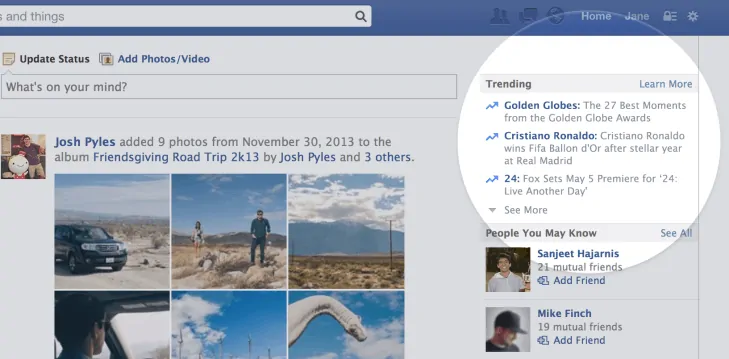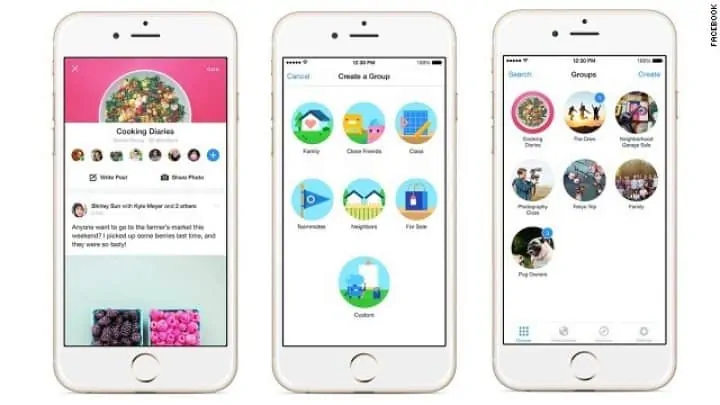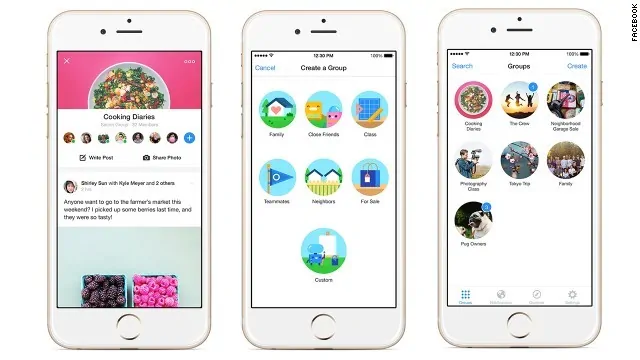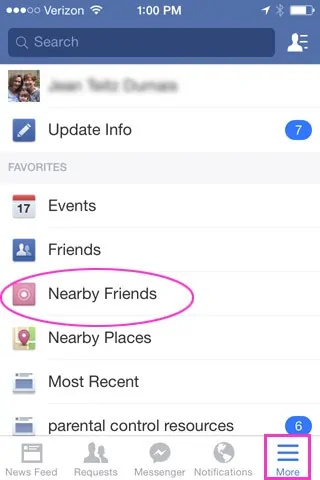 It was from 2014 onwards that Facebook truly started diversifying rather than sticking to its social media stronghold.
Venturing Away From Facebook
Facebook Buys WhatsApp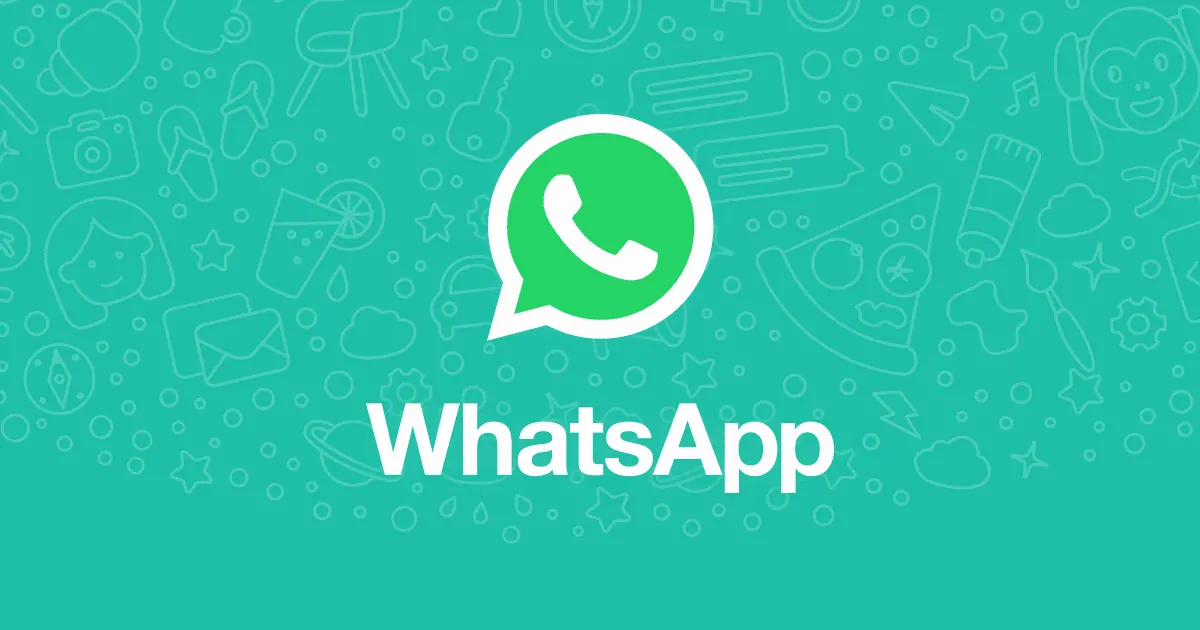 WhatsApp is an ad-free mobile app that allows its user to send unlimited messages, make voice and video call to their contacts for free. Since WhatsApp uses the Internet to provide its services, the users incur no carrier charges, just the internet data charges alone. This makes the calls and messages virtually free of cost.
In February 2014, Facebook announced its plans to acquire WhatsApp for $16 billion, which was then increased to $19 billion after negotiations. But in reality, Facebook actually paid WhatsApp $22 billion since a portion of the payment was with Facebook's shares and its share prices rose up to $77 from $68 at the time of closing the deal in October.
With the earlier acquisition of Instagram and now with WhatsApp, Facebook cemented its footing in the mobile sector.
Facebook Buys Oculus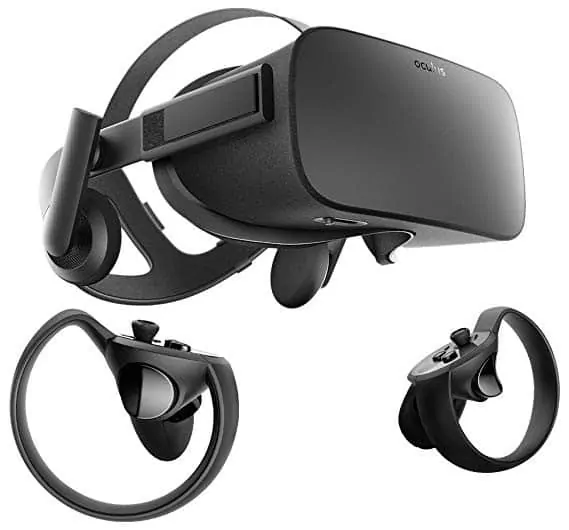 Oculus VR makes virtual headsets and had started out as a Kickstarter campaign. Oculus had created its Kickstarter campaign in 2012 and raised 2.5 million dollars to create its first VR headset.
Facebook bought Oculus in March 2014, just a month after it had acquired WhatsApp for $2 billion. Oculus had been around for only 2 years, functioning as a Kickstarter at the time of purchase.
This acquisition of Oculus helped Facebook diversify away from social media and into the world of VR.
Facebook Buys Chainspace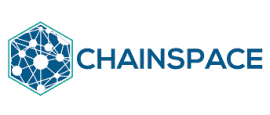 Chainspace is a blockchain startup developing a distributed ledger platform based on smart contracts.
In February 2019, Facebook acquired Chainspace for an undisclosed amount and integrated its team into Facebook. This showed that Facebook was looking to enter the blockchain space and was confirmed a few months later with Facebook announcing the launch of its very own cryptocurrency.
Facebook Cryptocurrency
While rumours arose about Facebook's move into crypto space from its acquisitions and hiring patterns back in December 2017 itself, the acquisition of Chainspace further solidified the rumours.
In June 2019, Facebook announced that it will launch its very own cryptocurrency platform Libra – a digital currency.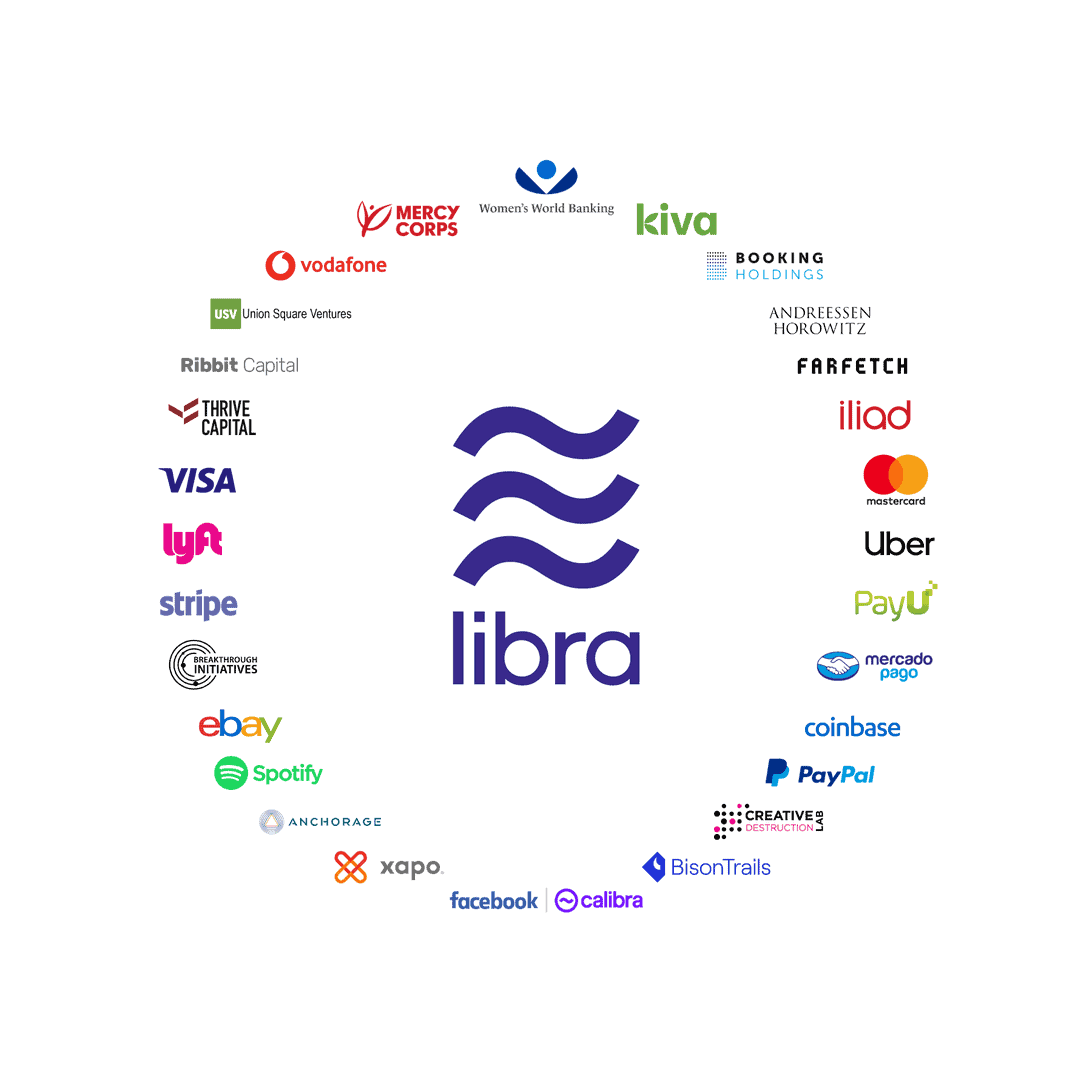 Here's what we know about Libra till date –
Facebook plans to integrate Libra into Facebook and its apps such as WhatsApp, Facebook Messenger, Instagram and such, allowing its users to be able to conduct monetary transfers from within the app.
Libra is supposed to be regulated by the non-profit Facebook subsidiary Calibra – for the time being.
As of writing, eight of the founding partners – PayPal, Mastercard, Visa, Mercado Pago, eBay, Stripe, Booking Holdings, and Vodafone – stopped supporting and left Libra.
Libra and Mark Zuckerberg were warned by the government that the cryptocurrency would not launch without the approval of various regulatory agencies.
Facebook launching a cryptoasset that is regulated by one of its (non-profit) subsidiaries raised a lot of eyebrows from the public as well as the government due to previous privacy scandals and litigations.
Facebook Data Breaches & Scandals
Facebook has a long history of neglecting its users and their privacy. Here's a timeline of notable Facebook's scandals and breaches –
2005 – Beacons feature shared the purchasing history of users to other sites without user consent
2008 – Technical glitch revealed birth-dates of over 80 million Facebook users
2009 to 2014 – The Federal Trade Commission (FTC) gets involved since earlier Facebook allowed private information of its users to be made public without warning
2013 – Data breach: Facebook bug unintentionally discloses a software flaw that exposed 6 million users' email addresses and phone numbers
2014 to 2018 – The Cambridge Analytica scandal
2018 – Data breach: Due to poor security measures, hackers were able to steal digital login codes of up to 50 million users' accounts
2019 – Data breach #1: Data of 540 million Facebook users exposed
Data breach #2: Facebook "unintentionally" grabbed email contacts data from over 1.5 million
Data breach #3: The phone numbers, names and user IDs of over 267 million Facebook users were exposed
Facebook In 2020s
Facebook has been increasing its focus on bringing about better security measures and providing more privacy for its users in order to regain the lost trust from the numerous data breaches and scandals.
Facebook has also been acquiring a lot of companies – mainly in the fields of Machine Learning, Artificial Intelligence, and facial recognition and has been diversifying into other industries – cryptocurrency, VR, Internet Services, marketplaces and such.
Go On, Tell Us What You Think!
Did we miss something? Come on! Tell us what you think about our article on History of Facebook in the comments section.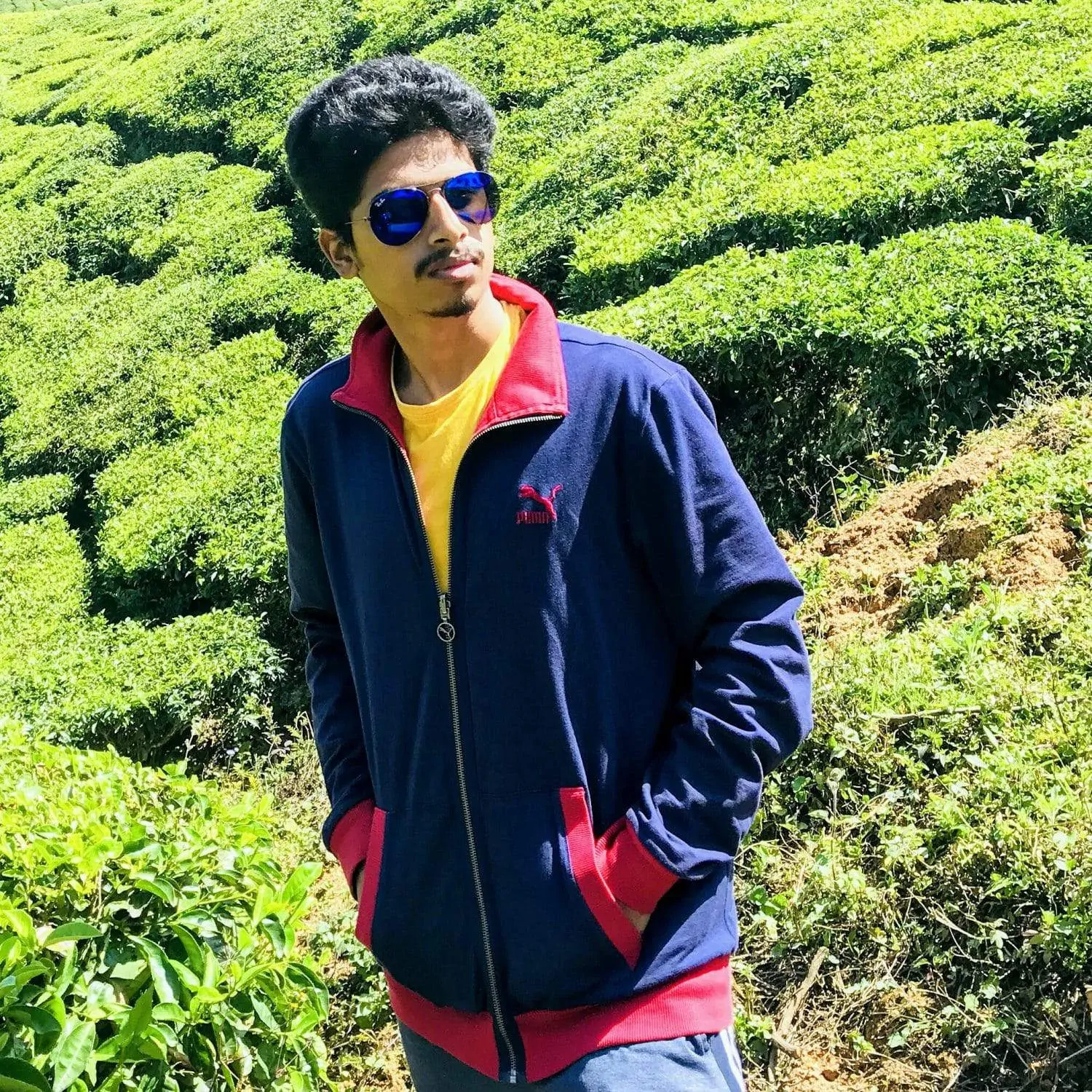 Started out to become a developer but felt at home in the home of startups. The journey started from a single novel. Been an entrepreneur since schooling days. Interested in coding, reading and movies.