At a time when more than half the world's population finds itself on the internet, companies have turned the privacy of individuals into commodities. They use this gathered data to personalise advertisements for each potential customer. Today, more and more individuals are growing conscious of the kind of data they share on the internet and even on private messaging platforms.
A widely used messaging application, WhatsApp, is now the source of privacy concerns. Individual users are increasingly growing sceptical about how private their conversations remain on the application. This issue had led to users shifting to other end-to-end encrypted messaging applications. One such messaging application which is fast gaining popularity among users is Signal.
What is Signal? Who uses it, and what are the values that it stands by? What's Signal business model and how does Signal earn its revenue?
Let's find out!
What is Signal?
Signal is an encrypted messaging application that allows users to send messages and also make calls.
Signal's USP, however, is its guaranteed focus on privacy protection. Since it is open-source and peer-reviewed, individual experts can check on its privacy and security. It encrypts text messages, calls, including group calls, and even gif searches.
The design of the application is such that a user's privacy is highly prioritised. We see this in several ways – an example could be that of its video call feature. When the person answers a video call on the other end of the call, the user has to turn on their camera, as it doesn't automatically turn on as it does on other messaging applications.
Growth of Signal
The messaging service has been around since 2014. However, it became more widely used only after 2018. The formation of the Signal Technology Foundation was announced in early 2018, the founders being Moxie Marlinspike and the co-founder of WhatsApp, Brian Acton, in California, USA. This foundation aimed at making private messaging more accessible and ubiquitous to users, as stated in their announcement post.
The messaging application was then popularised during the George Floyd protests, the reason being increased awareness regarding matters concerning the police monitoring individual data. During that period, the app also introduced a new feature wherein users could then blur faces to ensure heightened privacy to secure users from the federal's increased monitoring. As a result of increased awareness relating to privacy, the app saw a sharp increase in downloads.
Early in January 2021, Signal again witnessed a spike in the number of new user registrations. Sources linked this to the change in WhatsApp's Privacy Policy. It led to Elon Musk's two-word endorsement of Signal – "Use Signal". 
Edward Snowden, a former CIA employee known for leaking highly classified information from the NSA, also posted a tweet vouching for Signal. He himself has been a supporter and user of the application since 2015.
The response to all of these events was so overwhelming that the volume of new users caused the app's servers to crash on January 15, 2021.
As a result of these events, the world witnessed a massive digital migration from a messaging application that threatened privacy to a more secure messaging application.
Who Is Signal's Customer?
As of January 2021, Signal has been downloaded by users worldwide more than 105 million times. The messaging application now has around 40 million monthly active users.
The digital migration to signal mainly consisted of users who are aware and dubious of the change of WhatsApp's privacy policy. Millions of users changed and encouraged others to change their primary messaging app.
The application is popular among Generation Z – a generation that cares most about its privacy. This generation is also quick when it comes to learning and adapting to new technological platforms, and hence, opted to make the big digital shift. While journalists and those belonging to other such occupations which require heightened privacy also form Signal's target audience, Signal's users primarily constitute those belonging to the newer generations.
What Value Does Signal Provides To Its Customers?
Signal is to WhatsApp as Snapchat is to Instagram. Snapchat is a privacy centric social media platform where users conduct more private interactions with those considered close. Instagram on the other hand lets users interact with a broader audience consisting of family, friends and followers.
Similarly, Signal users mainly use the application to have more private conversations with people who matter, while WhatsApp is used for conversations that the user does not necessarily consider private. These even include conversations with businesses.
Signal's popularity rose as a result of concerns regarding WhatsApp's changed privacy policy. WhatsApp's privacy update made users think that their private messages would now be accessible to a third party which would then be shared to Facebook, the parent company of WhatsApp.
This threat to their privacy caused millions of users to shift to Signal. Mainly, users who believed that absolutely nobody should have access to their chats migrated to the much more secure messaging service.
Signal promised its users that it would never sell its users' data, and since it is a non-profit, it would also not be showing any advertisements to earn revenue. This even positioned it differently from another privacy centric application – Telegram.
Moreover, Signal is an open-sourced and peer-reviewed IM; its code, clients, and protocol are publicly available, and the world helps improve the application's security and functioning rather than just one company.
The application is easy to use and requires no specialised knowledge, making it widely accessible to users globally.
Below listed are some features that Signal allows to its users for enhanced conversational privacy:
Disappearing messages: Signal allows its users to keep their messages for a specific amount of time before being deleted permanently. This time can span anywhere between five seconds to a week. After the selected amount of time, viewed messages would be automatically deleted.
View-once only media: This feature, accessible to those using Signal on their mobile phones, allows users to share images and videos that would be removed from a conversation once it has been viewed. It enables the user on the other end to view the image only once.
Local-backups: Media and other data shared on Signal is stored locally, which means third parties would not have access to all the data that users have shared.
Registration lock: The application requires its users to set a PIN when registering. This feature prevents a second device from being added to the account and stealing the information without the user's knowledge.
Incognito Keyboard: The application also prevents the keyboard from sending user-typed data to a third party, preventing sensitive data from being leaked.
Signal's Operating Model
Signal is an instant messaging service application that can be installed on Android and Apple smartphones as well as on desktops. The app allows the following features to its users:
Secure messaging with end-to-end encryption: Signal combines end-to-end encryption with its open source model, guaranteeing public that it is performing end-to-end encryption securely.

Secure voice and video calls with end-to-end encryption: Just like text messages, the video and audio calls on Signal are end-to-end encrypted and can only be accessed by the parties involved.

Group chats: Users can create group chats. Additionally, invitees are first asked whether they would like to be added to the group, unlike WhatsApp, where anyone with your contact number can directly add you to a group without prior permission.

Disappearing text messages: Allows users to set a specific time limit until a text message is visible to the receiver. These viewed messages get automatically deleted after a set amount of time spanning 5 seconds to a week.

View-once only media: Allows users to send videos and images that can be viewed by the receiver only once.

Signal PIN: The Signal PIN can help users recover their profile, settings, contact and blocklist if they ever happen to lost or switch their device.

Payments: Just like Whatsapp, Signal also allows its users to send and receive payments through the instant messaging application. However, what sets this IM apart is that users transact cryptocurrencies and not fiat. This feature reinforces the company's goal to keep your data in your hands rather than the company's.

Signal's Revenue Model
Signal is a non-profit organisation – it does not aim to earn profits.
It relies solely on donations to continue functioning. It accepts all currencies and even cryptocurrencies as donations.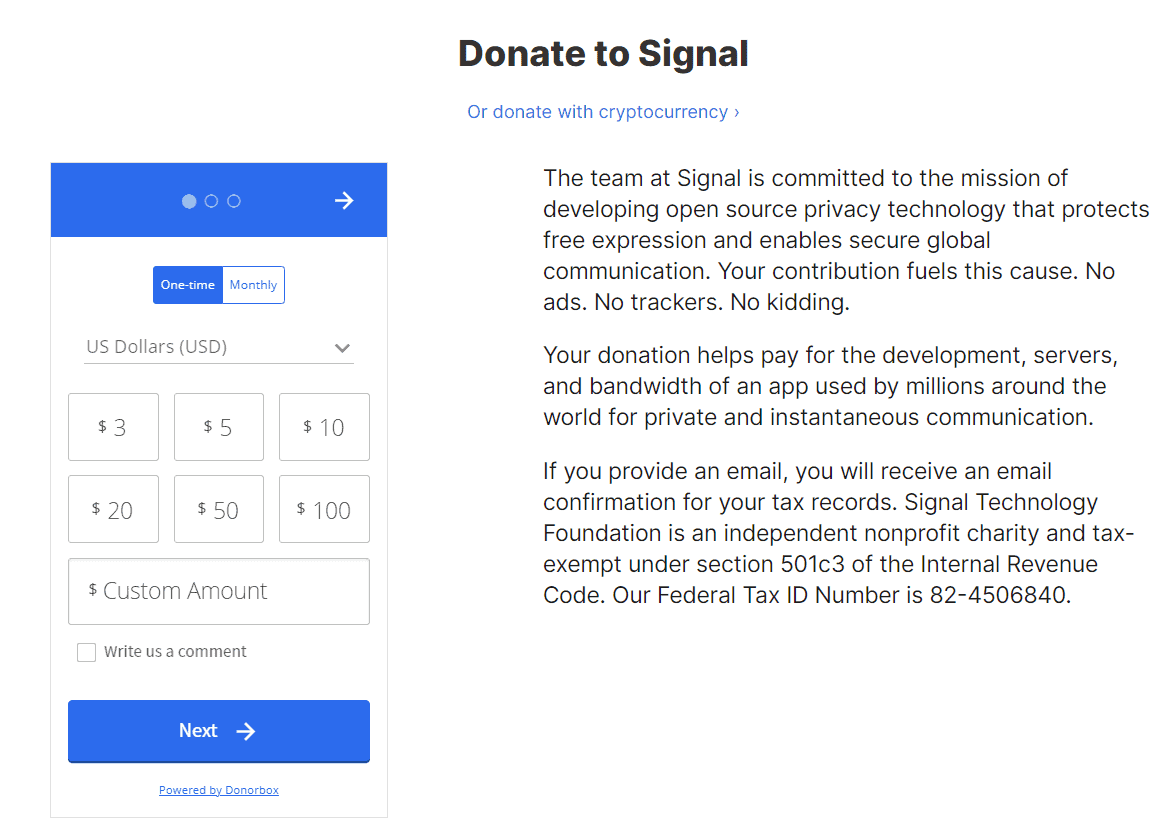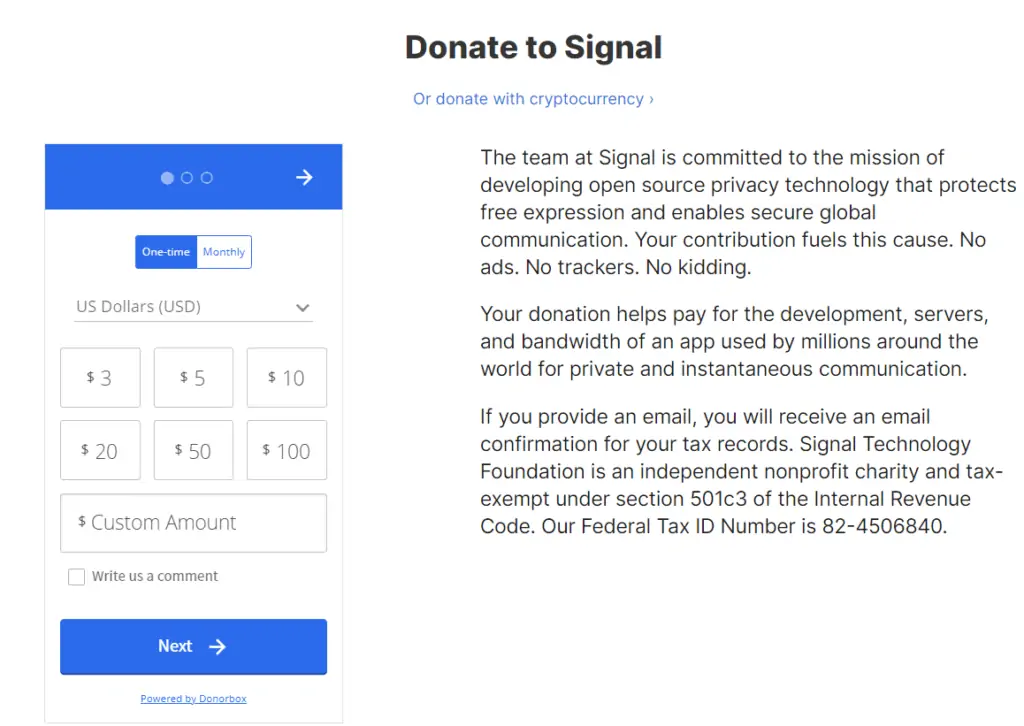 Since Signal's program is known to be open-sourced or publicly available, independent developers are welcome to offer patches and solutions, which saves the organisation a lot of money.
As a result of disagreements regarding the monetising of WhatsApp by the means of advertisements and an altered privacy policy, both founders of WhatsApp resigned from Facebook. Brian Acton, one of the co- founders of WhatsApp, who went on to become the executive chairman of Signal as well as its co-founder, invested $50 million into Signal in 2018. Thus, through donations and investments like these, Signal continues to operate smoothly.
Future of Signal
Signal seems to have a promising future. With its progressive privacy- preserving objective, the app could see more privacy-conscious users in the future.
Signal has promised to not be yet another sellout. The team states that they have taken all possible measures to not disappoint its users in the future. Firstly, they do not have access to any user data. Secondly, the project, Signal, has been structured as a non-profit, which means it can never be owned or bought by anyone. Additionally, their motive evidently is not and never has been profit-making, and Signal has been a project that has aimed towards something other than profit.
From all the gathered points, it is quite evident that Signal would continue to prioritise privacy and security above everything else, and this objective will only draw in more users in the future.
Go On, Tell Us What You Think!
Did we miss something?  Come on! Tell us what you think of this article on how does Signal make money in the comments section.
A startup enthusiast who enjoys reading about successful entrepreneurs and writing about topics that involve the study of different markets.