From Snapchat to Snap Inc., the journey of three Harvard students has taken the world by surprise. It showed what a disruptive idea can do.
When every platform was trying to save and organise memories, Snapchat found a way to delete them instantly. While every social platform allowed users to send messages, images, audios, and videos, Snapchat focused solely on visual memory. Five years after its launch, it officially rebranded itself as a camera company.
Its unique analytics and efficient business model made this possible. But what is Snapchat business model? How does it operate and make money?
Let's find out.
What Is Snapchat?
Snapchat is a privacy-focused social media application that allows one to share memories in visual form. Here, users communicate with their friends and other people by sending and receiving pictures, videos, and texts that disappear once seen.
The startup was launched in 2011 by Evan Spiegel, Reggie Brown, and Bobby Murphy under the name of 'Picaboo'. However, a few months after the launch, the founders received a cease-and-desist from a photobook company which had trademarked the name. Meanwhile, there was a fallout among the founders, which led to the ousting of Reggie Brown. After this, the two co-founders rebranded Picaboo as Snapchat. The images and videos sent through this platform are called snaps; thus, the name.
Who Are Snapchat's Customers?
Snapchat's target demographic is the Generation Z. Because the application addresses this generation's needs for privacy. Most of its instant messaging (IM) users fall between 13 to 34 years.
A lesser-known fact is that Snapchat is useful for businesses and content creators as well. Since it offers customised advertisements that blend in with users' experience (instead of intruding on them like Facebook and Google ads), Snapchat is a great marketing platform for local as well as international brands. Meanwhile, the company pays content creators for their skills through Spotlight, which boosts its popularity.
What Value Does Snapchat Provide?
Snapchat is the platform that caters to the needs of IM users, businesses and content creators alike. Unique in its outlook, Snapchat creates a self-sustaining framework where it is a win-win situation for all.
What Value Does Snapchat Provide to IM Users?
Snapchat is the first platform that catered to the youngster's need for privacy. Images, videos, and texts shared over Snapchat disappear automatically unless saved. Also, it notifies the user if the other party takes a screenshot of their snaps, stories, or conversations.
When social applications like Whatsapp and Instagram focused on saving memories, Snapchat came up with the disruptive idea to build a platform where shared content automatically gets deleted after some time. This addressed the new generation's repressed demand for privacy.
Moreover, Snapchat is fun and convenient for a generation that wants everything to be instant. While Facebook and Instagram require users to post perfect pictures with eloquent captions, Snapchat allows them to share their day's happenings and memories with their contacts instantly. Its augmented reality lenses and filters add humor and beautiful effects to the pictures, thus increasing the platform's appeal.
In the words of CEO Evan Spiegel:
Snapchat isn't about capturing the traditional Kodak moment. It's about communicating with the full range of human emotion – not just what appears to be pretty or perfect.
What Value Does Snapchat Provide to Content Creators?
Since Snapchat users open the app around 20 times a day, the company has started providing entertaining content to boost their engagement. Spotlight was launched in November 2020 with this purpose in mind.
It is a Tik-Tok like feature that allows people to create and post short video content for public consumption. The top creators are paid each day from a $1 million dollar pool.
What Value Does Snapchat Provide to Businesses?
Snapchat, as an actively growing community of young internet users, is a good place for brands to market themselves.
Internet users often get repulsed by the traditional ads featured on Google, Facebook, and Instagram. Snapchat leverages this to its advantage by offering customised lenses and Geofilters to its advertisers so that their ads feel non-intrusive and organic.
How Does Snapchat Operate?
Anyone over the age of 13 can create a Snapchat account by filling in their name, phone number, and other relevant details. One must remember that they cannot change their Snapchat username, once signed up.
Users are attracted to the app by its 'self-destructive' instant messaging feature that offers them safe and private encounters. Snapchat also allows them to click and share snaps instantly and maintain Streaks with their friends.
The company has lately been launching new services to boost user engagement. Discover and Spotlight features are emerging as interesting pastimes.
Spotlight also allows its users to create content and get paid for it; thus, boosting Snapchat's appeal among young content creators.
Besides IM users and content creators, Snapchat is also turning out to be a playground for brands with its non-intrusive and engaging ads. Since youngsters spend a huge chunk of their time on Snapchat, local and international businesses, especially the ones who are targeting the Millennials and Generation Z can leverage this to their advantage.
They can launch sponsored ads after creating a business IDs or opt for customised Lenses and Geofilters. Snapchat also provides them with certified courses on Snapchat Marketing through its Snap Focus initiative.
Snapchat's unique analytics and distinctive features help it attract, acquire and retain customers.
Lenses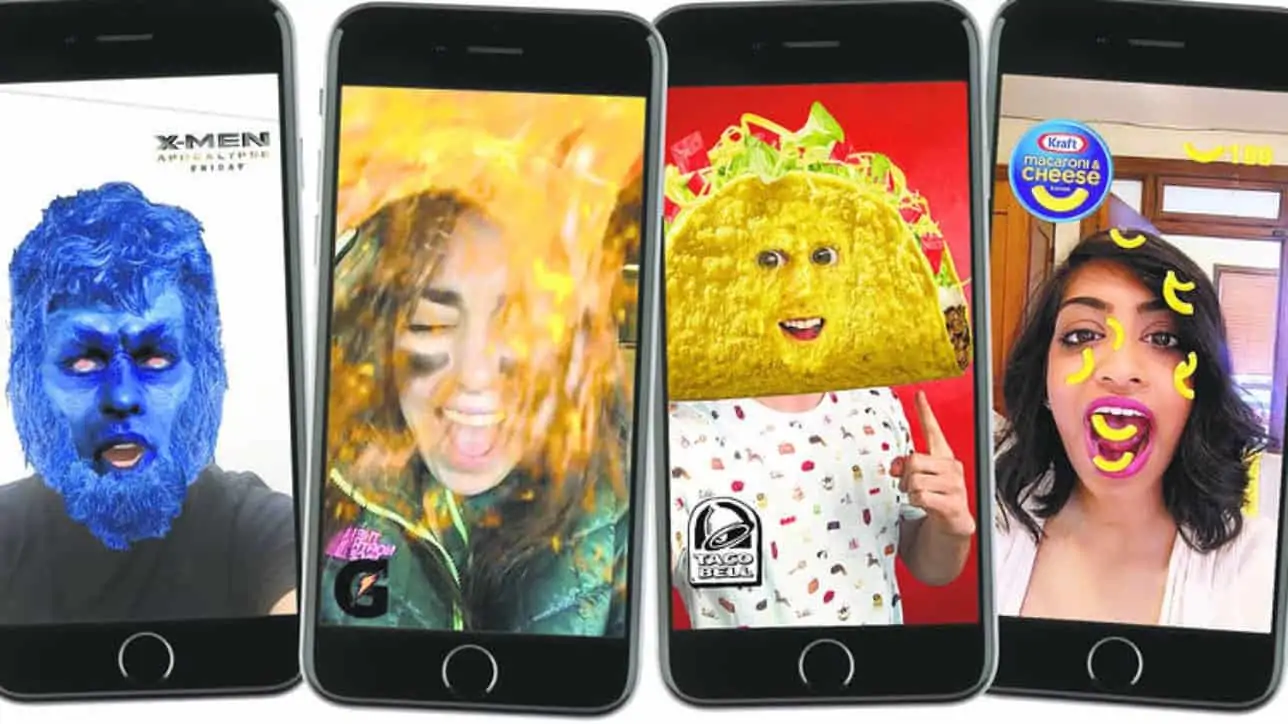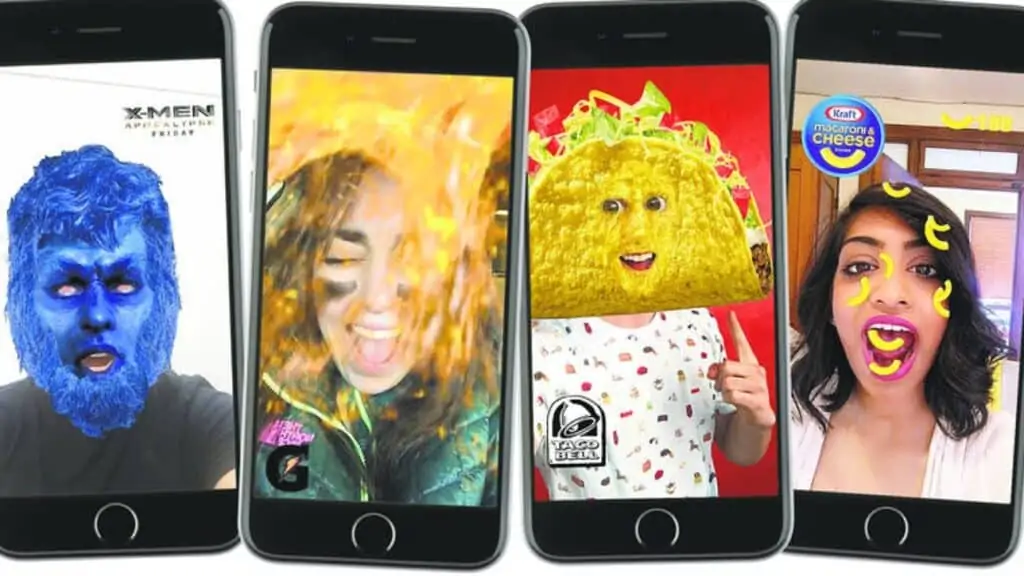 Snapchat uses augmented reality to create fun and inviting lenses that add humor and beautiful effects to their pictures, videos and Spotlight snaps. Businesses may partner with the company to design customised lenses.
This technology is relatively new and Snapchat has been the first to use it on a social application.
Filters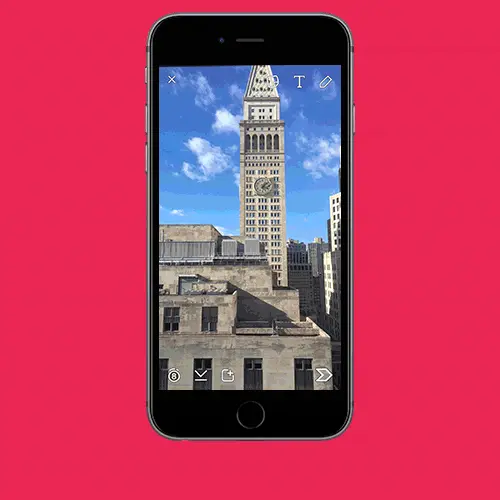 Filters are the fascinating frames used in photos and videos. Snapchat's location and occasion-based creative filters attract its IM users and content creators who love experimenting with visuals. Brands can get custom-made Geofilters or Moment Filters for themselves. Users interact with these filters and boost the popularity of the brands.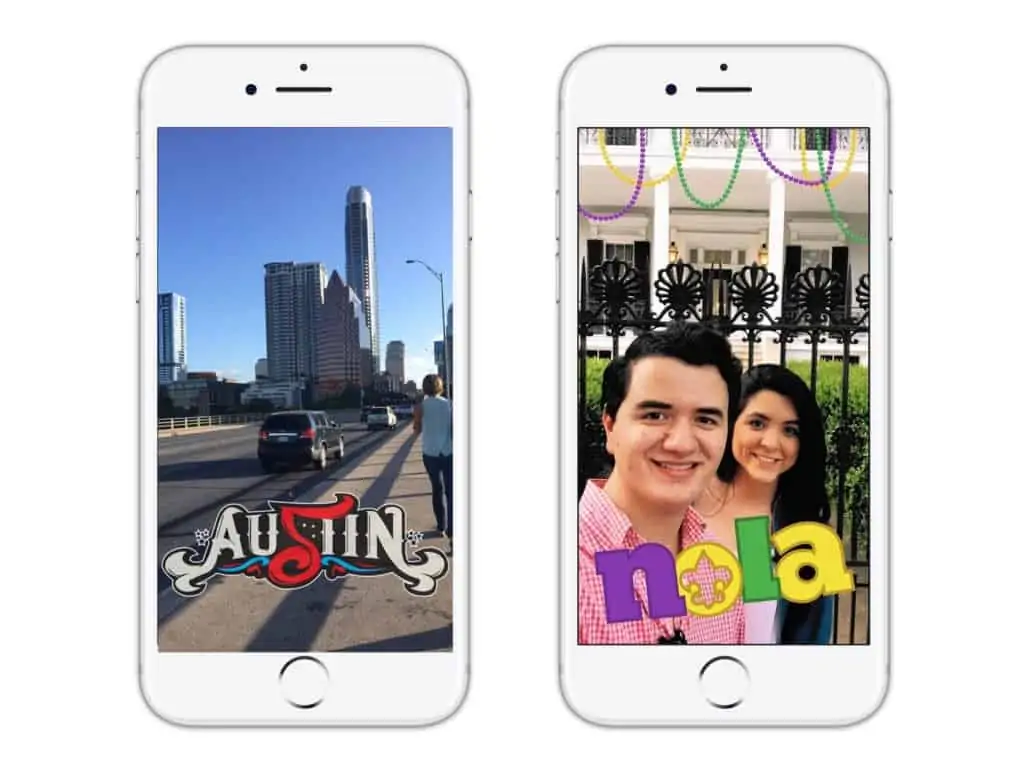 Stories
One of the most attractive features of Snapchat, Stories allow users to tell their day's story to the world instantly by capturing and uploading images and videos. One can use lenses and Geofilters over their Stories or add texts to improve their relevance.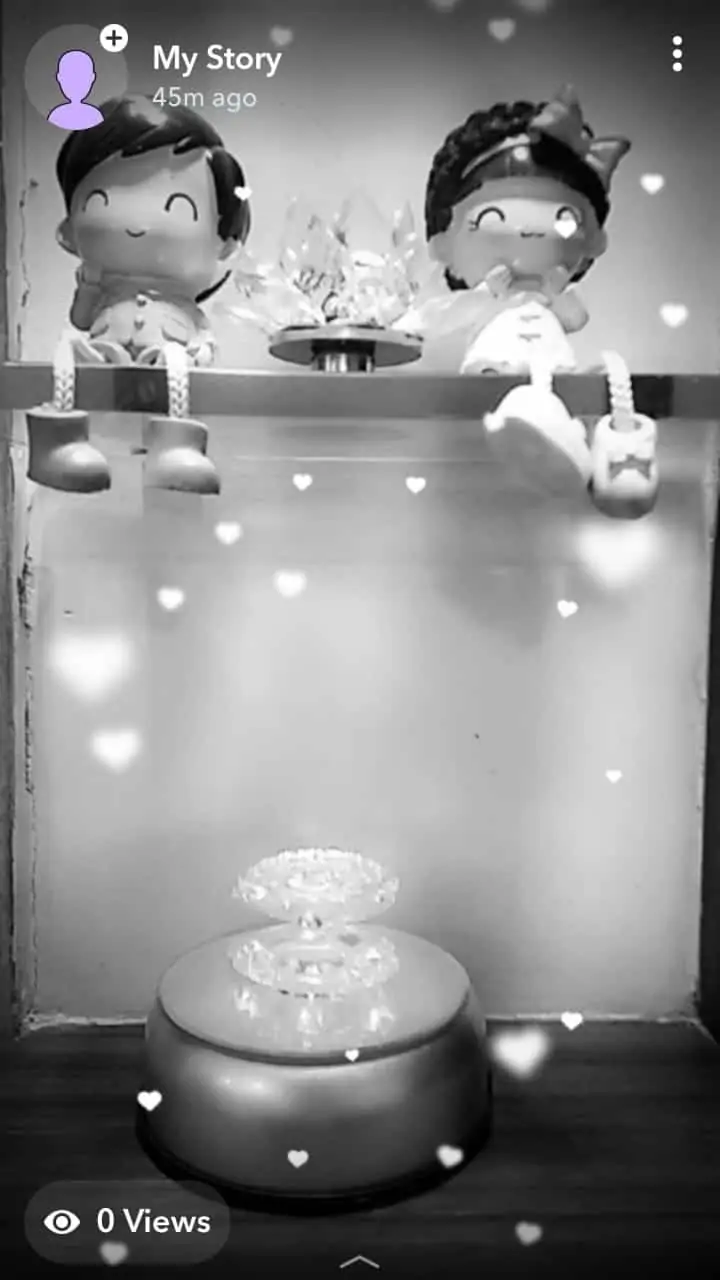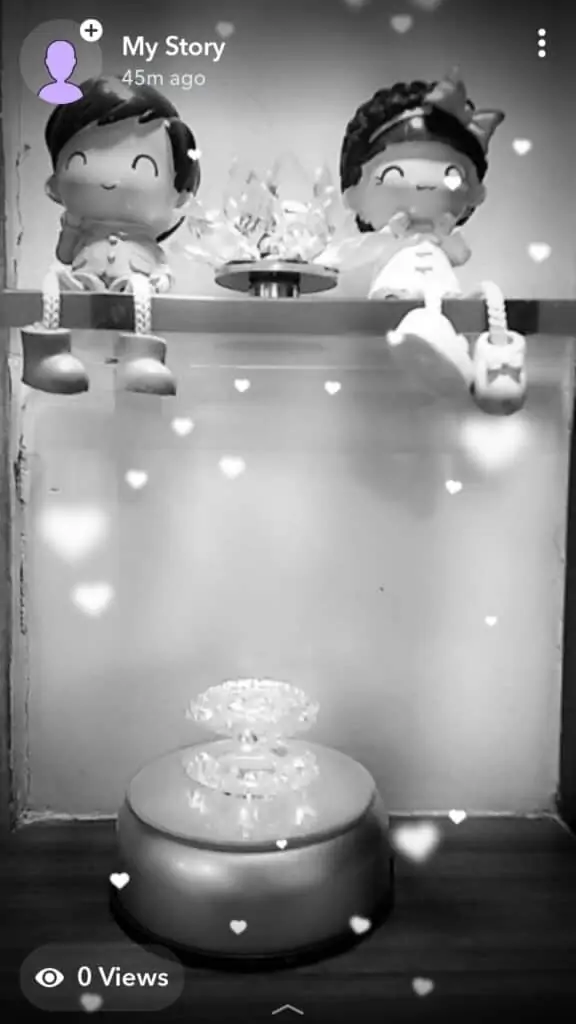 Our story
Our stories are the collection of snaps contributed by different people around the Snapchat community. They allow Snapchatters who are at the same location or event to capture it through different perspectives, like a single-story, written by many.
Discover
Snapchat partners with publishers and content creators who want to provide their content over the app. Publishers like Buzzfeed, MTV, National Geographic, etc. provide news and feed in the form of stories that are replaced with new content every 24 hours whereas brands like ESPN, Food Network, Comedy Central, etc. offer diverse content.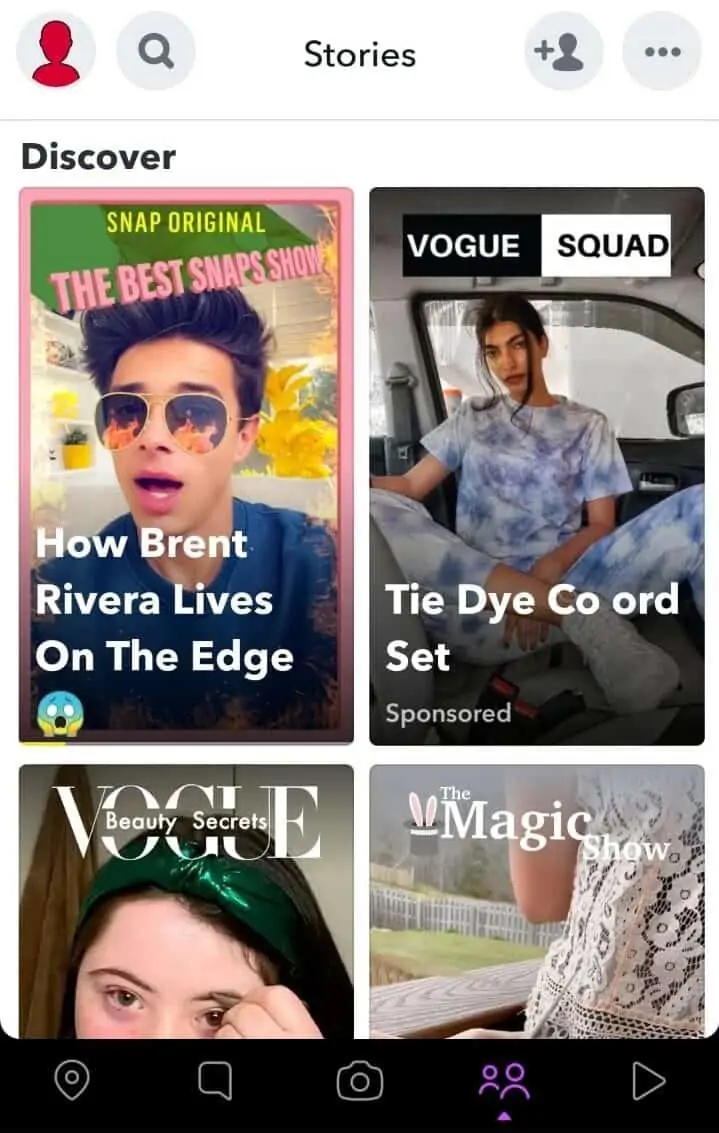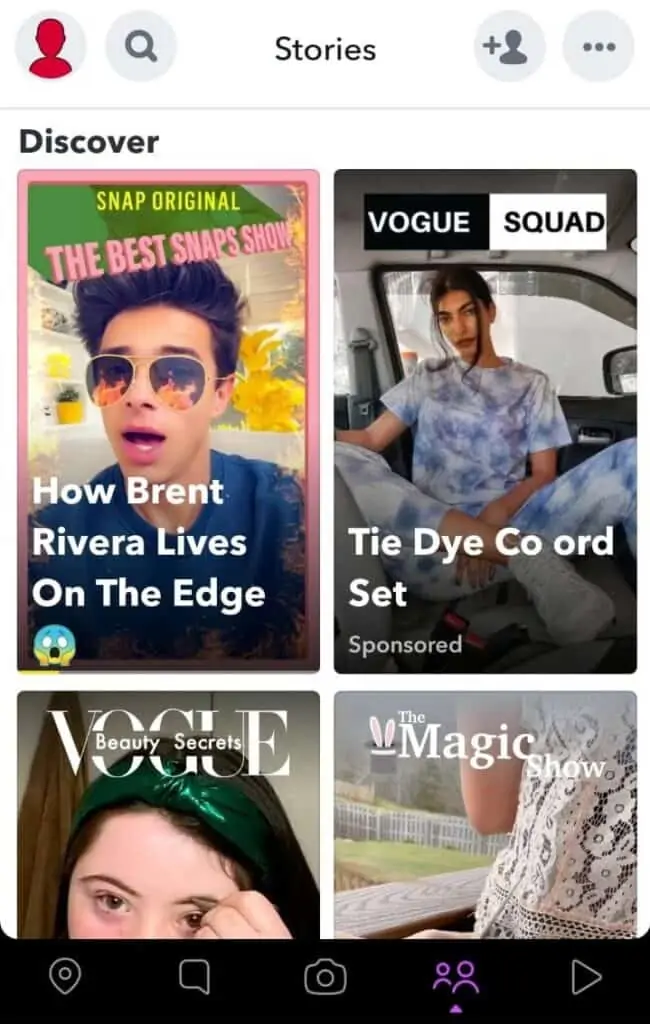 Snapchat tracks user preferences and shows them content they are interested in.
Spotlight
Spotlight is the Tik-Tok-like feature of Snapchat that allows users to share their entertaining snaps and short videos with people they may or may not be friends with. The viewers can access them on or off the app and engage with them by liking, sharing, and saving.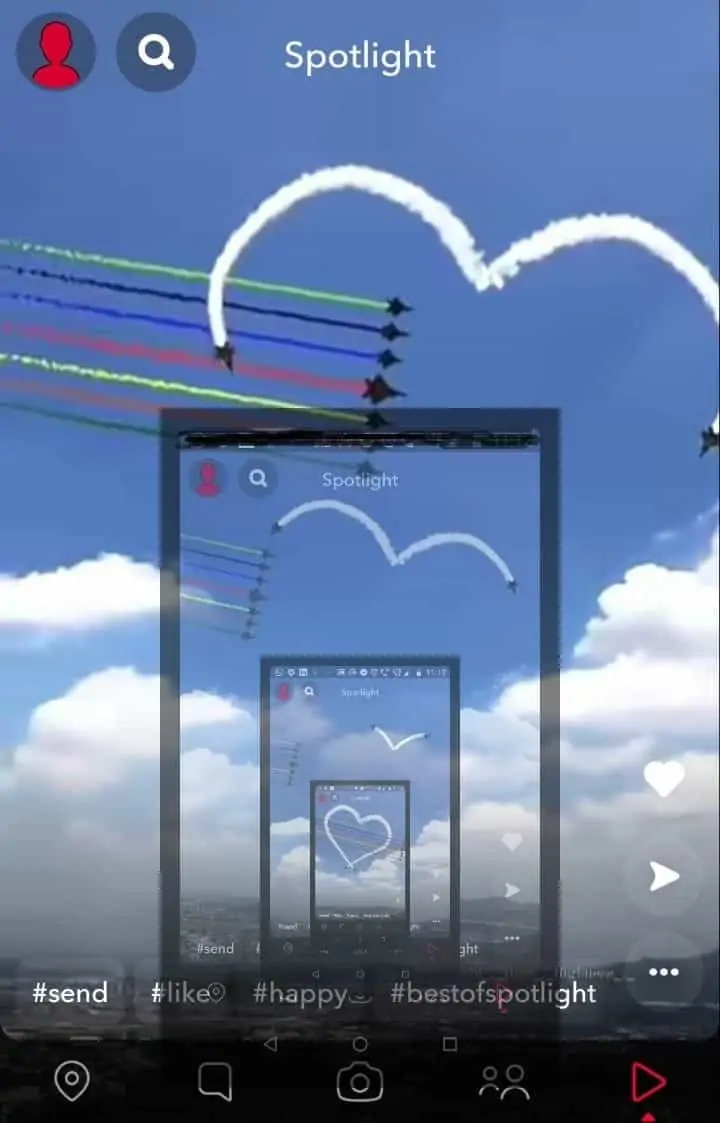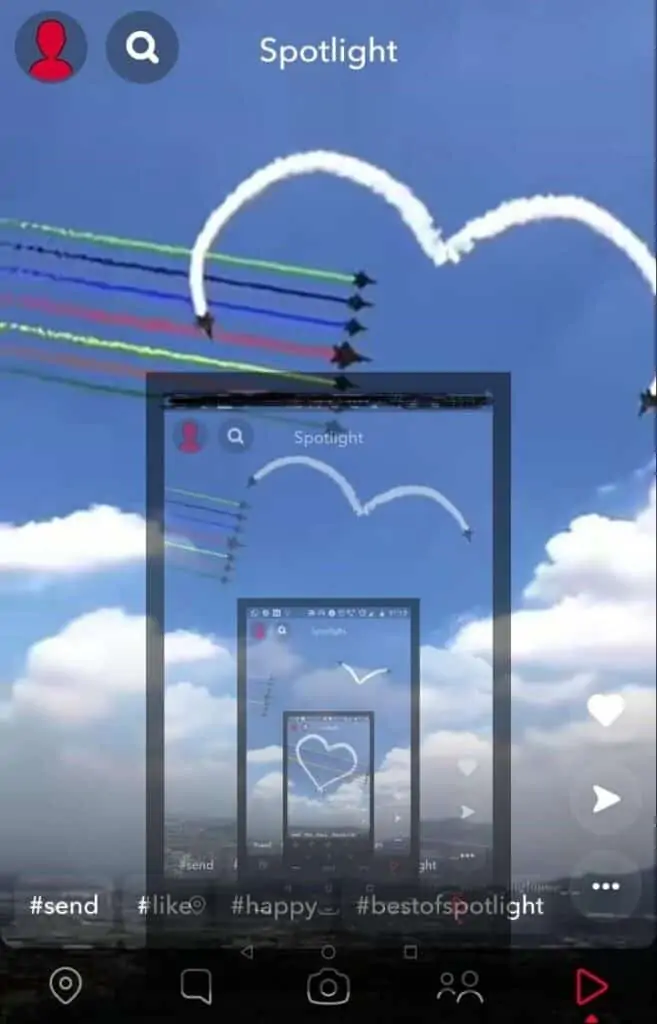 Snapchat pays the most viewed snaps daily; thus, making Spotlight a lucrative platform for content creators.
Snap Originals
Originals bring Snapchat users hyper condensed original shows from a few of the world's leading storytellers. Specifically designed for this platform, Originals challenge content creators to shoot 5-minute long episodes in a vertical framework. (grabbing mind within 3 second)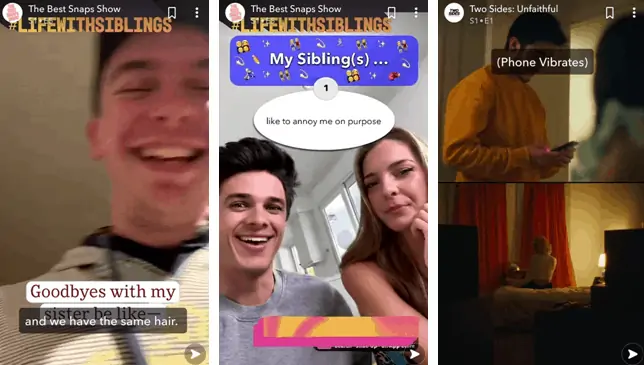 Snap Map
Powered by Mapbox, Snap Map allows users to share their snaps and stories with the world and view those of others. Here, stories are created around specific locations and occasions. Snapchat users can also see the locations of their friends on Snap Map.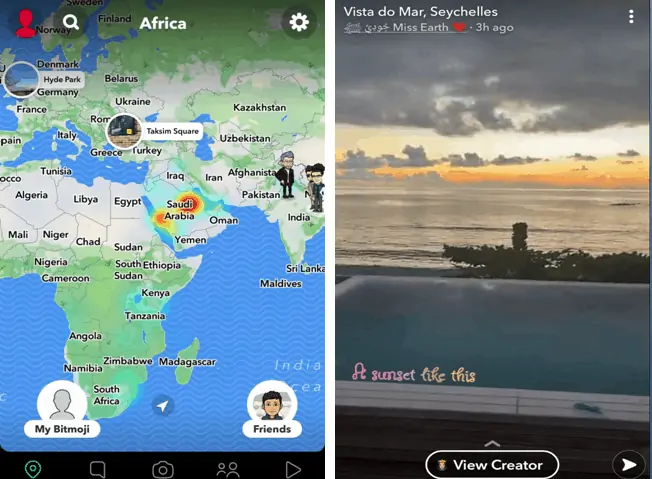 Another benefit of Snapmap is that it allows users to locate and interact with local businesses and restaurants. Various brands and aggregators partner with Snapchat so that users can read their reviews, place orders, and book tables.
Scan
Snapchat's scan feature helps its users scan an item and get details about it. This feature is the result of Snapchat's partnership with other companies.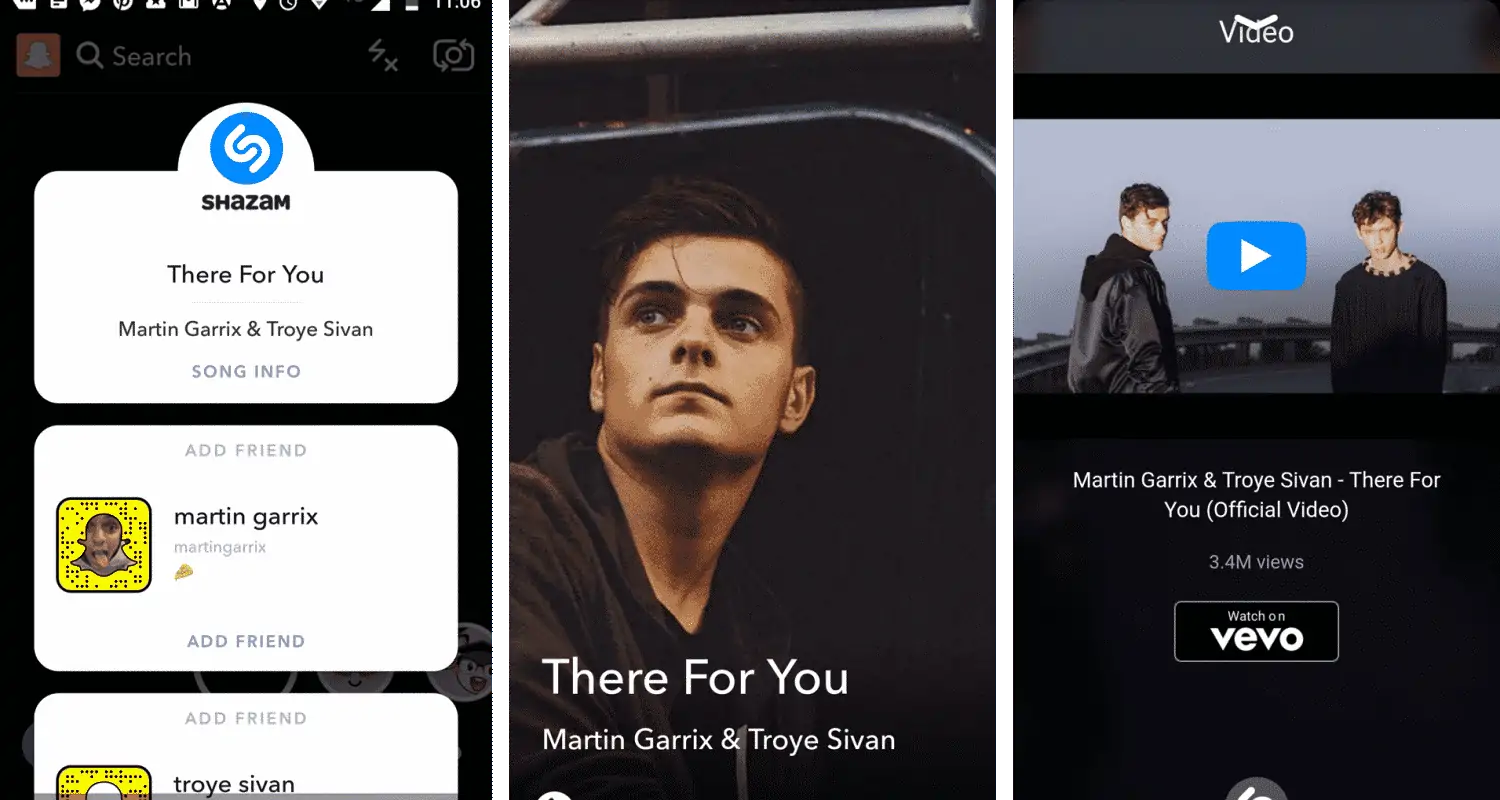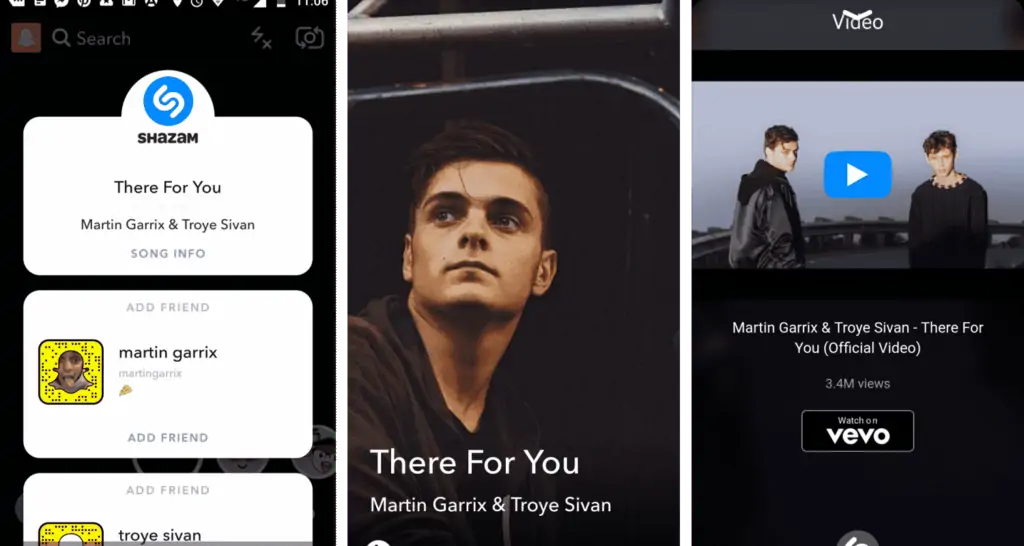 Amazon Camera Search: Snapchat's partnership with Amazon Camera Search helps users scan a product and look for it in the market.
Dog Scanner: This partnership helps users identify the breed of the scanned dog(s).
Photomath: Photomath provides users with solutions to math problems.
PlantSnap: This partnership allows Snapchat users to scan and identify various plants and trees.
Shazam: One of the most lucrative partnerships, it identifies and provides information to the song currently playing around a Snapchat user.
Vivino: Snapchat's partnership with Vivino lets users get information about wine bottles.
Yuka: This partnership lets users scan a food product's barcode for its nutritional value.
How Does Snapchat Make Money?
With an active user base of over 238 million, Snap Inc. hit a $100 billion market value in 2021. It also showed a raised net worth of $5 billion.
Since its inception in 2011, the company has been growing fast so much so that, as of 2020, 48% of 15-25 year-olds in the United States use it regularly. Its user-friendly business strategies and a potent revenue model is the reason why it gives a tough competition to giants like Facebook.
How Does Snapchat Earn?
Paid advertisements form a bulk of Snapchat's revenue. As of the year 2020, 99% of Snapchat's revenue comes from sponsored ads and the rest 1% from Snap Spectacles and other sources.
The teams which design its consumer products run advertising initiatives too therefore these ads are camouflaged in the form of user-friendly updates. Generation Z and Millennials engage with them even without realising that they are actually ads.
Sponsored Lenses
The augmented reality-generated Snapchat lenses appeal to the youngsters as they are humorous, joyful, and fun to use. Snapchat updates its lenses every week and brands pay to have a lens tailored to their needs. In the past, companies like Gatorade, Taco Bell, etc. have opted for Snapchat marketing through sponsored lenses only to see a tremendous surge in their user engagement.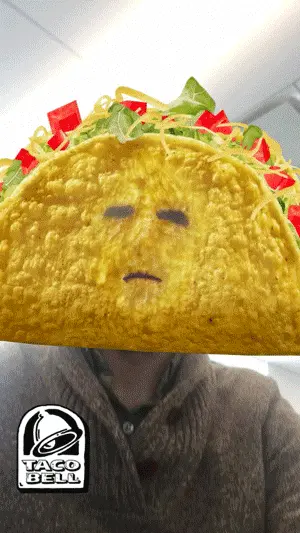 Sponsored Filters
Companies partner with Snapchat to create customised Geofilters and moment filters which people attending a particular event at a particular place can use. For instance, Disney California Adventure Park designed its own Geofilter.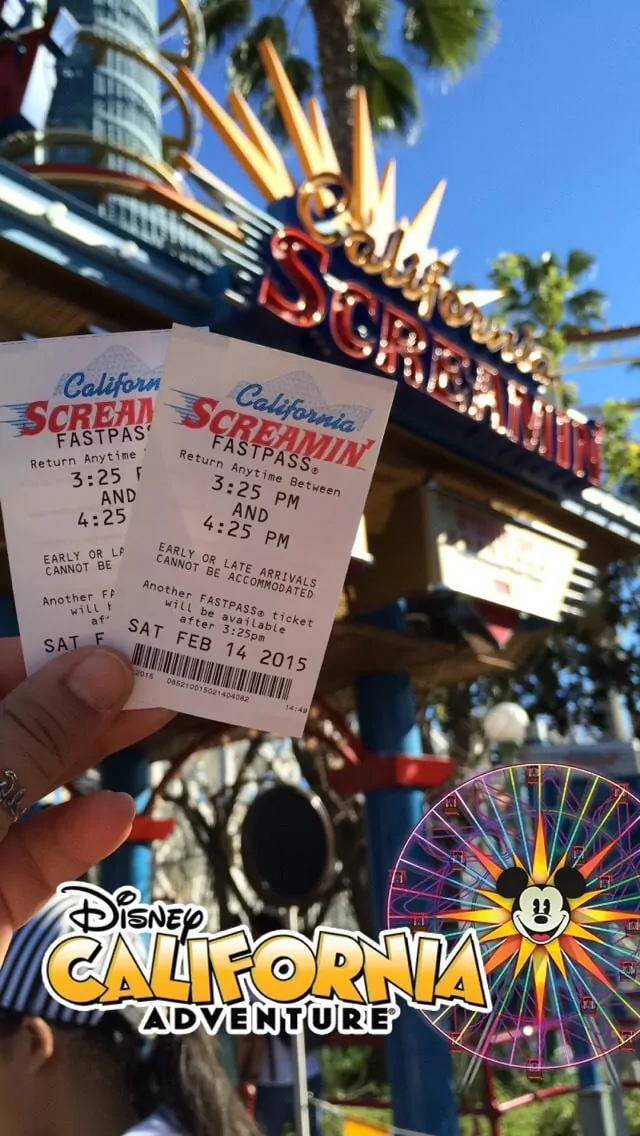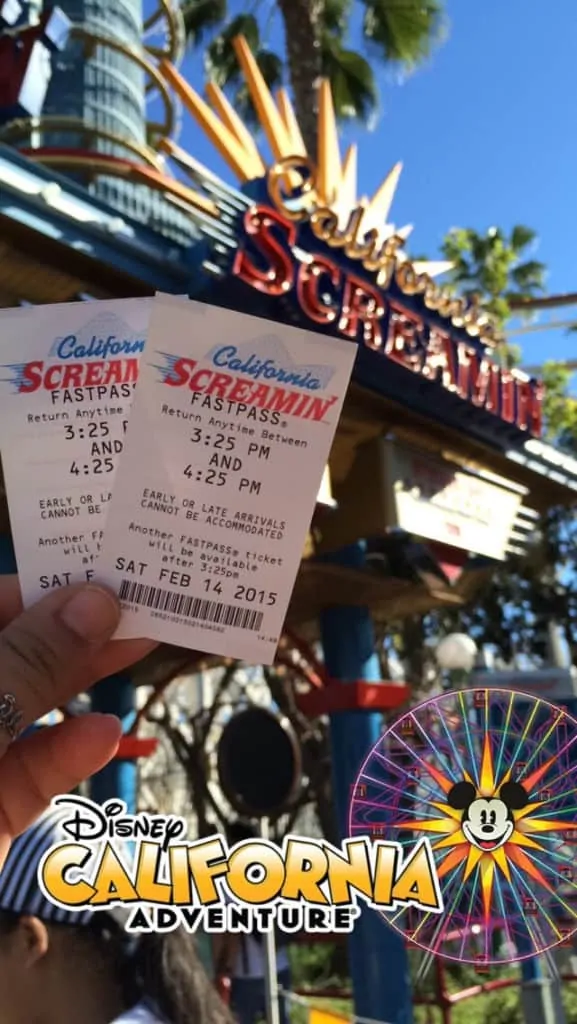 Snapchat also provides On-demand Geofilters to the companies which they can use to promote their brands among the youngsters.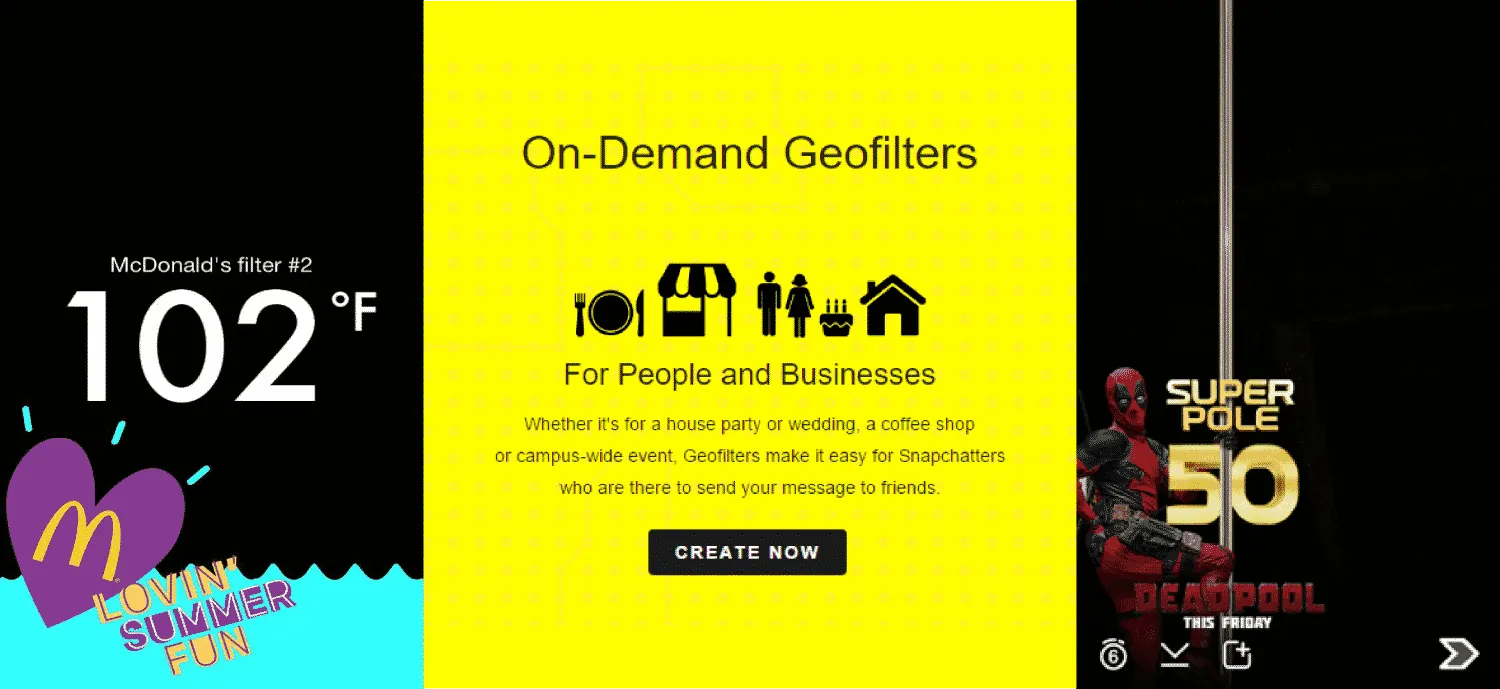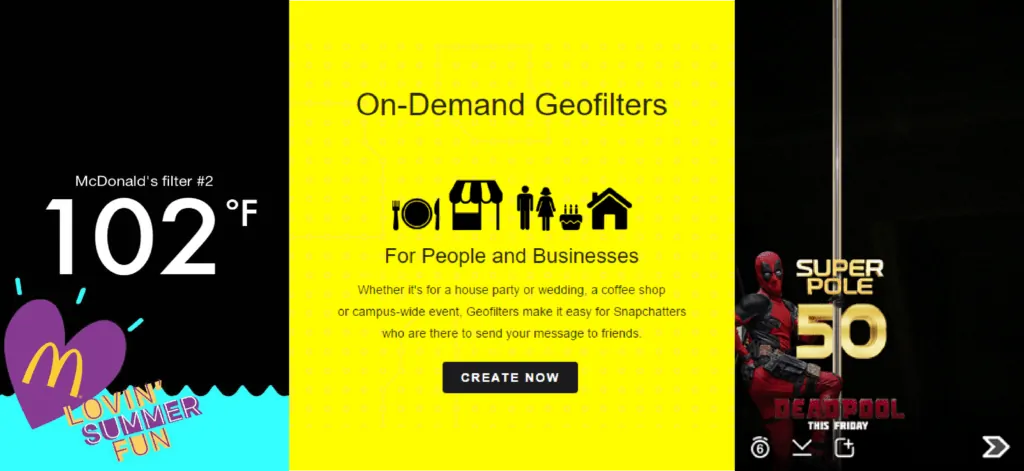 Sponsored Stories
Snapchat smartly places brand advertisements in the stories section so that users engage with them while going through their friends' stories.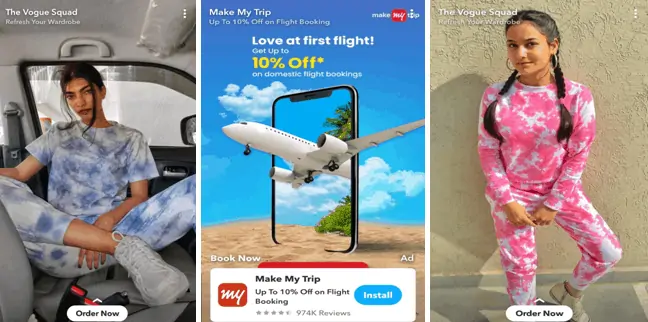 Discover
Discover is another revenue-generation source for Snapchat. Publishers who have partnered with the company to get their content featured on Discover, do pay a lot of money.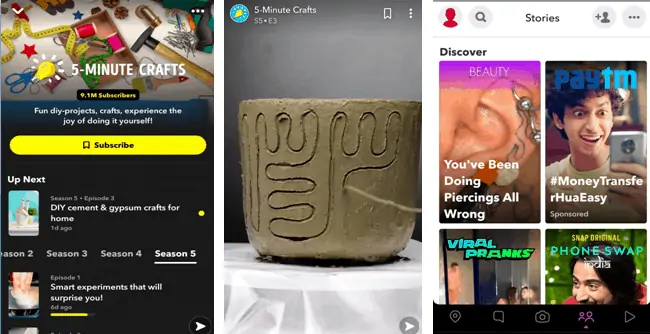 The publishers are typically required to pay a minimum sum over a specific period. Snapchat also splits revenue with them if they show any sponsored content or advertisement.
Partnerships
Partnering with Snapchat benefits them so much that brands are ready to pay huge sums for it. Integrations like that with Shazam have been one of Snapchat's most successful ones.
Snap Store
Snapchat launched the Snap Store to sell its exclusive merchandises like Bitmoji clothes, Snap streak hats, Winkface sweatshirts, dog lens tee, etc. Here, the company capitalises on the scarcity principle.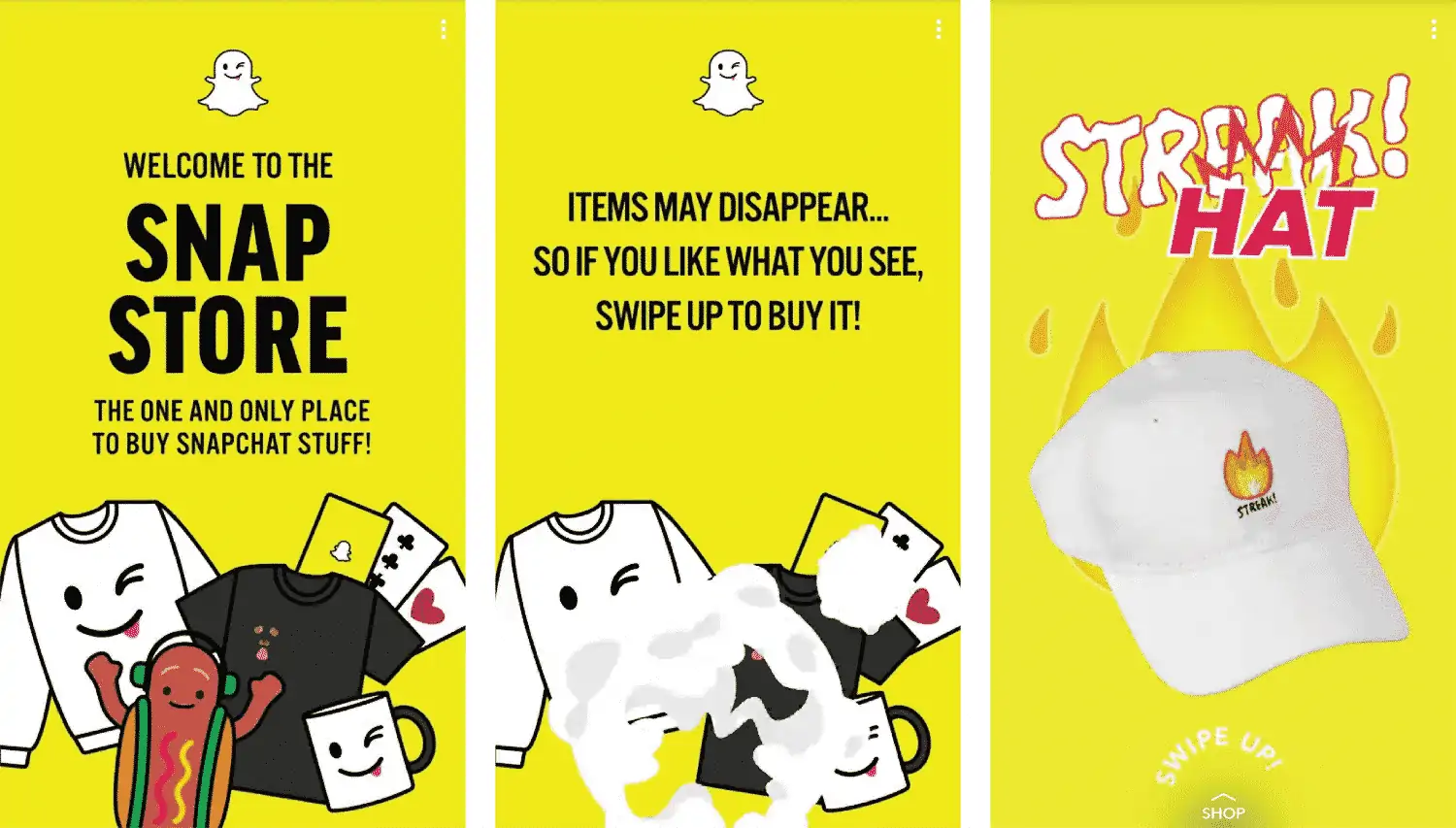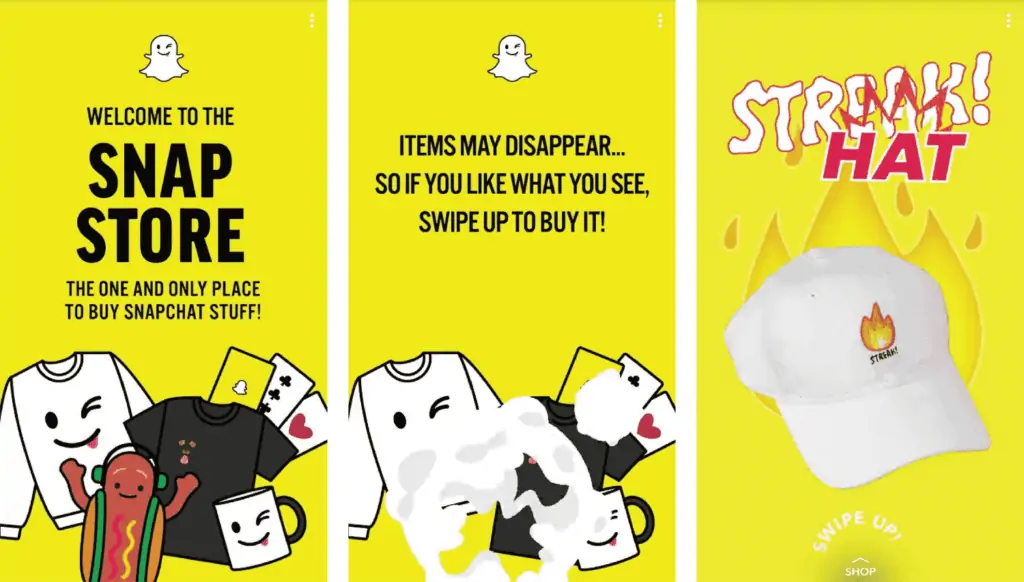 The Snap store is available on the discover tab and the items disappear after a while.
Snap Kit
Snap Kit is a feature of Snap Inc. to assist Snapchat users in consolidating their businesses. It provides them with a few of Snapchat's best features to grow and build their brands.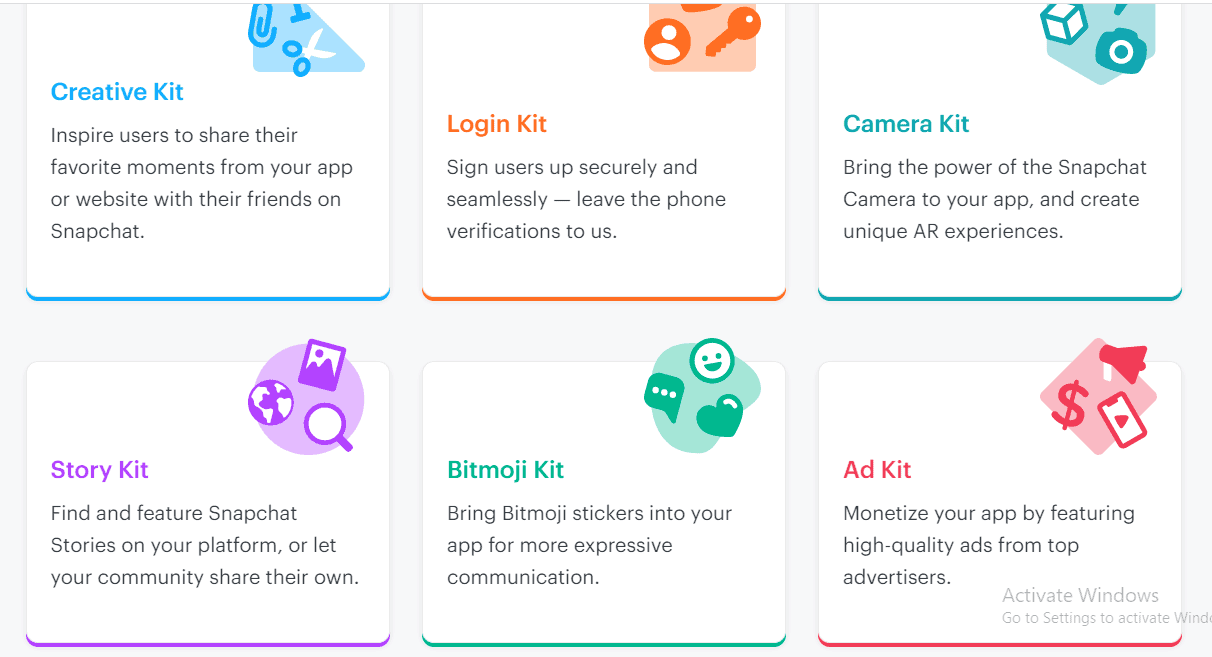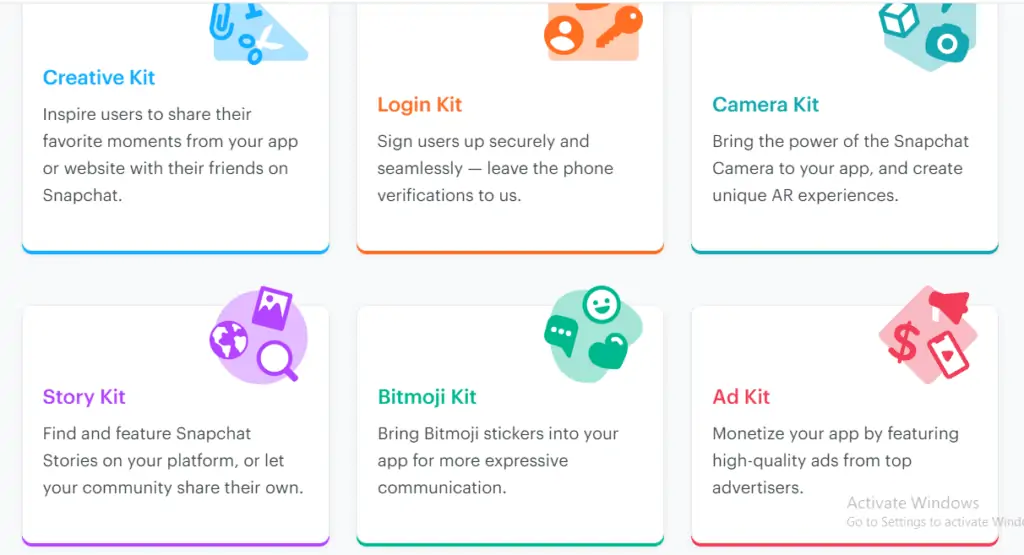 Spectacle
Spectacles are augmented reality smart glasses manufactured by Snap Inc. They have built-in cameras that allow users to capture photos and videos of what they are looking at. Also, they are synced with smartphones so that the users can directly upload snaps to their accounts.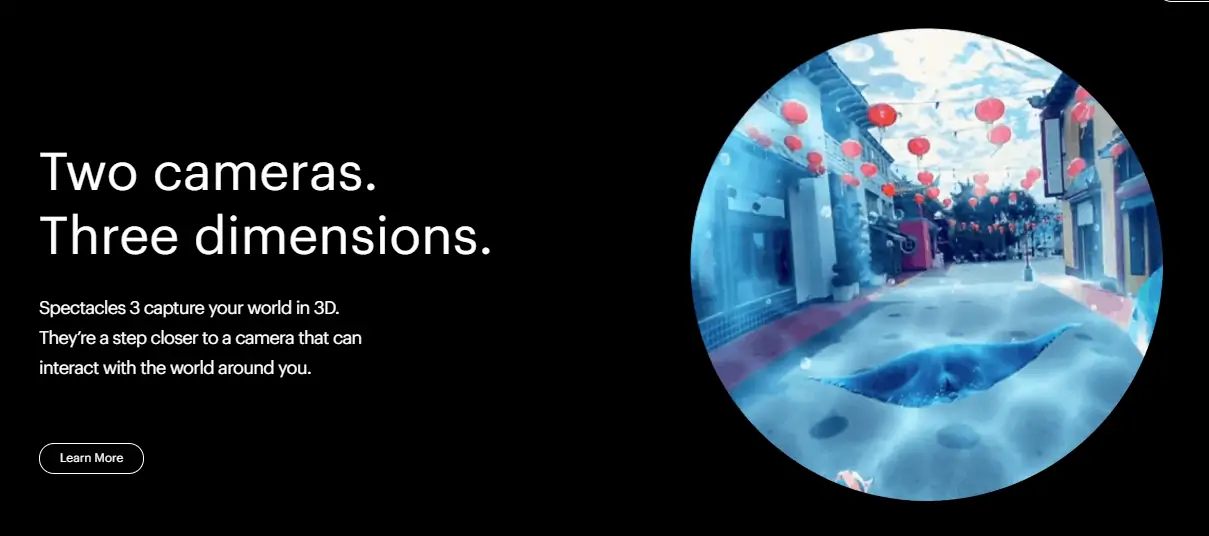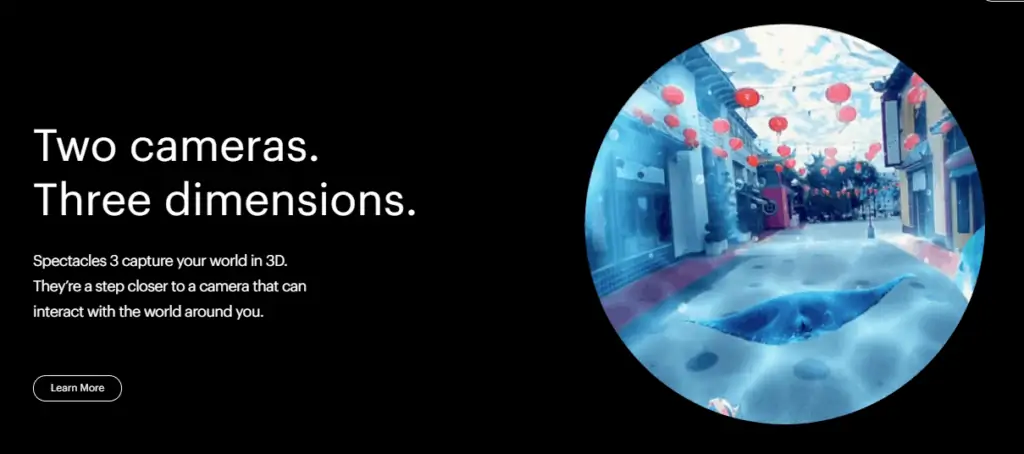 How Does it Spend?
Research and Development: Snapchat's parent company, Snap Inc., is a camera company that believes in reinventing the camera and revolutionizing the way people click photos to facilitate better and more effective communication. So, it incurs cost mainly on research and development. In 2019, Snapchat spent $884 million on R&D.
Cost of Revenue: Cost of revenue is the total cost incurred by a company directly on producing, marketing, and distributing its products. In this category, Snapchat spends mainly on infrastructure and marketing. Snapchat incurred $489 million cost of revenue in the first two quarters of 2020 itself.
Spotlight: Snapchat launched Spotlight in November 2020 and announced that it would pay the creators of the most viewed videos each day from a $1 million pool. The payout is determined after comparing the number of views of a video with that of other viewed content.
Snapchat is still not a profitable venture. It has enjoyed its periods of profit but mostly incurs losses. In the fiscal year 2020, it reported a net loss of $994.8 million on a $2.5 billion revenue.
However, Snapchat has immense potential to grow. It broadly caters to users' needs. Live stories, location-based Geofilters, and other creative features distinguish it from its competitors. No wonder, Facebook and Google offered $3 billion and $4 billion, respectively for its acquisition. However, CEO, Evan Spiegel rejected the proposals and continues on building Snapchat business model till date.
Go On, Tell Us What You Think!
Did we miss something? Come on! Tell us what you think of our article on Snapchat business model in the comments section.
A finance enthusiast, literature beau and lifelong learner. Working her way up the success ladder and her personal philosophy textbook, Kavvya believes that a good conversation is worth more than a good book. When not working, she can be found reading, writing and engaging in long walks.