The Signal app has attracted some major buzz recently.
When WhatsApp's updated privacy policy called for its users to accept that it would share user data with its parent company – Facebook, millions of users shifted to Signal in the quest for a secure messaging platform.
What is Signal?
Signal is an easy-to-use and secure messaging application that provides encrypted communications. It allows a user-friendly experience with group chats, video, image, gifs, audio, and video calling, all with end-to-end encryption. Even the app developers themselves can't decrypt a message sent between 2 users.
Website: Signal.org
Developer: Signal Technology Foundation
Launch Year: 2014
Founders: Moxie Marlinspike and Stuart Anderson
Key Managerial Personnel: Moxie Marlinspike (CEO), Aruna Harder (COO), Brian Acton (executive chairman of Signal Foundation), Meredith Whittaker (BOD – Signal Foundation)
Headquarters: Mountain View, California
Signal was a result of a merger of RedPhone and TextSecure programs by Open Whispers in 2014.
Brian Acton, a WhatsApp co-founder, injected $50 billion through the Signal Technology Foundation for app development.
Signal Statistics
Here are some key Signal statistics focusing on the company's usage, revenue, funding, etc.
Download and Usage
Signal downloads: From 50.6 million in January 2021 to 100m+ in March 2023.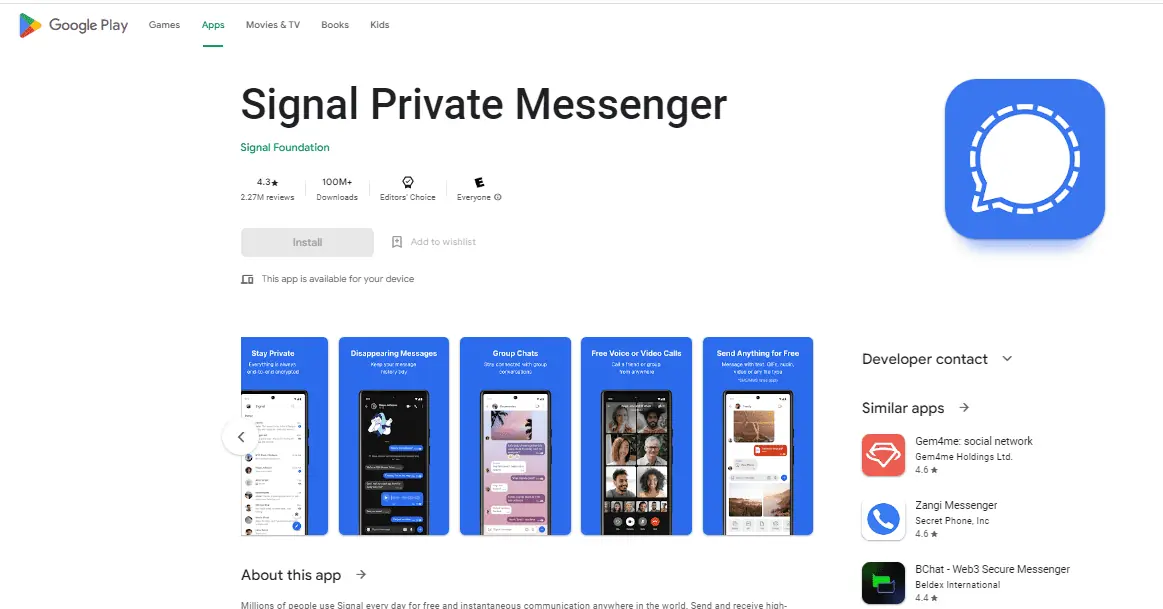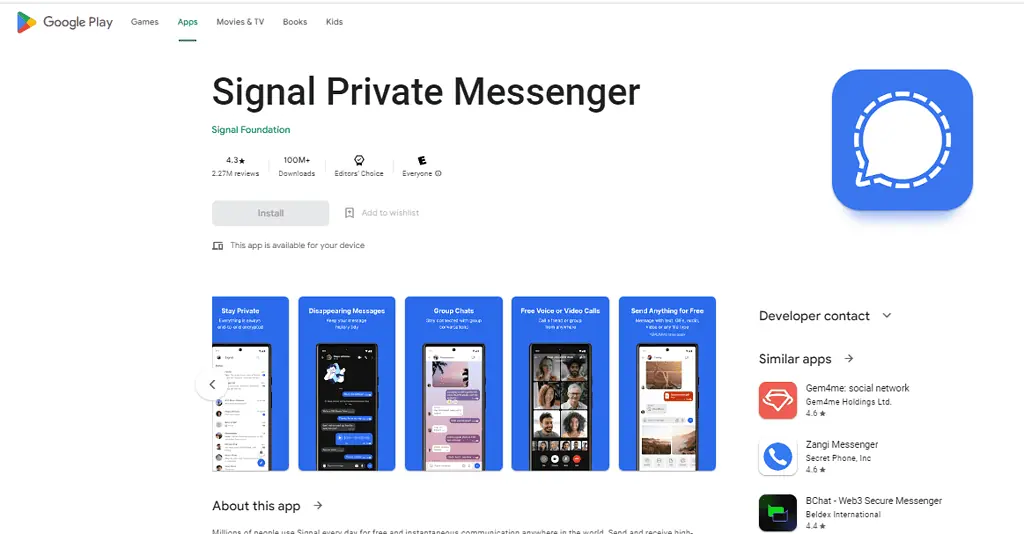 Signal weekly download rate: 50,000 weekly downloads till January 5th, 2021, to 7.7 million new downloads between January 6 and 11, 2022.
Total downloads: more than 105 million downloads as of May, 2021
There was a total of 80 million downloads of Signal in Q1 2021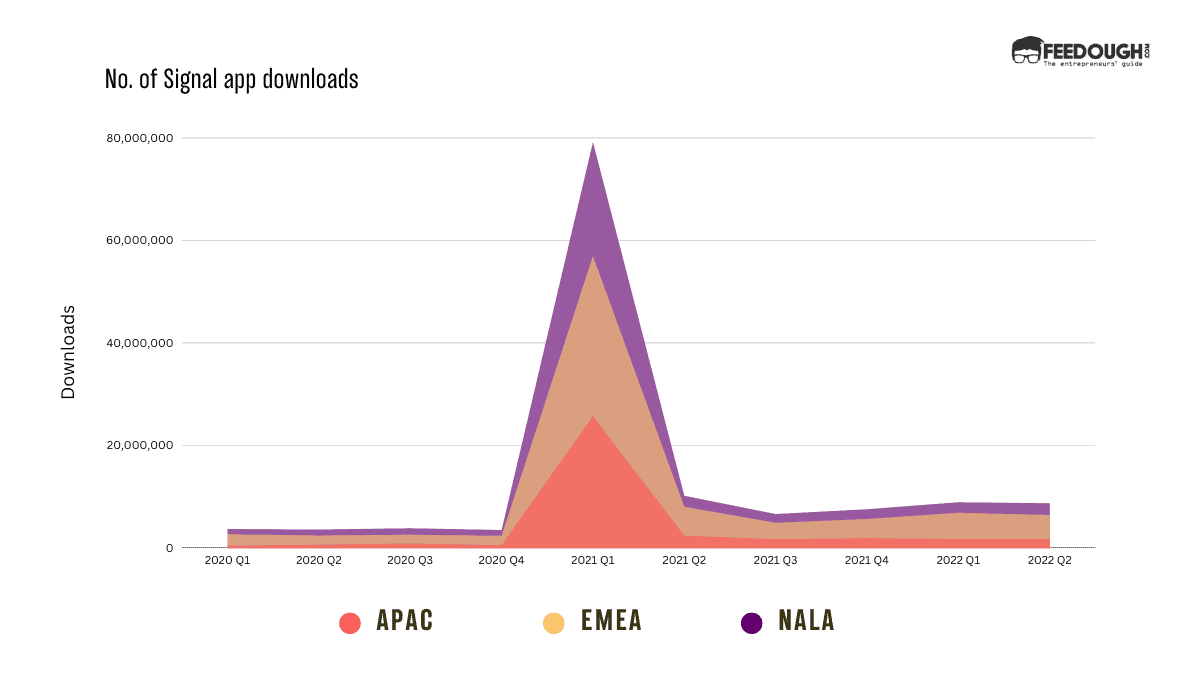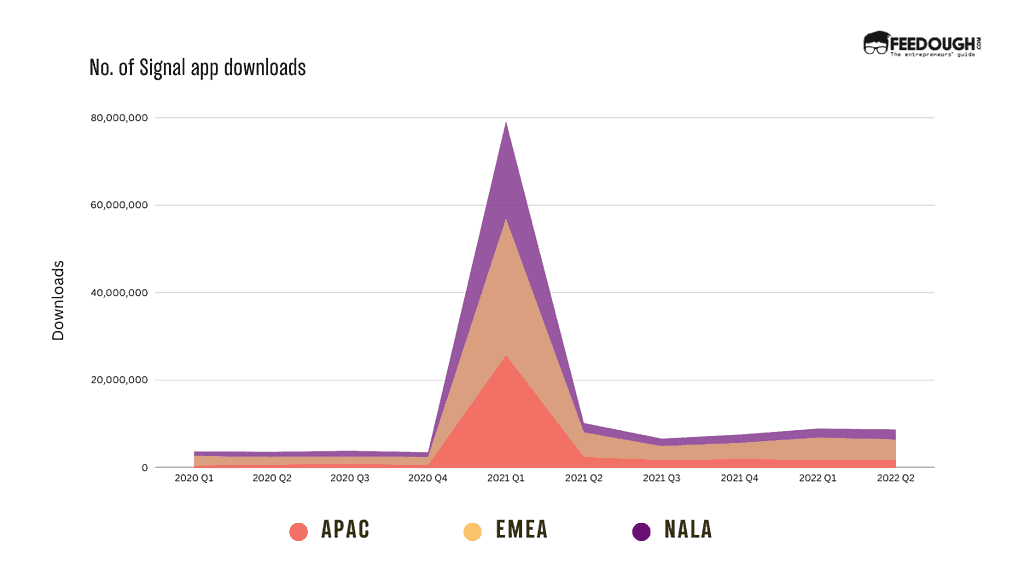 Signal monthly traffic and visit in 2023: April: 3.9M; March: 5.1M; February: 4.3M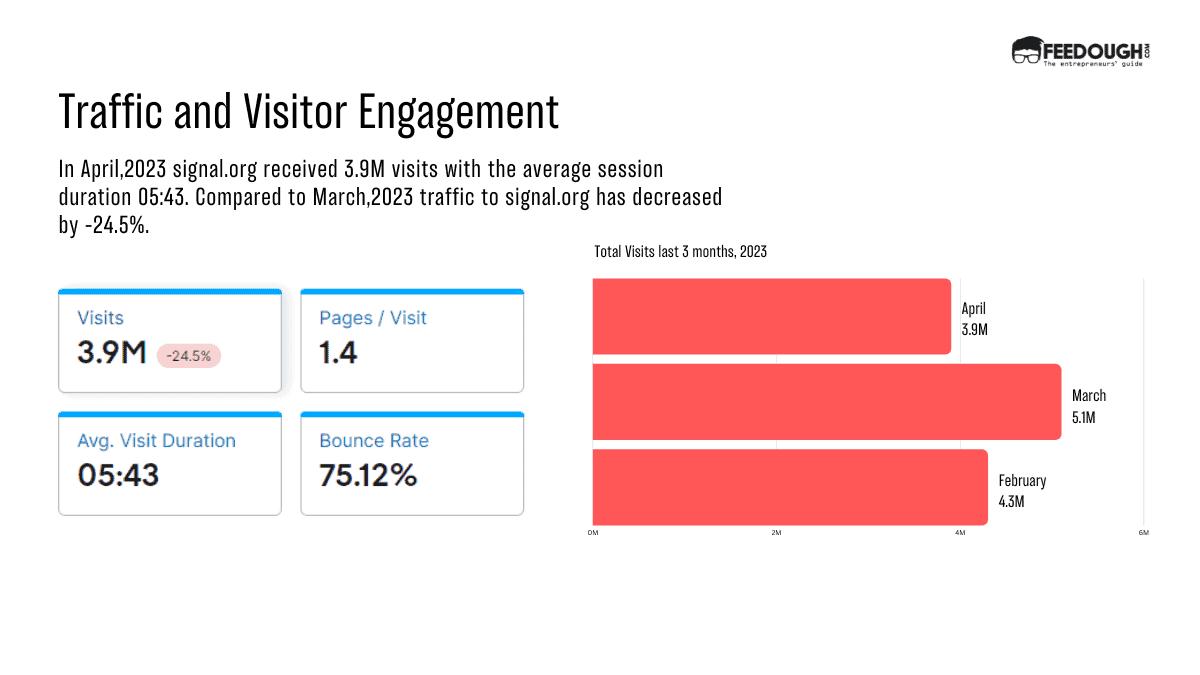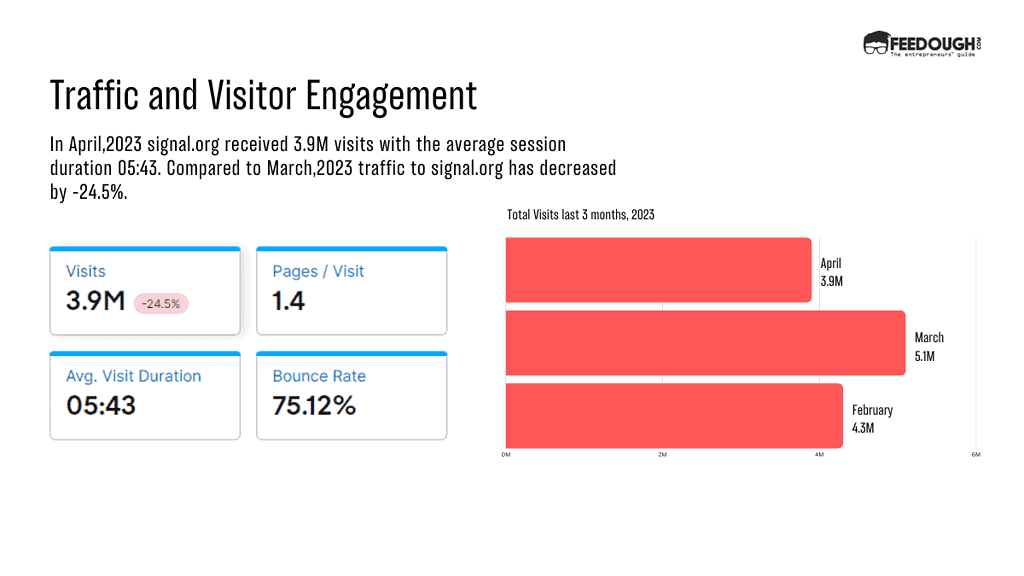 Installs on devices: More than 100 million Android devices.
Signal monthly active users: 40 million monthly active users by the end of 2021
Signal monthly website visits: 3.1M as of March 2023
Signal topping charts: Apple's App Store in 40 countries and Google's Play Store charts in 18 countries as the number one free app (in 2021).
Signal.org Website Traffic by The Top Countries Are:
Germany: 19.899%
United States: 17.35%
Ukraine: 5.63%
Canada: 4.98%
France: 3.94%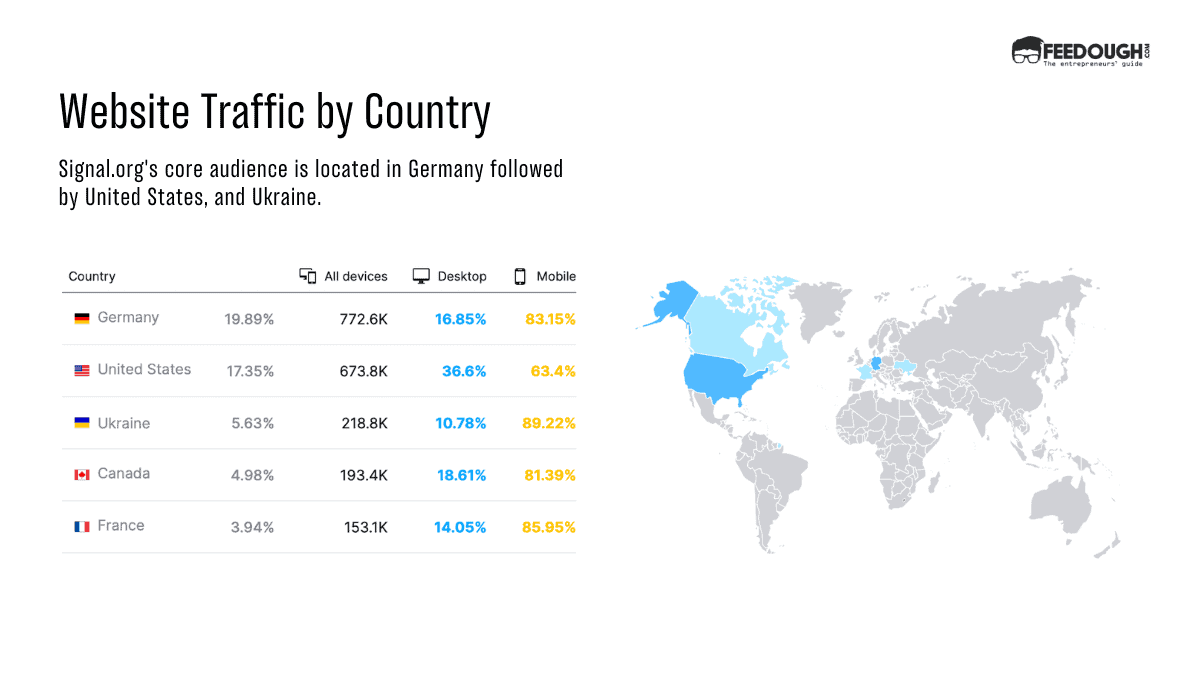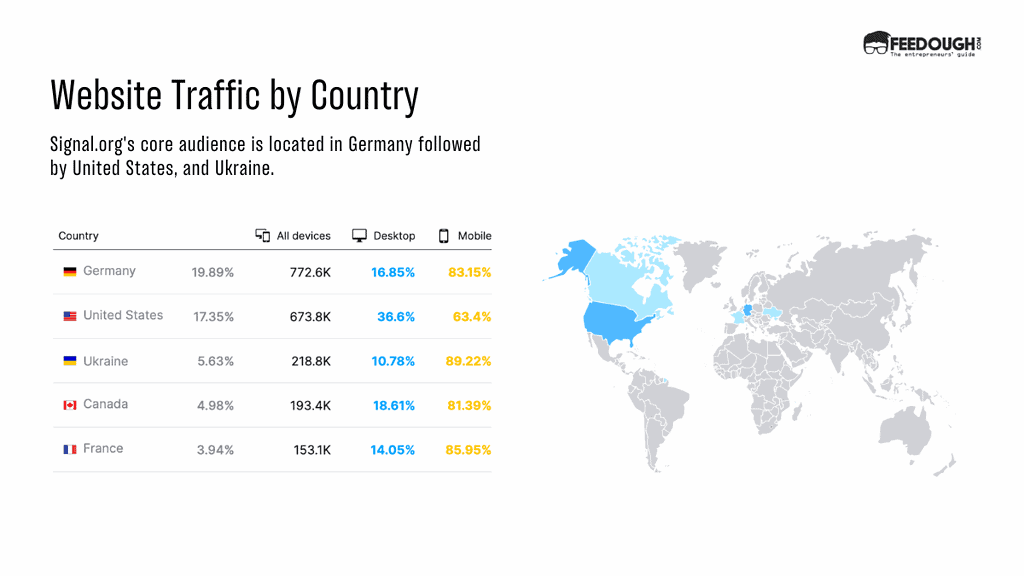 Signal scored the top spot among the top three IM apps in countries like India, Singapore, and Brazil in 2021.
The app was downloaded 1.3 million times on January 11th, 2021, the highest recorded in a day, and the global installs showed a massive 5001% increase over the year and a 4200% increase in weekly downloads.
Signal's download rates managed to expand 3.3 million times, beating WhatsApp at 1.7 million, Facebook at 2.1 million, and Instagram at 2.3 million downloads in 2021.
Signal, still a leader?
Even though Signal saw a massive influx in the number of users because of its encrypted messaging policy, its moment was short-lived.
The decline in Signal downloads: 86% decline during February 2021 – 7 million and currently stands at 4.3 million
Monthly website visits dropped: -24.5% as of May 2023
Position of Signal: As Signal was spotted in the top three IM apps in 2021, its Global rank dropped to 23,830 as of April 2023.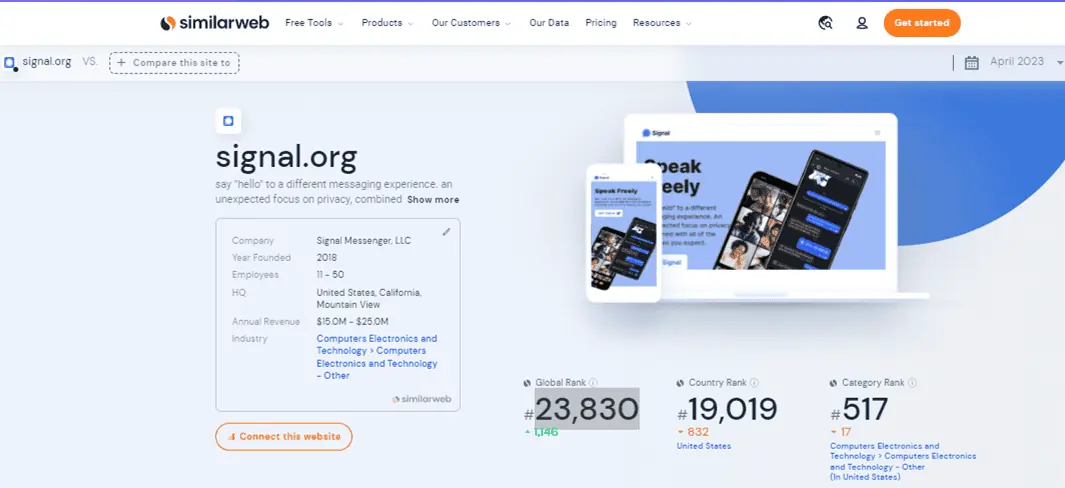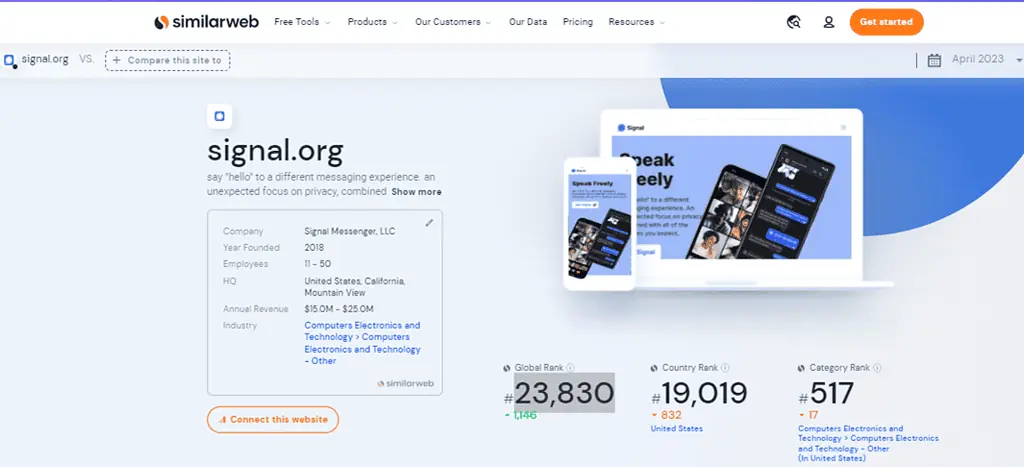 In an attempt to find a replacement for WhatsApp, millions of users also shifted to Telegram – another instant messaging app. Like Signal, it showed a massive increase of 282.5% in downloads from just 16.6 million in January 2020 to 63.5 million in January 2021.
But again went down with WhatsApp's advancements to 19.3 million in March 2023.
Although Signal is the winner when it comes to security issues, Telegram has more to offer in terms of features. Users find all the popular features in the Telegram interface, which makes them biased towards it.
From another point of view, infiltrating a massive army of 2.5 billion active WhatsApp users worldwide won't come easy.
Signal Revenue
Signal.org, the app, is developed by the Signal Technology Foundation, a non-profit entity that mainly relies on donations and charity.
Largest donation: $50 million (now $105 million) zero-interest loan by Brian Acton in 2018.
Users who donate: Less than 1% of Signal Messenger users donate to the Signal Technology Foundation.
Revenues of Signal Foundation: $14.8 million as of FY2020, a decrease from $19.4 million revenue as of FY2019.
Grants and contributions: $13.7 million
Investment Income: $895,821
Royalty Revenue: $220,000
Expenses:$21.2 million in 2020 spiked 57% from $13.5 million in 2019
Assets: $66.1 million in 2020 declined -14.4% from $77.2 million in 2019
Liabilities: $32.7 million for 2020, -14.4% decrease from $38 million in 2019
The Signal app provides an ad-free platform and is not dependent on the application for any source of revenue. The donation made by Brian Acton caused a major stir in the app development process.
Other Key Signal Facts
The endorsements by Elon Musk and Edward Snowden played a major role in the sudden surge of downloads of the Signal Messenger App.
Signal servers could not handle the spike in the newly registered users, which caused them to crash on January 15th, allowing limited access to users.
Signal is the only private messenger app that doesn't collect or share any user data with its developers.
Journalists popularly use Signal to hide sources, and the Black Lives Matter protest organisers increasingly used it for communication.
Sources
Ravpreet is an avid writer, prone to penning compelling content that hits the right chord. A startup enthusiast, Ravpreet has written content about startups for over three years and helped them succeed. You can also find her cooking, making singing videos, or walking on quiet streets in her free time.