Digital trends are hard to understand. An average person would have never imagined the internet to go crazy at fidget spinners. Random people become memes and got free viral marketing and no one knows why that happened.
What if you get to know what's going to be hot on the internet and act on it before anyone else?
Well, Signum is that astrologer for digital trends.
Signum.ai – Startup Review By Feedough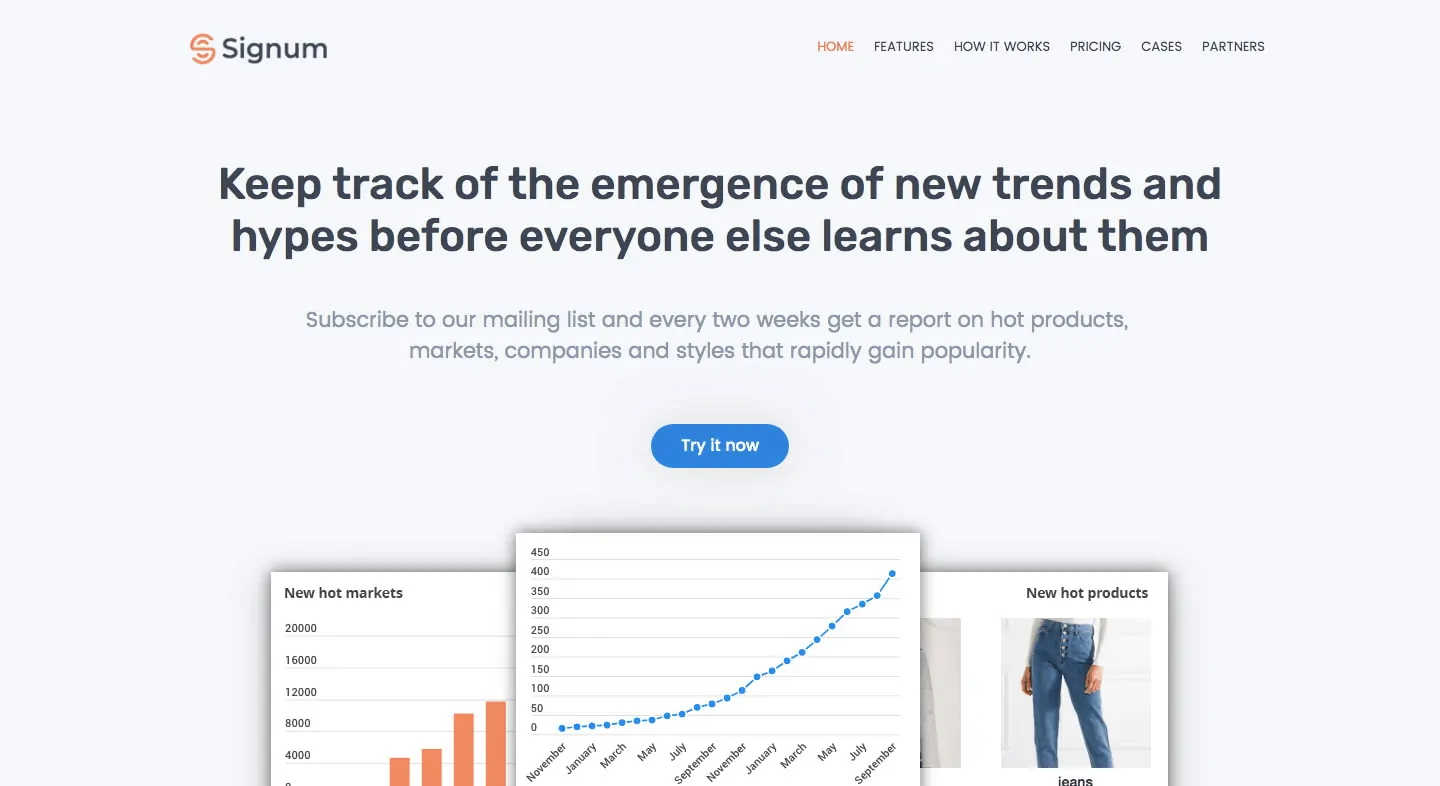 Signum is a subscription-based mailing list where you receive bi-weekly emails with a report on emerging hot trends before everyone else learns about them.
The company analyses over 100,000 blogs, forums, portals and social media accounts to keep a track of emergence of new trends and hypes related to products, markets, companies and styles.
How Signum Works?
The concept of Signum is quite simple but how it positioned itself disrupted the industry. Signum.ai emails enable the clients to keep track of the emergence of new trends and hypes at the earliest stages. The tool analyses more than 10,000 platforms (forums, blogs, social media accounts) in real-time mode and pinpoints what kind of products, styles, markets, and companies will be in demand tomorrow.
Artem, the founder of Signum, explained to us the three steps of how the offering works –
Step 1. Parsing information from sources
The tool uses its parser that checks a predetermined pool of platforms every 4 hours. It collects the most frequently used keywords that have a growing citation rate. The achievement of a particular rate is a signal that a new trend has emerged. It is also possible to assess the power of the trend and forecast its duration at this point.
Step 2. Finding grains
At this stage, Signum uses its patented AI that knows how to weed out all trash and noise in retrieved data and pinpoint important keywords that truly matters.
Step 3. Searching for facts and drawing a report
The company's analysts start to work at this stage. They check the outcome of AI's analysis, collect facts and draw a report for our clients.
As a result, the clients receive emails consist of info about current and emerging trends, including their causes and growth duration forecasts.
The Interview
We discussed the concept, vision, and the future prospects of the startup with Artem Gladkikh, the founder of Signum. Here are his thoughts on his startup –
How is your product/service disrupting the industry?
Artem: It is an open secret that many analytics agencies charge lots of money for their research. At the same time, the world is changing so fast, so by the time another report is ready, the data have already become outdated.
We have decided to focus on short-term objectives and use cutting-edge machine learning and AI to keep track of the tiniest signals and changes in the market at the earliest stages. Our main goal is to make an analytical study up-to-the-minute and available to companies of any size. The key idea is that users practically take on the whole team of professional analysts, whose skills enhanced by the power of AI, by simply subscribing to our reports at a reasonable price.
Any startup can afford it.
The history of your startup (how it all started)?
Artem: In 2016, we launched a service called test4startup.com. It analyzed the current market situation and helped our users evaluate their business ideas. We analyzed important factors such as trends, the demand, and competition, then we applied received data to the data of business idea that we checked.
As a result, our product provided with information on strengths and weaknesses as well as recommendations on how to improve the project. We have worked in this model for more than one year. At the time, we did loads of research and tried many ideas of monetization.
In 2018, our team qualified for Batch 6 Starta Accelerator with relocation to New York. And this is where interesting began.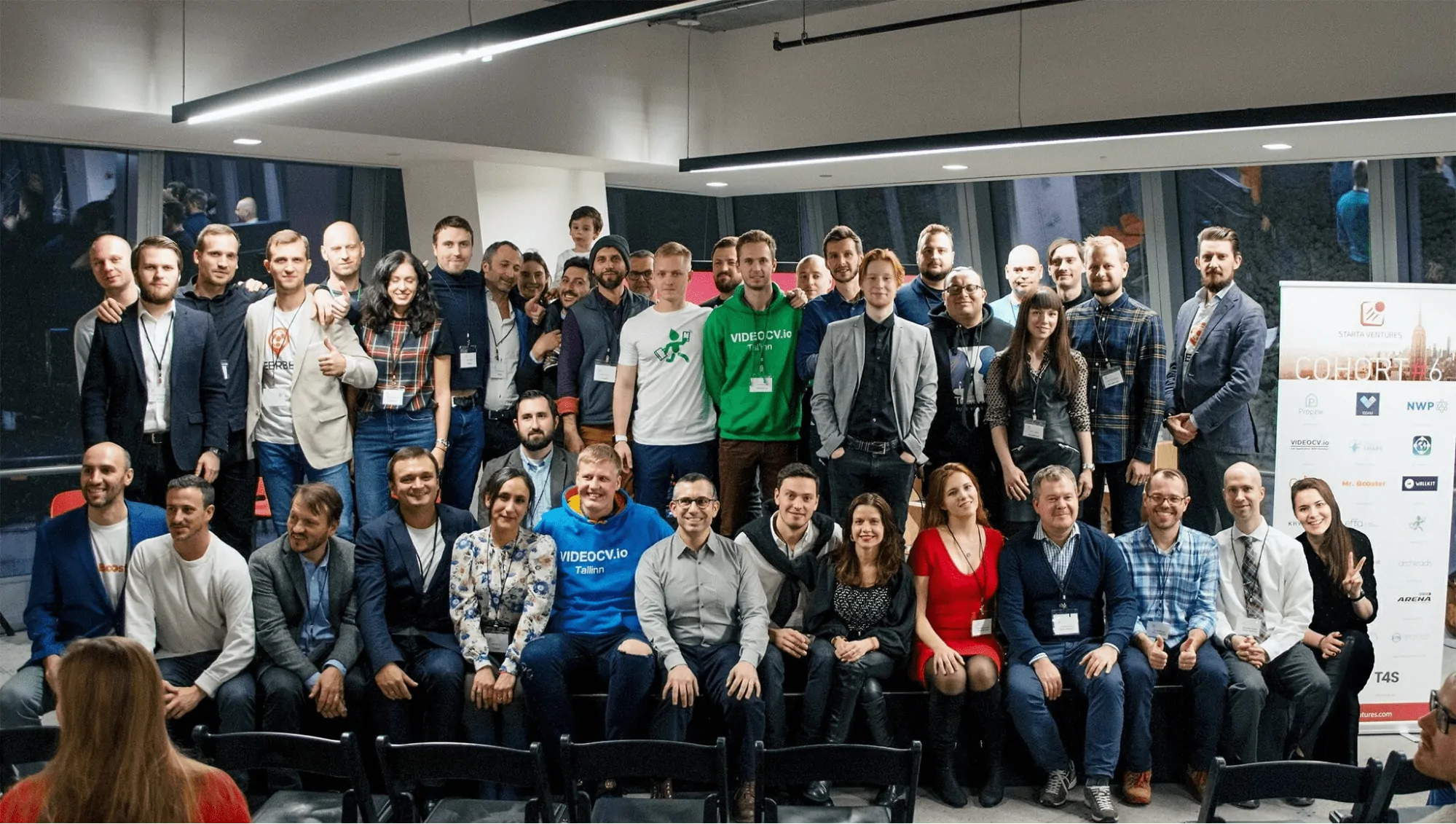 I have been to New York many times before that trip, but now I could get into the local business community, talk to lots of potential clients and investors, and get some good feedback.
Initially, we sold our solution to funds and accelerators that could analyze incoming applications and mark each project, depending on the general adequateness of the startup to the market situation.
Aingel.ai is a good example and a similar platform. Over that period of time, we had a chance to integrate our solution into many local accelerators and funds. We had to customize our product for several of them. We also discovered some new problems:
The market is pretty small. There are not so many venture funds and accelerators. Even though our solution has been used by 15% of them, it is not enough, especially if we take into account all the difficulties of selling.
The scaling problem. In our case, customization of complex solutions is very expensive and time-consuming. Providing that any new client is unique, it is not easy to build a flourishing business with this model.
Why did you choose this niche?
Artem: The world is changing ever more rapidly. Sometimes it is impossible to carry out an analysis and forecasting for over 5-year time period. Hyponomics, or the hype economy, is moving up to the first place. It is when the producers don't make mass-production but create a unique product for each time period because it satisfies customers right away.
There is a 90% chance that this product won't be in demand in 3 years. Remember a spinner (not a good example, though).
So, this is how the idea of a new product that was developed on the basis of our former solution came into being. Signum analyzes blogs, web portals, forums, social media accounts, etc. It keeps track of the demand for and interest in topics, styles, products, companies, and markets before these trends go public.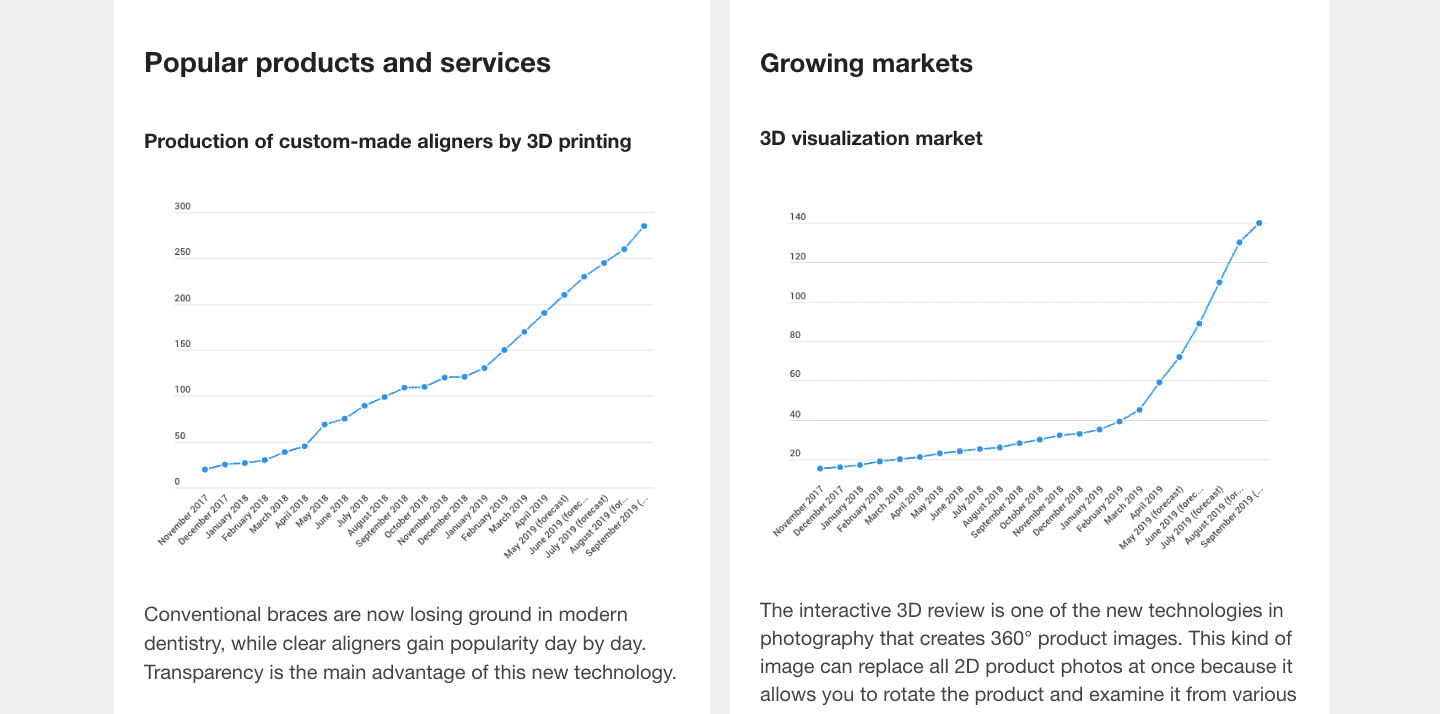 The team
Artem: There are 7 people in our team working on the project:
I, a founder and a marketing specialist in parallel;
a back-end developer;
two analysts;
a designer;
a data scientist;
a front-end developer.
And there are several specialists who take some tasks as needed.
What's the progress till now and what are you expecting in future?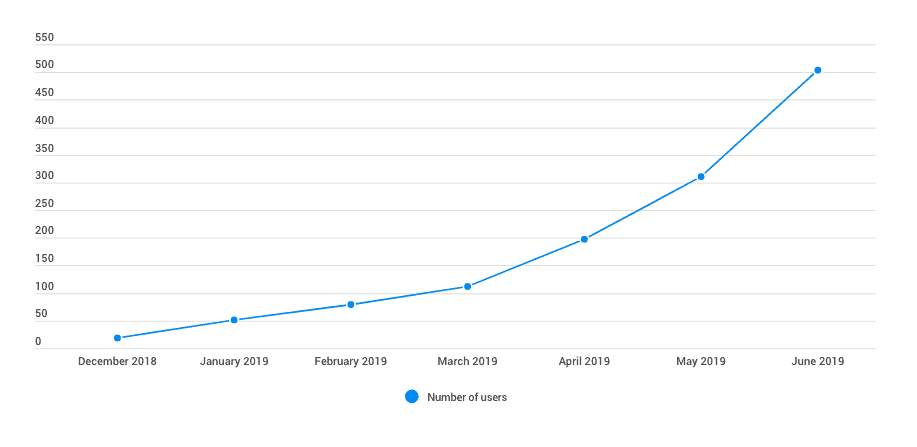 Artem: Today more than 500 subscribers and 5 big companies receive our report. For those companies, we have developed a pilot solution, and they get our large research reports. Our advertising budget is pretty small in amount, but we are growing rapidly due to some virality and trivial posts on platforms like Betalist, Producthunt, Reddit, etc.
This fall, we are planning to increase our marketing budget and enter the Latin American and the South African markets.
Feedough's Take On Signum
Signum seems to position itself perfectly when it comes to solving the problems of trend analysis at a really low cost ($5 per month). Even we subscribed to the service to see how they work.
They surely know how to do their job.
The emails not only include rising trends but also the reasons behind the same. This could easily help the entrepreneurs looking for startup ideas, the journalists looking for ideas for their next article, and marketers looking for trends to capitalize on.
However, what we found lacking here was marketing. The startup has less than 100 followers in all the social media channels combined and also didn't make use of other digital marketing tools like SEO and SEM properly. This, if continued, will surely hurt them in the long run.
Interested?
If you are looking for some experts to tell you about the upcoming trends and why you should capitalize on it, don't look at anything other than Signum. It just costs $5 per month.
Get Your Startup Reviewed By Feedough!
Get discovered by over 500,000 monthly visitors. Explain your offering to over thousands of potential investors, customers, and top blogs.
Startup reviews are custom written posts by our experienced team who'll work closely with your team to create the best pitch possible. The review article will be posted and shared with thousands of our subscribers over emails, social media posts, and push notifications.
Use this form to get in touch.
A startup consultant, digital marketer, traveller, and philomath. Aashish has worked with over 20 startups and successfully helped them ideate, raise money, and succeed. When not working, he can be found hiking, camping, and stargazing.