While trendy platforms like Tiktok may seem all the rage these days, Snapchat still reigns as one of the world's most popular social media platforms. Sure, it may seem a little silly with its funny filters and frivolous effects. Still, under the bells and whistles, Snapchat is undoubtedly a powerful tool, so much so that it even influenced the likes of Instagram and Facebook to copy its "Stories" feature.
To help you understand where the platform currently stands, here are some key Snapchat statistics relating to its demographic, revenue, expenses and content.
What is Snapchat?
Snapchat is a popular multimedia instant messaging app that lets users share photos, videos, and messages with their friends and followers, which disappear shortly. The app has gained popularity among younger users due to its temporary nature, and it also offers various filters, lenses, and augmented reality features to enhance the visual content shared on the app.
Launch date: July 8 2011
Headquarters: Santa Monica, California, United States
Founders: Evan Spiegel, Bobby Murphy, and Reggie Brown
Key Managerial Personnel:
IPO date: March 2, 2017, at a price of $17 per share
Stock price: $10.34 (NYSE: SNAP) as of March 16, 2022
Snapchat Usage
Daily active users worldwide: 375 million as of January 31, 2023.
Monthly active users worldwide: 750 million as of 2023.
Average Daily Time Spent: 21 Minutes per day as of Q2 2022.
As of April 2022, India had the largest Snapchat user base in the world, with a total of 144.35 million users. Followed by the United States, with a user base of over 107.95 million. (Source: Statista)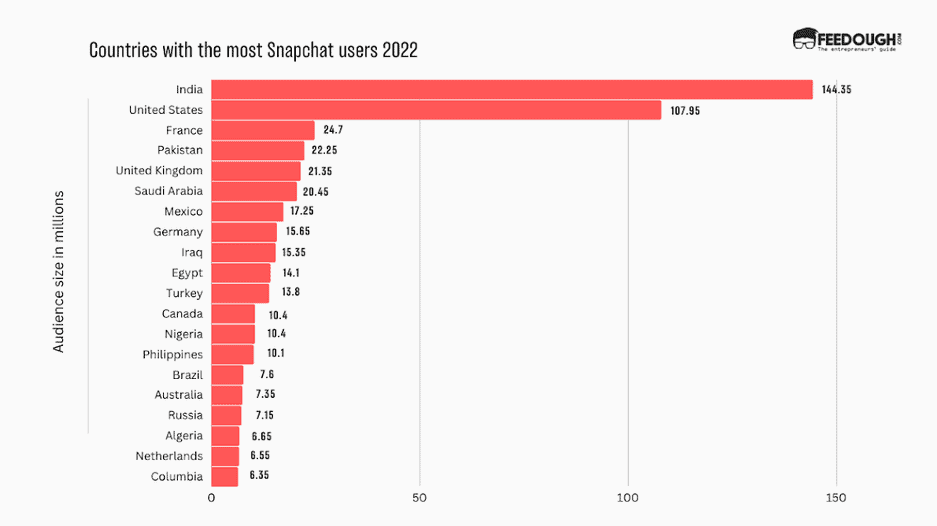 250 million users interact with Snapchat's augmented reality (AR).
Over six billion Snaps are created daily.
Snapchat witnessed 281 million total downloads in the year 2020.
In the year 2021, Snapchat saw 56 million total downloads in the US alone.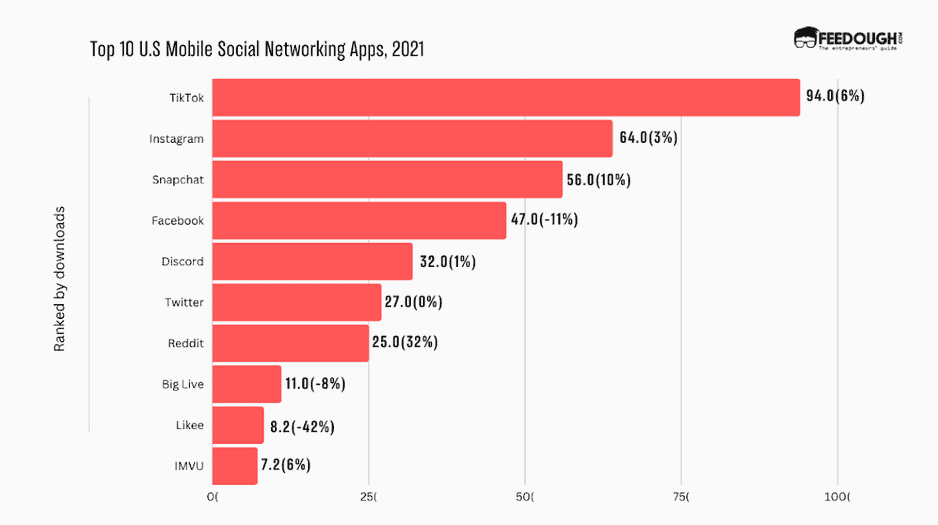 Snapchat Demographics
As of 2021, 65% of US internet users between the ages of 15 and 29 use Snapchat. For internet users older than the age of 30, Snapchat usage rate in the US is below 25%.
Here's a table showing the percentage penetration of Snapchat by age group in the US:
| Age Group | Share of Snapchat Users (Among Internet Users) |
| --- | --- |
| 18-29 years | 65% |
| 30-49 years | 24% |
| 50-64 years | 12% |
| 65+ years | 2% |
71% of Snapchat users between the ages of 18 and 29 say they use the app on a daily basis, including six in ten who say they use the app multiple times a day.
Snapchat Users Worldwide as of January 2023, by Gender:
Millennials and Gen Z users collectively bring in over $1 trillion in direct spending power to Snapchat.
Gen Z users contribute $323 billion in direct purchasing power to Snapchat.
Snapchat Revenue
Snapchat annual revenue 2014 to 2021.
| Year | Annual Revenue |
| --- | --- |
| 2014 | 3$ million |
| 2015 | 58.7$ million |
| 2016 | 404$ million |
| 2017 | 825$ million |
| 2018 | 1.180$ billion |
| 2019 | 1.715$ billion |
| 2020 | 2.506$ billion |
| 2021 | 4.117$ billion |
(Source: Snapchat)
Snapchat's revenue increased by 12% in 2022 to $4.6 billion, the lowest annual percentage growth recorded.
Snapchat experienced a net loss of $1,430 million in the year 2022, which is a 400% year-over-year increase.
In Q4 2022, Snapchat's net loss was $288 million.
In the fourth quarter of 2022, Snapchat earned a revenue of $880,310 from North America.
In the fourth quarter of 2022, Snapchat collected total revenue of $218,552 from the European region.
In Q4 2022, the rest of the world contributed to Snapchat's revenue by $200,873.
Average Snapchat revenue per user from 1st quarter 2016 to 4th quarter 2022: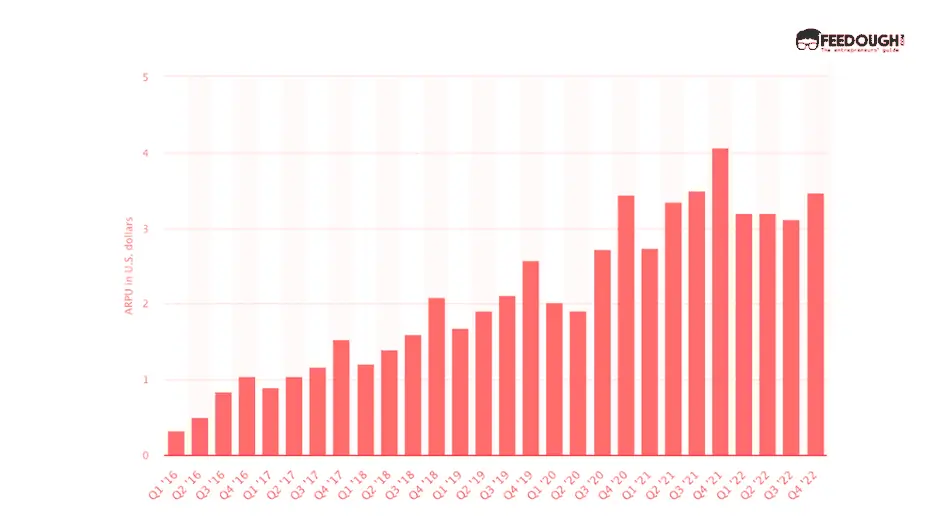 Snap vs Competition: Usage Frequency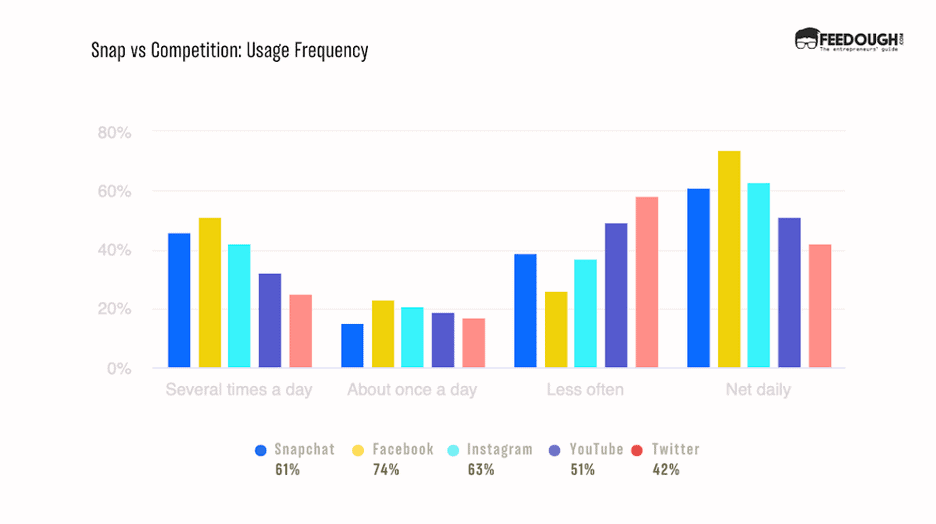 61% of Snapchat users in the US use the app daily compared to 74% of Facebook users.
Snap vs Other Platforms: Popularity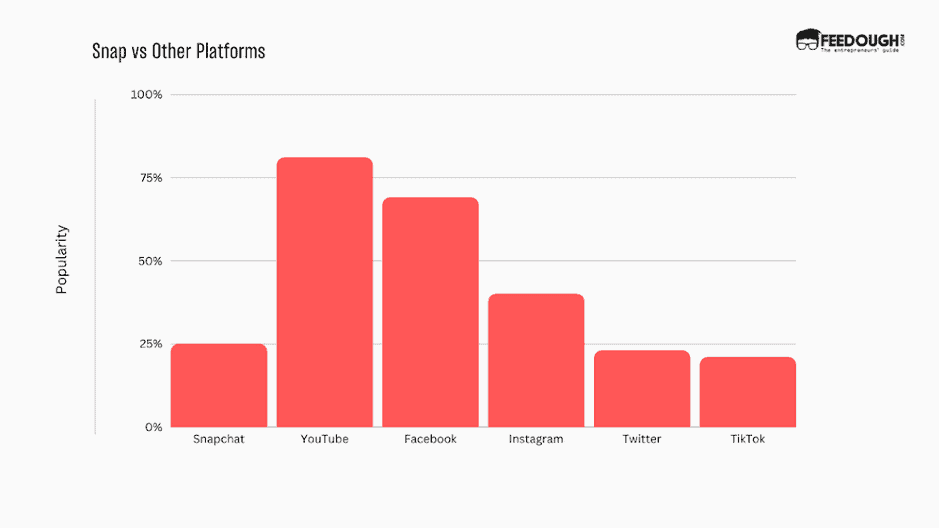 Snapchat: 25%
YouTube: 81%
Facebook: 69%
Instagram: 40%
Twitter: 23%
Tiktok: 21%
25% of adults in the US use Snapchat, lower than Instagram's 40% but slightly higher than Tiktok's 21%.
Snapchat Funding
Snap has raised a total of $4.9B in funding over 15 rounds.
Their latest funding was raised on August 7, 2018, from a Post-IPO Equity round.
Snap is registered under the ticker NYSE: SNAP.
Their stock opened at $17.00 in its March 2, 2017 IPO.
Snap is funded by 39 investors. Alwaleed Bin Talal and Tencent are the most recent investors.
Snap has made 14 investments. Their most recent investment was on October 31, 2022, when Perfect raised $105M.
Snap has made 2 diversity investments. Their most recent diversity investment was on January 1, 2019, when Love Stories TV raised $450K.
Snap has acquired 27 organizations. Their most recent acquisition was Nextmind on March 23, 2022.
(Source: Crunchbase)
Snap Employee Statistics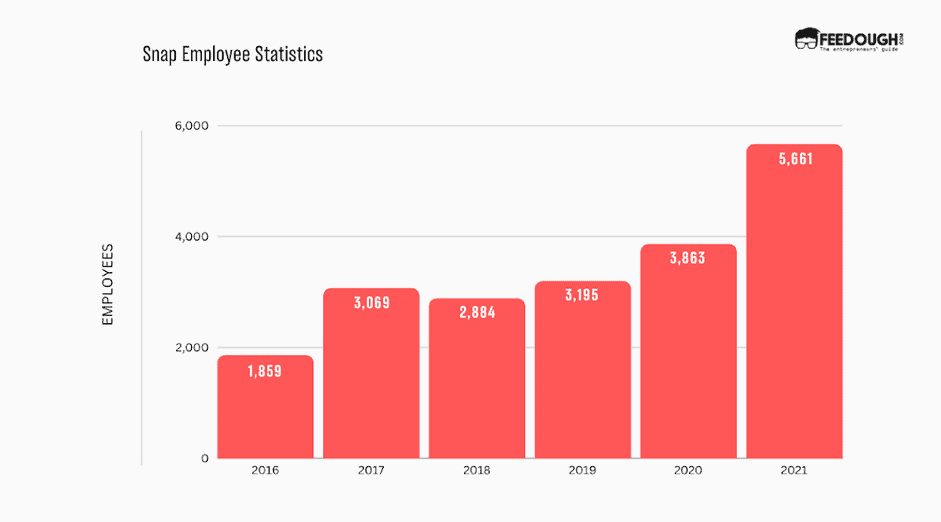 5,661 people were employed by Snapchat at the end of the year 2021, up from 3,863 in 2020.
Snap Employee Demographics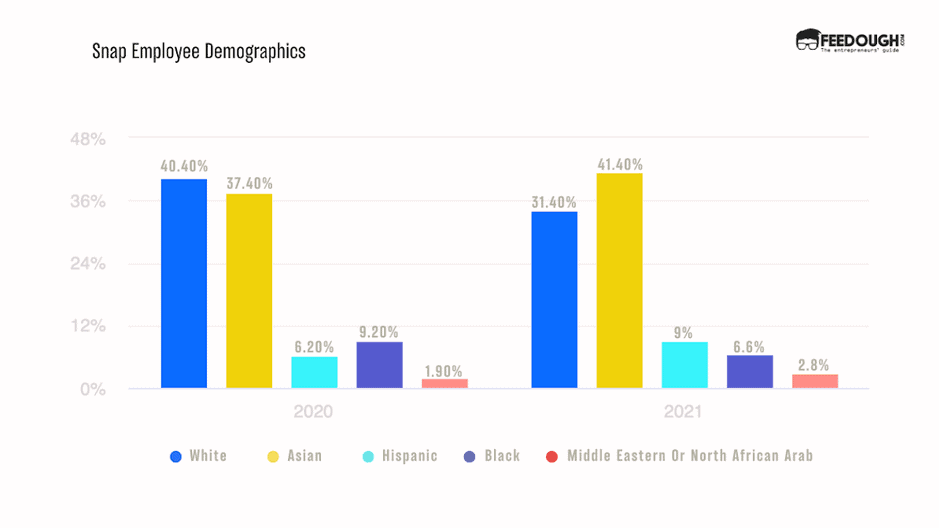 Miscellaneous Snapchat Stats and Facts
Ranked by monthly active users, Snapchat is the 10th most popular social network worldwide as of January 2023
Snapchat has 2.5 million Lenses that have been viewed over 5 trillion times.
95% of Snapchat users claim that the app makes them feel happier.
Snapchat users are 60% more likely to make impulse purchases.
As of December 2022, the longest Snapchat streak was recorded for 2794+ snaps.
2,083,333 Snaps are reportedly sent per minute. (Source: CapitolCommunicator)
Gen Z users show a 59% advertising recall after engaging with an advertisement for two seconds or less.
53% of millennials check Snapchat at least once a day. (Agility PR)
64% of users watch ads on Snapchat with the sound on.
In Q4 2021, Snapchat had 5,661 full-time employees.
An ardent reader, full-time writer and a lover of all things purple. Riya is an entrepreneurial spirit, making her way in the start-up industry through her expressive writing. When not working, you can find her jamming to music, watching period films, eating sushi, or petting cats.