Cold calling is dead. Only 1% of the cold calls actually results in meetings.
Cold emailing is also losing its effectiveness. More than 75% of your cold outreach emails aren't even opened.
Given these challenges, how do some B2B brands still stand out and generate more leads?
The answer is simple –
They develop their presence where the customer is and capitalize on the psychology of social selling.
What Is Social Selling?
Social selling is a selling technique where salespeople directly interact with their prospects on social media to generate and convert more leads.
It's the process of using social media to –
Find the right prospects and collect leads
Nurture those leads by developing relationships
Make those leads go further in the sales funnel
Convert those leads
Here's an example to explain social selling further –
Jacob owns an SEO agency which targets small and medium businesses. While browsing profiles on LinkedIn, he comes across Monica who owns a small bakery. After scrolling further, he sees that Monica has just launched her website which apparently isn't optimized well.
Jacob now sees an opportunity here. He sends a connection request and even an introduction message congratulating Monica about her bakery's success. However, he also includes his observation of Monica's website and suggests to fix it.
Monica likes his input and agrees to set up a meeting to discuss the same.
This example here isn't hypothetical. Transactions like this happen every hour on LinkedIn, Facebook, Twitter, and even Instagram and Pinterest. As a matter of fact, 61% of US marketers use social media for lead generation.
Social Selling vs. Social Media Marketing
Now, many people mistake social selling to be the same as social media marketing. However, in reality, there's a big difference between the two.
Social media marketing is an umbrella term which focuses on big digital marketing goals like –
Social selling focuses only on the collection and conversion of leads. It's a subset of social media marketing and is more personalized than the usual social media marketing strategies.
Why Is Social Selling Important?
The traditional sales model of cold calling, sales demos, and qualifying leads is losing its relevance in this era of the internet where time is less and the options are abundant. Social selling is a way out to cater to this new audience by educating them about the offering at a place where they are most active on and in a way they don't feel they're wasting their time.
Social selling is gaining importance as –
For every $1 invested in social selling, the ROI is $5.
91% of B2B buyers are now active on social media
75% of B2B buyers use social media to make purchasing decisions.
A prospective customer is 5x more likely to schedule the first meeting with a salesperson if they are connected on a social network like LinkedIn.
As the internet era progresses, customers are becoming more community-driven and seek personalisation and social validation in everything they do or buy. This creates an opportunity for the salesperson to build a reputation, gain trust, and become the online companion of the prospective customers to provide them with personal guidance and validation in the decisions they make and offerings they buy. And sellers are doing this very well. According to the "State of Sales" report, the time spent by brand representatives in connecting with customers online has increased 3.2 times more than time meeting them in person.
Social Selling Mechanics
So, how do you social sell exactly?
Well, there is a process, indeed.
It starts with identifying your prospective customers and figuring out the social media networks they are most active on.
You develop your own professional brand and gain the trust of your followers on that social media network. This is done by sharing quality content and proving useful to people by helping them in things you're good at.
The next step involves connecting with prospective customers and building a trust-worthy professional-yet-friendly relationship.
And then you drive them further into your sales funnel.
Step 1: Social Prospecting
Social prospecting involves scouting social networks for customer interest, buying intent, or a qualified prospective lead. In simple terms, it is the process of leveraging social media networks to identify the most suitable social network and research for the most suitable customer prospects.
You can use tools like LinkedIn saved searches which notifies you whenever a new lead matches your search query. Other than this, many also use social media monitors to track major life events and achievements of the target group which correlates with the offering.
Step 2: Personal Branding
Once the perfect social media network is identified the next step involves you to develop an attractive profile and post engaging content to develop a personal brand that is considered knowledgeable, approachable, and trustable.
This step involves you to build trust, reputation, and credibility by posting relevant posts and articles which correlate with the ongoing trends. You can also ask for recommendations from existing connections, comment and react on relevant posts, and even offer pro-bono consulting.
A good social seller knows the importance of right communication at right stage of buying funnel. He believes in forming a relationship which he can later use to refer his products.
Step 3: Lead Generation
A lead is often generated during a one-on-one conversation between you and a prospective customer. You get to know about the funnel stage he is in by directly talking to him.
Different social sellers have different approaches to lead generation. While many sellers pitch directly to the prospective customers, many take time to build relations. Develop your own approach and use your own skills to generate and nurture leads.
Step 5: Conversion
This is the final step where you provide your prospective customer with a call to action. It could either be a purchase link or a proposal to meet and discuss things. If the prospect accepts your call to action, he is considered to have converted.
Social Selling On LinkedIn
LinkedIn is a pioneer when we talk about social selling. The platform provides you with a full-fledged premium sales plan subscription which comes with goal-oriented sales tools.
Prospecting
Since the platform highly B2B oriented, sales prospecting on LinkedIn is easier as compared to other social media networking websites.
A free user can search for leads on the network by applying the following filters –
Keywords
Connections of
Locations
Current companies
Past companies
Industries
Profile language
Schools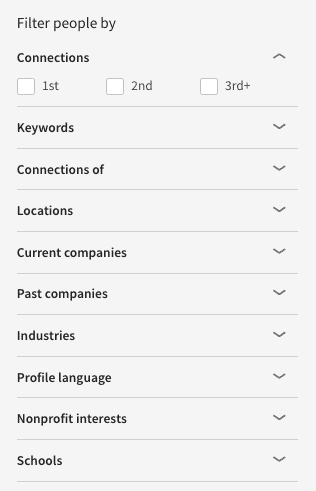 A premium member, however, can use a lot more search filters to narrow his search results.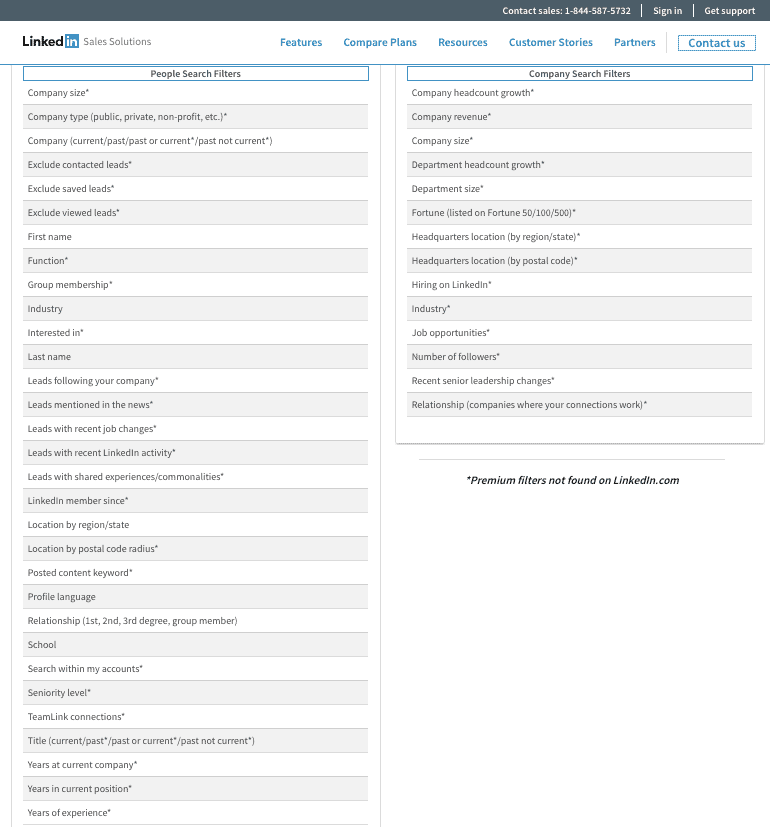 Other than this, LinkedIn also makes scouting for prospects easy by including these features on the platform –
"People Also Viewed" Sidebar: LinkedIn also suggests profiles of people similar to your prospect.
Lead Builder (paid): Lead builder is a paid feature included in the sales navigator subscription plan. This tool provides you with the ability to save a prospect as a lead. Doing so will make his updates and posts appear directly on your home page so you can build better relations with him by commenting and reacting to his posts.
Saved Search (freemium): This feature lets you save a search filter on LinkedIn. Every day, week, or month, LinkedIn will run the search and send you email alerts with new additions to the list.
LinkedIn Groups: LinkedIn has several interest-based groups which are a leads mine for a B2B seller.
Researching On LinkedIn
LinkedIn proves to be the perfect place to build a personal brand, not just for you but for your prospects as well. That is, once you've identified your prospect, getting to know about what he does, where does he work, and what are his likes and dislikes is very easy. All you need to do is to go through his profile check his about section, highlights, and articles and activities.
You also get to know about his qualities and characters by going through the recommendations on his profile.
Selling On LinkedIn
Selling starts with creating a trustable personal brand. Complete your profile, share relevant information, give recommendations, ask for recommendations, and interact with your connections. You can even opt for LinkedIn premium which adds an additional badge to your profile which increases your trust factor.
The actual sales pitch is sent using InMails (direct messages).
The premium sales navigator subscriptions also allow you to send InMails and pitch to prospects who are not even in your connection list.
Social Selling On Facebook
Contrary to LinkedIn, selling on Facebook is more B2C oriented. However, it does provide tools to target B2B customers as well.
Facebook Marketplace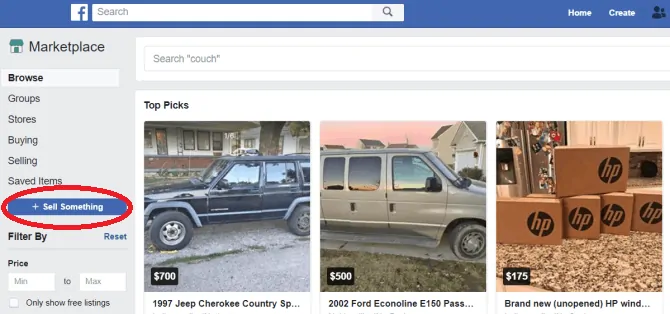 The platform hosts a dedicated marketplace which you can use to sell your specified offerings directly to the end consumer. The marketplace has a similar interface as that of Amazon but –
Anyone can list any product on the marketplace
The actual transaction takes place off Facebook
Facebook Shop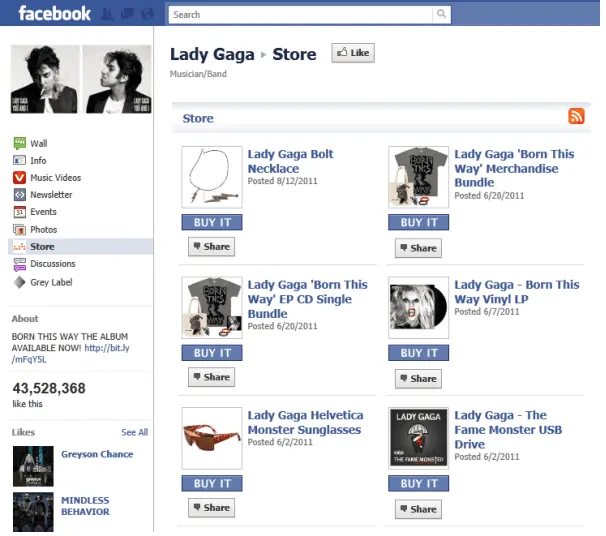 Facebook Shop is more of a pull strategy as you don't actually reach out to anyone with your offering. It involves adding saleable products or service on your Facebook page and showcasing them to your page visitors.
Facebook Groups
Just like LinkedIn, Facebook also hosts millions of interest-based, demographic-oriented groups which can prove to be a lead mine for anyone looking for sales prospects. People often post queries and take buying suggestions on such groups.
Social Selling On Twitter
Social selling on Twitter possible and is very prevalent. People often mention their posts in the organisation in their profile bio. This makes it easy to identify the prospects.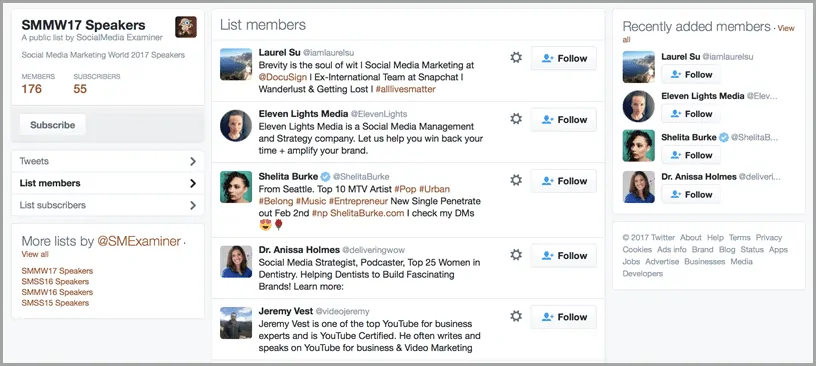 The platform also provides an option to group prospects into defined lists. You can group prospects according to –
job titles
companies
geography
people you've met in person
Twitter requires more patience. You need to engage the audience before pitching your product. And you need to be social while you sell. Usual sales pitches don't work on Twitter.
Go On, Tell Us What You Think!
Did we miss something? Come on! Tell us what you think about our article on social selling in the comments section.
A startup consultant, digital marketer, traveller, and philomath. Aashish has worked with over 20 startups and successfully helped them ideate, raise money, and succeed. When not working, he can be found hiking, camping, and stargazing.