Other Games will come and go, but Candy Crush goes on forever. Launched in 2012, Candy Crush reported a total of 409 million active users at the end of June 2016. It's a free mobile game where 70% of the users on the last level haven't even paid anything, but it still earns a daily revenue of $405,708.
The success of Candy Crush can be credited to the usage of exceptionally well-defined marketing and psychological strategies by the developers to make the game addictive.
Let's look at how the game was able to dominate all the charts in this candy crush case study.
Strategies which led to the success of Candy Crush Saga
How a candy matching game with not so complex graphics and music can be the only game to reach number 1 spot on google play, Apple App store, and Facebook at the same time?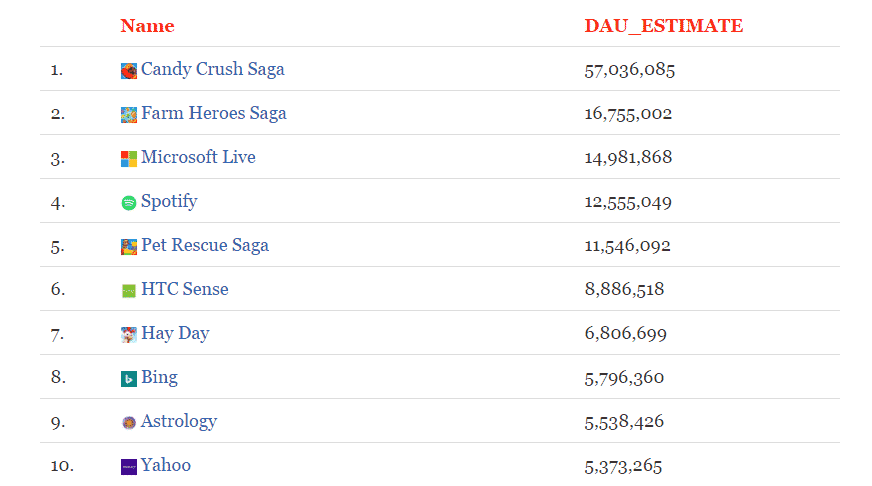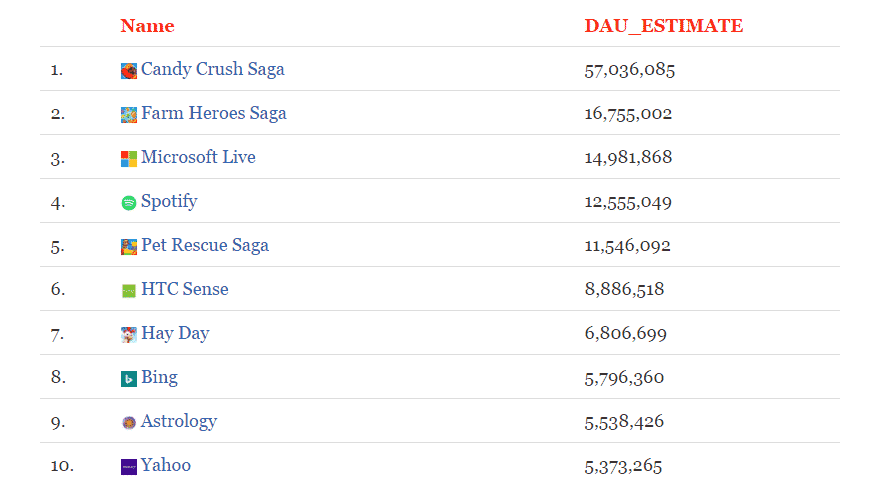 The success of candy crush is the result of a great mixture of marketing and psychological strategies. This use of psychological marketing has led to a candy crush addiction among its users and more money to the developers.
Marketing Strategies
Free Game
Just like other freemium apps, Candy crush can be downloaded and played free of cost. People are never forced to pay a penny to play the game. It has been designed in a way that free users too can finish the game but with certain restrictions like limited lives and moves. There are only in-app purchases for extra lives and moves. This free model worked really well for Kings as the users got time to try and to get addicted. This addiction led to more, recurring, and long-lasting income.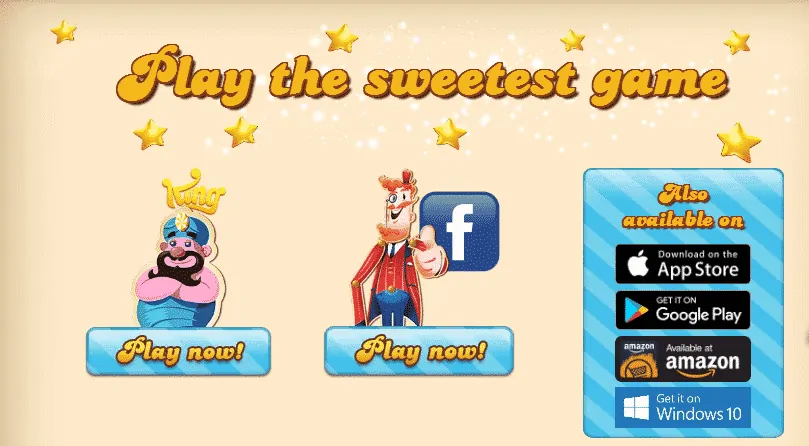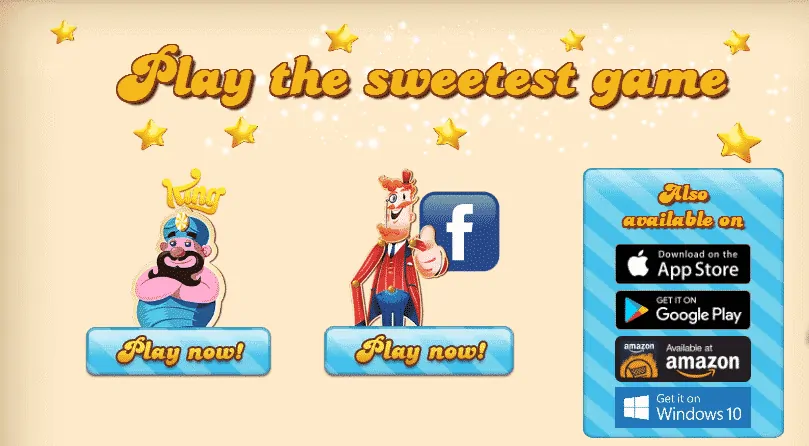 Simple
The Game is really simple to play. Users just have to switch adjacent candies to form rows or columns of three of the same colour, which gets disappeared from the board. Fulfilling certain tasks will promote them to the next level.
This simple game isn't that easy though. The difficulty level increases as you move ahead and due to the limited lives provided, users generate a want to play more.
Pay to Play More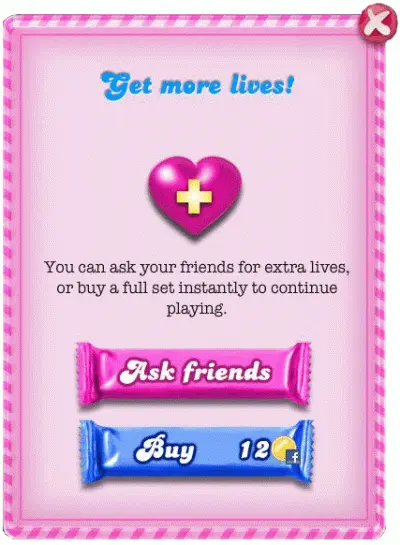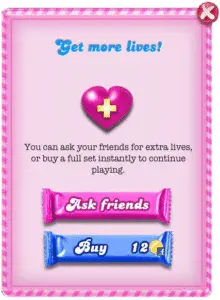 Candy Crush is primarily monetized through the in-app purchases. Users get a set amount of lives (5 lives) and move to complete a level, exhausting which they have to buy extra lives/moves through the in-app purchases. They can also opt for in-app purchases to start new episodes.
These purchases can be substituted by sending requests to Facebook friends and hence users are not forced to pay at any stage.
Since the friends have to accept the request for the user to move ahead, it takes a lot of time. Hence, users prefer in-app purchases to feed their addiction.
The in-app purchase cost is kept very less and an average user have paid around $25 dollar. It's the number of users that did miracles for the company.
Facebook
It all started with requests on Facebook.
One of the best strategies devised by Candy Crush Saga was the requests on Facebook. A user is asked to either pay or to send requests to their Facebook Friends to get extra lives/moves or to move on to a next episode. Facebook, with over 1.5 billion users, is a perfect platform to engage and gain more users for the application. It became the primary source of new users for the game in its initial stages.

Target Group
Users of candy crush aren't limited to any specific demographics. Candy Crush is played by users of all age groups, belonging to all ethnicity and religions, and in all the 7 continents.
Fun Fact – The game was actually targeted to women aged 25-45.
Social
Gamers can see and compare their progress with their friends and family members. This social motivation has made many users shed their money to compete and win against them. Reaching on a high level on Candy Crush is something to be proud of, you don't reach there easily. The social factor became a good strategy to earn more as people like to show off to people they know.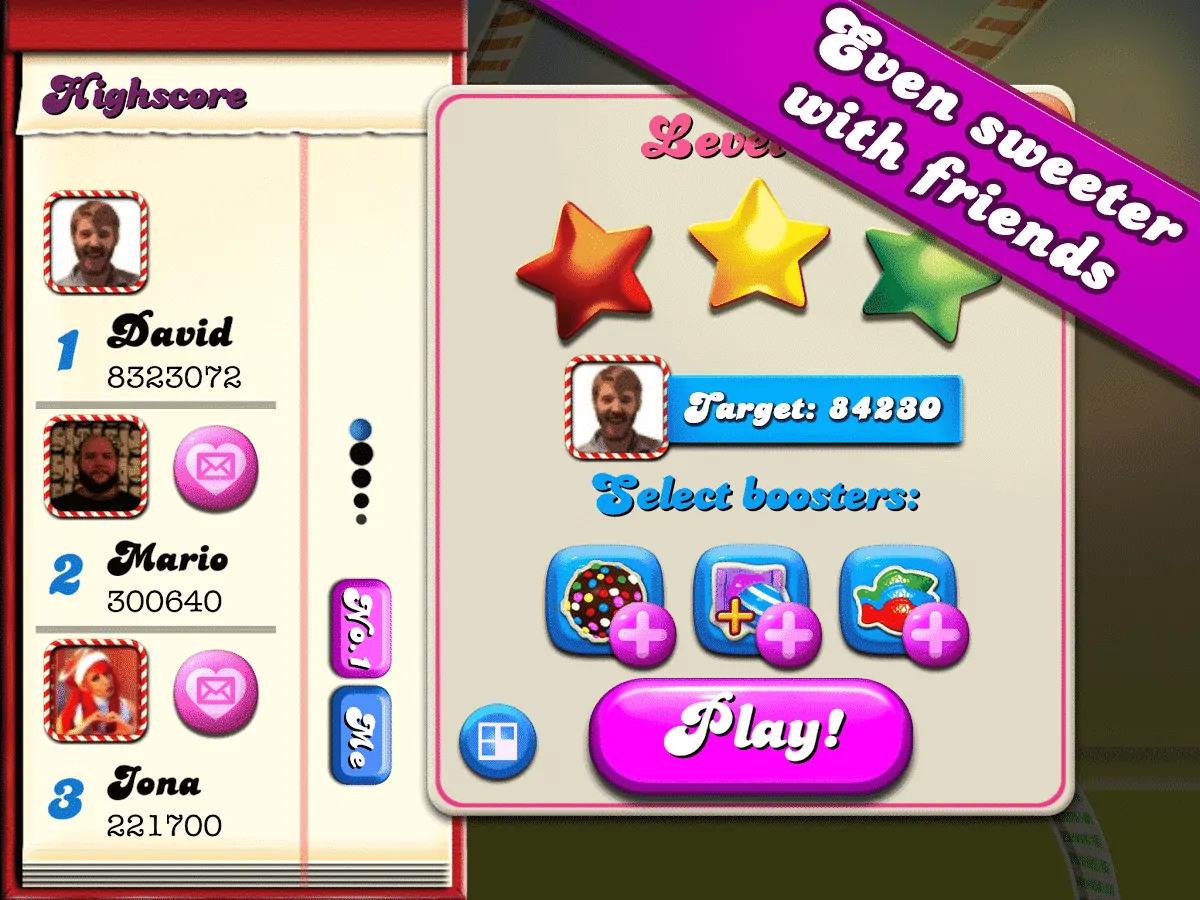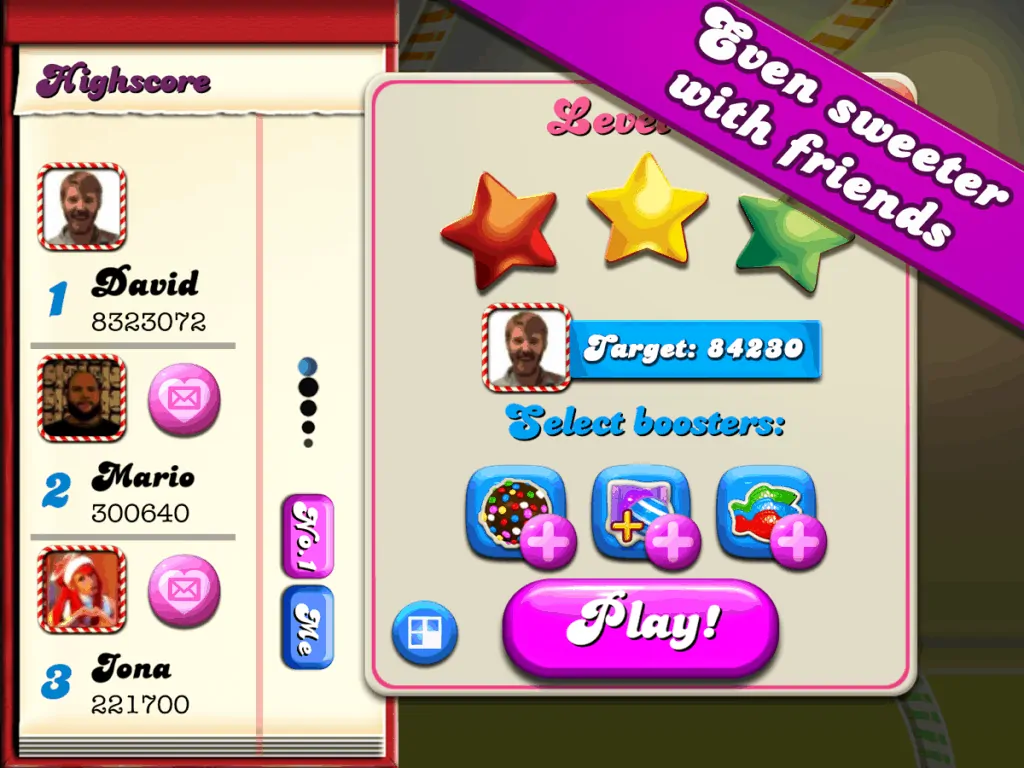 Quality
One of the most important factors behind the success of the game is its quality. Candy Crush, which looks a bit like bejewelled, used great graphics mixed with soothing music and most importantly – no glitches. The game maintained top quality by not including advertisements and having full control in the hands of the developers.
Positioning
It takes hardly 2-5 minutes to complete a turn on Candy Crush. This helped the brand to position itself as a time killer and not just a fun mobile video game.
Number of Levels
There are currently more than 2000 levels in candy crush. The game becomes more difficult as the user levels up. It is certain, in this game of luck, that the user might get stuck in one or more of the levels. More challenging the levels are, more is the probability of user paying to get it cleared.
But Kings had to keep the difficulty moderate as many difficult levels might lead to users abandoning the game.
Use of Analytics
Candy Crush made good use of analytics to find out what makes their users play more and what is stopping them. Level 65 was considered as one of the most difficult levels and stopped users from playing ahead. This level was soon removed to make users stick and go deep in the game.
Other Marketing Strategies
Word of Mouth Marketing has been one of the biggest strategies behind the spread of this game worldwide. Candy Crush has also used influencer marketing and other strategies like cross-promotions, TV advertisements, etc. to market its brand.

Psychological Strategies
The main reason behind such a vast appeal of Candy Crush Saga is the clever use of –
Candies
While jewels are considered to be feminine, candies are liked by everyone.
Colours
Candy Crush is a mixture of every colour. Hence the game can be considered gender-neutral.
Words
Use of words like delicious, sweet, etc. give short term motivation to the user and makes him play more.
Fewer lives
Majority of the candy crush game players haven't paid a penny for extra moves. As a result, they get 5 lives to play and gets one extra life after every half an hour. Hence, they can't play the game as much as you want in one sitting. This not getting enough of the game creates a desire to get more and this curiosity leads to addiction.
This strategy of limited lives is to counter a phenomenon called "hedonic adaptation" which refers to the fact that humans get used to nice things over time until they no longer anywhere near as pleasurable. Hence, people stick to this game for a long time without getting bored.
Game of luck (just like slot machines)
One of the major reasons people stick to Candy Crush is because of its unpredictability. Candy Crush cannot be conquered with a set of certain skills. Just like gambling, Candy Crush totally depends on luck. The arrangement of candies are totally random and no one can predict the result based on a few moves.
Psychology of gambling addiction can be applied to Candy Crush addiction as well.
Handy
The game can be played with one hand, doesn't require an active internet connection (on smartphones) and doesn't take much time to exhaust a life/level up. Hence, it can be played anytime and anywhere.
Fun Fact – Candy Crush has been played in Antarctica as well.
Never Ending
Candy Crush has released many new levels even after the previous levels being completed by the users. This has helped them in retaining users which would have otherwise deleted the game after completing all the levels.

Go On, Tell Us What You Think!
Did we miss something?  Come on! Tell us what you think of this article on candy crush case study in the comment section.
A startup consultant, digital marketer, traveller, and philomath. Aashish has worked with over 20 startups and successfully helped them ideate, raise money, and succeed. When not working, he can be found hiking, camping, and stargazing.