'You are an imposter!'
A phrase that spread like wildfire just because a game was able to bring people together when the pandemic stopped them.
Developed by a very small three-member team of Innersloth and not having marketed much, Among Us is one of the few games that managed an astonishing meteoric rise in its popularity. It is a social deduction game which besides binge watching on Netflix and making Dalgona coffee (a short-lived trend of 2020), has garnered immense popularity and become the most downloaded mobile game in the unprecedented year 2020.
While the game was released in 2018, it did not witness such vogue much before mid-2020. Its success can be attributed to their simple, yet effective business model. Here is an overview of what the game is like before we delve into its business model!
What Is Among Us?
Among us is a space-themed murder-mystery game which was released by Innersloth on 15th June, 2018. Team work, mystery solving, and deception are the essence of this trending four to ten player game.
In its first year, the game had peaked at 1800 concurrent players, which was suffice to bring their servers down temporarily. It was only later that they climbed up Steam, iOS, and Google play store charts.
It was inspired by the game Mafia and the science fiction horror movie, The Thing,where people work in a team to lay hands on a 'traitor'.
One of the primary reasons why the game's popularity has skyrocketed is the abundance of streams of Among Us related content on the internet. The initial growth of Among Us was driven primarily by content creators in South Korea and Brazil. In July 2020, the game was made popular on twitch by the streamer Sodapoppin and little did anybody know, that the game will clock around 264 million downloads all around the globe by the end of the year. Akin to Zoom, it's popularity skyrocketed majorly during the pandemic.
How Does Among Us Operate?
There are one to three randomly assigned imposter(s) in each round. The other players are crewmates who are assigned tasks like fixing wires, downloading data amongst many others which they are supposed to complete. The objective of the imposters is to blend in with the crewmates and pretend to do a fake list of tasks, while attempting to take any covert opportunities to kill the crewmates instantaneously. They can sabotage vital systems, travel through vents, and can team up with other imposters to help kill the crewmates. The maps can also be customised from a spaceship 'Skeld' to a headquarters building 'MIRA HQ', a panet base 'Polus' or the latest 'Airship' map.
Who Are Among Us Game's Customers?
Unlike Candy Crush and other short spanned hyper casual games which last for barely two-three minutes, a typical game of Among Us lasts longer for approximately fifteen to twenty minutes. This makes the game immersive as people need to get engrossed in the game while interacting with their friends at the same time. Since Generation Z has the most spare time on their hands, they are the most suited audience.
What Value Does Among Us Provide?
People get to play and interact with not just their friends and known ones but also socialise with other unknown people they might come across on discord or other platforms while playing the game. Since four to ten people play the game, this initiates a chain reaction which eventually leads to a network effect. During the pandemic, it allowed people to socialise despite social-distancing. It also provides people with a good way to pass their time and compete with others. Moreover, the human element brings with it in-game strategies and an essence of psychological manipulation and ingenious deception.
Among Us Revenue Model
Despite being a free game, Among us has continued to make money because of its viable business model. The various sources of revenue include:
Revenue From PC Downloads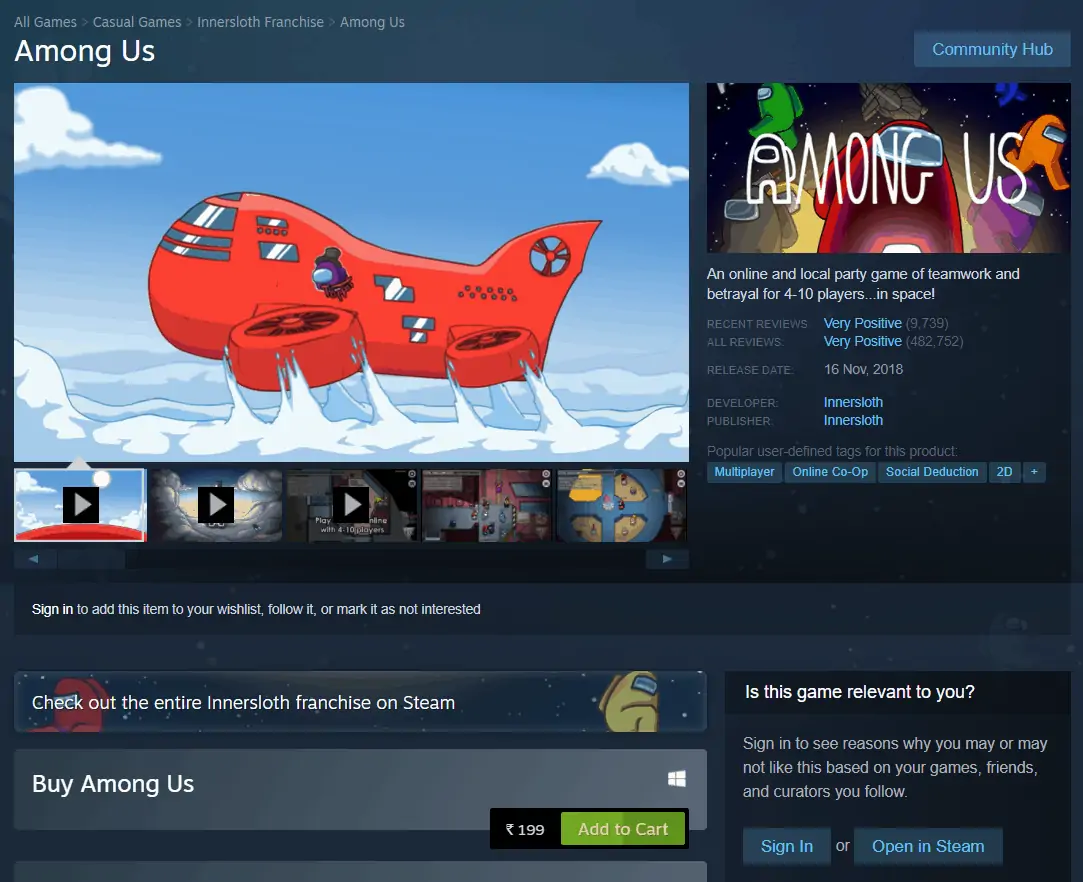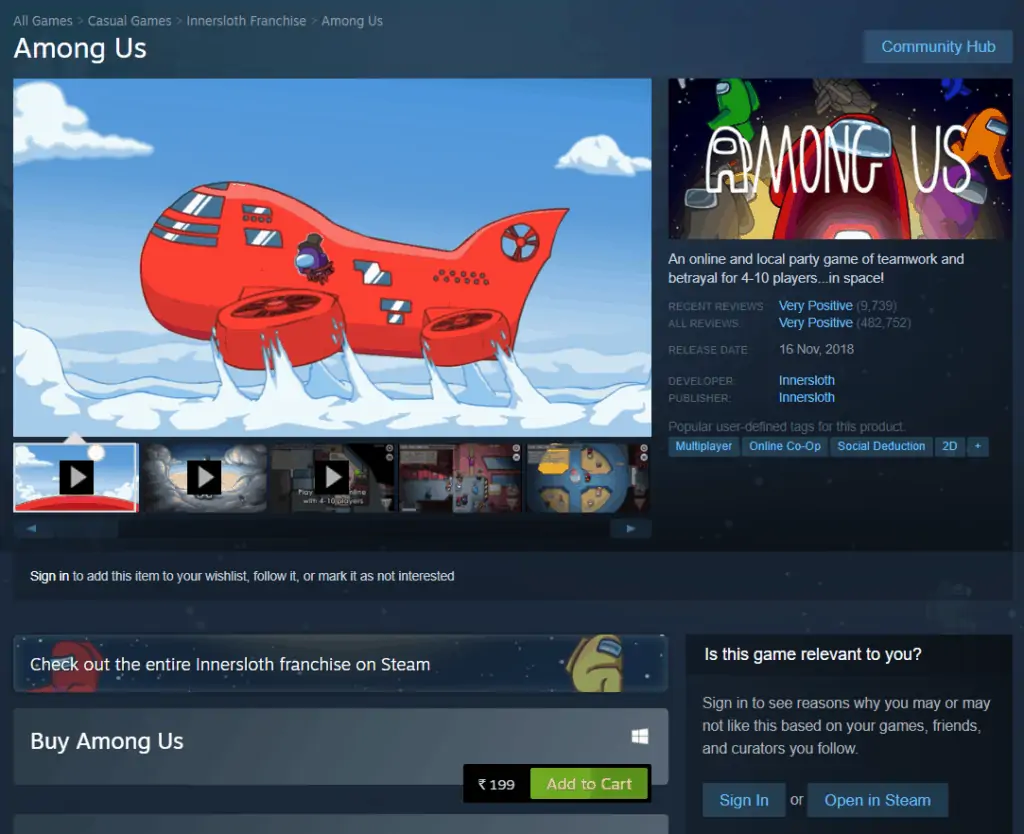 Although the mobile versions of the game are free, the PC version is available on Steam, which charges a one-time purchasing fee of $5. Although PC users constituted only 3% of their player base, the $5 upfront cost contributed to a large share of Innersloth's revenue from August to November in 2020. Purchasing the PC version unlocks all the premium cosmetics which cost additionally in the mobile version.
Revenue From The Mobile Versions
The mobile version of the game is based on a freemium model. Therefore even though the game is free, the sources of revenue include:
Advertisements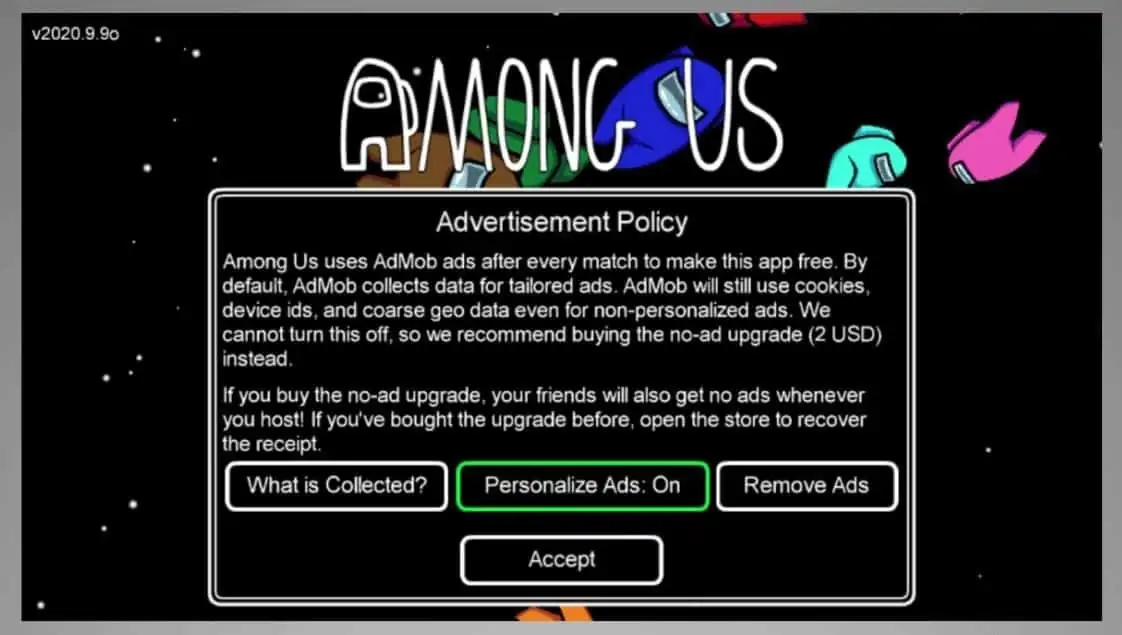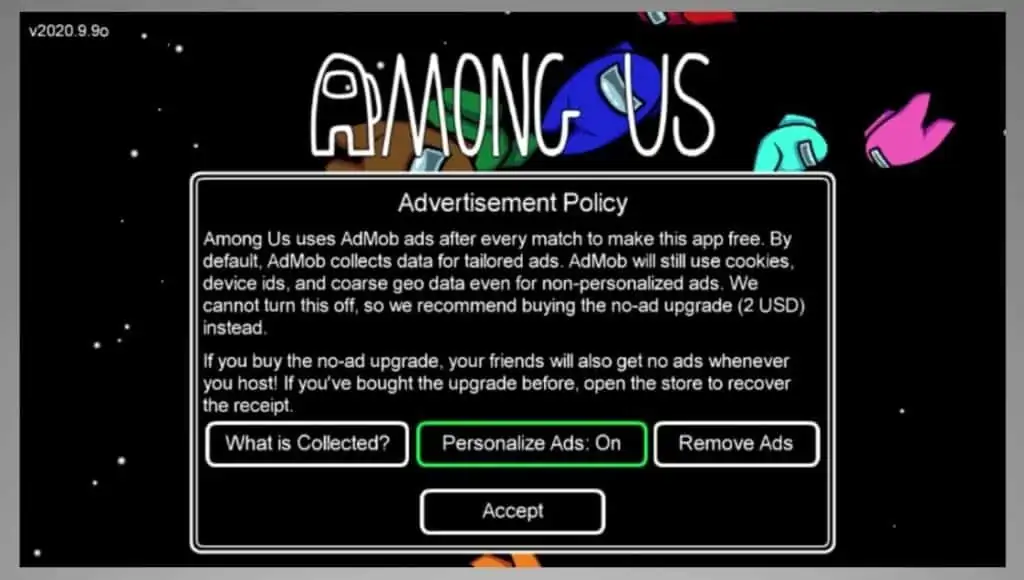 Advertisements pop up on the player's screens after each game finishes. Amongst many others, Among Us also uses Admob and other ad partners to monetise its user base. Advertisers pay them on a pay per click or number of viewers basis. The timers we see are set to ensure that the ad is displayed to the users for a certain appropriate time frame. Since there are millions of active users, it becomes easy for Among Us to generate substantial amounts of revenue.
In-App purchases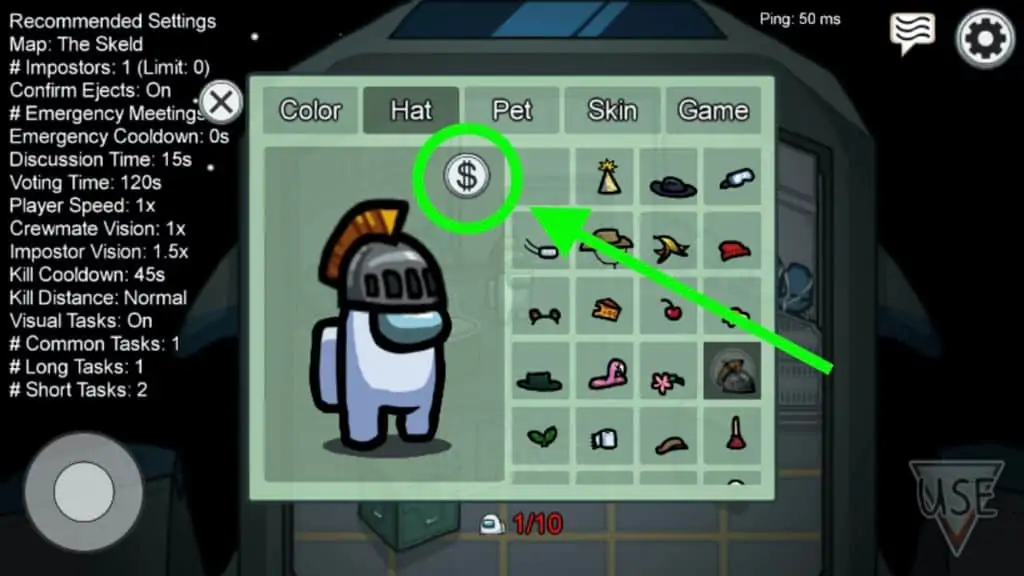 Among Us offers its users a choice to opt out of ads and customise their characters by purchasing pets, unique clothing and skin colours which are otherwise unavailable to mobile users. Players get automatic access to these costume customisations if they purchase the game via Steam. This also incentivizes the users to purchase the paid PC version. Moreover, the choice to opt out of ads provides a win-win situation for both the users and the company.
Merchandise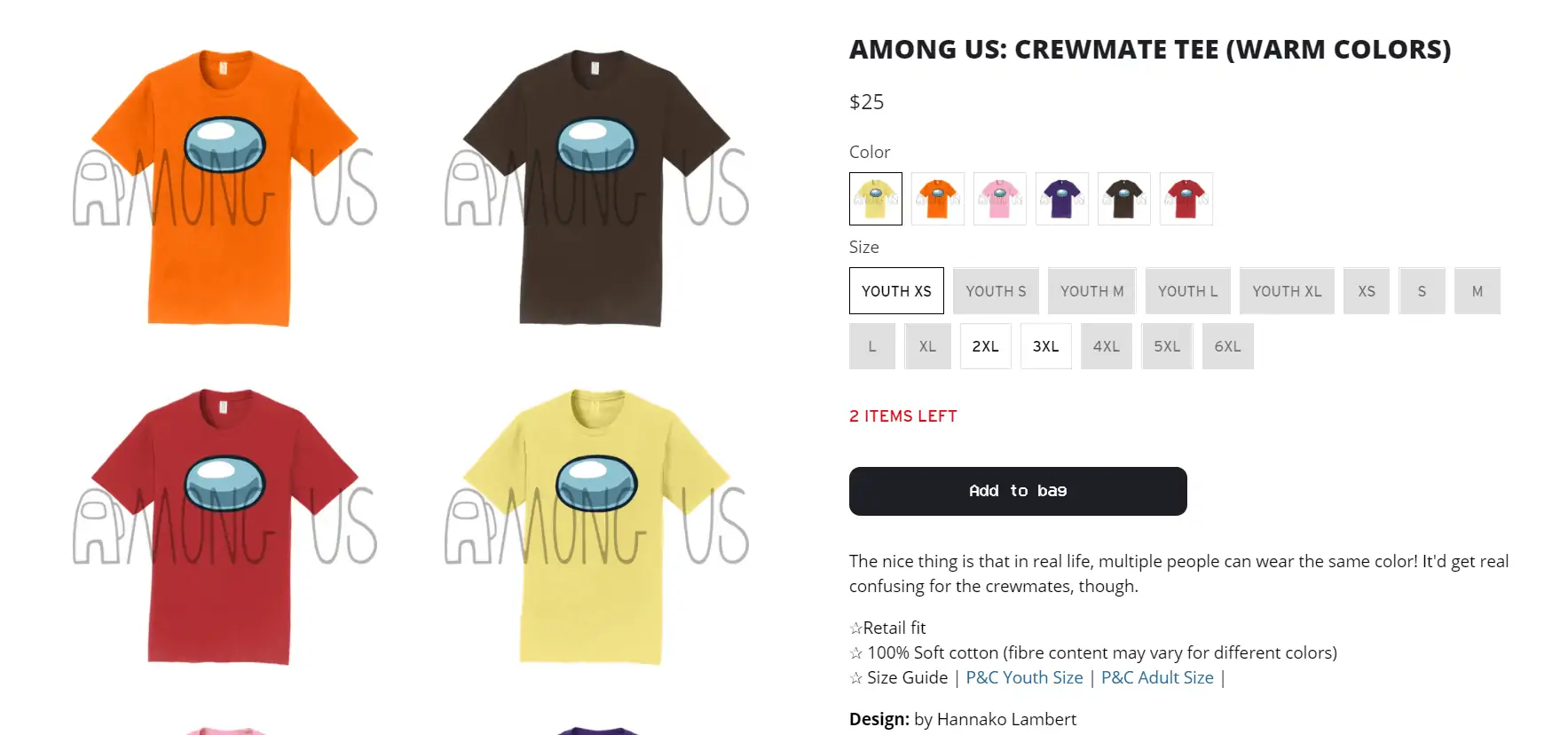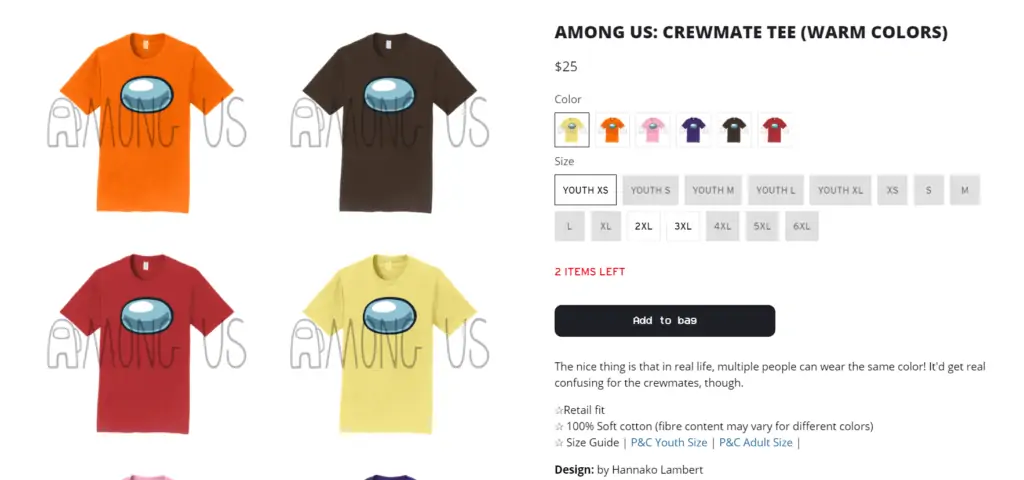 Selling products like t-shirts and plushies designed with characters related to the game is another huge source of revenue for Innersloth. Owing to its immense popularity, the merchandise got sold out within a few weeks.
However, the 50 million dollars earned, do not all get to Innersloth. They have to incur various costs like that to the platforms the game can be found available on. Apart from paying the Google play store, the iOS play store, and steam, Innersloth also has to juggle with tax laws of different countries all over the world to pay taxes on the money they make.They also need to retain a significant amount of money after having paid the developers, for not just tax reasons but to have a pool of funds they can use for further development of the game.
The Future Of Among Us
The developers of Among Us focus on 'games as a service', a revenue model which allows them to monetise the game after its release. The model revolves around building mechanisms within the game to retain users as long as possible.
While the Among Us team has a very strong growth engine which would help them continue to develop the game further and thrive on it, the team needs to come up with ideas for ensuring steady growth after the pandemic driven fuelcomes to an end. With the immense popularity that the game enjoys, plans to release the sequel have so far been cancelled. However, the team plans to update the existing version of the game and their servers, collaborate with new platforms for engaging their users and release Xbox One and Xbox Series X/S versions of the game. They also plan to provide colourblind support, an entirely new stage and a new set of tasks. Moreover, they plan to introduce a 'friend system' which would help players create a social network within the game itself, and also report any hacking instances. Expansion of customer base while retention of the existing ones is very essential for their growth and a key to their success further. These additional features could drive the rapid growth of the game in the years beyond.
Go On, Tell Us What You Think!
Did we miss something? Come on! Tell us what you think about our article on Among Us Business Model in the comments section.
An economics aficionado and a researcher at heart, Shrishti has also worked as a consultant to assist startups and NGOs in varied verticals. When not working, she is a passionate dancer and painter.