Zoom has skyrocketed in terms of popularity for offering what is premium features to its users for free in a clean and easy to use interface. This has led to people preferring Zoom over other video conferencing services and apps.
But Zoom has recently been under the spotlight for several security issues and vulnerabilities found within its software. This has led to several countries banning Zoom. Hence, let's look at a few alternatives to Zoom that are currently available.
What is Zoom?
Zoom is a video conferencing SAAS platform that allows users to virtually interact with others over video. Zoom launched in 2013 to the public and was built with enterprises and large businesses in mind.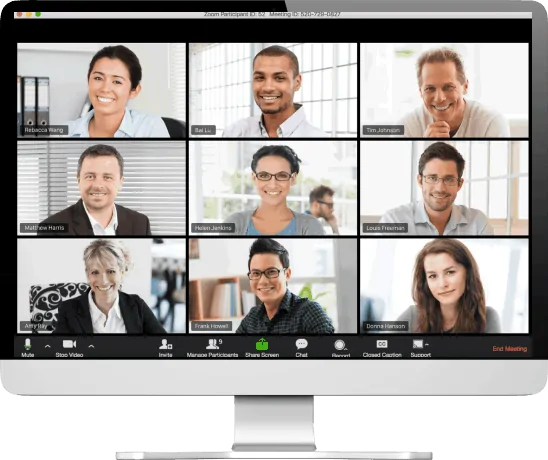 Hence, Zoom offered features that helped boost productivity, with its users being able to –
Share content of their screens
Whiteboards
Schedule meetings
Group chat
Breakout-rooms
When it comes to software that is primarily built for enterprises in mind, it is common for it to be less user friendly. But, Zoom's UI is quite neat and intuitive while offering features that rival the most other established services.
That is not to say Zoom is perfect – incidents like Zoombombing, presence of malware and exploits within the Zoom software has caused governments, institutions and organisations around the world to ban the use of Zoom.
Which brings us to –
Top 10 Zoom Alternatives
Google Meet
Google Meet (aka Google Hangouts Meet) is the enterprise version of Google Hangouts and is available as a part of Google's GSuite – a collection of productivity tools offered by Google as a subscription service.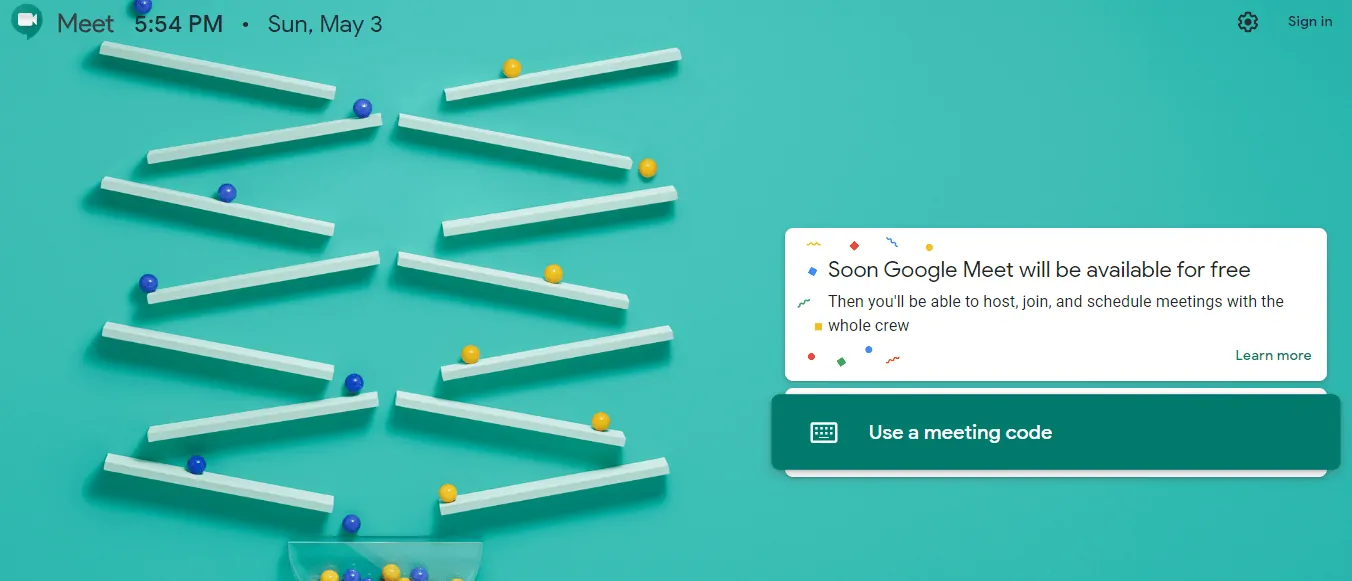 Google Meet rivals Zoom in terms of features that is offers –
Up to 250 participants per group video call
Live streaming
Webinars with up to 10,000 participants
Recording
Integration with Google's other apps and services for easy access right from within the call
Screen sharing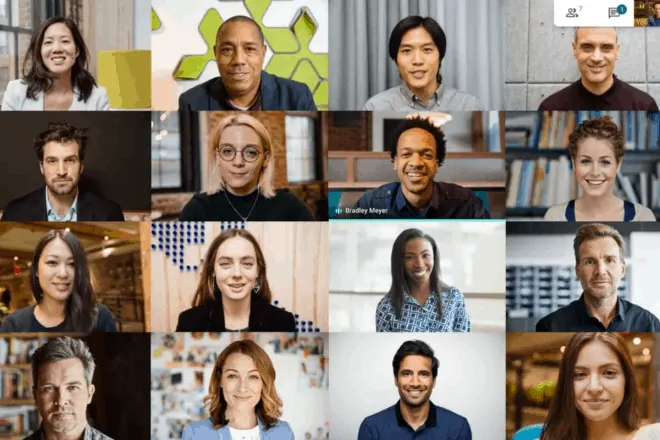 When it comes to pricing, Google Meet comes as a part of the GSuite subscription –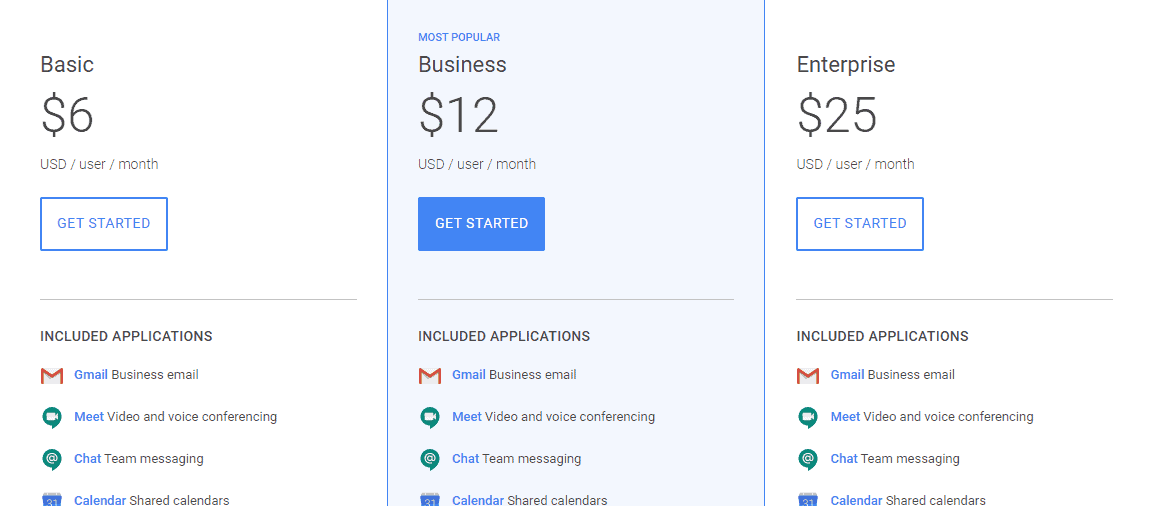 GoToMeeting
GoToMeeting is a great alternative to Zoom since it is primarily built for online meetings for enterprises and individuals alike. It is a web-hosted service and allows users to hold online meetings – video conferences or webinars – with others easily.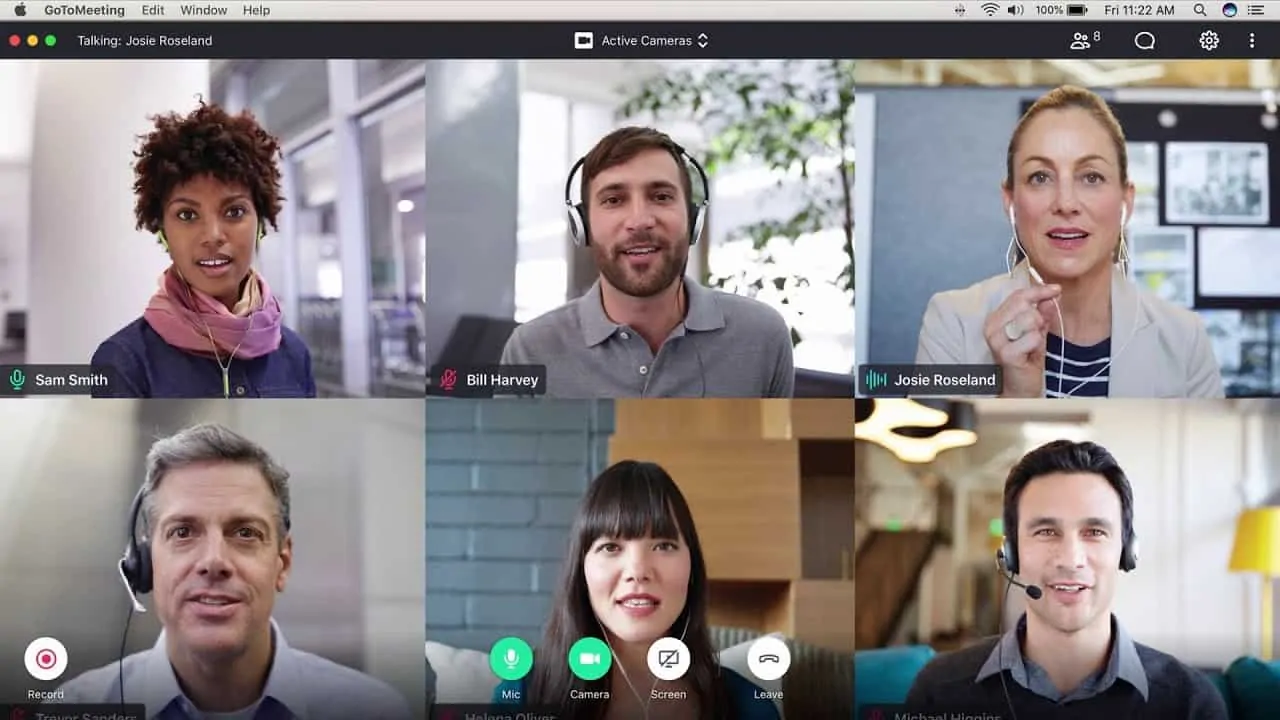 GoToMeeting is similar to Zoom in terms of the features it offers –

Up to 250 participants per group video call
Screen sharing
Meeting Recording & Transcription
Messaging
Calendar Integrations
Apart from this, GoToMeeting also offers unique additions like –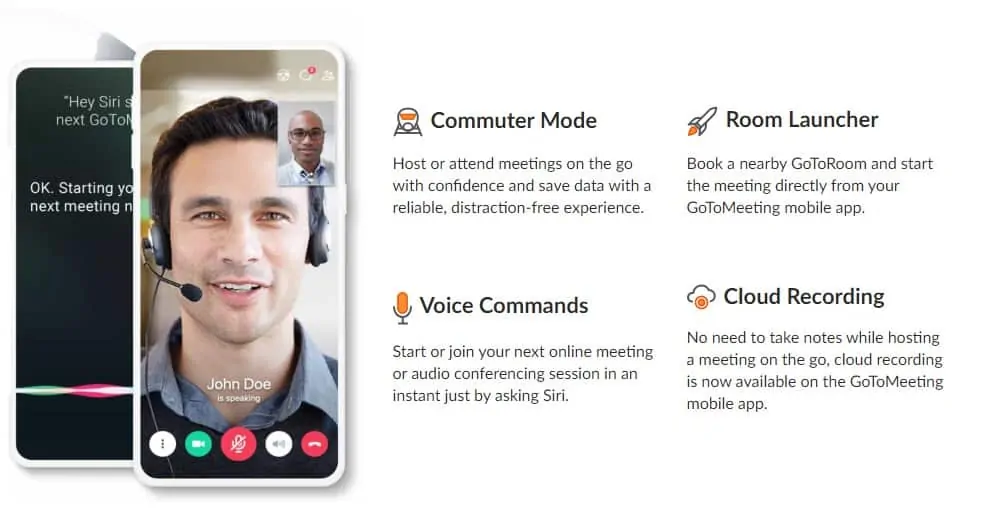 Commuter mode
Voice commands
GoToMeeting has no free plans and is a subscription-based paid service with plans starting from $12 per month –

Cisco Webex Meetings
Cisco Webex Meeting is a cloud-based video conferencing software that is geared towards enterprises and large businesses.
Cisco Webex Meeting's features are very much similar to ones offered by Zoom, wherein it allows –
Up to 200 participants per video meeting
Cisco Webex Meetings free plan offers unlimited group video call length and up to 100 participants per video call
Screen sharing
Application sharing
Whiteboards
Polling
Virtual hand raising
Ability to take attendance
Apart from this, Webex Meetings also offers full integrations with Cisco's other services which help facilitate team messaging, file sharing, cloud calling, and webinars. Cisco Webex Meetings has a free tier as well as 4 paid plans –

Each paid tier offers better features than the other in terms of increased cloud storage, ability to make transcripts, recordings, and schedule meetings.
Jitsi Meet
Jitsi Meet is an open-source free video conferencing aimed towards creating a fully-fledged video conferencing platform.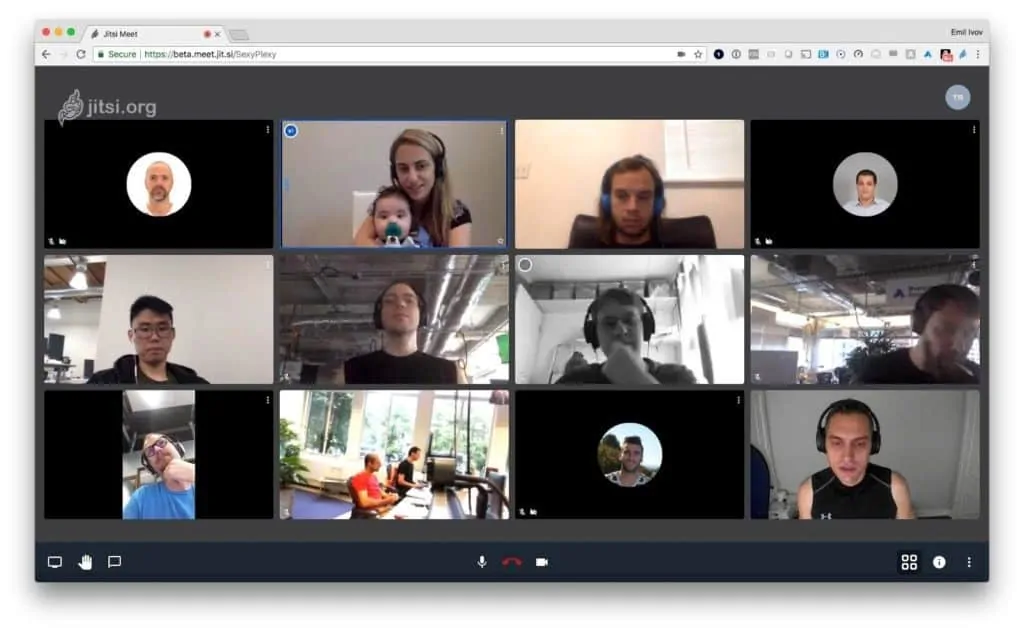 With a few clicks on Jitsi's website, Jisti Meet allows users to start a video call which can be attended by anyone with the link using just their web-browsers – no accounts required.

Jitsi Meet offers the following features to its users for free –
Up to 75 participants
Unlimited video call duration
Public or private chat
Blur background
Screen sharing
Recording calls (via Dropbox)
Lock the group video call & kick out its current participants
Live stream
Apart from this, Jitsi Meet integrates with Slack, Microsoft Calendar, Google services, and Office 365. Jitsi Meet is available for various platforms such as Windows, Linux, macOS, Linux, iOS, Android and as a web-based service. Jitsi also allows those savvy enough to set up and deploy it on their servers for finer customisation and privacy.
Microsoft Teams
Microsoft Teams (former: Skype for Business) is the enterprise version of Skype which is built with large teams and enterprises in mind.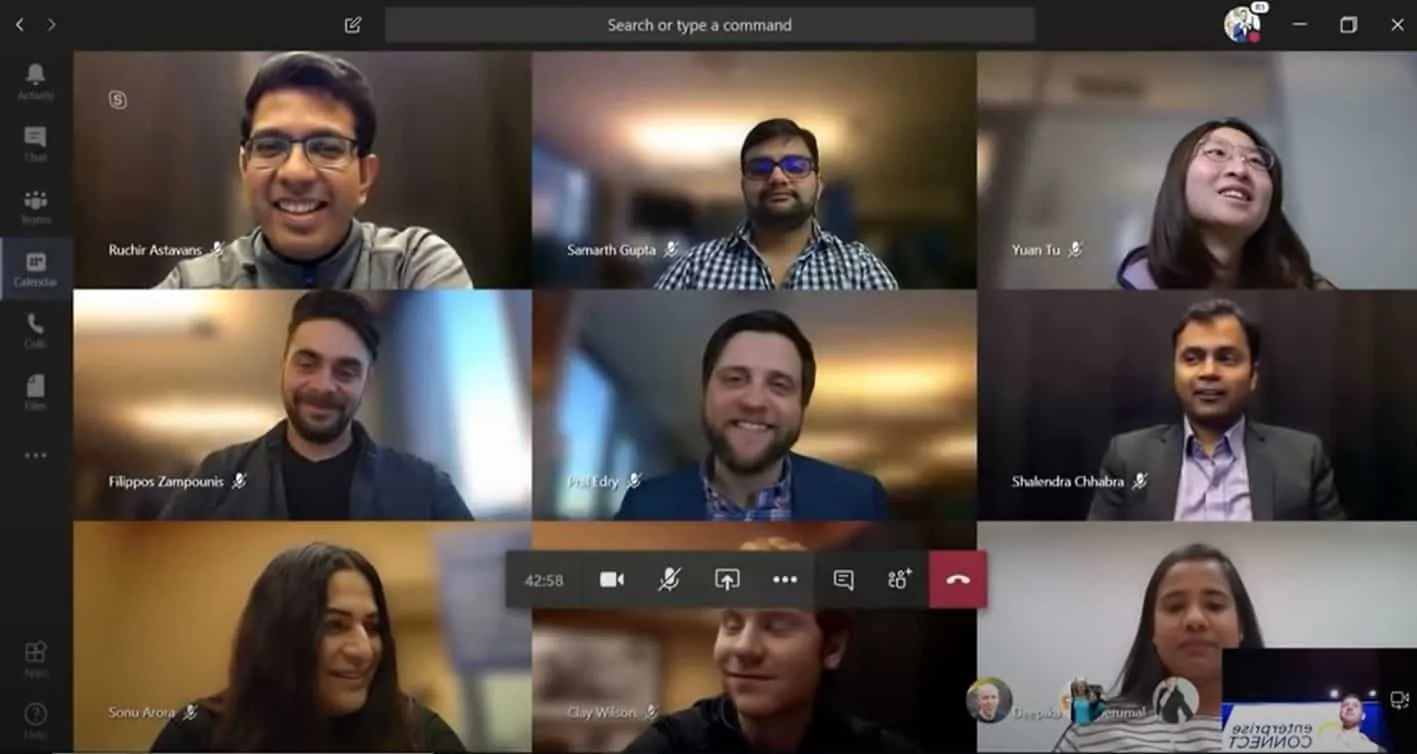 Microsoft Teams, just like Zoom and Google Meet, includes all the essential features for a full-fledged video conferencing experience –
Up to 250 participants per group video conference
Up to 10,000 participants for webinars
Screen sharing
Surveys & Polls
Whiteboards
Blur background
Live captions
Bots
Meeting notes
Apart from that, Microsoft Teams also offers instant chats, audio calls, and external services integrations with Microsoft's products as well as 180 custom apps. Microsoft Teams is available on Windows, macOS, iOS, Android and as a web-based service.
Though Microsoft Teams offers a free plan with limited features, the advanced features mentioned above are only available as a part of the Microsoft Office 365 bundles – Business Essentials ($5/month) or Business Premium ($12.50/month).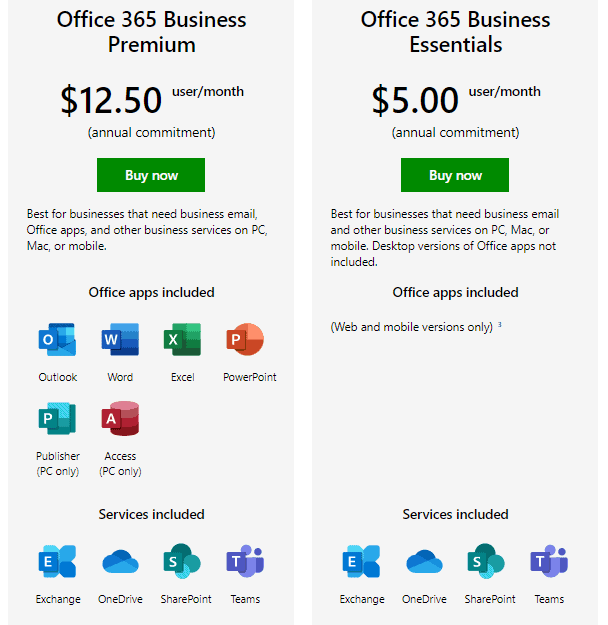 Google Hangouts
Google Hangouts is Google's take on building a single communication software for consumers to be able to easily video/voice call others.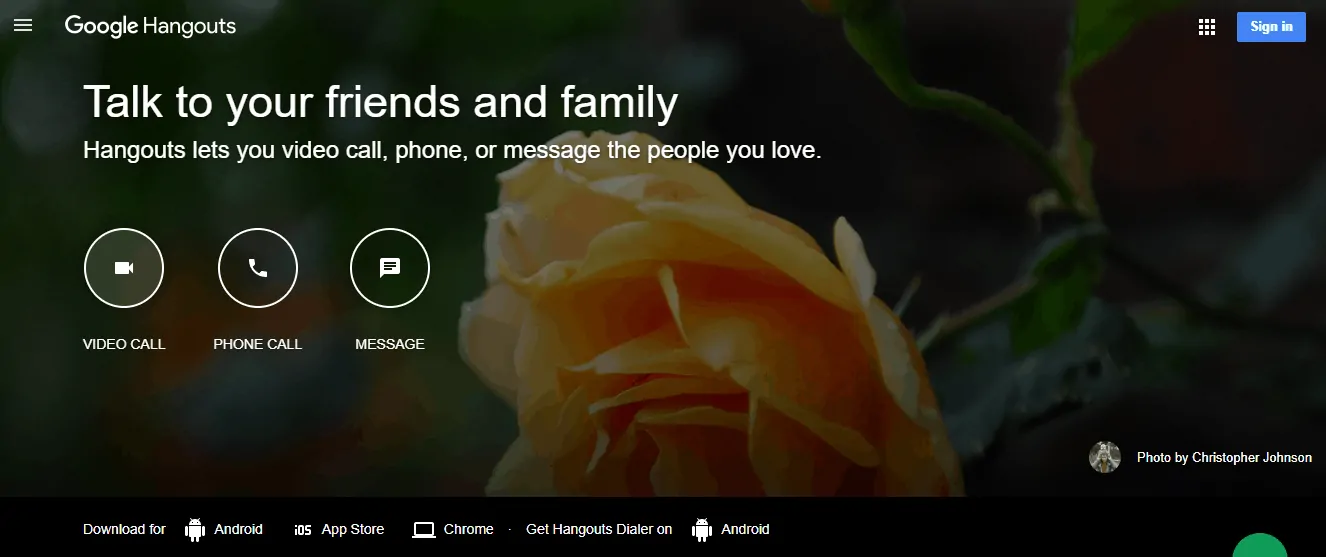 Google Hangouts is free-to-use and allows its users to –
Video Calls – Up to 10 participants
Chat with their contacts
Voice Calls – to other Hangouts users for free & to any phone number for a small fee
Being a Google product, anyone with a Gmail account can start using Hangouts from the following platforms – Windows, macOS, iPhone, Android and web-based. Google Hangouts integrates well with Google's services – it even provides you with a Hangouts link whenever you make a new Google Calendar appointment to easily jump to a call.
Skype
Skype is the consumer-based telecommunications software service owned by Microsoft. Skype was launched in 2003 and has a very clean and easy to use interface.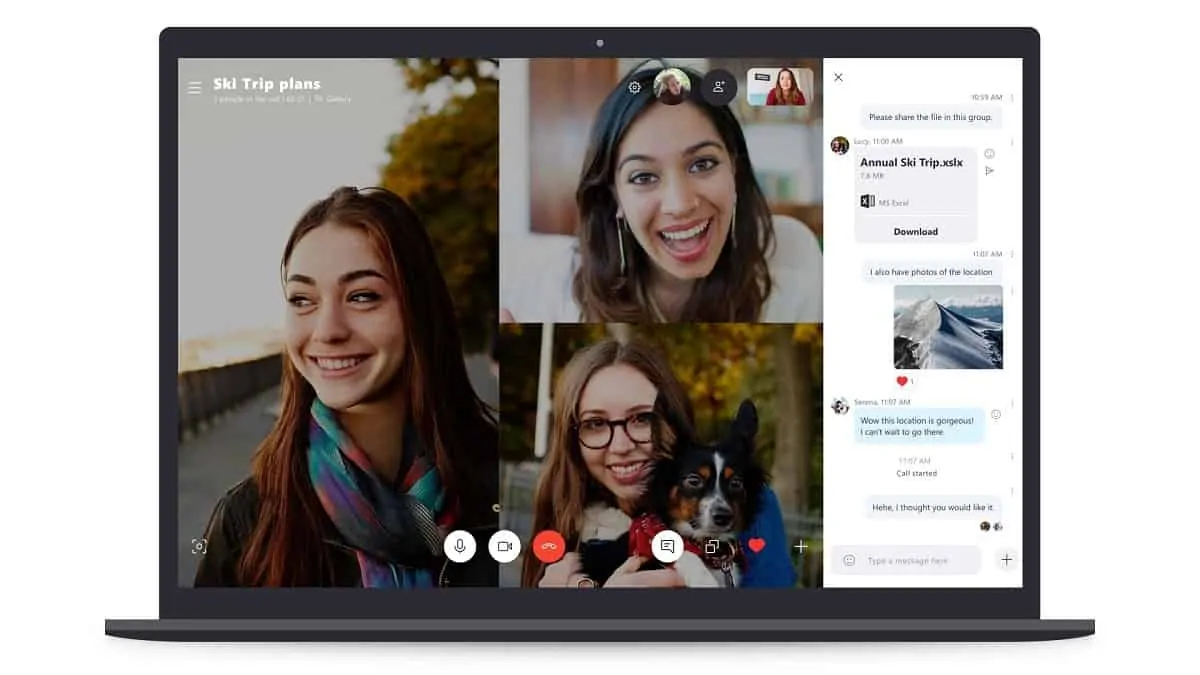 The main advantage of Skype ever Zoom is that many are aware of Skype compared to Zoom. Skype is free to use and offers the following features –
Up to 50 participants per group video call
Video call duration – 4 hours per call, with a maximum limit of 10 hours per day in total
Screen sharing
Record calls
Live captions
Meet Now

Source: Skype
Skype recently introduced the 'Meet Now' feature – similar to Zoom's Meeting ID feature – wherein, it allows the creation of Skype video meetings and for Skype and non-Skype users to participate in the video conference without logging in or downloading the Skype software. Instead, participants can just open the link using their browsers to join the video call.
Houseparty
Houseparty is a social networking service similar to WhatsApp & Discord, wherein it allows users to chat and group video call one another easily.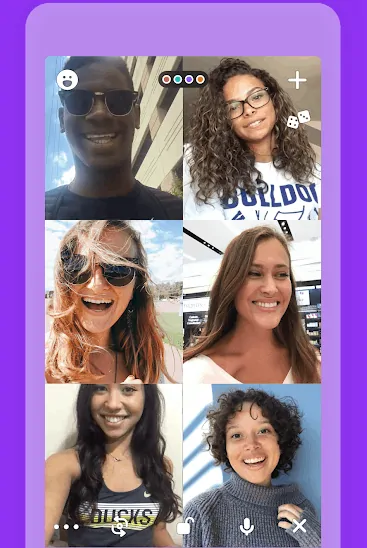 Houseparty is a free app – among the easiest to use from our list – and allows group video calls with up to 8 participants at once. As of writing, Houseparty has official apps for macOS, iOS, Android and a web-based service.
WhatsApp
The Facebook-owned chat app WhatsApp recently introduced 8-person video calls right from within the app, making it quite similar to Houseparty in terms of participant limit.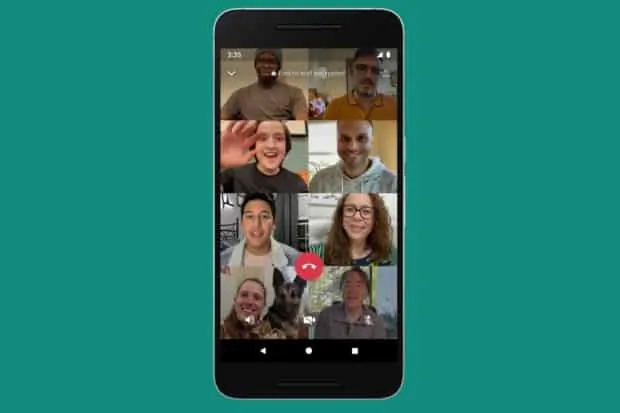 Previously it was limited to you and three other people. WhatsApp is free to use and is primarily built for smartphones – Android & iOS. However, WhatsApp is also available as a web-based interface that can be accessed via your web browser.
Though not as feature-rich as Zoom, WhatsApp is still largely more popular than Zoom. This means that you are more likely to find your contacts already using WhatsApp, making it easier for you to connect with them rather than forcing them to sign-up to a video conferencing service just to have a group video call.
Discord
Discord is a voice and instant messaging software that was primarily built with gamers in mind. It has got an intuitive and easy to use user interface.

Though Discord was primarily built for handling text and voice chats, it also does video calls very well, offering the following features all while remaining free of charge –
Up to 9 participants in a group video call
Screen sharing

Source: Discord
Discord is quite robust and best suited for personal calls in case all you need is a free and simple video calling software. It is available on Windows, macOS, Android, iOS, Linux, and as a standalone web-based service that runs on your web browser.
Go On, Tell Us What You Think!
Did we miss something? Come on! Tell us what you think about our article on Zoom Alternatives in the comments section.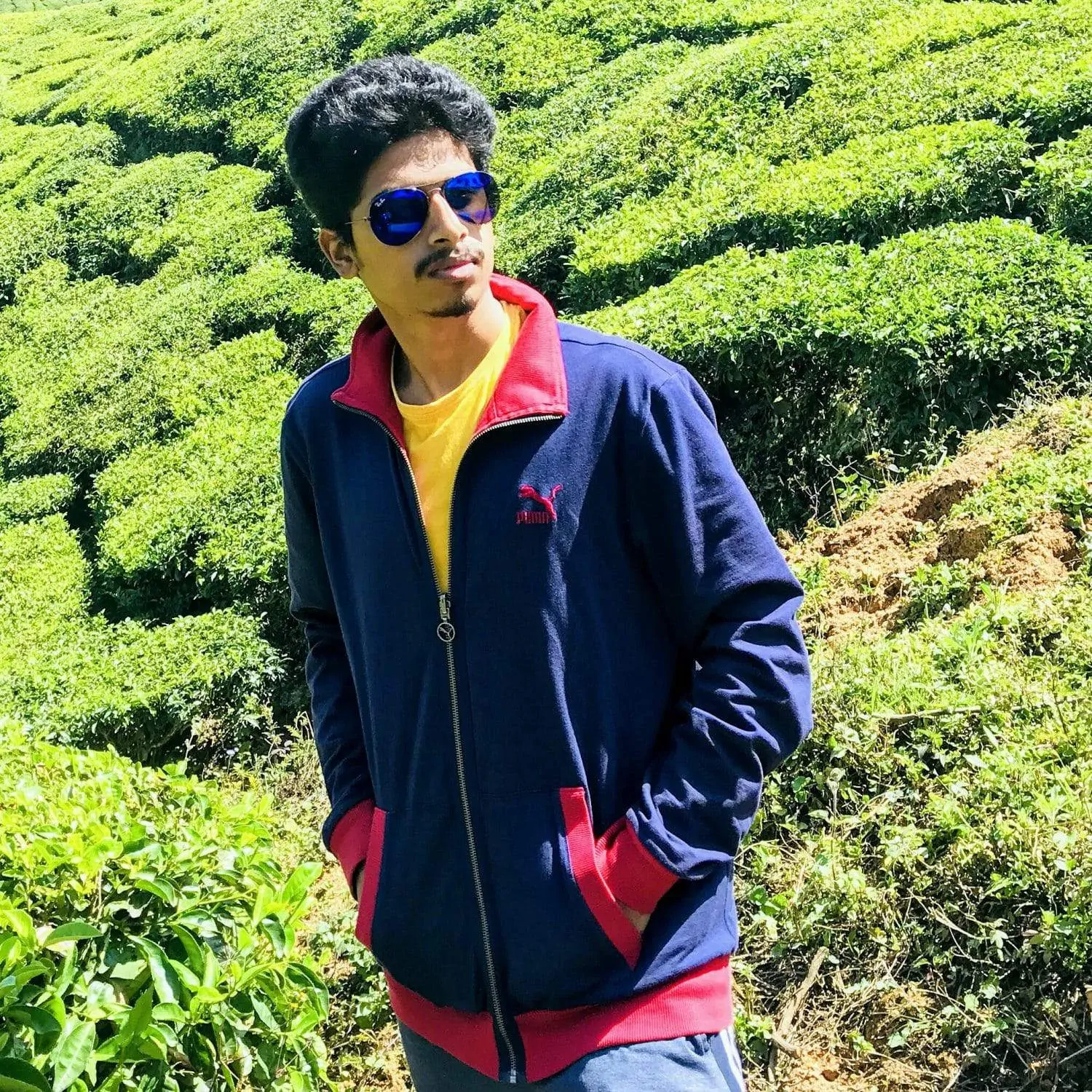 Started out to become a developer but felt at home in the home of startups. The journey started from a single novel. Been an entrepreneur since schooling days. Interested in coding, reading and movies.