While there are a lot of e-commerce sites for companies and mass manufacturers to sell on, there are only a countable few that cater to sellers looking to sell their unique and one of a kind – usually handmade – products online.
After 14 years in the online market, Etsy is one among the countable few that have made it big – becoming the go-to platform for artists all over the world.
What is Etsy?
Home to products like sculptures and handwritten recipes, Etsy is an e-commerce marketplace that focuses on selling unique handmade or vintage items and craft from individuals. While sites like Amazon and Alibaba have managed to fill in as the marketplace for mass-manufactured goods and resellers, Etsy found its niche by serving to the handmade and antique market.

Founded from an apartment in 2005, Etsy was created by Rob Kalin, Chris Maguire, and Haim Schoppik to serve as the place for crafts and handmade products. As of writing, 75% of the 60 million items that are listed on Etsy are handmade and therefore one of a kind.
Etsy Business Model
Etsy's business model is similar to its other e-commerce counterparts such as Amazon, where it provides an online platform for the buying and selling of goods – an online marketplace for unique and creative goods to be exact.
Where Etsy differs from the rest is in the fact that it has a vertical approach to its e-commerce business model – Etsy mainly focusses on selling craft items in very specific categories. In its own words – Etsy is home to a universe of special, extraordinary items, from unique handcrafted pieces to vintage treasures.
On the other hand, sites like Amazon have more of a horizontal approach where they sell almost everything.
How Does Etsy Work?
Since it's a marketplace that attracts sellers of speciality items to connect with interested buyers, it is clear that Etsy caters to two different customer segments – buyers and sellers. It is more of shared success – more sellers bring in more buyers which helps Etsy earn more.
Etsy's Key Partners
Sellers
Sellers are the artists and small industries that manufacture handmade or are the owners of antiques and vintages. Etsy caters to those wanting to tap into the online market to sell their crafts.
Buyers
Buyers are the ones looking to buy handmade, one-off, and unique products not just from physical shops but also online. They are also the ones interested in antique and vintage goods.
Etsy's Operating Model
Etsy works just like any other e-commerce site – by providing a neat and well-organized platform for sellers to list their wares and for buyers to easily find them.
Etsy works in a simple and straightforward manner:
Sellers sign up on the platform to list their items for sale.
Buyers browse for items and place orders on the ones they like – Etsy allows for transactions to be made from within the platform.
Buyers have the option to rate and review the purchased items. This makes the platform capitalize on social validation.
Now that we know how it works and its key partners, let's look at how Etsy makes money.
How Does Etsy Make Money? | Etsy Revenue Model
Etsy's revenue model is similar to that of Amazon marketplace. It makes money from the various different fees that it charges the users of its site.
Listing Charges
Sellers have to pay at least $0.20 to list their products on Etsy. While $0.20 might seem small, it adds up quickly when you consider the fact that thousands of products get listed on Etsy.
The listings are set to expire after four months. Pattern-only listings do not expire. If you list multiple quantities of the same item, the initial listing fee will be $0.20, and the listing will be automatically renewed at $0.20 after each of the items sells.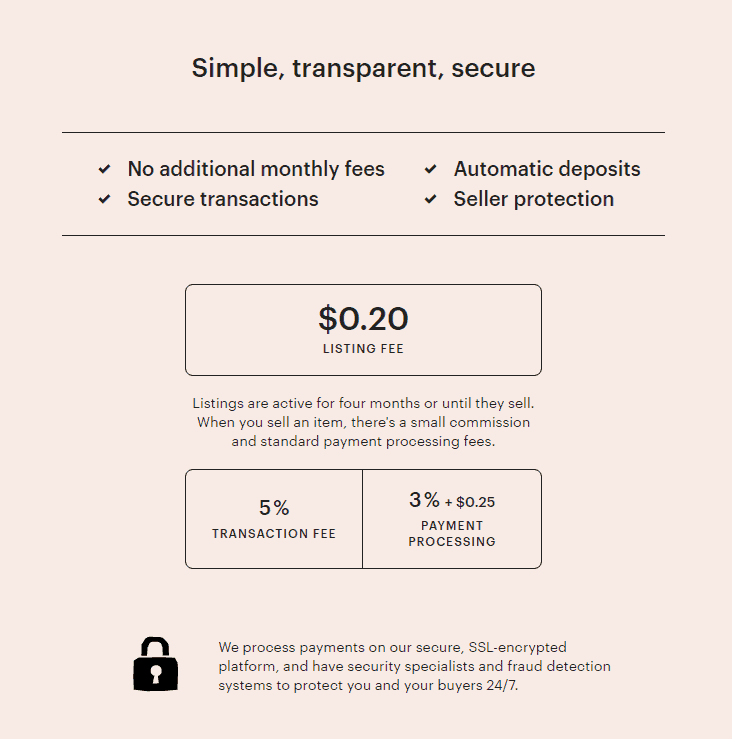 Sales Commissions
Apart from the listing fee, Etsy also charges sellers a commission for every sale – termed as the transaction fees. Etsy charges a transaction fee of 3.5% of the total amount for every sale. Etsy takes a cut out of the product price that you set.
Here are additional details as set by Etsy:

Advertisements
Etsy allows sellers to advertise their products and shop on its platform for a certain fee.
Etsy offers multiple methods of advertising:
Paid Advertising – Ads that are charged on a cost-per-click (CPC) basis that lists the seller's products.
Shopping Engine Ads – Etsy pays for the listing of the seller's products on other shopping platforms such as Google Shopping, Bing, and Facebook.
Among them, Paid Advertising is the one that nets Etsy quite a bit of revenue. The ads help in bringing more customers and hence more sales to the sellers.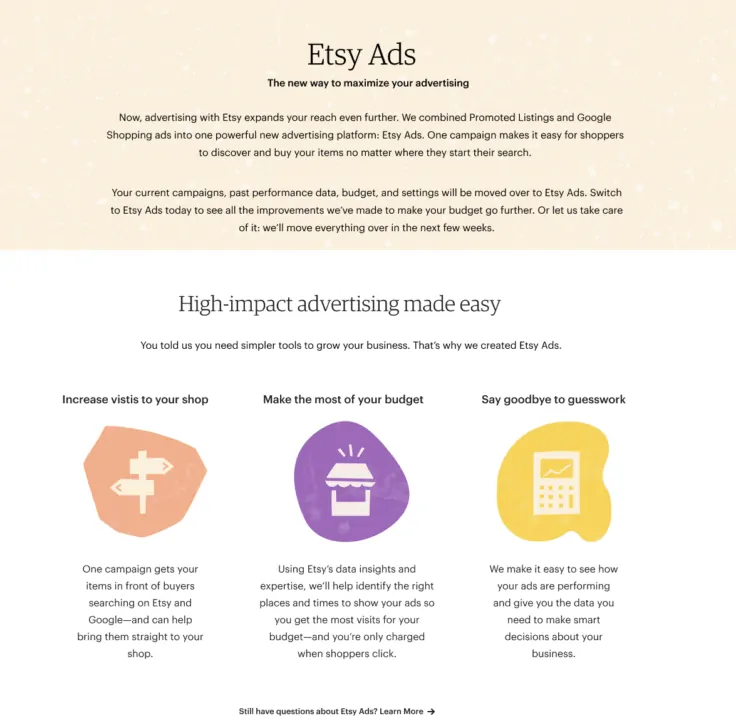 Subscriptions
Etsy provides sellers with a free suite of tools to help manage their store and products – denoted as Etsy Standard. Apart from that, it also offers Etsy Plus, a subscription service that provides extra tools on top of the ones provided for free to the sellers for a fee.
Etsy Plus subscription is priced at $10 per month and gives sellers the following features and perks:

"Pattern" Tool Fees
Etsy offers its users "Pattern" – a website-building tool that allows for Etsy users to create a personalized website to sell their products not just within but also beyond the Etsy marketplace.

While the Pattern shop is free for the first month (30-days), it costs $15 per month after the trial period ends. This helps many businesses grow and not be locked to the Etsy online marketplace alone.
Payment Processing
Etsy allows "eligible" sellers to be able to use Etsy Payments to facilitate the buyers to buy using various payment methods – credit cards, debit cards, gift cards, coupons, online wallets – from within the Etsy site.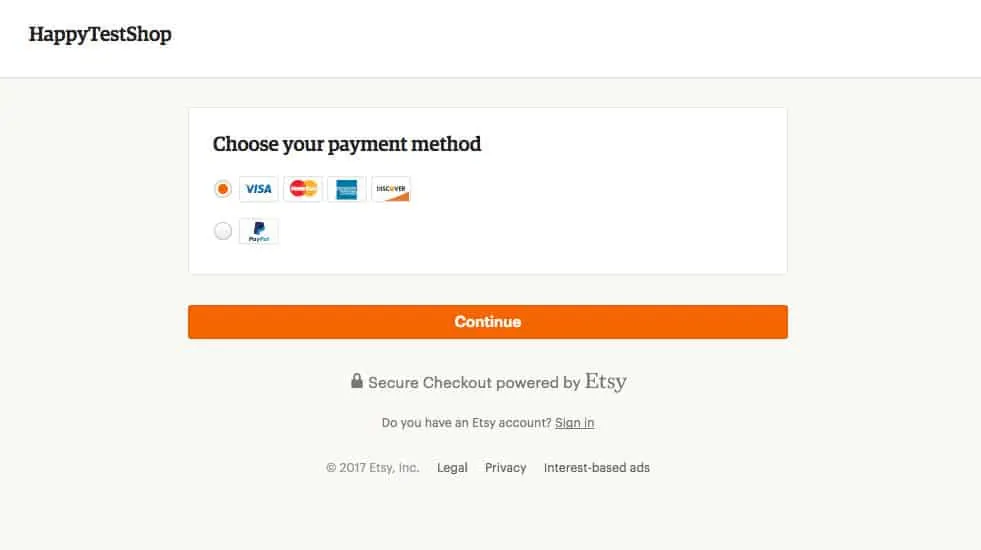 For all transactions happening through Etsy, it charges a fee for processing the transaction. Etsy fixes the fees according to the total amount of the sale and country it was conducted in. Each country has a different payment fee and the fees are deducted from the seller's payment account.
Currency Conversion
Etsy charges 2.5% of the total amount as a currency conversion fee while converting it to the seller's preferred currency.
Say the seller's payment account has USD as the preferred currency. When a buyer pays for the product in Euros, it gets converted to USD (according to the market rates at that moment) and added to the seller's payment account. Etsy takes a 2.5% cut out of the entire product amount as a conversion fee.
This is handled by Etsy's payment processing service and is further described in Etsy Payments Policy. Etsy recommends sellers to list the price of their items in the same currency as their payment account; currency so as to avoid incurring foreign exchange charges on them.
In-Person Selling
Etsy allows sellers on their platform to list their product son Etsy's site but process the payment in-person in case the online payment is not feasible or set-up. Etsy facilitates in-person receiving of payments using the Square reader – a credit-card reader – for $0.20 fee – same as the listing fees for every item sold.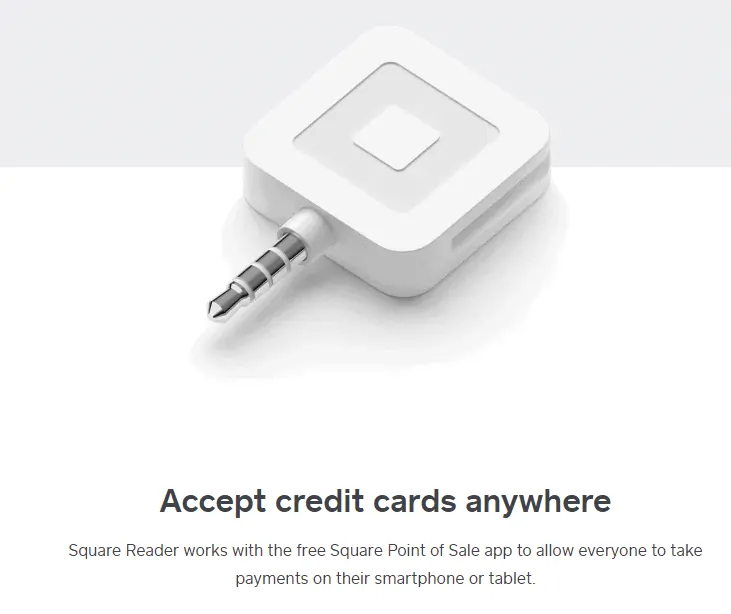 Etsy's Revenue & Net Worth
According to Fortune, Etsy had a market cap of $7.8 billion in mid-July of 2019, which puts them above established retailers such as Macy's and Gap.
According to Etsy's press release for Q3 2019, they have had over 2.5 million sellers on their platform and over 42 million buyers worldwide as of Q3 2019.

Etsy earned approximately $3.3 billion in gross merchandise sales alone till September 2019, up by 23.6% from the previous year's $2.7 billion. This represents
Etsy reported revenue of $548 million till September 2019, up by 35.9% from the previous year's $400 million.
When we compare other revenue fields, we see a similar trend where Etsy has increased by quite the margin.
Etsy's Marketplace revenue increased by 38.4% to $400 million from the previous year's $290 million and its Services revenue increased by 31% to $144 million from the previous year's $110 million.
All this gave Etsy a Net income of $64 million for the year 2019 – up by 78.3% compared to the previous year's $36 million.
This shows that Etsy has managed to grow steadily year-over-year after stagnating quite a bit in the last few years.
Why Etsy Worked?
Here are a few reasons that have helped Etsy reach where it currently stands. These might prove valuable and might help you along your startup journey as well.
Spot-On Search Results
Etsy provides focussed search results within their site to show exactly what you search for – instead of providing results with just matching search keywords.
But –
This was not always the case and was only worked upon recently.
Etsy previously used to have lousy search results. You see, unlike mass-manufactured products with the same defining features, it is quite difficult to organize custom-made and vintage products that are usually one-off and unique. But they've managed to do a great job and has proved to be a major factor in helping them grow in the numbers recently.
Search for "Personalised Gifts" and you get just that – one of a kind items that are made to order and personalized to your liking.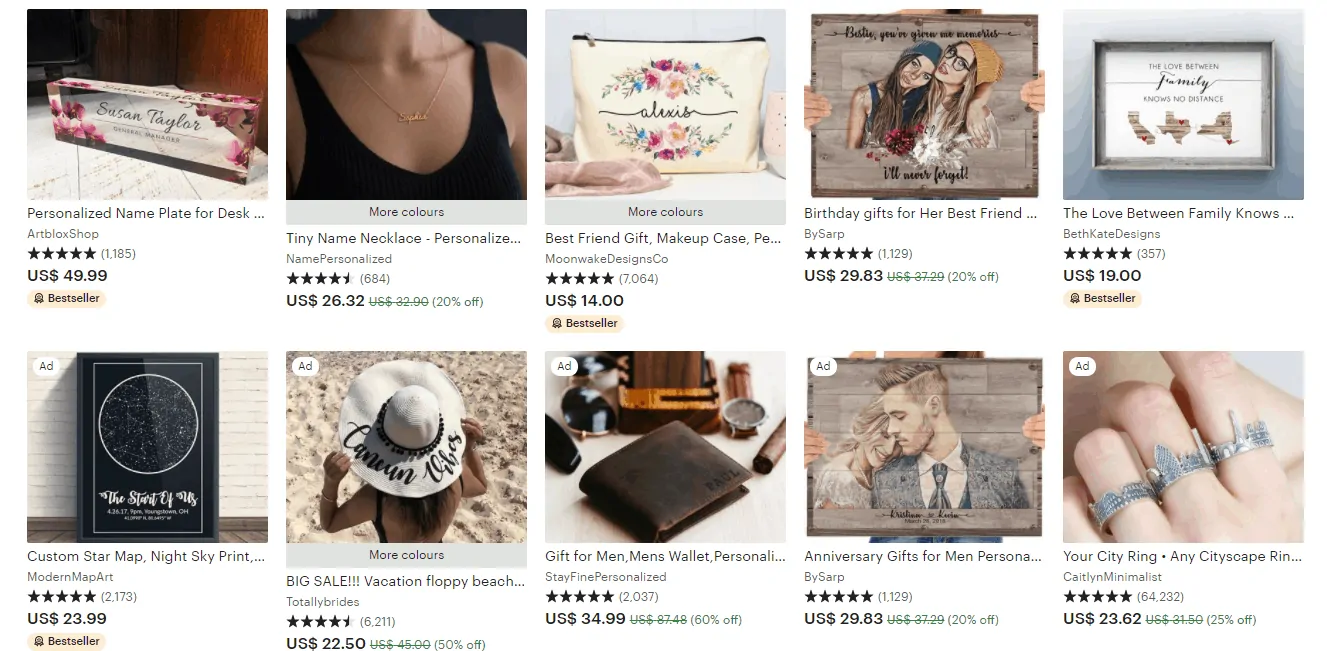 The same search on Amazon yields results of resellers – who may or may not offer to customize an already manufactured product as per your requests.

Niche Platform
Etsy has provided a platform for makers and buyers of handmade and unique products since they began. This gave them a dedicated userbase, who are loyal to date and have helped recommend Etsy to their like-minded friends.
Etsy got a lot of word of mouth recommendations which helped them grow to 450,000 listed sellers within two years of creating the site.
Supporting Their Sellers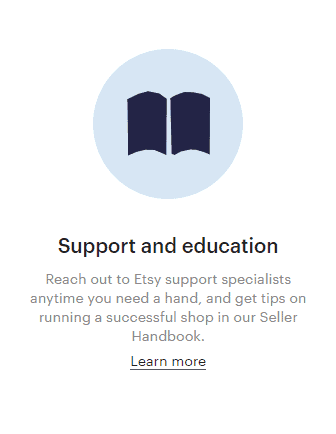 Etsy has always focussed on supporting their sellers in many ways as possible. This helped them grow even more as it led to more word of mouth publicity. Etsy offers support specialists to those in need of an extra hand and resources to learn on running a profitable shop.
APIs
APIs are the future. Take the US-based ride-sharing app Lyft: it is almost entirely built on APIs from other services. Put plainly, APIs provide others with the flexibility to use your services while you also earn a fee in return for the provided services by acting as a medium through which multiple applications communicate with each other.
Etsy provides users with its API that allows them to build and integrate their own Etsy-powered apps to their websites or PC and mobile devices. This flexibility bought many new users to their platform since it allowed for them to build their own website, shops, and apps quickly by letting Etsy take care of the platform and backend services.
Go On, Tell Us What You Think!
Did we miss something? Come on! Tell us what you think about our article on Etsy business model | How Etsy Works in the comments section.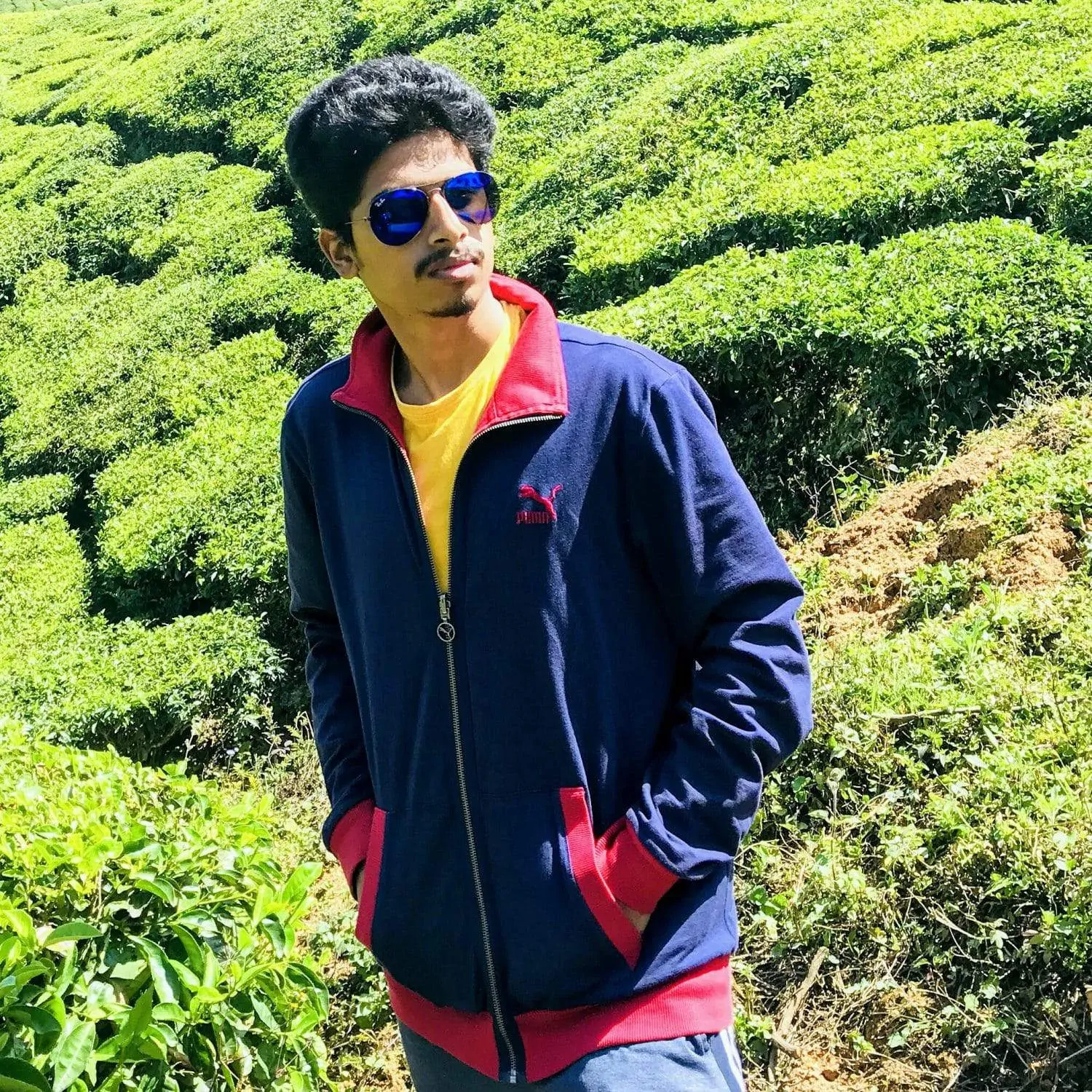 Started out to become a developer but felt at home in the home of startups. The journey started from a single novel. Been an entrepreneur since schooling days. Interested in coding, reading and movies.