Starting up is never an easy task. You have to deal with a never-ending to-do list, compete with the established players, and increase your visibility everywhere possible. Even though lean is the new in, this doesn't mean you should take shortcuts and ignore one of the most essential assets of your startup – the website; not especially when 70-80% of people research a company on the web before making a purchase decision.
If you think having a Facebook page is enough for your business, here's a fun fact for you –
Statistics show that people are spending 50 million fewer hours on Facebook than they did in 2017.
A website is always preferred over social media pages. It could be a one-page website talking about the products and services provided or can be a big eCommerce store, depending on the customers' needs, wants, desires, and the startup's financial strength.
If you're new to the digital world and know very little about how to create a website for your startup/business, you're at the right place. Here's a guide for you, the non-coder entrepreneur, to start your own website.
Building A Website Without Coding
If this were the year 2000, it would be hard to believe that you can create a website for your business without coding, but thanks to CMS (content management systems) like Wordpress, Shopify, Squarespace and Wix, you can create your own business website without coding for free or for an amount which doesn't empty your pockets. All you need to do is follow the following steps –
Choose A Website Building Platform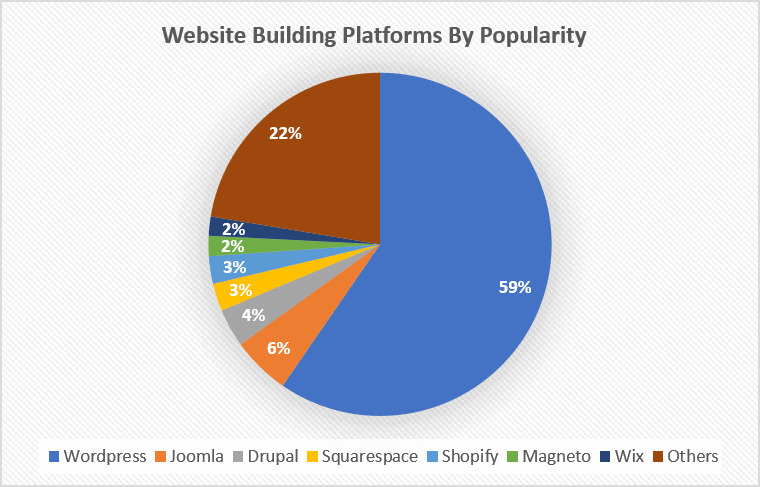 According to W3techs, WordPress is the most widely used website building platform in 2018. The major reasons for its popularity are that it's free to use and is highly customisable. However, there are other CMS (platforms which lets you create your website without coding) as well which we'll be talking about in this guide on how to create a website for your business.
First things first, you have to choose the apt website publishing platform based on your requirements. Here's what we suggest –
Choose Wix for building a good-looking website just to showcase what your business does.
Choose Shopify if you want to open an e-commerce store for your business.
Choose WordPress if you want to implement integrated digital marketing strategies like SEO, SEM, and SMM, and create marketing funnels to increase the conversion rate.
Building your Website with Wix
Wix is a perfect website publishing platform for those who want to stay miles away from coding and prefer the drag-and-drop approach. The platform provides you with almost all the important tools and features to help you look good to the customers and rank on Google.
Features provided by Wix are:
Wix Editor: The drag and drop website builder comes with 500 designer-made templates (for free).
Wix Aldi: Wix uses AI technology and automatically creates a website for you based on your answers to some questions.
Mobile-Friendly Website: To cater to visitors who visit your website on their mobile phones.
Custom Domains: You get a custom domain which matches your brand. Suppose you run a business called flowers For All, Wix lets you own a custom domain like flowersforall.com for your business.
Online Store: Even though not as good as the industry leader – Shopify, Wix does let you create an online store to sell your products and services online.
Wix is a perfect choice if you run a small business and want to include a website to get more brand exposure online and complement your social media pages. You can create a beautiful website in minutes with Wix. Just follow these steps –
Step 1: Choose The Type Of Website
This enables Wix to provide you with relevant templates, themes, and guides.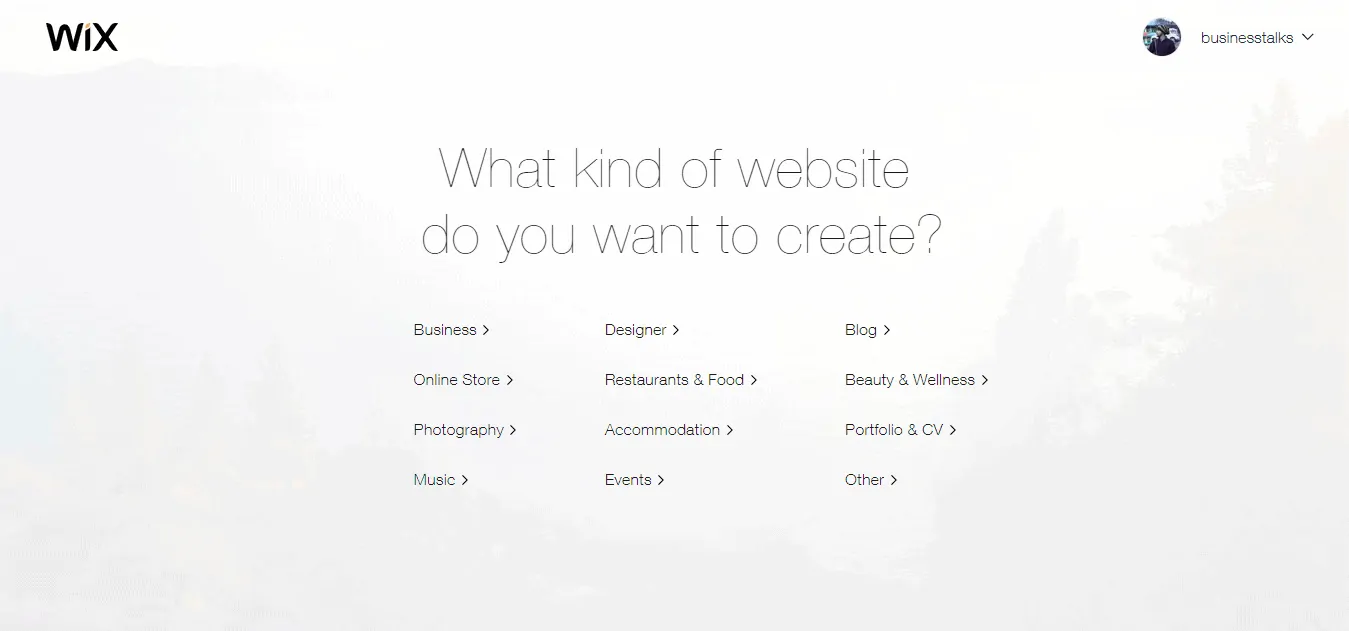 Step 2: Choose Between Wix Aldi & Wix Editor
Wix Aldi creates your website automatically based on few answers given by you while Wix Editor gives you full control of how your website will look as you design it yourself using the simple drag-and-drop editor with thousands of design features.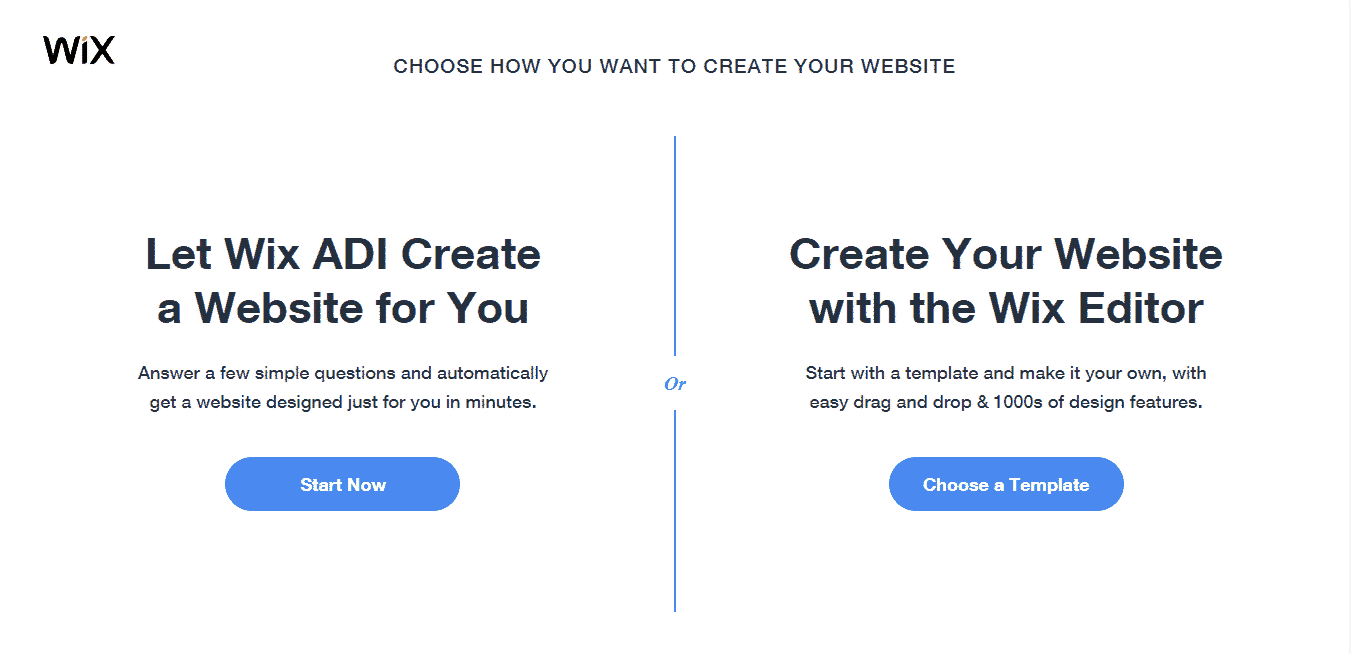 We prefer going with the Wix Editor as it gives you more freedom of creating your own website for your business.
Step 3: Choose The Template
You can choose from hundreds of customisable templates for your website. Don't just stick to the templates of your niche. Explore other niches as well, as those templates can be moulded for your niche easily.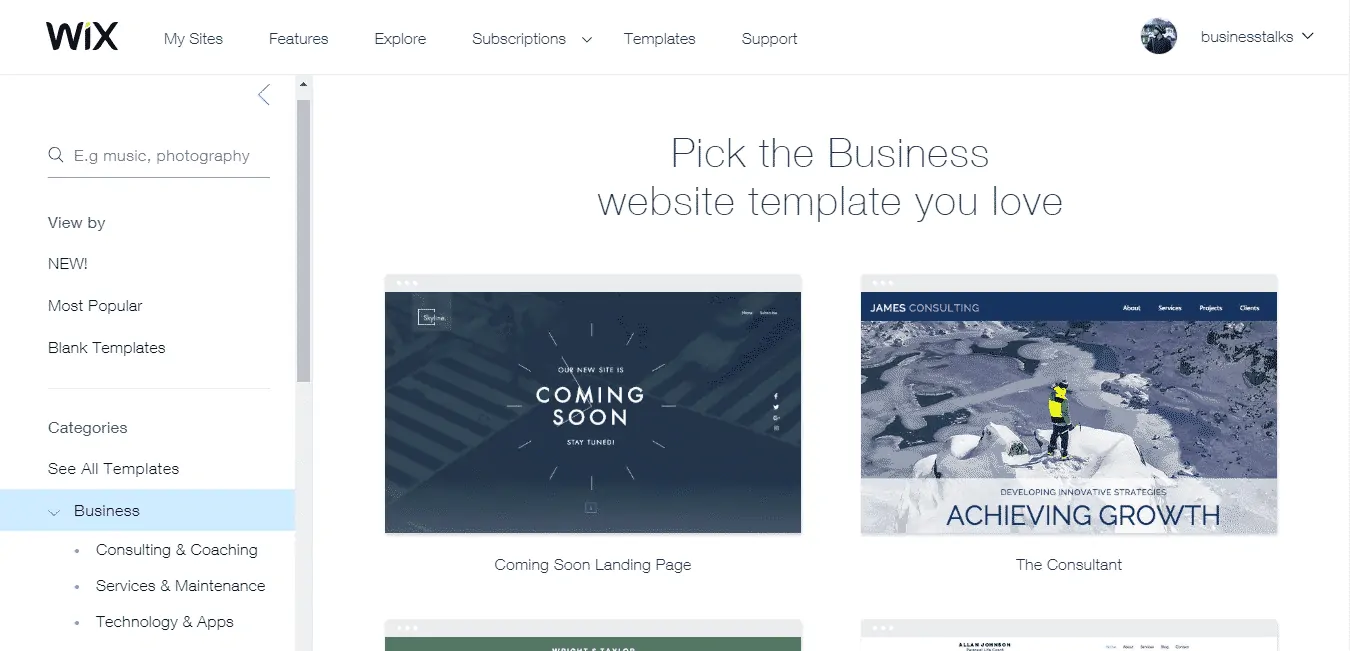 Step 4: Edit Your Website
Use the drag and drop editor to edit all your pages. You can even add chat functionality, store functionality, and even let your visitors log in to your website using simple drag-and-drop tools. Here's a video to explain more –
You can even add a blog to your website and update it daily. Visit Wix Support if you have any queries, they have an answer for almost every query related to the editor.
Step 5: Upgrading To Premium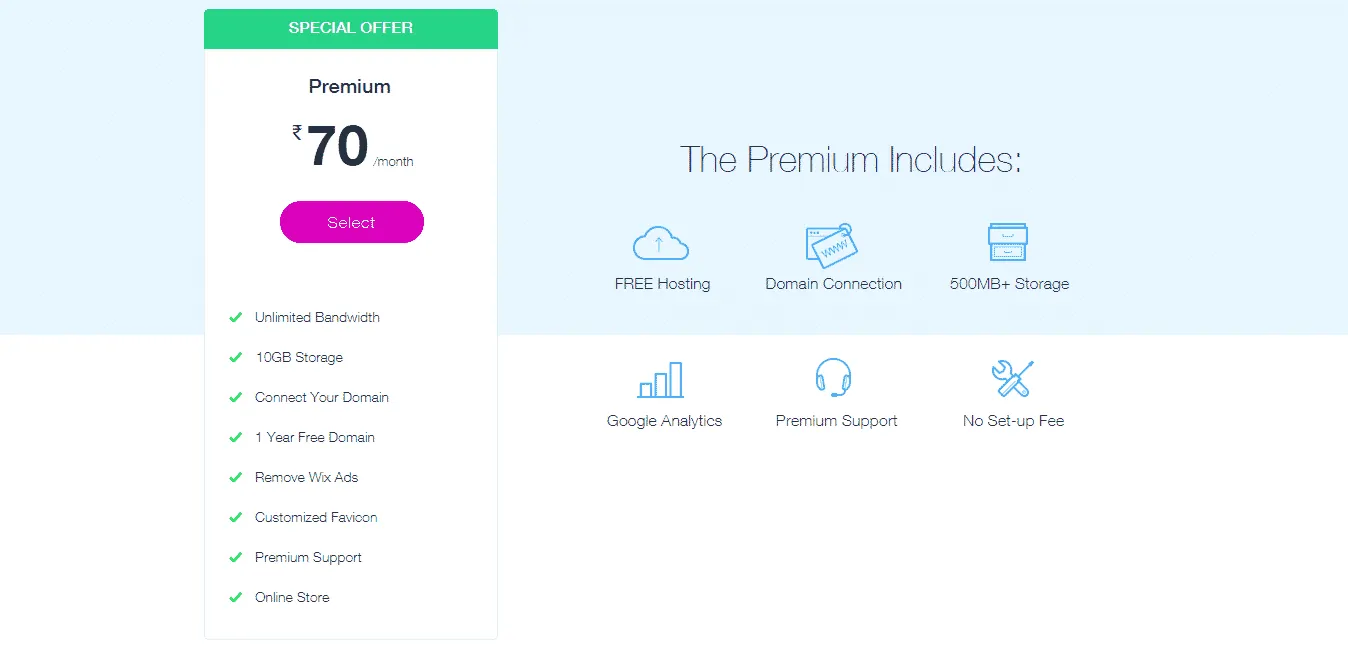 A free account on Wix doesn't get a custom domain for the website. You'll get a name similar to business.wix.com which doesn't look that professional. Moreover, if you're planning a fully professional looking website, you'd require hosting service, storage, bandwidth, and analytics integration to your website. All these come with the premium plan of Wix.
Wix premium plan has been priced differently for people residing in different countries.
Wix manages all the updates and maintenance work for you as it does not open its platform to external developers.
What's more? Wix lets you create your own logo for free as well.
Building Your Ecommerce Website With Shopify
If you plan to create a simple eCommerce store, look nowhere else than Shopify. Shopify is an eCommerce website publishing platform which provides you with thousands of professional themes, customisation options, and all the features like payment gateway integration, inventory tracking, gift cards, etc. which are required to run an eCommerce store.
Besides providing a platform to run an ecommerce store with unlimited products, bandwidth, and storage, Shopify also provides features like fraud analysis, manual order creation, discount codes, and staff accounts.
Here's a video to help you start your Shopify store in less than 2 hours –
Building Your Website With WordPress
Before we move on ahead, let us clear the fact that Wordpress.com and Wordpress.org are two different CMS and we'll not be talking about wordpress.com.
Wordpress.org, also known as self-hosted WordPress, rules the internet today. It is not only easy to use but also includes thousands of plugins and themes to create and customize your website according to the latest SEO trends.
Here are the steps you need to follow to create your website on WordPress
Buy Domain Name & Hosting Service
You will require a domain name and web hosting to set up your WordPress or any other type of website. A domain name will be your web address like YourCompanyName.com while web hosting is a service that connects your website to the internet. Without web hosting your website will not be visible on the internet.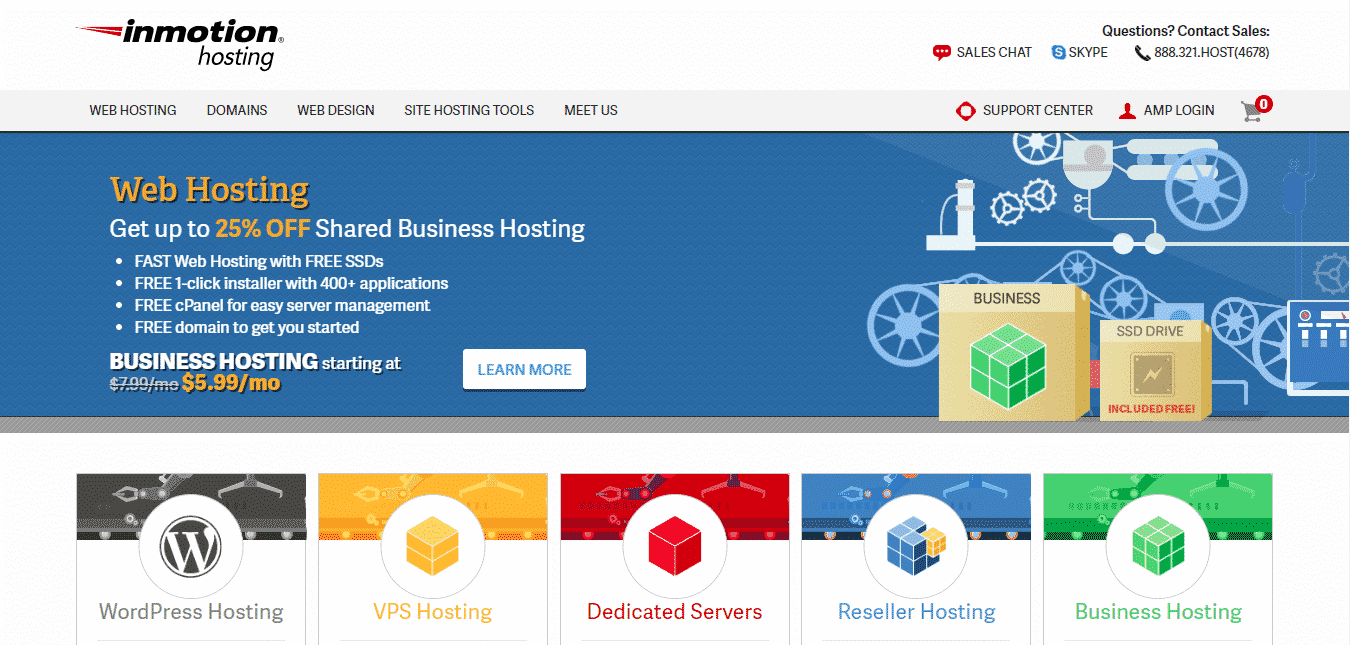 There are many website hosting service providers out there but we trust Inmotion Hosting the most as it's the service we use for Feedough. The WordPress hosting package (which comes with a free domain) on Inmotion starts at $4.99 per month and will be good for your startup website.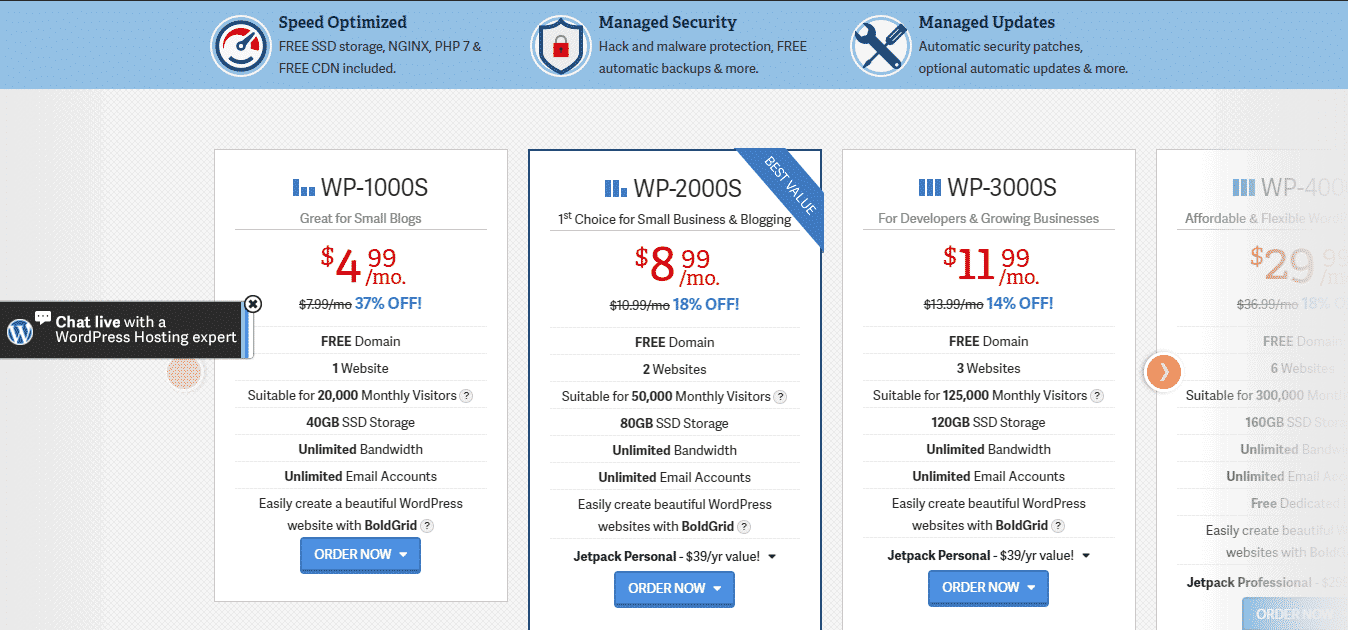 Once you've chosen your hosting, you get a chance to choose your free domain. Choose a simple not so long domain name and you're all set to install WordPress on your website.
Installing WordPress
Once you've purchased the hosting and domain, log in to your account management panel, click on Softaculous and select WordPress. Fill up the website details and you're all set.
Customize Your Startup Website
Once you have completed the installation process with all the required details and setups checked, you can move on to select a theme that makes your website unique.
A basic, clean site is what you will see after installation. But you do want your website to stand out among the millions, don't you?
That is why choosing a theme and customizing it is important. WordPress offers you 1500+ well-designed themes you can choose from.
Moreover, there are several WordPress page builders with full site editing capabilities that can help you develop a professional-looking website without touching a single line of code. We prefer Elementor for this as it is the most feature-rich and easy-to-use builder we usually use for our websites.
Here's a perfect guide to help you customize the appearance of your WordPress website.
Add eCommerce Features To Your WordPress Website
It's 2019 and there's a lot more that is needed to be done to increase the sales than just running an eCommerce store. This includes inbound marketing, marketing funnels, lead pages, push notifications, lead generations, email marketing, remarketing, etc.; all of which are possible with a WordPress website.
All you need to do is to add some free and premium plugins to convert your WordPress website into a professional eCommerce brand. Here's a perfect video to guide you how you can add eCommerce functionality to your WordPress website:
7 Pages You Should Include On Your Website
Even though every business website is (and should be) different and unique, your visitors have a set of expectations from your website. There are some information and answers they're always looking for. Here are 7 pages your website must have to leave an impression on your visitors.
Homepage
The homepage is the most essential page of your website. If you've created a website with WordPress, your homepage might be a list of posts published on a blog. Now, this isn't recommended when you run an ecommerce store or a brand which provides service.
Use this space to leave an impression on the visitor. Showcase your most prominent offering along with your value proposition on your homepage. Give them a reason to choose you right from the first page.
You can also include industry validation tactics like prominent clients, testimonials, and partnerships, but don't forget to add a call to action button on your homepage.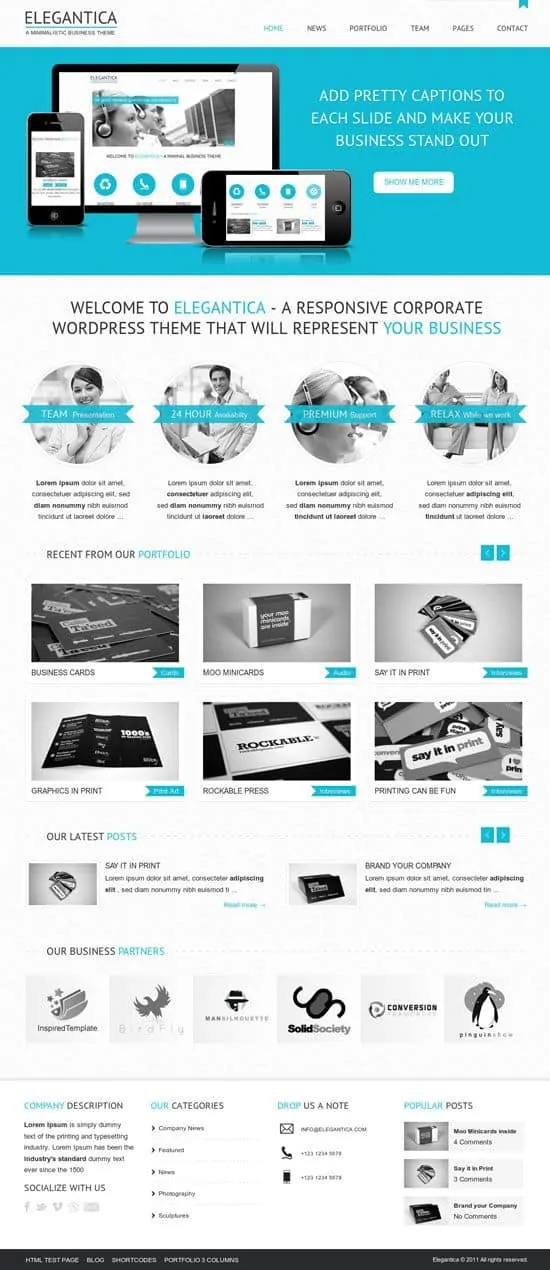 About Us
Your visitors want to know more about who are the people behind the people. It increases trust and builds equity among the customers.
Include a brief summary of who you are, what your company does, what's your mission, your company's history, your team history, and what separates the company from the rest of the competition.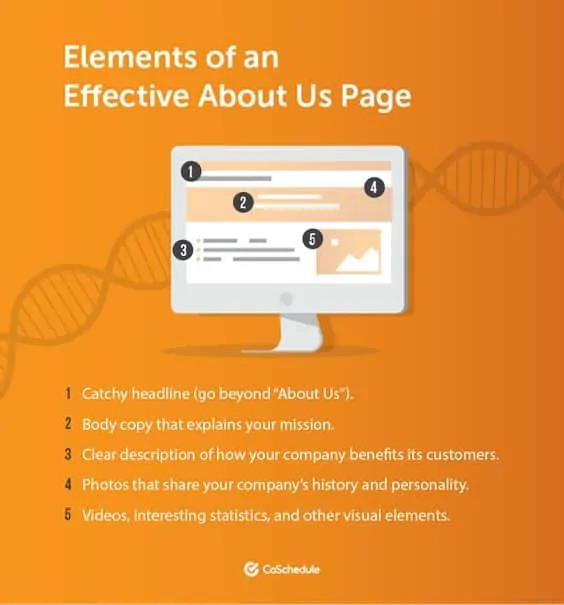 Offerings (Products & Services)
Offerings form the backbone of your website. Include the details about how it'll help the customer and how it stands out from the competition.
Start the page with the summary of your offering before the detailed description. Try to use as many bullet points and visuals as possible. If you're selling a product that's not your own, avoid copying the manufacturer's description and draft your own (but don't change the facts), this will help you in better SEO.
Divide the offering page into sections and make the call to action button prominent. Also, keep a section where your customers with verified purchases can rate and comment on their experience with your offering. Such social validation strategies increase sales.


Contact Us
Many times, potential customers have some questions which they want you to answer before making the purchase. Many times, they even have some relevant feedback. The contact us page bridges the communication gap between you and your website visitors. It also increases the trustworthiness of your website in the eyes of your customers.
Include your phone number, social media profile links, relevant email ids, and a contact form for your customers to get in touch with you. A good practice is to include your business hours so your customers know when are you going to reply.
Blog
The blog isn't a page. It is the listing consisting of all your blog posts.
Writing about relevant stuff in the industry and your company's progress adds to the website's utility. Having a blog helps you in executing content marketing strategies and increases the trust for your brand as your customers start to believe that you know much about your industry.
Draft a good blogging strategy and write about what your customers are searching for before buying the offerings of your niche.
Testimonials
The testimonials page is where your happy customers leave feedback about their good experience with your brand. This is a good social validation technique and helps in gaining the trust of prospective customers.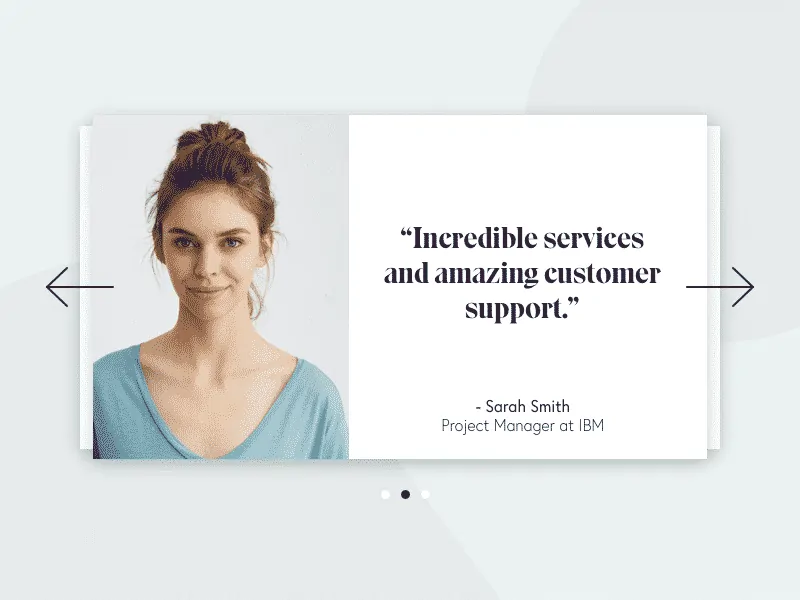 Legal
Legal pages are must for your website. It includes the privacy policy page and the terms and conditions page.
The privacy policy page tells the visitors what you'll do with the personal information they provide you with.
The terms and conditions page tells the visitors what terms and conditions he must agree to abide by in order to use your website and offerings.
Go On, Tell Us What You Think!
Did we miss something? Come on! Tell us what you think about our article on How To Create A Website For Your Startup in the comments section.
A startup consultant, digital marketer, traveller, and philomath. Aashish has worked with over 20 startups and successfully helped them ideate, raise money, and succeed. When not working, he can be found hiking, camping, and stargazing.