Founded in 2006 by Fabrice Grinda and Alec Oxenford, the online marketplace OLX has its roots in Argentina. The company today functions in over 40 countries, of which it has emerged out as a stronghold in countries like India, Pakistan, Brazil, Portugal, Poland, Ukraine, Nigeria, Philippines, and Kenya. The online classifieds website was funded by several firms such as Nexus Venture Partners, General Catalyst Partners, and Bessemer Venture Partners, to name a few. This was until a major part of the company was taken over by Naspers, a South African media group, who succeeded in procuring the then investors. OLX had a standing of $30 million before being purchased by Naspers.
Before moving on to answer your question about how does OLX make money, let us have a look at some of the important statistics of OLX:
It stands as the largest online classifieds website in countries like India, Portugal, Poland, and Brazil
OLX has achieved major success in India where it stands as the largest marketplace
The success of OLX forced Google to shut down Google Trader, its classifieds website
Argentina-based OLX is at par with social media sites like Snapchat, Instagram, and Facebook in obtaining more than 200 million monthly visits
The web page views of OLX are more than 8.5 billion and has procured more than 25 million listings
The number of OLX transactions are more than 8.5 million
OLX Business Model
Just like Craigslist, OLX runs on a simple classified listing model. However, the revenue model of OLX is much different from that of Craigslist. But, in order to understand how does OLX make money, let us first discuss how OLX works.
How OLX works?
OLX works like just another classifieds portal – it has a parallel system for customers running side by side. People who wish to sell any goods can upload their advertisements just like one is expected to do in a classifieds portal. People who wish to buy goods may browse through the listing.
Sellers need to upload pictures of their goods, along with a title and description of the same and the expected sales price of the commodity. The buyers are allowed to browse through the several alternatives, contact the seller, negotiate with them one-to-one and then purchase the item.
The surprising fact is that OLX doesn't act as a liaison between the buyer and the seller. It acts as a mere catalyst for connecting the two online through a classifieds portal. The conversation, bargaining, advances, and transactions remain between the buyer and seller only
Business Model of OLX
If we break up the OLX business model into parts, here's how it functions:
The Business Model of OLX is actually scale-dependent
The website acts as a classifieds portal where customers can buy and sell goods
OLX spends large amounts of money in order to garner more and more user traffic and greater frequency and number of listings
The high traffic is put to use to earn revenue by monetizing the number of clicks and searches
How does OLX make money?
Unlike other online marketplaces where website acts as an affiliate to sellers' products, OLX has a different ball-game altogether. The prime source of revenue for OLX is through advertisements, Google Custom Search Engine, Sponsored Links and Sponsored Listings.
Google Ads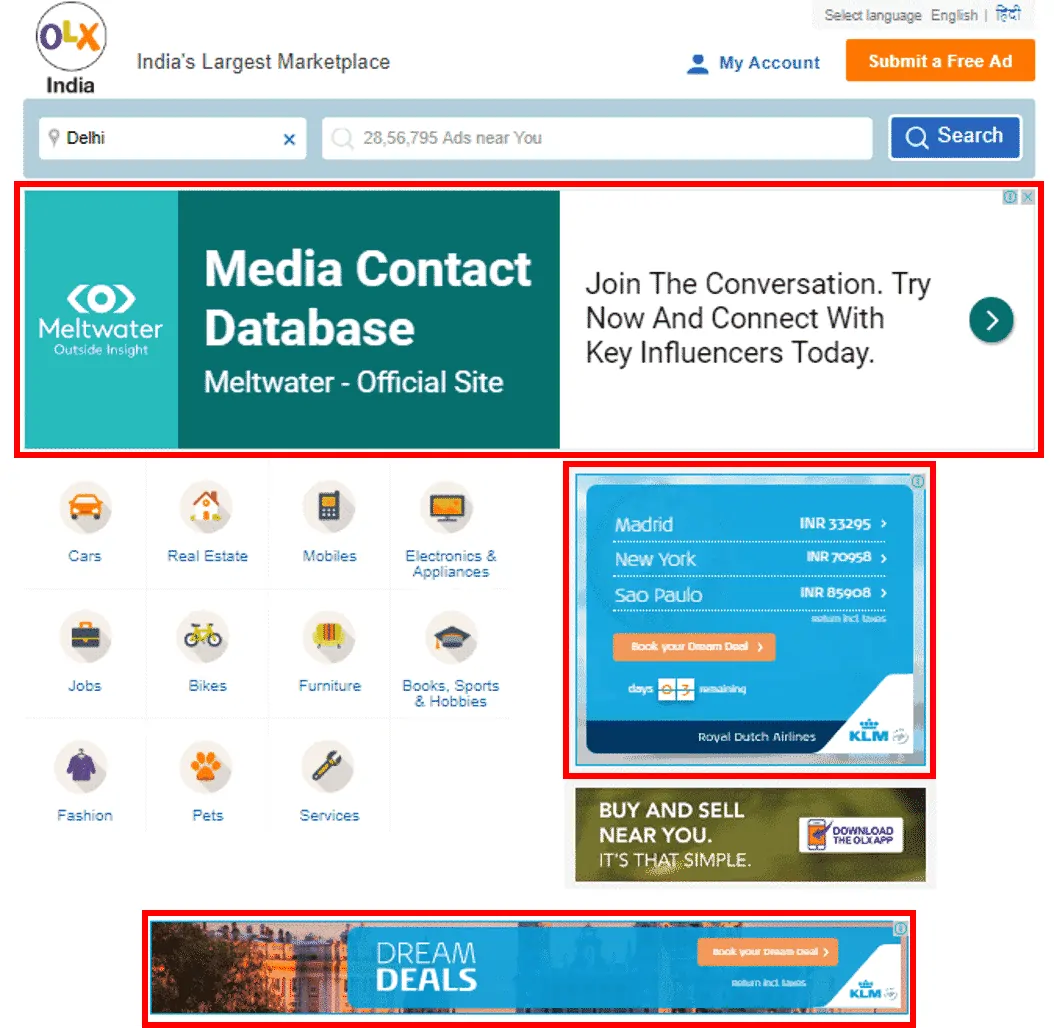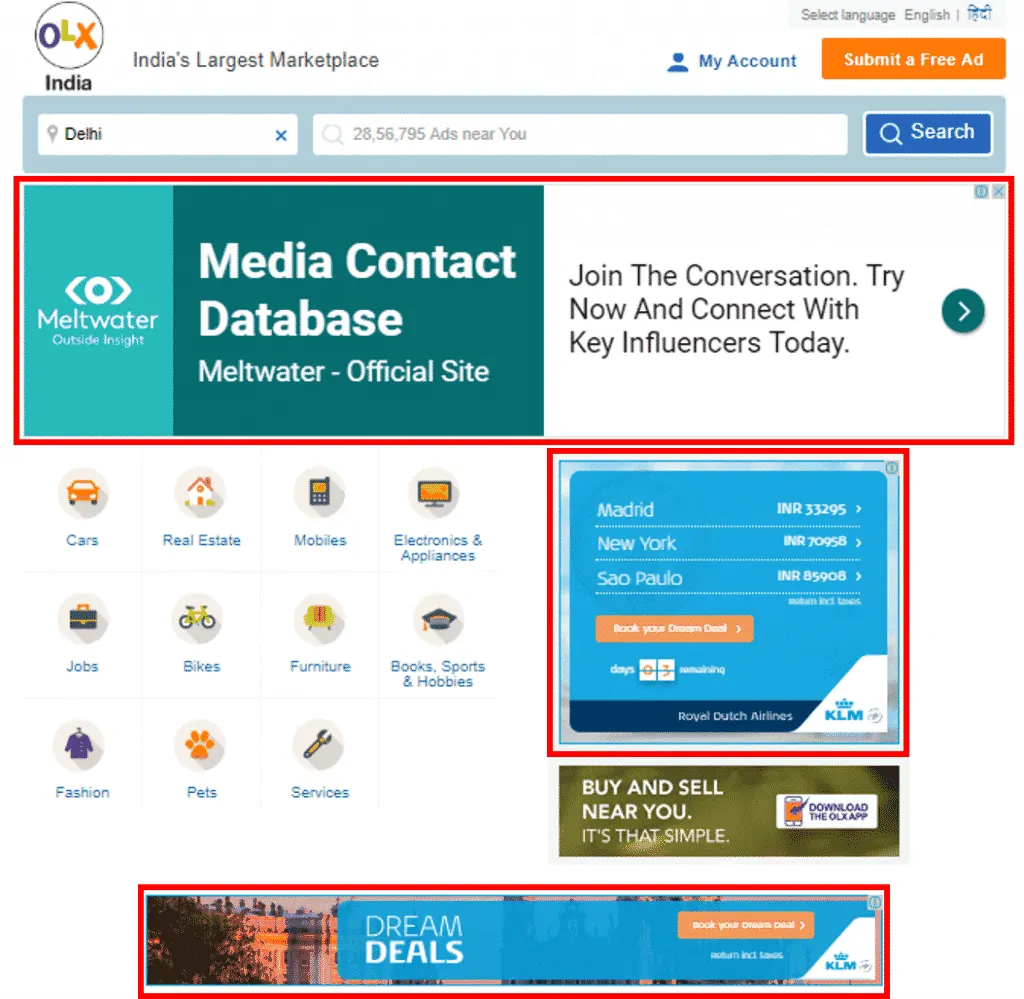 A major part of OLX's revenue comes from Google Ads Monetization. The company works with partners who in-turn works with Google and other ad partners to act as ad supplier and ad mediator for the website.
These Ads works in juxtaposition with the OLX website, and its contents are displayed on the webpage itself. The number of Ad units varies on different pages of the website.
OLX garners high user traffic through online and TV brand advertisements. OLX monetizes this high customer inflow. It does this on the basis of Cost per Click (CPC), Cost per 1000 Impressions (CPM) and Cost per View for video ads on its home page as well as that on individual product pages till the seller is finally contacted and transacted with.
Google Custom Search Engine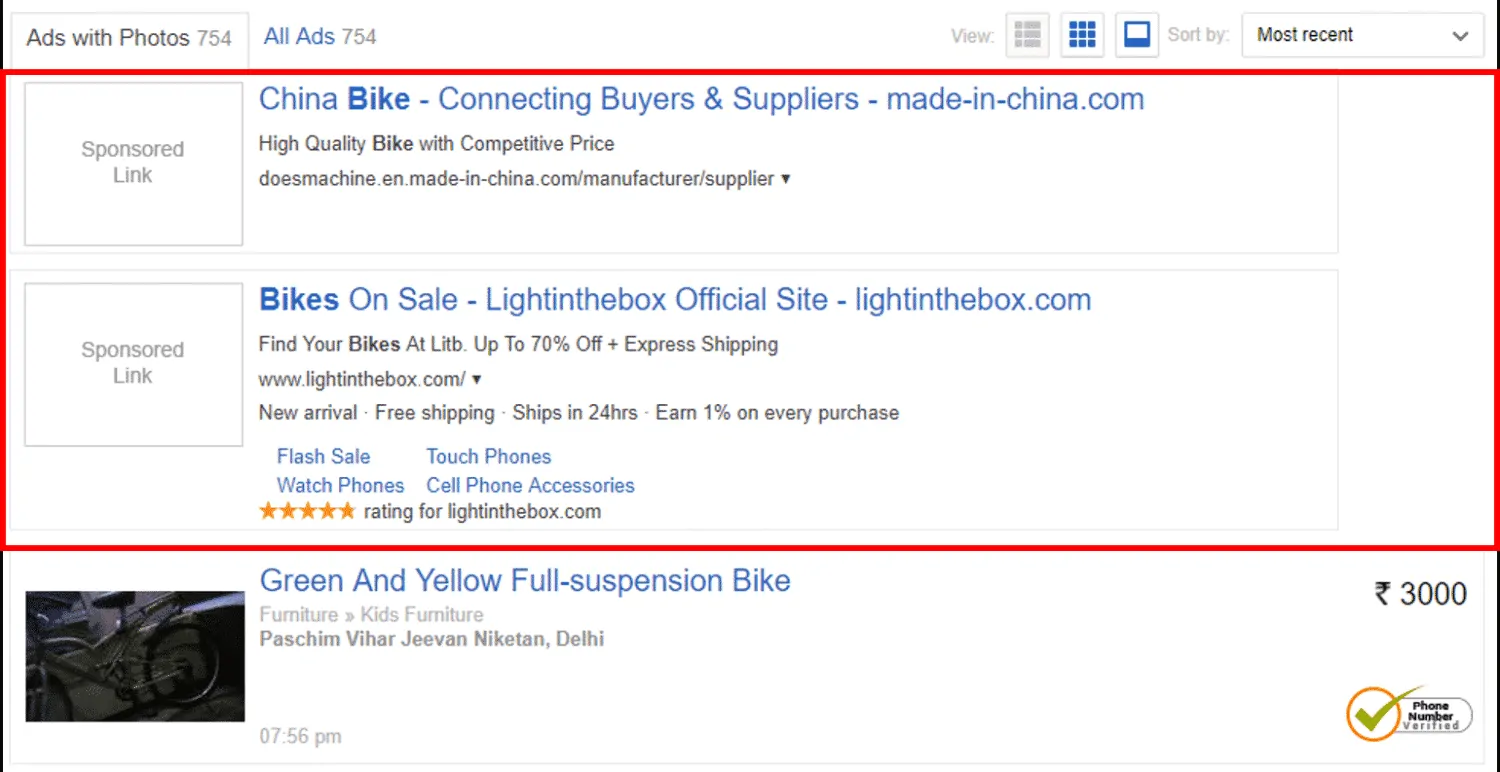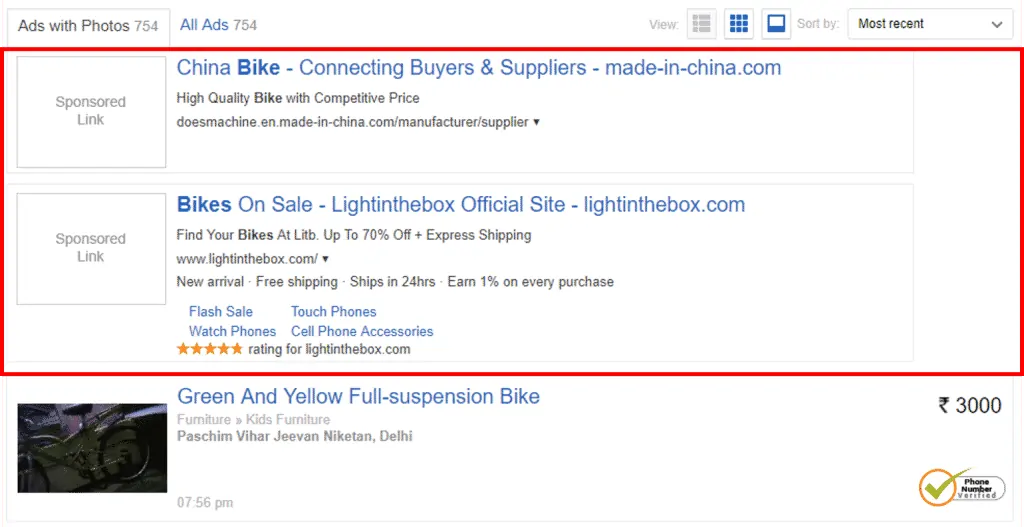 The OLX page has a search bar for customers to look up products. When they perform any search, the results obtained are optimized with the Google custom search engine monetization of advertisements (Adsense-like PPC advertisements), wherein the first two-three results are from Google.
Featured Listings

As explained above, if a seller, for example, has posted a classifieds listing of a refrigerator he wishes to sell. After some time, the product is bound to go further below more recent listings, and would now appear on the second or third page and so on. To make it still appear on the top, the seller can pay to OLX to 'feature' his listing on the top of the site. This featured listing is a source of profit to both the seller as well as OLX. He might earn more impressions too, which are also dual sources of income for OLX.
The Future Opportunities
The biggest power spread of OLX lies in India, Brazil, and Poland, though these three combined make up for just half its profits. The main strategy employed by Oxenford behind OLX is working on this online mega-mart in the less developed or developing countries, considering the vast ocean of opportunities here. He doesn't wish to contend with the stalwarts of the US or UK and earn any competitors on the way.
Go On, Tell Us What You Think!
Did we miss something? Come on! Tell us what you think about our article onOLX Business Model | How does OLX make money? in the comments section.
A startup consultant, digital marketer, traveller, and philomath. Aashish has worked with over 20 startups and successfully helped them ideate, raise money, and succeed. When not working, he can be found hiking, camping, and stargazing.