Since its inception in 2013, Telegram has gained massive popularity across the globe. The messenger app has been downloaded over 1 billion times worldwide, with India, Indonesia & Russia being the countries with the most installs. During the Russian invasion in 2022, Ukraine's President Volodymyr Zelensky relied on Telegram to address his nation. Even for terrorists, Telegram became their "app of choice"!
But how did Telegram become so big? Here's a brief history of Telegram explaining its ideation, popularity and relevance today.
Who Founded Telegram?
Pavel Durov and Nikolai Durov are the founders and owners of the messaging app Telegram. The two brothers founded Telegram in 2013 while still living in Russia.
Famously known as Russia's Mark Zuckerberg, Pavel Durov is known for his distinctive dress sense as he only wears the colour "black", like the character Neo in the matrix. He describes himself as a libertarian and is on a mission to provide the world with fast, secure, and anonymous communication. But the road to his techno-utopian dream hasn't always been easy.
A Little Backstory
It is the year 2006. Freshly out of St. Petersburg State University, Pavel Durov designs a social platform and names it VKontakte, also known as VK, which is Russian for "in-touch". Originally conceived as a platform for university students, VKontakte gains popularity among the general public and starts welcoming all users. Seeing this, Nikolai Durov, Pavel's older brother, joins the company as a chief technical officer. Together, the Durov brothers work to achieve a single goal, i.e. creating a version of Facebook for Russian cyberspace but only faster and better.
VK had all the features that a typical Facebook user was familiar with: a user profile, direct messaging, a wall for posting content and, most importantly, a display of the user's personal information. Pavel regarded the website as a non-anonymous extension to the university forum spbgu.ru (also created by him), available only via invitation from other users. As VK quickly became popular, the app scraped off the invitation requirement, and its user count started skyrocketing.
VK Gains Momentum
In less than a year, VK overturned its domestic rival Odnoklassniki, becoming the most popular social network in Russian cyberspace. Albert Popov, the founder of Odnoklassniki, believed that this sudden explosion in popularity was partly due to VK's willingness to tolerate explicit content and copyright violations. While Odnoklassniki focused on connecting middle-aged people with their former schoolmates, VK evolved as a one-stop-shop platform that catered to the young and hip. Users went to VK to connect with old friends, find new ones, search for work, or illegally download the latest pop album – it was YouTube, Facebook and Spotify all rolled into one.
Troubles Begin At VK
By the early 2010s, VK had gained over a hundred million users. Its wide reach caught the attention of the Russian government. In December 2011, a wave of protests swept the country, opposing the parliamentary election results. In an attempt to salvage the situation, the federal security service asked VK to shut down groups and pages using the site to coordinate and rally the protests. Pavel responded to their request by posting a picture of a dog in a hooded jacket sticking its tongue out.
Mail.ru Group, a Russian tech conglomerate and one of VK's principal backers, was meanwhile attempting to take full ownership of the company. In a now-famous response, Pavel posted a photo of himself and called Mail.ru Group a "trash holding company".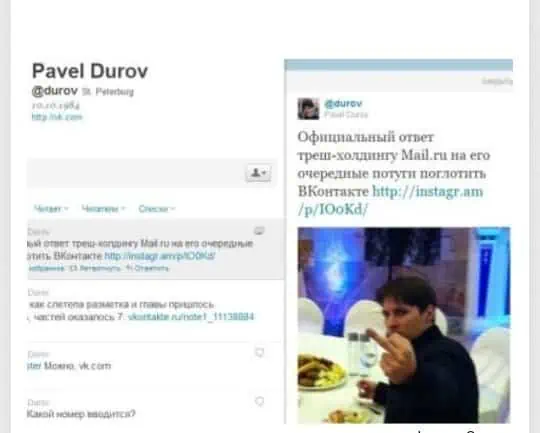 Durov was subjected to a media smear campaign and accused of misusing company funds. A video circulated In April 2013 showed Pavel behind the wheel of a white Mercedes, running over the foot of a police officer and absconding from the scene, even though Pavel claimed he wasn't driving it. Shortly after, law enforcement raids Pavel's home and VK's office. Days after the incident, United Capital Partners announced it had bought 48% of VK's equity. In January 2014, Pavel sold his remaining 12% share to Mail.ru, hung his hat as CEO and left Russia.
The Rise of Telegram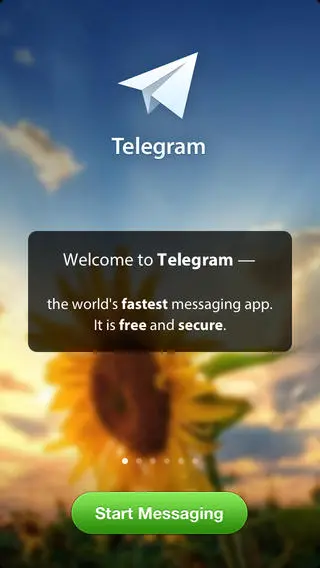 After leaving Russia, the Durov brothers obtained citizenship by donating $250,000 to the country's Sugar Industry Diversification Foundation.
In August 2013, Pavel pulled the rabbit out of the hat – enter Telegram, an encrypted chat service. It was launched for iOS on August 14 2013 and Android on October 20 2013. Pavel provided the fund and infrastructure for the project as he reportedly left Russia with reportedly 300$ million after Vkantakte's buyout. His brother, Nikolai, focused on coding and created the MTProto protocol that is the basis for the messenger.
Telegram started as an encrypted messaging system and was essentially founded so the Durov brothers could communicate between themselves without the Russian security services snooping on them.
Telegram was originally based out of a small Berlin office. Still, the staff uproots to a new location now and then, working out of a series of hotel rooms or accommodations rented mostly on AirBnb.com.
The servers of Telegram are spread across the globe, with five data centres situated in different parts of the world, while the operations centre is based in Dubai, United Arab Emirates.
Milestone Features by Telegram
Bots: In June of 2015, Telegram released the Bot API. It created a platform for users to create and publish their own bots. Bots exist to add features to Telegram and make users' lives easier – bots can handle payments, moderate groups, fetch emails and much more.
Channels: In September '15, Telegram introduced Channels, a tool for broadcasting to the masses. Channels can have unlimited followers, offer view counters for each post and only let the admins post.
Supergroups: As WhatsApp increased its user limit for groups to 1000, Telegram introduced the "Supergroups", which supported up to 5000 members. In September 2015, Telegram introduced channels for broadcasting messages to the masses. The supergroup's size increased from 1000 to 5000 members in 2016. Groups levelled up in June '17, increasing the maximum number of members to 10,000. In Jan '19, the maximum size of groups increased to 200,000 members.
Secret chats: In July 2017, Telegram introduced Secret Chats with end-to-end encryption and added a self-destruct timer for photos and videos to allow users to send disappearing media.
Passports: In July '18, Telegram launched Passport as a unified authorisation service for ICOs, financial services and other platforms based on real-life ID.
Video calls: With 400 million active users, Telegram added video calling with end-to-end encryption like Signal & WhatsApp.
Moving chat history from other apps: In Jan '21, Telegram allowed users to import old messages and media from other apps like WhatsApp, Line, and KakaoTalk.
Telegram: The App of Choice for ISIS
In September 2015, when asked about the use of Telegram by the Islamic State of Iraq and the Levant (ISIS), Pavel Durov stated:
"I think that privacy, ultimately, and our right for privacy is more important than our fear of bad things happening, like terrorism."
ISIS recommended Telegram to its supporters and members, and by October 2015, they managed to double the followers of their official channel to 9,000. In November 2015, Telegram announced that it had blocked 78 public channels used to spread ISIS propaganda.
Telegram further stated that it would block public channels and bots related to terrorism. Still, it would not honour "politically-motivated censorship" based on "local restrictions on freedom of speech" and that it allowed "peaceful expression of alternative opinions."
Telegram Premium
On June 21, 2022, Telegram launched an optional paid-for subscription called Telegram Premium that unlocks additional exclusive features while supporting the development of the Telegram app. It's a part of, as Telegram likes to call it, a sustainable funding initiative that's driven by users and not by shareholders or advertisers.
"Contributions from Premium subscribers will help improve and expand the app for decades to come, while Telegram remains free and independent, maintaining its values ​​of putting users first, redefining how a technology company should work.", the company stated in a blog post.
Telegram Vs WhatsApp: The Public Rivalry
At the beginning of Jan 2021, WhatsApp announced an update to its privacy policy while asking users to permit sharing their data with their parent company Facebook. This sparked a new wave of criticism and online trolling, especially on Twitter. Telegram didn't hesitate to participate and posted the following meme: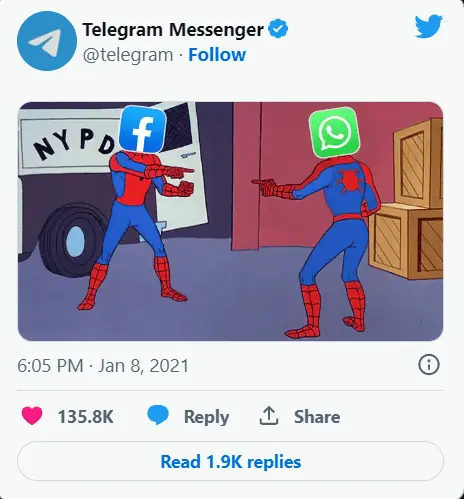 This criticism continued further with a blog written by Telegram's founder and CEO Pavel Durov on his Telegram channel. He wrote, "I hear Facebook has an entire department devoted to figuring out why Telegram is so popular. Imagine dozens of employees working on just that full-time. I am happy to save Facebook tens of millions of dollars and give away our secret for free: respect your users". Durov continued in the post, explaining the talk going on about WhatApp's new privacy policy.
On October 6, 2022, Pavel sent out a public message on his Telegram channel where he warned people to "stay away from WhatsApp". He ended the message by saying, "I'm not pushing people to switch to Telegram here. With 700M+ active users and 2M+ daily signups, Telegram doesn't need additional promotion. You can use any messaging app you like, but do stay away from WhatsApp – it has now been a surveillance tool for 13 years."
Telegram Key Statistics
Telegram annual users since 2014 to 2021:
| Date | Monthly Active Users (MAUs) |
| --- | --- |
| March 2014 | 35 million |
| December 2014 | 50 million |
| September 2015 | 60 million |
| February 2016 | 100 million |
| December 2017 | 180 million |
| March 2018 | 200 million |
| October 2019 | 300 million |
| April 2020 | 400 million |
| January 2021 | 500 million |
| July 2021 | 550 million |
Go On, Tell Us What You Think!
Did we miss something? Come on! Tell us what you think about our article on the history of Telegram in the comments section.
An ardent reader, full-time writer and a lover of all things purple. Riya is an entrepreneurial spirit, making her way in the start-up industry through her expressive writing. When not working, you can find her jamming to music, watching period films, eating sushi, or petting cats.