For many around the world, WhatsApp was their first-ever free and easy instant messaging service.
This is not to say that WhatsApp is unrivalled.
There have been many attempts – successful ones – at replicating instant messaging with various features and services. The closest one has ever got is Telegram.
What Is WhatsApp?
WhatsApp needs no introduction, but did you know, WhatsApp started out as an idea during movie night? Fresh out of Yahoo!, WhatsApp's founders Jan Koum and Brian Acton, were looking at ways to send notifications to their friends. This soon evolved into an instant messaging app that ran entirely over the internet instead of using service providers – as was previously the norm.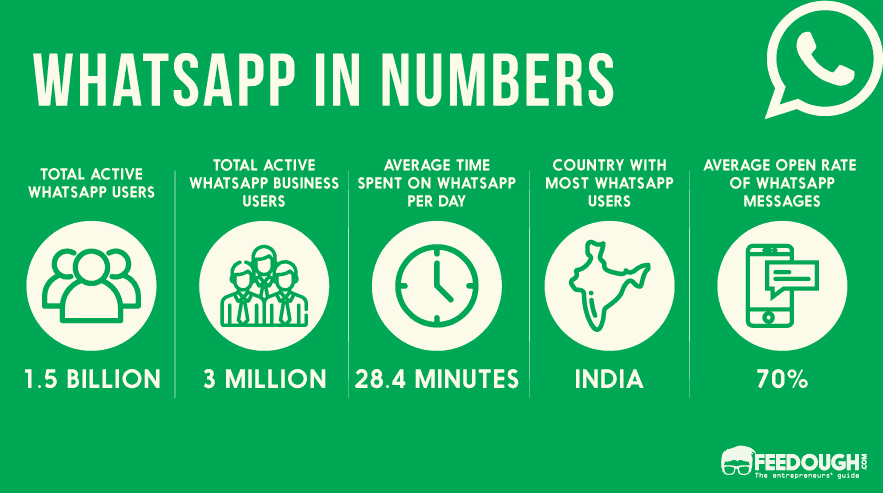 Launched as an app on Android and iOS in 2009, WhatsApp grew immensely by the end of the year and the rest is history. It was eventually bought by Facebook in February 2014 for $19 billion. But both, Koum and Acton left soon after the acquisition. The founders didn't like Facebook's idea of changing the business model of WhatsApp.
Currently, WhatsApp has over 1.4 billion monthly active users on an average and has become the de-facto instant messaging app for the masses.
What Is Telegram?
Telegram is an instant messaging service that was founded in 2013, 4 years after WhatsApp was released. Launched by brothers Nikolai and Pavel Durov, on glance, the resemblance between Telegram and WhatsApp is quite striking.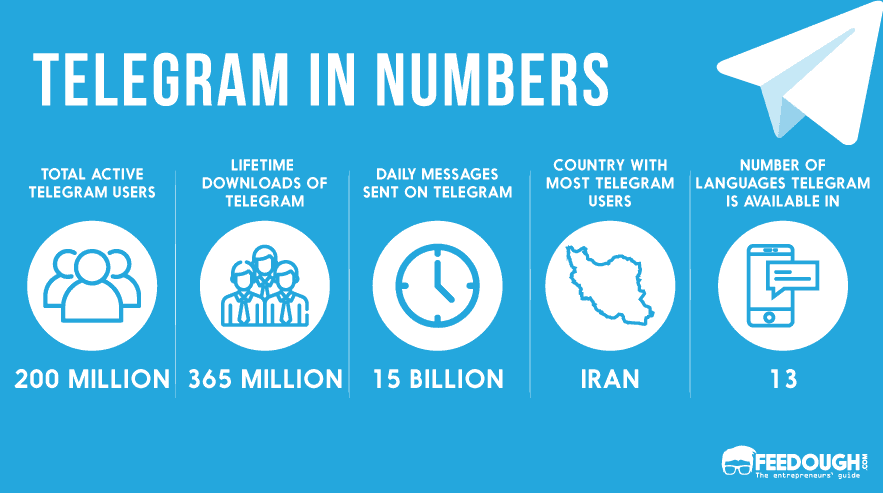 But where it lacks in originality, Telegram makes up for it by providing more features – features that are becoming more relevant as the days pass. Moreover, Telegram's business model is much different from WhatsApp's when we talk about the revenue-making aspect.
WhatsApp vs. Telegram
Platforms
| WhatsApp | Telegram |
| --- | --- |
| Mobile – Android, iOS, KaiOS | Mobile – Android, iOS, Windows Phone |
| Web app clients that work only in the presence of a connected mobile app client | PC – Windows NT, macOS and Linux |
WhatsApp
WhatsApp is primarily available as a mobile app on devices running Android, iOS and KaiOS. It also supports logging into WhatsApp through any browser as long as you authenticate it via WhatsApp's mobile app.
Telegram
Telegram is available on a variety of platforms, with client apps for – Android, iOS, Windows Phone, Windows NT, macOS, and Linux. This is possible because Telegram stores all the data on the cloud. This allows for easier cross-platform usage since there is no migration of data when logging on another device.
Bots
| WhatsApp | Telegram |
| --- | --- |
| WhatsApp has announced the support for bots in their app with the introduction of Business API. | Telegram has had support for chat-bots since 2015 and also allows for third-party developers to develop their own bots. |
WhatsApp
WhatsApp has always held a negative stance towards bots. But WhatsApp only in 2018 launched its Business API for businesses to create and use chatbots to interact and engage their customers. Do note that this feature is not open for all to develop or deploy but for only those with business profiles.
Telegram
As Telegram itself put it,
"Bots are software that has AI features and can do anything."
Well, they are not far off. Telegram bots were launched in 2015 and are similar to any other chat-bots that are present in various other messaging services. With bots, you get to do things like:
Get customized notifications and news on topics you like.
Integrate with other services such as IFTTT and such.
Accept payments from Telegram
Play single and multiplayer games.
Conduct polls.
Search for anything
All this and more right from inside the Telegram App itself.
File Sharing
| WhatsApp | Telegram |
| --- | --- |
| WhatsApp allows users to share any file format up to 100 MB in size. | Telegram allows users to share any file format up to 1.5 GB in size. |
WhatsApp
WhatsApp previously supported sharing of documents, photos, and videos of common file formats alone, with the maximum size for them being 16 MB. This is quite an issue when trying to share videos.
WhatsApp finally updated its app in 2017, allowing users to share any file-format up to 100 MB in size.
Telegram
Telegram allows sharing of files up to 1.5 GB in size. Since the shared file is saved to the cloud, you can transfer files from one contact to another without having to re-upload again.
This also means that you can use it as a makeshift personal cloud storage location – though we do not recommend doing.
Telegram has no restrictions on the type of file format that you can share. It also gives the option to send data in uncompressed form. This is great, especially when it comes to sharing images. Uncompressed images can be shared without loss of details that occur due to compression.
Groups & Channels
| WhatsApp | Telegram |
| --- | --- |
| Normal Groups: 256 members | Normal Groups: 200 members |
| Broadcasts: Send messages to several contacts (up to 256) at once. | Supergroups: 100,000 members |
| Stand-alone Business Profile | Channels: Similar to WhatsApp's Broadcast feature – allows sending messages to several contacts at once. |
WhatsApp
WhatsApp supports the creation of two types of groups and a stand-alone business profile:
Normal Groups: Groups where you can add people from your contacts list and can have at most 256 members.
Broadcasts: Broadcasts can be used for sending videos, images, and texts and can have any number of followers. This allows for the creation of a one-way communication channel – between the creator of the broadcast and recipients. The recipients can view, interact and share the messages but cannot reply to them. Broadcasts on WhatsApp also have a limit of 256 members.
Business Profile: WhatsApp allows businesses to create a stand-alone business profile through which they can interact with customers easily. Business profiles are provided with tools that allow for automating and quickly responding to customer messages. This helps businesses provide customer support and deliver important notifications to their customers. WhatsApp's business profiles can also be leveraged in various other ways to market your business and increase sales and customer satisfaction.
Telegram
Telegram allows for three different types of groups:
Normal Groups: Groups where you add people from your contact list and can have at most 200 members and bots.
Supergroups: Your normal group gets upgraded into a supergroup as soon as it gets full. Supergroup allows for 100,000 members to join a single group. This is quite impressive compared to the 200 and 256 members per group on WhatsApp and Telegram's normal groups respectively. Supergroups also have certain quality-of-life improvements: allowing new members to see the entire chat history, removal of deleted messages for all members, and them being muted by default with fewer joined/left notifications.
Channels: Channels are essentially groups where only the admin can post. This is similar to WhatsApp's broadcast feature but it exists as a standalone feature in Telegram. These channels can be used for broadcasting videos, images, and texts and can have any number of followers, making it immensely useful for businesses and enterprises looking for new ways to connect and inform their followers.
Anonymity
| WhatsApp | Telegram |
| --- | --- |
| Uses End-to-End encryption for everything – chats, audio & video calls, and shared files. | Allows creation of anonymous accounts. |
| Requires your contact list for it to function. | Uses End-to-End encryption for its "Secret chat". |
| | Stores the data in secure cloud storage owned by Telegram. |
WhatsApp
WhatsApp employs the standard end-to-end encryption – for everything. Be it chats, audio or video calls, documents, photos, voice messages – is entirely end-to-end encrypted. This makes it quite difficult for outsiders to directly view the details of the transmission upon interception and helps prevent mass surveillance.
Telegram
Telegram allows the creation of anonymous accounts with any number that you own. This means that you need to have a valid number for just the verification of your account – could be any number, after which you can dispose it to remain truly anonymous.
Telegram also offers a custom data protocol to secure their "Secret chat". Secret chat is just regular chat with few extra perks such as – uses end-to-end encryption, stores data locally on the recipient's devices, allows for self-destructing messages. Secret chat uses a combination of AES and RSA end-to-end chat encryption and stores the chat/data on the devices instead of the cloud.
But the company is so confident in Telegram's security that it's offering a $200,000 bounty to anyone who can crack it. Recently, Telegram also declined to give its encryption keys to the Russian government when it wanted to perform surveillance on individual users.
This is not the case with WhatsApp. WhatsApp requires you to upload your entire contact list onto WhatsApp's servers and this can be used to easily identify you.
Popularity
| WhatsApp | Telegram |
| --- | --- |
| The go-to instant messaging app with over 1.4 billion monthly users on an average. | Not as popular, with around 200 million monthly users using them. |
| Intuitive | Responsive – even on slower networks |
WhatsApp
WhatsApp remains as the most popular instant messaging app to date. With over 1.5 billion monthly active users and 60 billion messages sent a day on average, you'll be able to find most of your contacts already using it, making things easier – avoiding the hassle of inviting them to a new platform.
WhatsApp also excels in allowing its users to be able to easily backup their data to various locations – be it to the cloud, locally or even export it as a text file.
WhatsApp has a really easy and simple user-interface. Simple enough for newbies to easily get around and start texting. Though Telegram was never behind in this category, WhatsApp is generally considered to quite intuitive.
WhatsApp also allows its users to be able to easily toggle their delivery and read notifications. This sort of customisability is what you'd expect from Telegram. But is available only on WhatsApp for now.
But, being popular is not without its downside. The immense popularity leads to WhatsApp being targeted by malicious entities quite often.
Telegram
Telegram is quite responsive and is able to handle a large volume of messages from supergroups without much issue. This could be due to the fact that Telegram caters to a smaller audience than WhatsApp does – WhatsApp has well over 1.4 billion monthly active users on an average as of 2018, Telegram's 200 million is about 7 times smaller than WhatsApp's user base.
But Telegram is generally considered to be quite fast and responsive even when on slower networks.
Calls
| WhatsApp | Telegram |
| --- | --- |
| The go-to instant messaging app with Allows audio and video calls – with group calling and "low data" mode options. | Allows only audio calls as of now. |
WhatsApp
WhatsApp allows its users to make audio and video calls (even group calls) to their contacts on WhatsApp. It also offers a "low data" mode that further reduces the amount of data used in your calls by compressing them.
Telegram
Voice call was added to Telegram only recently. Telegram does not have video calling and "low data" options as of writing. These are features which may be added in later updates but Telegram has not announced as to when they might get implemented.
Payments
| WhatsApp | Telegram |
| --- | --- |
| WhatsApp Pay allows for payments via the app – available only in India for now. | Telegram allows for its "Bots" to initiate payments. |
WhatsApp
WhatsApp launched its payment system back in 2018 in India for select users. It allows users to transfer money to their contacts via the UPI-based payment system for near-instant transfers. WhatsApp is using this as a test-bed to further improve their payment services before they launch it globally.
Telegram
In 2017, Telegram released an update that facilitated the creation of bots to generate show native payment dialogue and invoice messages to users of the bot. Though it is currently only supported by Telegram's mobile-client, this might soon trickle to other platforms as well, allowing for payments to be initiated right from Telegram itself.
Which Is Better For You – WhatsApp or Telegram
With their headlining features listed out, it becomes quite easy to decide between the two instant messaging platforms.
This is how we'd put it:
Telegram is your best bet if you need features like – bots, supergroups and full-fledged file-sharing along with regular instant messaging services. Telegram's anonymity also helps in keeping your identity quite secure – which is great when you connect with new people on a frequent basis; which you surely will with Telegram acting as the de-facto instant messaging app for anything crypto-related.
Otherwise, WhatsApp is great for general day-to-day use. It has a not-so-steep learning-curve and acts as a no-frills instant messaging for the masses.
Telegram seems to have a clear focus on features and anonymity. It also seems to be the one with a strict stance towards the privacy of its users. To further attest, it doesn't help that WhatsApp is owned by Facebook (has had an abysmal track-record at maintaining/securing their user data).
But WhatsApp doesn't lag in many fields per se. WhatsApp had also recently announced the support of chat-bots similar to the ones on Telegram to be included in the future.
It boils down to trying both to find out whether you can benefit from the features on offer – after all these are tools to help connect with others easily and help improve your workflow.
Go On, Tell Us What You Think!
Did we miss something? Come on! Tell us what you think about our article on WhatsApp vs. Telegram in the comments section.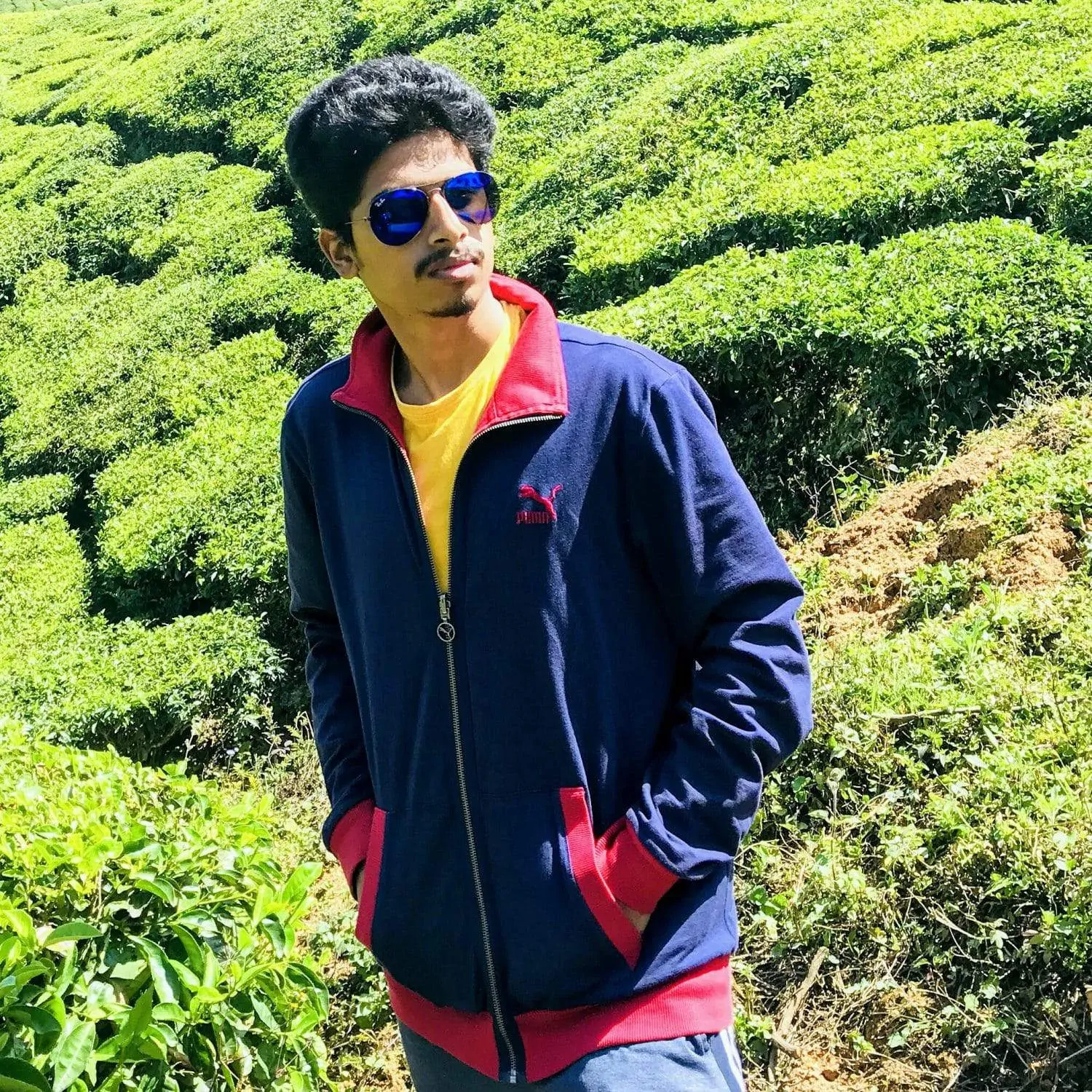 Started out to become a developer but felt at home in the home of startups. The journey started from a single novel. Been an entrepreneur since schooling days. Interested in coding, reading and movies.