Zoom has seen a spectacular rise in terms of user numbers, especially during the trying times of quarantine and social distancing as a result of the global pandemic. Zoom was only known within enterprises and businesses but that has changed. The popularity is all thanks to Zoom's simple yet effective business model.
Before looking at Zoom's business model, let's answer the big question –
What Is Zoom?
Zoom is a remote video conferencing service that was founded in 2011. The company was founded by former Cisco WebEx (Cisco's video conferencing offering) engineer Eric Yuan and started offering its video conferencing service under Zoom Cloud Video in early 2013.
This SAAS platform allows users to virtually interact with their contacts and other people using video, helping them maintain their workflow even when they are not available physically.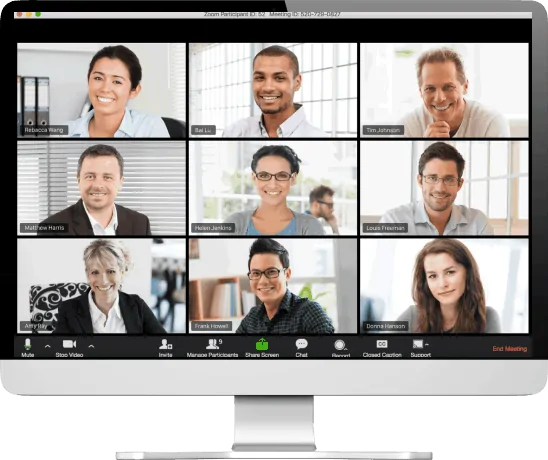 Zoom allows people to share whatever is displayed on their screen – quite useful, especially for presentations and teachers to show notes – to those within the Zoom meeting room. Speaking of Zoom Meetings, you will be hearing this term quite a lot, which simply refers to a video conference or webinars hosted using Zoom.
Zoom is available for Windows, macOS, Android, iOS, and as integrations for browsers and other video conferencing apps such as Skype for Business.
Right from the get-go, Zoom's growth has been immense – it reached one million participants within 5 months and 40 million registered users with over 1 billion meeting minutes served in just two years.
Which brings us to –
Zoom's business model and pricing strategy.
Zoom Business Model
Zoom follows the freemium business model. Zoom offers 4 different subscription plans, one among them being the free plan.
Zoom's Free plan offers an unlimited 1 to 1 meeting and up to 40 mins of a group meeting with 100 participants. The Free plan is more than enough for the regular users and those looking for a temporary service until things get back to normal with the pandemic. Zoom's Free plan offers the same features as offered in the paid plans of its competitors.
That is not to say that Zoom is free. You need to pay a fee to obtain additional features such as – increased meeting hours, the ability to add more than 100 participants, support staff, and integration with other services.
Zoom's model focuses on getting its free users to become paying customers. The freemium model has helped increase the adoption rates as well as boost word of mouth publicity.
Zoom's Key Partners
Individual Users
Individual users form the core of Zoom's business and sales. Zoom's growth has been quite steady and has risen exponentially since it was first launched in 2013.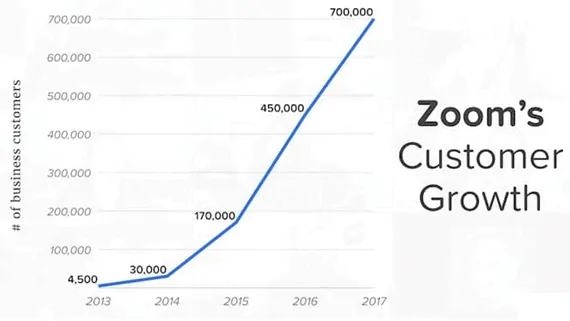 Individual users have also become the backbone of Zoom's business. Zoom has added more users as of March 2020 than all of 2019 combined. Zoom added 2.22 million monthly active users to its platform, bringing the total users of Zoom to over 12 million. Zoom, as of writing, has enabled more than 200 million to participate in video calls daily.
Business & Enterprises
Business, enterprises, and companies have always been Zoom's primary target audience. The Zoom platform was initially built mainly for enterprise customers – ranging from large financial service corporations, universities, government agencies, healthcare, and IT companies.
Investors
Zoom is adored by its investors, making them one of the most important partners towards Zoom's operation and success. Zoom has raised over $145.5 million via its series of funding rounds that stretch from 2011-2017.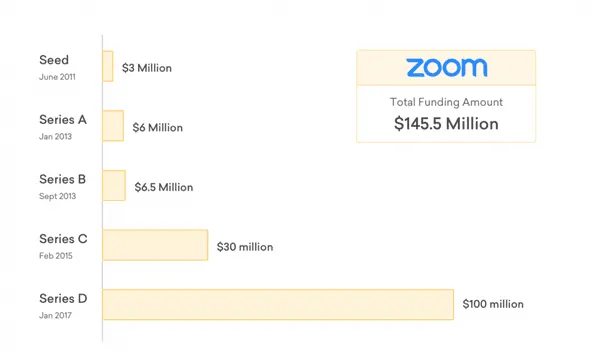 Zoom was even termed as a unicorn company in early-2017, allowing it to attract $100 million in Series D funding from Sequoia Capital. Zoom filed for IPO in March 2019 and went public on 18 April 2019. By the end of the IPO, Zoom was valued at just under $16 billion (at $36 per share).
Zoom's Operating Model
Zoom allows its users to –
Host & schedule Zoom video conferences with their contacts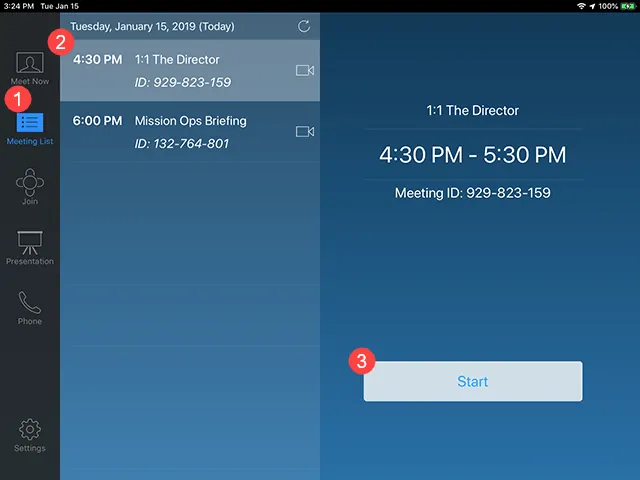 Join a Zoom meeting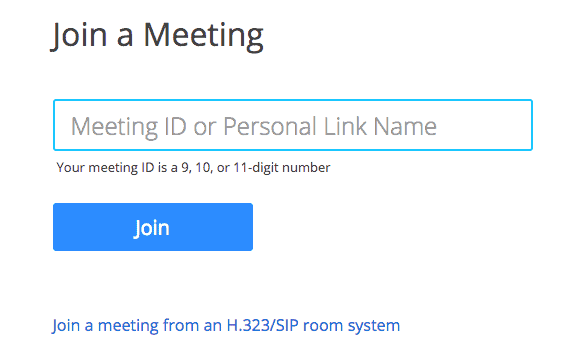 Chat with contacts from within Zoom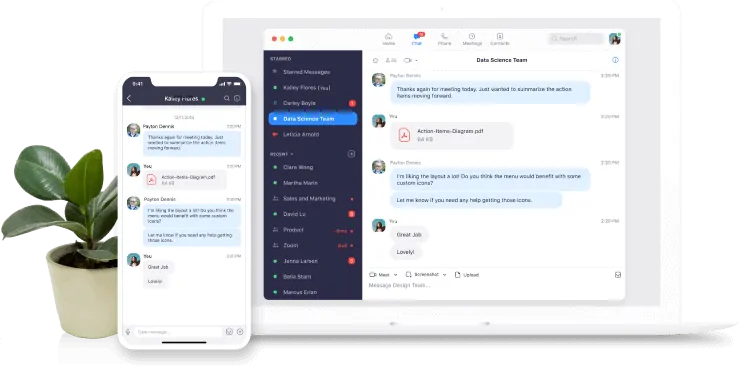 This raises the question –
How does Zoom make money if it provides most of its services and features for free?
How Does Zoom Make Money?
Subscription Plans
Zoom earns most of its revenue from offering subscription plans with varying features. As of writing, Zoom offers 4 different subscription plans for its users –
Basic
Pro
Business
Enterprise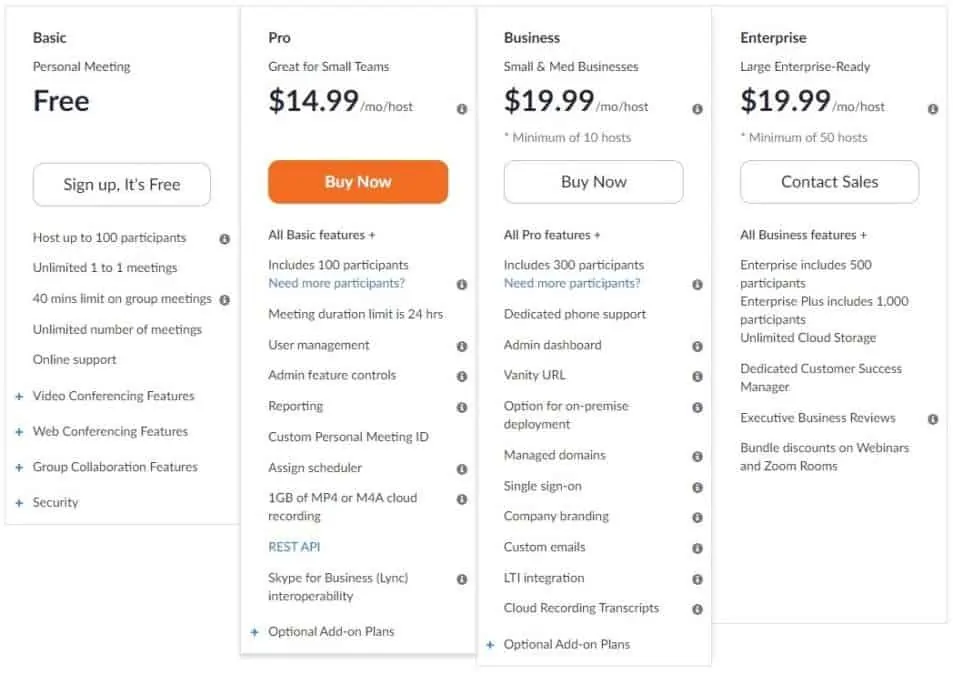 Zoom Basic
The Basic plan is free to use and it allows its users to host up to 100 participants in a single meeting (video conference), unlimited 1 to 1 meeting, online support and additional features on video calls, web and group collaborations. The only limitation is that the duration of group video call is limited to 40 mins. Another group call with the same participants can be made only after a cooldown period of 10 minutes. Zoom's Basic plan is more suited to personal use-cases.
Zoom Pro
The Pro plan is currently priced at $14 per month and carries over all the features provided by the Basic plan along with added benefits such as – group video call duration increased to 24 hours rather than 40 minutes, the ability to add more than 100 participants for a set fee, integration with Skype for Business and much more.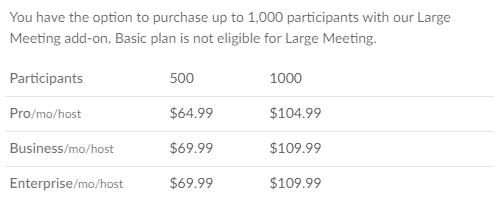 The Pro plan is more suited towards professionals and small teams aiming to collaborate from their desired locations.
Zoom Business
The Business plan is currently priced at $19.99 per month and requires at least 10 members to be present in your team. As the name suggests, this plan is more suited for small to medium businesses. The Business plan carries over the features offered by the Pro plan along with lots of added benefits. The Business plan provides the ability to host video meetings with up to 300 participants by default (with the ability to add more by paying for it), dedicated phone support, custom emails, logins, URLs, domains and admin console.
Zoom Enterprise
The Enterprise plan starts $19.99 per month and requires there to be at least 50 members present in your team. As the name suggests, the Enterprise plan is most suited towards large businesses and enterprises. The Enterprise plan carries over all the features provided by the Business plan while offering newer ones better suited for large teams, businesses and corporations such as – the ability to have up to 500 participants by default, unlimited cloud storage, discounts, and bonuses on other Zoom offerings, analytics, tracking tools, and dedicated support staff.
Add-Ons
While Zoom offers most features that an average user might want out of a remote conferencing service for free, it charges for its set of add-ons which help add features such as video webinars, extra cloud recording storage and so on.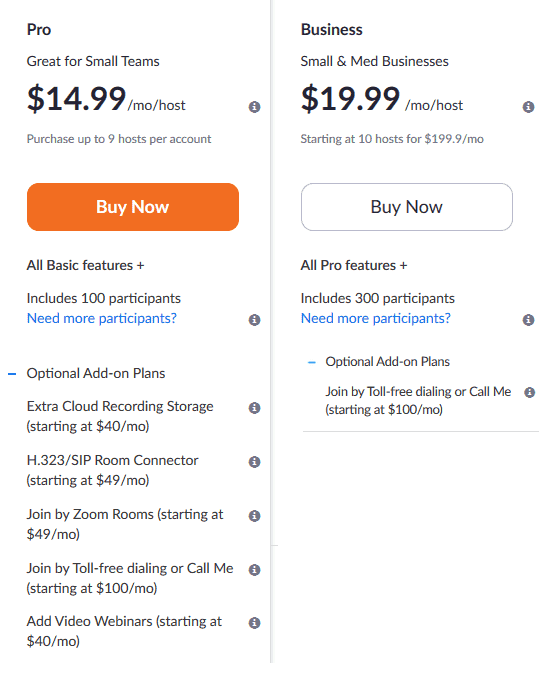 Free users will have to upgrade to Pro plan or higher to be able to access the add-ons. The add-ons are not bundled with the paid tiers and users will have to pay the monthly subscription fee based on the add-on they would like to use. As of writing, Zoom offers various solutions as add-ons under their paid plans and these usually are needed by enterprises and startups to collaborate and be productive such as –
Zoom Rooms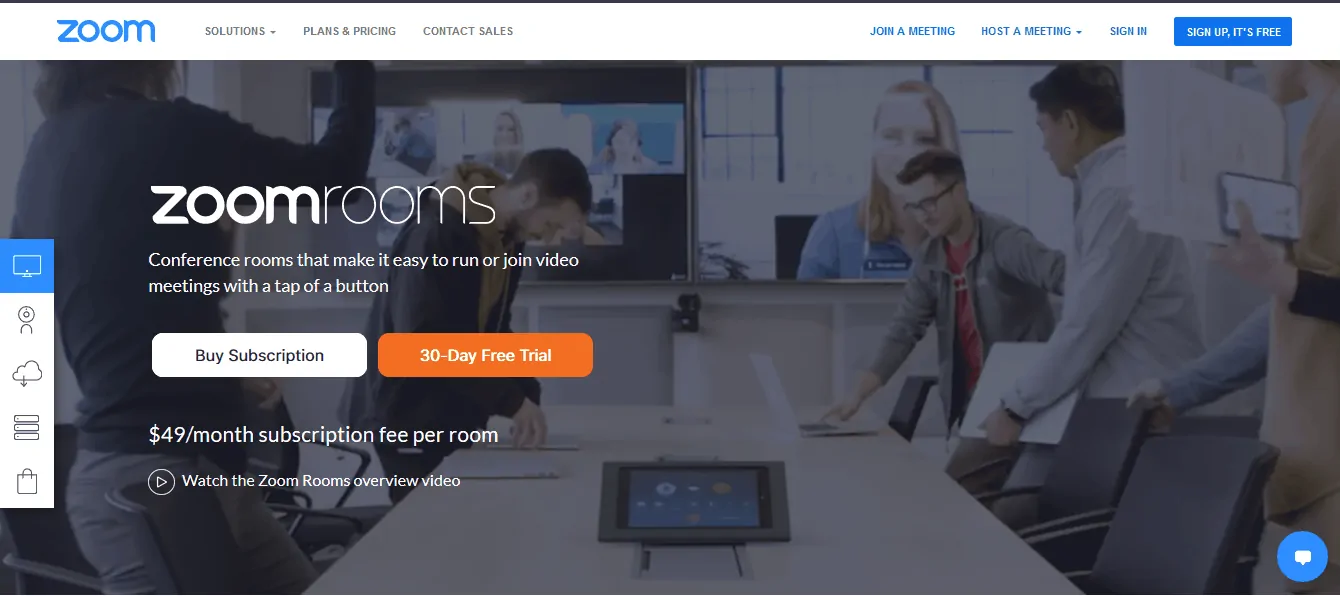 Zoom charges $49/month/room to allow its users to be able to create dedicated Rooms for holding its conferences.
Zoom Webinars
Zoom users are not able to hold webinars by default and are required to be on Pro (or higher tiers) to be able to hold webinars. Zoom charges a monthly fee that starts at $40/month/host for hosting a webinar with up to 100 participants and goes up to $6,490/month/host for having 10,000 participants.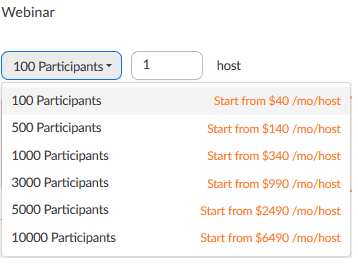 Note: The rates mentioned above are for 1 host alone. If you need more than 1 host for the webinar, each new host will cost you around $33.33 on top of the existing rates mentioned above.

Zoom Phone
Zoom allows users to be able to make phone calls right within the Zoom app.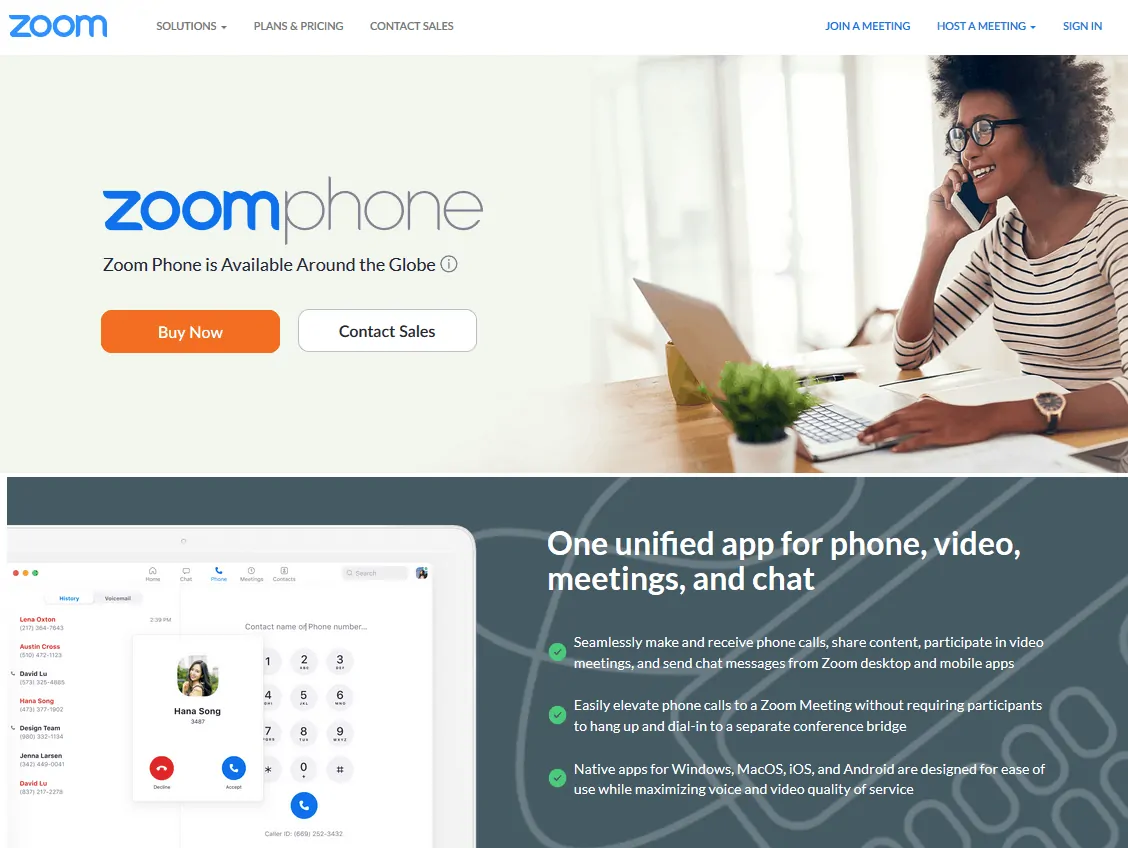 Zoom charges $10/month for availing the Zoom Phone add-on.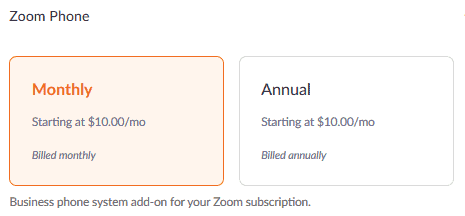 Apart from that, Zoom provides its US & Canada based users (exclusively as of writing) with the ability to opt for options such as unlimited calling plans, metered calling plans and additional numbers for an added fee.

Bespoke Plans For Certain Industrial Sectors
Zoom also offers a customized suite of its tools and services that is made to order for the following industries:
Education
Finance
Government
Healthcare
Zoom's Rise to Popularity
Zoom took off among the masses when people found Zoom and its free plan satisfied their remote working needs when the coronavirus pandemic which caused the shutting down of all businesses.
But, even before work from home went viral, Zoom had been popular among the enterprise crowd. Zoom was being actively adopted by schools – since Zoom is free of charge till K-12 in lots of countries. This helped increase its word of mouth reach.
Currently, Zoom has also become a social platform of sorts for people during the pandemic. People have started using Zoom to keep in contact with their loved ones, hold parties, and even weddings and ceremonies.
But this raises the question –
Why Zoom?
The answer to that is quite simple –
Zoom's Free plan – The free plan is almost fully-fledged, offering the same features as its competitors, but for no cost.
Reliability – People have come to like the simplistic and intuitive user interface. But most of all, they all have stuck with Zoom for one reason – "because it just works!"
Low Latency – Zoom's videos try to stay under 150 milliseconds – since it is after 150 milliseconds that a conversation starts to feel unnatural – by optimizing the connection on per-device basis instead of focusing on the worst ones in the loop.
Why Zoom Works!
Over time, Zoom has managed to capture a large audience for itself by offering solid features and much-needed features for free for the general users while those looking for additional integrations and added features (usually enterprise or business use-cases) have to pay for them.
The user base is so large that even a fraction of them opting to pay for Zoom's paid plans and add-ons helps it covers its operating cost as well as earn revenue.
Apart from the add-ons, Zoom also has its own App Marketplace (maintained by Zoom) from which users can install thrid-party applications to integrate with their Zoom services and workflow without much hassle. As of writing, there are no paid apps on the store, but Zoom could very well introduce paid versions of the apps which unlocks additional features to add it to their growing revenue stream.
Go On, Tell Us What You Think!
Did we miss something? Come on! Tell us what you think about our article on Zoom Business Model in the comments section.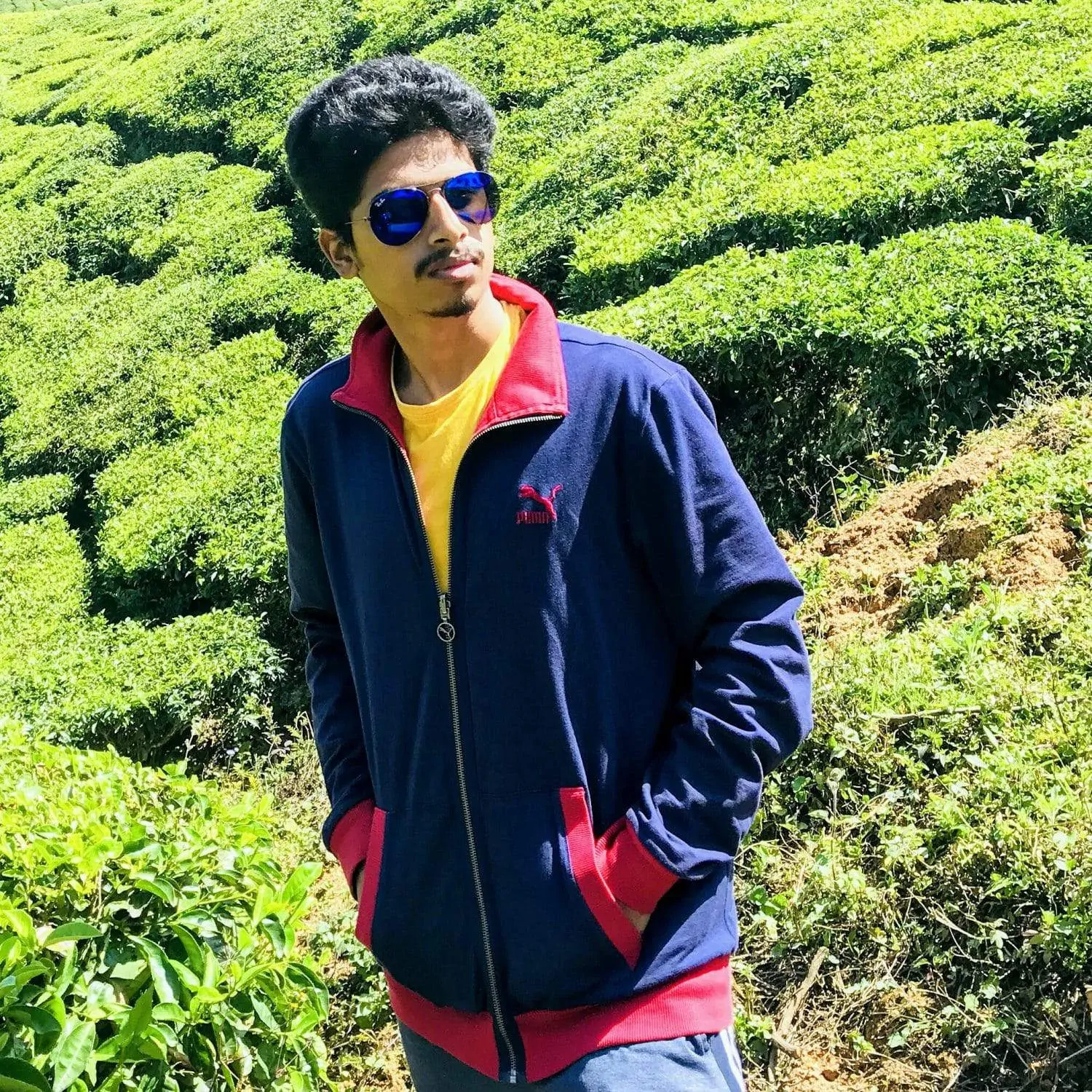 Started out to become a developer but felt at home in the home of startups. The journey started from a single novel. Been an entrepreneur since schooling days. Interested in coding, reading and movies.