If you know how a knight moves and you can distinguish between a bishop and a rook, there are high chances you have heard about Chess.com. Isn't it astonishing how one company, Chess.com, dominates the world of online chess and accounts for about 65% to 70% of online chess players around the globe, and hosts more than a whopping ten million chess games every day?
Being a chess server, a place to learn the game, a host of live tournaments with a separate website for kids, Chess.com has become the world's largest chess website.
But how does it operate and make money? Is it even sustainable? What is Chess.com business model? Let us unravel its journey.
What is Chess.com?
Chess.com is an internet chess server, an internet forum, and a social networking online platform which facilitates chess players to play, discuss and learn chess with a wide range of other features they can make use of.
The domain Chess.com was originally set up by a company Aficionado, to sell a piece of chess tutoring software called the 'Chess Mentor'. In 2005, internet entrepreneur Erik Allebest and partner Jarom Severson bought the domain name and redeveloped the site as a chess portal, which they relaunched in 2007.
Chess.com is an apt showcase of how investing in a growing streaming community can yield great returns over time. So let's delve into how this happened and what gave rise to Chess.com business model!
The Rise Of Chess.com
Hikaru Nakamura, the youngest American Grandmaster, a five-time U.S Chess Champion, and a top-ranked player in blitz, began streaming chess in July 2017.
By the beginning of 2020, he amassed over 80,000 Twitch followers, sufficient to be in the ranks of professional streamers.
Then happened the lockdown of 2020 when most sports leagues got postponed or cancelled, and boredom became a way of life. This led to a major breakthrough in the domain of chess all over the world.
Nakamura offered a streamed chess lesson to xQc, a French-Canadian streamer and a retired professional Overwatch player. They went over the fundamental tactics of the game in the first session, which now has over 1.4 million views on YouTube. This lesson with xQc marked an inflection point, increasing average live viewership on Nakamura's channel to soar above 13,000 by May 2020.
However, he was not the only chess streamer benefitting from the increasing Twitch community's interest in the game. Prior to the pandemic, Chess.com had sponsored most top chess streamers, even though some of them only had a few hundred live viewers per stream. This early investment in the community paid off later due to the skyrocketing popularity of channels such as BotezLive, GothamChess, Chessbrah, and others.
Chess.com had put up $50,000 as prize money for the first PogChamps tournament in June 2020. It featured top Twitch streamers, including xQc, Voyboy, moistCr1tikal, and Ludwig, amongst others. Nakamura and Alexandra Botez coached the participants and served as commentators for the live matches. The inaugural tournament broke all viewership records, which other such tournaments have since then eclipsed.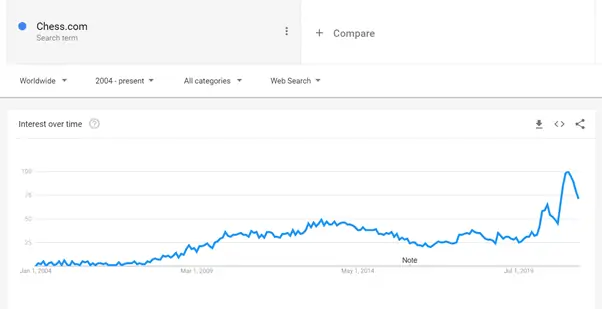 Another contributing reason to the rising trend of chess is because Chess.com worked with Netflix to develop engines that simulated Beth Harmon's gameplay from various periods in the show 'The Queen's Gambit'.
Their streaming efforts not just provided the opportunity to monetise the talents of these players, but reach a greater audience than ever before. It significantly raised the chess profile in esports and the game streaming world – so much so that it made the world notice!
How Does Chess.com Operate?
People can use the website or download the free app on their mobiles to play chess and use the various other features Chess.com provides.
There are options of playing online with friends, random people or with the computer.
In the 'Lessons' tab, there are lessons guiding everything there is one needs to know about chess and other more specific lessons about tactic training and specific situations that might arise in the game.
In the 'Puzzles' tab, different kinds of puzzles that provide hints, top scores, and solutions that help players improve their game are available.

Puzzle rush: A race against the clock.
Puzzle battle: A rush against another player.
Daily puzzles: To practice different kinds of puzzles to improve the game daily.
Rated puzzles: These puzzles help one train in puzzle solving and rate players based on how well they do so.
Custom puzzles: This provides an option to customise puzzles and choose them based on their theme and rating.

In the 'Today' tab, a lot of articles on chess-related topics, game strategy, opening theory, and history are available. It also contains news of all current chess developments and tournaments.
Users can play a number of chess variants on the server, including crazyhouse, three-check, four-player, king of the hill, racing kings, and chess960.
Players can also opt for a premium subscription to attain unlimited ad-free access to lessons, puzzles, bots, and other additional features.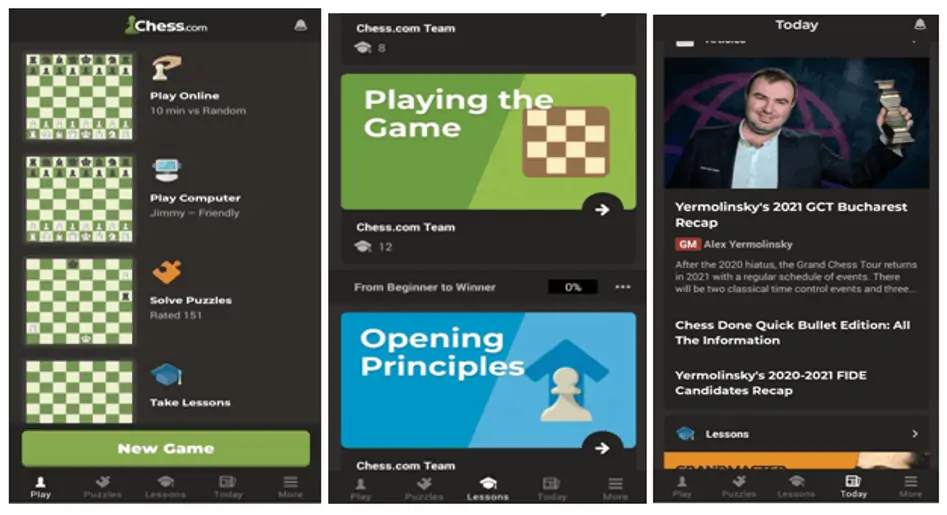 Chess.com also facilitates collaborations with various influencers, both with a chess background and without the same. Furthermore, it hosts different tournaments and partners with these influencers to increase reach and expand the community.
The key resources it needs to provide these services to its users and build a unique customer relationship is an excellent team of workers, marketers, and expertise in artificial intelligence(AI) for gameplay and analysis, amongst other things.
Who Are Chess.com's Customers?
According to research, the graph of the share of optimal moves to the player's age attains a peak between 35 to 45 years. The hump-shaped profile of the player's performance increases sharply until the age of twenty, and then gradually improves for fifteen-twenty years and eventually declines.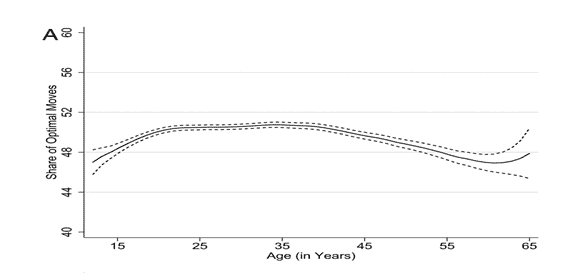 People between the ages of 25-34 accounts for around 34.5% of Chess.com users, followed by age groups of 18-24 and 35-44 that account for about 30.52% and 17.12% of their users respectively.
Women constituted a much smaller percentage of 11.5% than men, who account for around 88.5% of their users.
The brand witnesses most of its users as loyal customers who visit the website or application directly.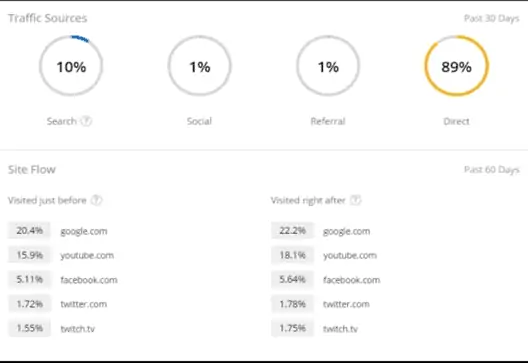 What Value Does Chess.com Provide To Its Customers?
Chess.com is more than just a Chess game website. It has strived to be a community where chess players worldwide can play, learn and grow. It was built with the idea to develop a network around Chess and not just offer a playing platform.
There were a lot of platforms offering online chess game to users. However, none of them came close to Chess.com.
The network effect has played a vital role behind the success of Chess.com, since matchmaking attracts more players to become users of the site. It also excels at the essential capability of detecting bots or any other attempts to cheat while using the site.
It has made us all just a few clicks away from consulting Magnus-level chess engines. In 2018, Chess.com acquired an engine of its own called komodo.
It offers post-game analysis, missed mate opportunities, and reveals the players' blunders while teaching them new moves as takeaways from the match.
The engineers have developed multiple AI personalities that adjust each move's skill according to the opponent's potentials. Some others use old game logs to emulate the skill and style of play of some chess legends.
Apart from the availability of various chess variants, additional features include videos and articles on chess, tactics training, daily puzzles, lessons, team matches, and live broadcasts as well. In addition, one can see the record of past matches of any Chess.com player and get to learn from them.
It helps people foster their competitive spirits and make constructive use of their time. It also allows us to adjust the game duration according to our own convenience, and the immersive nature of the game makes one think, learn and grow in the process.
How Does Chess.com Make Money?
Chess.com operates on a freemium model wherein the site's main features are provided for free, supported by advertisements. But users can pay to remove those advertisements and get some additional features.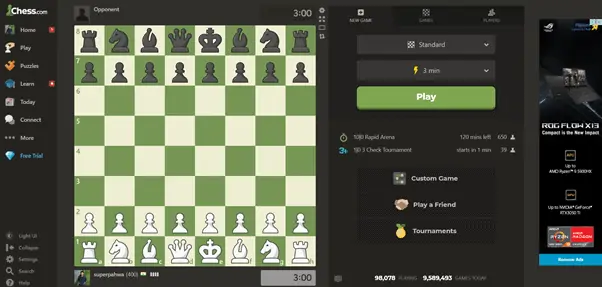 The users can play online with their friends, other chess community people, or the AI opponent for free. In addition to this, it offers them a variety of puzzles, lessons, chess-related articles, and a post-match analysis to help players improve their game.
The premium subscription offers users other additional features depending on the kind of premium they opt for.
Chess.com offers three tiers of premium subscriptions to its users. They are:
Gold: It gives ad-free unlimited access to analysis, all bots, three lessons per week, and twenty-five puzzles every day. It costs $29 per year.
Platinum: It gives an ad-free unlimited analysis, unlocks all bots, and five lessons per week. It costs $49 per year.
Diamond: It gives ad-free unlimited access to lessons, video library, puzzles, analysis, and bots. These additional features cost $99 per year.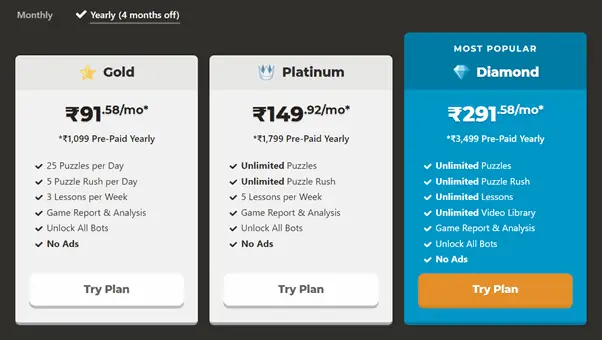 Go On, Tell Us What You Think!
Did we miss something? Come on! Tell us what you think of this article on Chess.com business model in the comments section.
An economics aficionado and a researcher at heart, Shrishti has also worked as a consultant to assist startups and NGOs in varied verticals. When not working, she is a passionate dancer and painter.