You might be among those who think it's unreliable or among those who exploit it for their assignments, research projects, dissertations, and presentations. But you can't be among those who deny the popularity of the world's largest encyclopaedia, Wikipedia.
Wikipedia has more than 5.5 million articles, 33 million registered users, 32.5 million active editors, and an average 600 new articles a day just on the English version.
Ever since its launch on 15th January 2001 by Jimmy Wales and Larry Sanger, Wikipedia has disrupted the internet as we knew it. The website has a total of 298 language versions and articles relating to every topic.
But how does this giant operates and makes money? Let's find out.
Wikipedia Business Model
Wikipedia is a crowdsourced encyclopaedia written collaboratively by the people who use it. It is a special type of online encyclopaedia designed to make collaboration and data creation easy where volunteers from across the world contribute and edit the content using trustable sources.
This makes the Wikipedia business model fairly easy to understand where the organisation only focuses on the handling the website, servers, and administration, and the main content is contributed by the volunteers for free.
But who owns Wikipedia?
The Wikimedia Foundation
The Wikimedia Foundation is a not-for-profit organization which supports Wikipedia and many other free knowledge websites to fulfil its vision to create a knowledge database which is available to all for free.

How Does Wikipedia Make Money?
According to its annual report, Wikipedia earned a total revenue of $91 million in 2017 but none of it came from advertisements, affiliates, or any paid service. Then what resulted in the whopping $91 million revenue?
Donations.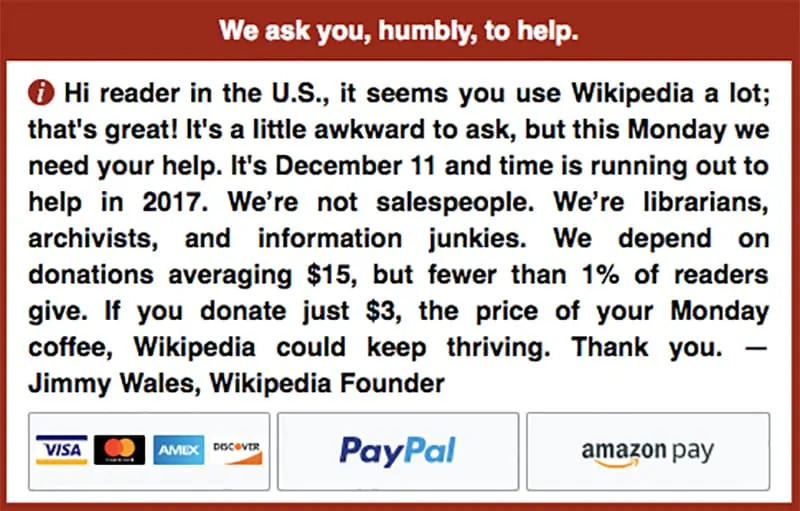 Wikipedia Revenue Model
Wikipedia operates on a donation-based revenue model where the organisation gets most of its funds in the form of donations from millions of individuals and corporations around the world.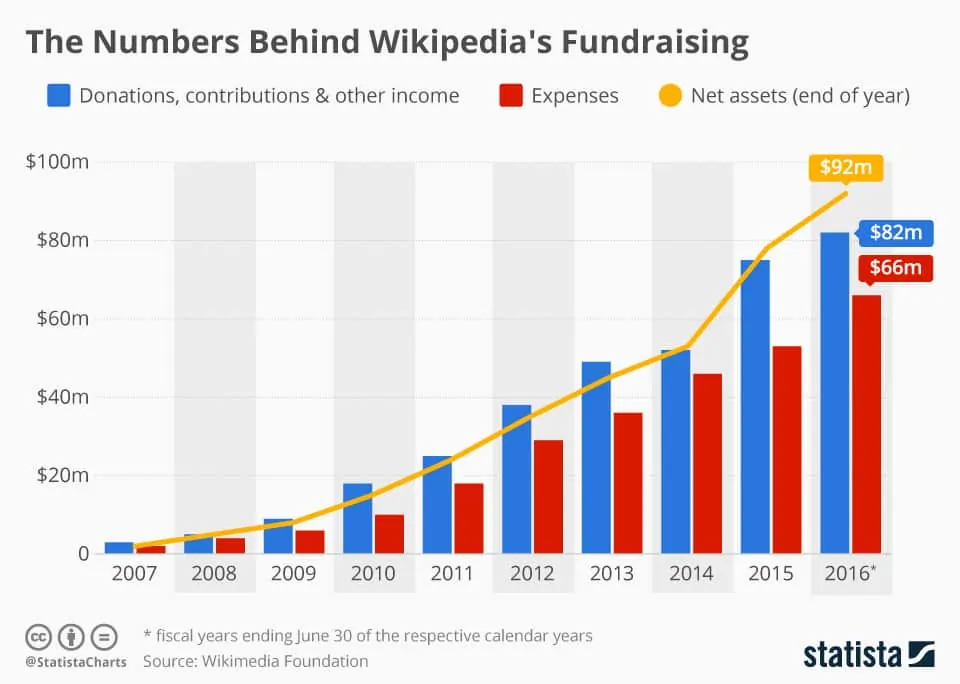 Besides monetary donations, the other sources of revenue for the organisation includes:
In Kind Services: These are in-kind donations in the form of supplies, equipment, and services.
Wikipedia Store: The organisation sells Wikipedia brand merchandises like tshirts, mugs, notebooks, etc. on Wikipedia's official store.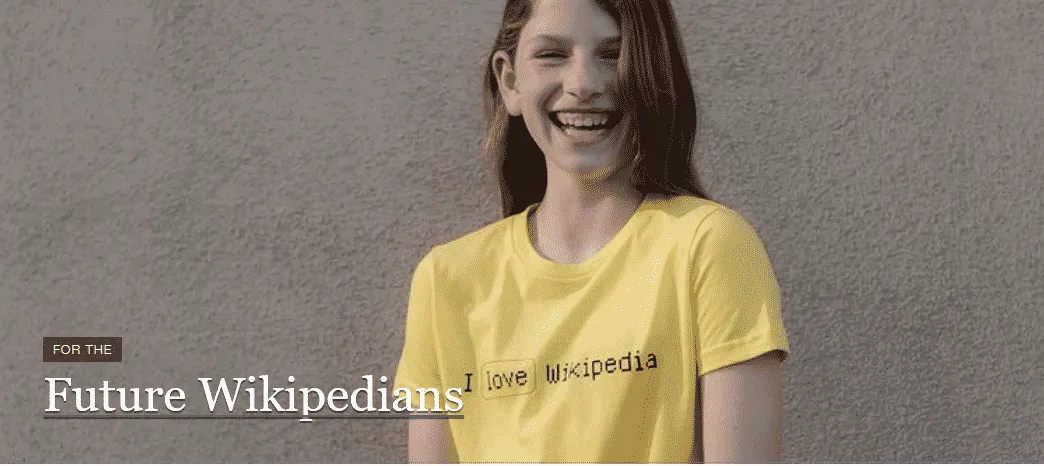 According to the company, the average donation is $15 and is tax deductible in many countries which motivates the users to donate.

100% of the profits go straight to support Wikipedia and its sister projects. The sources of expense include:
Support to website: These include server costs, ongoing engineering improvements costs, product development costs, design and research costs, and legal support costs.
Awards & Grants: These include costs relating to ongoing engineering improvements, product development, design and research, and legal support.
Administrative & Governance: These include administrative expenses relating to salaries, recruitment costs and other governance expenses.
Fundraising: A part of the revenue is spent to acquire more funds for the organization.
Future Of Wikipedia
The Wikipedia community has grown to a level that ignoring its success is nearly impossible. But is this business model sustainable? Will Wikipedia still exist after 20 years?
The biggest hurdle which the company currently faces is the rise of smartphones. With the rise of smartphones visitors, the number of editors and content creators has decreased. Nevertheless, the company had recently launched a global discussion called Wikimedia 2030 to define the future of Wikipedia and the Wikimedia movement by the year 2030. It has plans to adapt to the shifting trends in the technology, to ensure they meet the needs of their users and continue to provide reliable, transparent, and neutral information.
According to their website:
We will adapt to the shifting trends in technology, to ensure we meet the needs of our users and continue to provide reliable, transparent, and neutral information. We will invite new voices to join us and ensure that anyone who wants to share knowledge on Wikipedia and the Wikimedia sites can do so. And we will advocate for the policies and values that have allowed Wikipedia and its sister sites to thrive. This direction asks us to be bold and experiment in the future, as we did in the past, and it remains rooted in our mission of free knowledge for all.
Go On, Tell Us What You Think!
Did we miss something? Come on! Tell us what you think about our article on how does Wikipedia make money? | Wikipedia business model in the comments section.
A startup consultant, digital marketer, traveller, and philomath. Aashish has worked with over 20 startups and successfully helped them ideate, raise money, and succeed. When not working, he can be found hiking, camping, and stargazing.