The music industry saw its true growth after 2015 where the music streaming software and applications like Spotify (140 million subscribers), Apple Music (30 million subscribers), etc. officially become the industry's biggest source of revenue. According to FastCompany, the revenue from streaming services grew 57% during the first half of 2016 while the revenue from downloads (14% decline) and physical album (17% decline) sales was at its all-time low. Even podcasts, which emerged in early 2004, gained immense popularity these years.
When talking about online music streaming, one cannot ignore the contributions of Spotify to the music industry. Its freemium business model has attracted millions of subscribers to try and pay for the music they listen to, reducing piracy substantially. Even though the service isn't available to many countries at the moment, the Spotify Business Model has an upper hand over many others because of the huge number of features provided and delivery of music with no delay or latency.
What is Spotify?
Launched in 2008 in Sweden, Spotify is a music, podcast, and video streaming freemium service which offers free streaming of rights managed – protected material in its free plan while additional features like improved streaming quality and music download are available to users who opt and pay for the monthly or yearly subscription packages.
How Does Spotify Work?
Spotify is available on nearly every operating system and works just like any other SAAS with all of its data stored on the servers. But the server load is minimized and the user is provided a no-delay service by saving the temporary encrypted version of the recently played songs in the user's system as the cache.
With a business point of view, Spotify purchases a license from labels, publishers, artists, and other right holders to stream the music on its platform. But it uses a very complex algorithm to determine the royalty per stream to be paid to these artists. Not all right holders and artist get the same royalty fees. It depends on the contracts, country in which the song was played and the currency value in that country. According to the verge, the average "per stream" payout to rights holders lands somewhere between $0.006 and $0.0084.
Spotify Business Model
Spotify uses a freemium business model strategy and makes money through paid subscriptions and advertisements. The business model of Spotify isn't complicated and works just like any other freemium service like Youtube, MailChimp, etc. Premium subscriptions are the main revenue source where the advertisements and download limits are removed and the song bitrate is increased to 320 kbps.
The three different subscription types offered by Spotify are:
Spotify Free Version
This is the most basic of the three subscriptions. A user opting for this version has access to all the content but with certain limitations which include a lot of advertisements, no option to listen to songs while offline, shuffle only access, and limitations on the quality of the tracks played.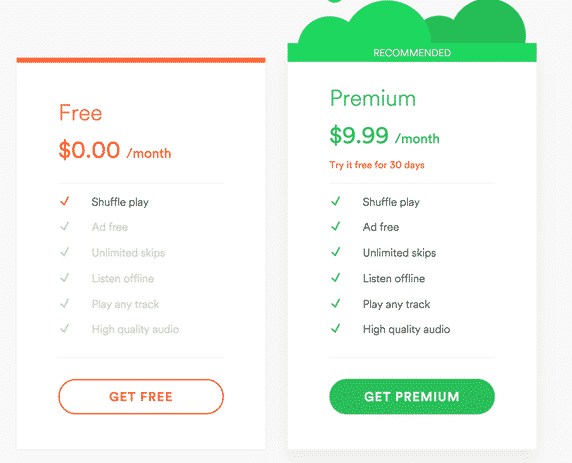 Spotify Premium
As the name suggests, Spotify premium is the premium version of the application priced at $9.99 per month. The version is free from all the limitations of the free version.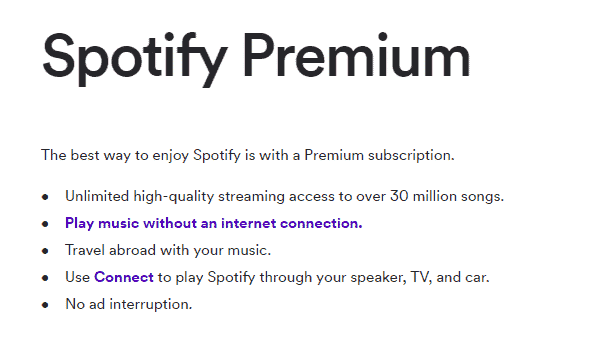 Spotify Family
Spotify released the family version of the premium subscription for the people living at the same address. This version provides all the premium features to up to six people living at the same address at a total cost of $14.99
How Does Spotify Make Money?
The revenue model of Spotify can be divided into two parts: Revenue from Subscriptions and Revenue from Advertisements.
Revenue from Subscriptions
Spotify Premium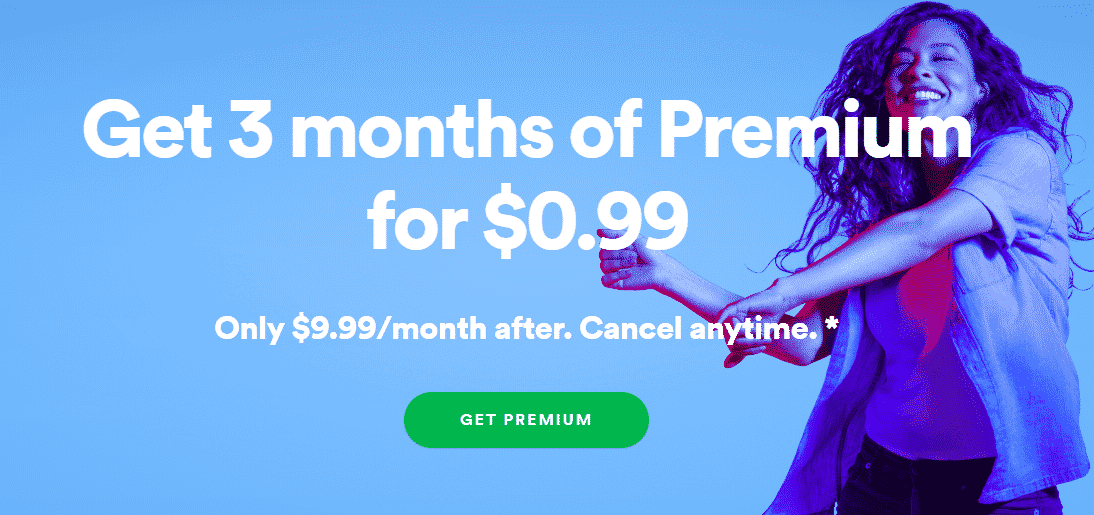 This subscription type, priced at $9.99 per month comes with 30 days free trial. This version is ad-free with users able to play any type of song on demand as well as discover new music, find and hear playlists, share music and playlists, listen to tunes picked by Spotify's Radio feature and create and edit playlists. Options to listen to HD music at 320 kbps offline, skipping tracks as well as using the Spotify app on their mobile device as a computer remote are the other features possible.
 "a Spotify Premium customer spends 1.6x more per year compared to the average spending of a U.S. music consumer who buys music (not including those who spend $0 on music)"
A new premium subscription for students was introduced in March 2014. While in the beginning, students enrolled in any university in the United States of America could avail the Premium services by paying only half of the subscription fees as per the new student's plan. This offer was later expanded to other countries as well.
Spotify Family

This subscription plan priced at $14.99 presently was introduced in October 2014. In the beginning, this plan allowed sharing of Premium subscription by connecting up to five family members. The number of sharing was increased to six in May 2016.
By providing the exact same address as the main person of the family and having the accounts originating from the same setting will pave way for a family shared subscription. It does not mean that all family members would have to share their music and playlists. Taking a family subscription reduces the cost of Spotify Premium while each family members get their own account and are entitled to their own library of music, including playlists, albums, and songs.
"Unlike buying a CD or download, streaming is not a one-off payment. Hundreds of millions of streams of tracks are happening each and every day, which quickly multiplies the potential revenues on offer – and is a constant long-term source of income for artists.", – Tim Ingham, BBC Music Week editor.
Revenue from Advertisements
Spotify not only earns revenues from native banner advertisements but also uses its cutting-edge technology to target its users with audio ads as well.
Spotify supports different kinds of advertisements: Sponsored Playlists, Branded Moments, Sponsored Sessions, Audio, Video Takeovers, Display, Homepage Takeovers, Overlay, Advertiser Pages and Branded Playlists. These ads vary in type, size and user engagement.
An exclusive one-week sponsorship of Spotify's top owned & operated playlists is Sponsored Playlist.
Branded Moments is a first-to-market ad solution allowing brands to involve their audience in real-time moments. It enables marketers to tell their story to the right people at the right moment. Brands can create a connected and authentic experience by tapping the right person at the desired time of the day and at the time of desired activity too. For example, a sports brand may connect to the target audience when they're working out and tap on the workout playlist on the application.
Sponsored Sessions allow brands to provide their audience with uninterrupted listening in barter for a video view. This is available only on mobile and tablet devices and is limited to selected markets only.
Audio Ads are having a duration of maximum 30 seconds and are played at an interval of 15 minutes.
Video Takeover, available only on computer apps, is shown during commercial ad breaks between songs.
Display Ads which are shown at the bottom of the Spotify client are clickable images shown for 30 seconds.

Spotify's 'welcome back' ad is Overlay. It is seen when the user returns to the application on the computer and mobile devices and is quite large to miss.
Homepage Takeovers are a mixture of background skin and optional interactive area that take over the Spotify homepage.
Advertiser Pages are an amalgamation of videos, clickable images, blogs, news, links, and comments which are the contents seen on a webpage.
A Spotify playlists that contain a branded cover art image and text is called Branded Playlists. They should have a minimum of 20 tracks in the playlist and should have one song per artist.
Mediachain Acquisition
Through the years the company was in the spotlight for numerous controversies related to not streaming unlicensed music on its platform for which the company had to pay millions of dollars as penalties to the artists. Spotify didn't pay the royalties because it didn't have the necessary data to figure out the correct ownership of the tracks and even how to locate the owners.
The company, to solve this problem, took the decentralised approach and introduced blockchain in its algorithm by acquiring Mediachain. The company created an open decentralised network which stores the data of every music with the help of the blockchain technology. The company has mentioned the whole process of how blockchain for music works and how the artists and the company will benefit from it.
Why didn't Spotify choose the centralized approach?
A centralized "Global Repertoire Database" initiative, started in 2011 to aggregate ownership data in a central database, infamously failed in 2014 after millions of dollars of investment.

Spotify has helped millions of people connect with each other over their common love for music. It has helped different music reach different parts of the world. At this moment, Spotify has a smaller impact on the market compared to the others and its subscription fees are high. It needs to improve its business model and then it can be said that Spotify is the one enterprise which can make serious money from digital music.
Go On, Tell Us What You Think!
Did we miss something?  Come on! Tell us what you think about our article on Spotify Business Model | How does Spotify make money? in the comments section.
A startup enthusiast who believes anything can be built if you do that required research and get the base ready.