Launched in 2010, Instagram brought a revolution into the online photography industry and normalised image and video sharing on social media as we know it today.
The company was bought by Facebook for around $1 billion in cash and stock in April 2012. But unlike its other acquisitions, Facebook planned to build and grow Instagram independently as a separate platform targeting Gen Z.
That being said, Instagram's revenue model is still connected to that of Facebook's and almost all of the money is generated through advertisements.
But before we discuss how Instagram makes money, it's important to understand Instagram's business model, target audience, and its business strategy.
What Is Instagram?
Instagram is a photo and video sharing social networking platform owned by Facebook. The platform allows its users to capture, edit and upload photos and videos through its mobile application, follow other users, and interact with other users using like, comment and chat feature.
The platform is used by both individuals and companies alike to connect with their audiences.
For users, the company has played a central role in the 21st century pop culture, where popular users are dubbed as influencers.
For businesses, the platform acts as an important marketing platform to build their brand awareness, interact with their customers, and even sell products.
Instagram Stats
Monthly Users: 1 Billion
Daily Active Users: 500 Million
34% of Instagram users aged between 25 to 34; 31% are aged between 18 to 24
51.2% users are female and 48.8% are male
75% of US 18-24-year olds are Instagram users
Instagram Business Model
Instagram's business strategy is unique and evolving. Ever since its inception in 2010, the business model is quite the same – a free image sharing mobile application, but the way it uses its algorithm to monetize users' attention has evolved over time.
Just like Facebook, Instagram requires users to create a profile to connect with others. Once logged in, the user has access to features like photos and videos upload, photos and videos filters, followers, geotagging, self-disappearing stories, live stories, IGTV, etc.
According to eMarketer, users spend an average of 26-minutes per day on the Instagram app


And 91% of them use Instagram to follow at least one of their interests.


This makes the platform a perfect spot for brands to advertise and sell their products, and which is precisely how Instagram makes money.
How Does Instagram Make Money
Instagram is a mix of visual storytelling and influencing. Around 70% of shopping enthusiasts say they turn to Instagram for product discovery. Most even use the platform because of their FOMO. That's why brands love it as much as the users.
In fact, in a recent survey by Ipsos, 66% of people said they use Instagram because it enables them to interact with brands.
The platform successfully uses this interaction to make money through –
Advertisements
Advertisements brings in the most revenue for Instagram. In fact, it is predicted that Instagram will bring in around 40% of ad revenue to Facebook by 2021. According to Business of Apps –
Cost per click (CPC) for Instagram feed ads is around $0.60, and for Stories $0.50
Cost per mille (CPM) for Instagram feed ads is $1.65, and for Stories around $0.90
According to a recent blog by Instagram itself, over 2 million advertisers advertise on Instagram every month.
They decide to advertise in the following formats –
Story Ads
Stories on Instagram are 'day moments' of individuals and businesses presented in a slideshow format that self-destroys itself after 24 hours.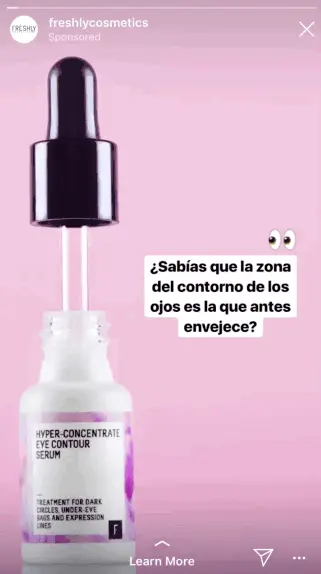 Instagram stories ads pop up in between two story slides and includes additional engagement features like visiting a website, answering a poll, giving feedback, etc.
Photo Ads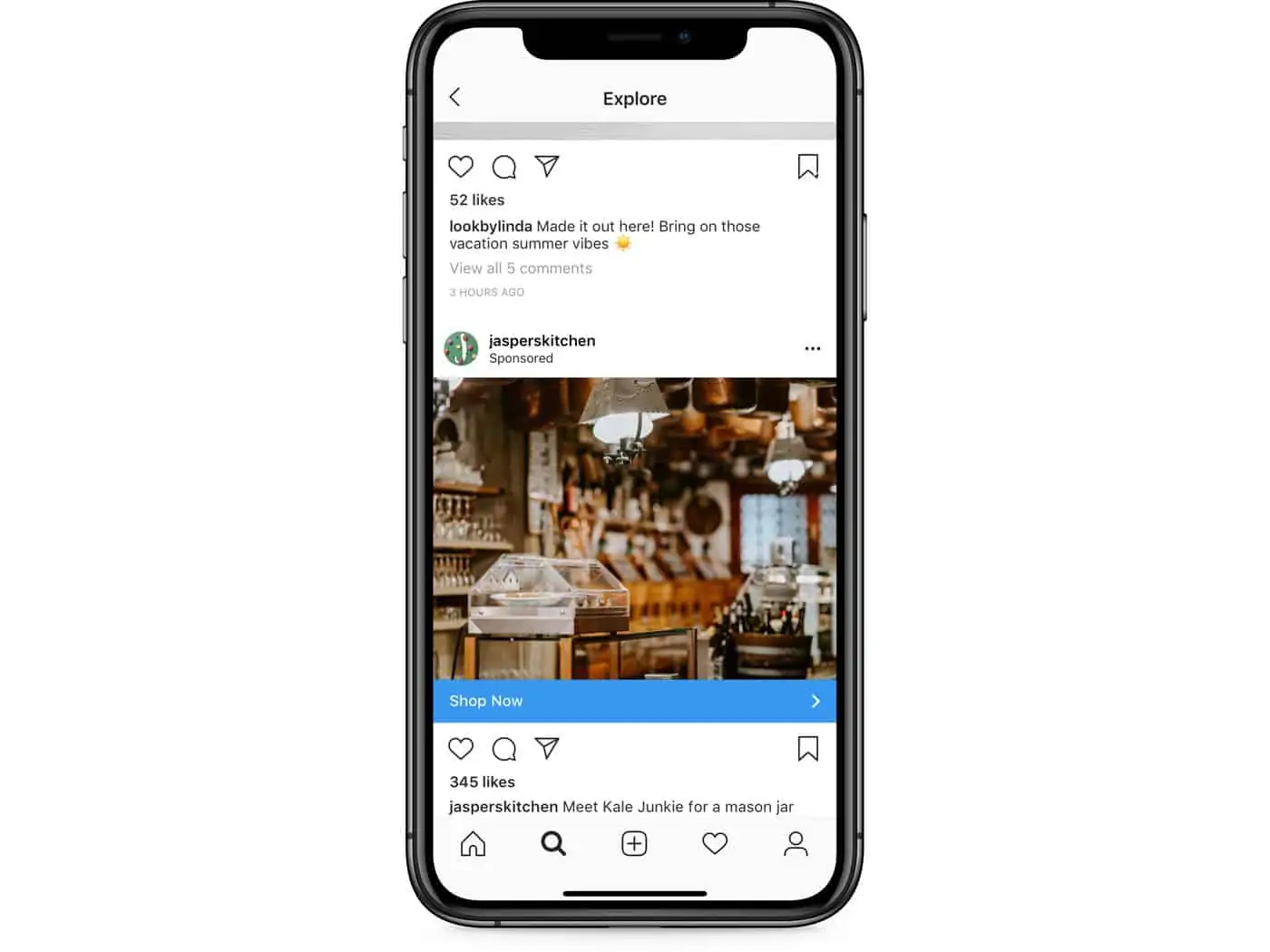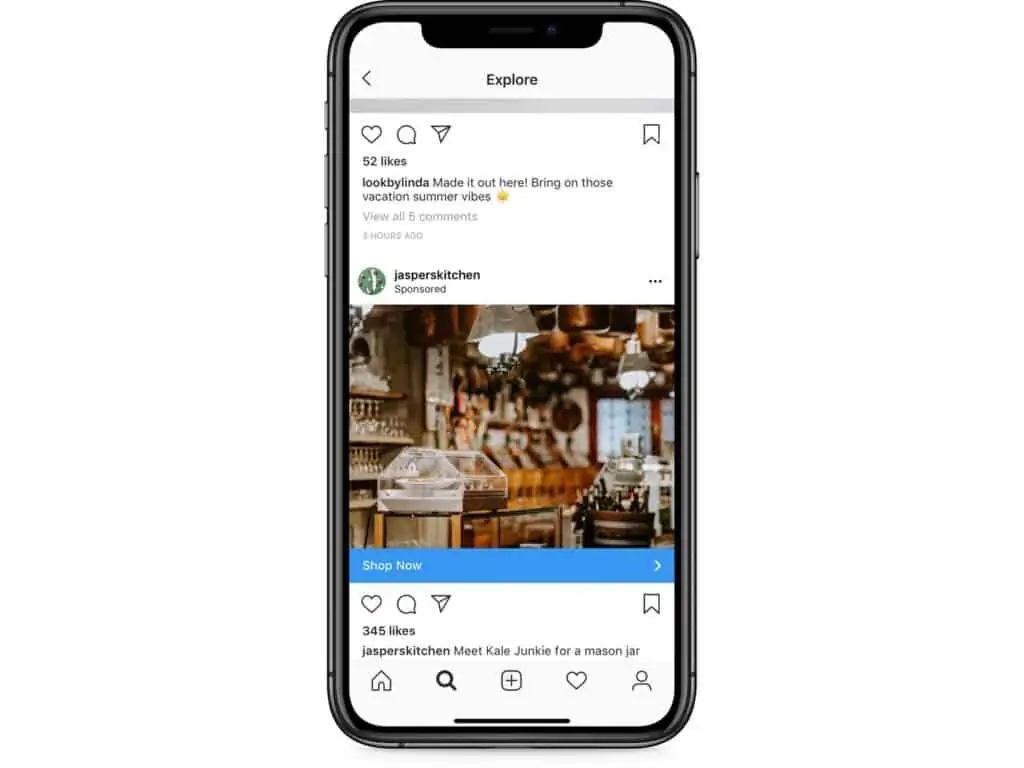 Photo Ads are just like usual photo posts on the platform but with a sponsored tag and a call to action button.
Video Ads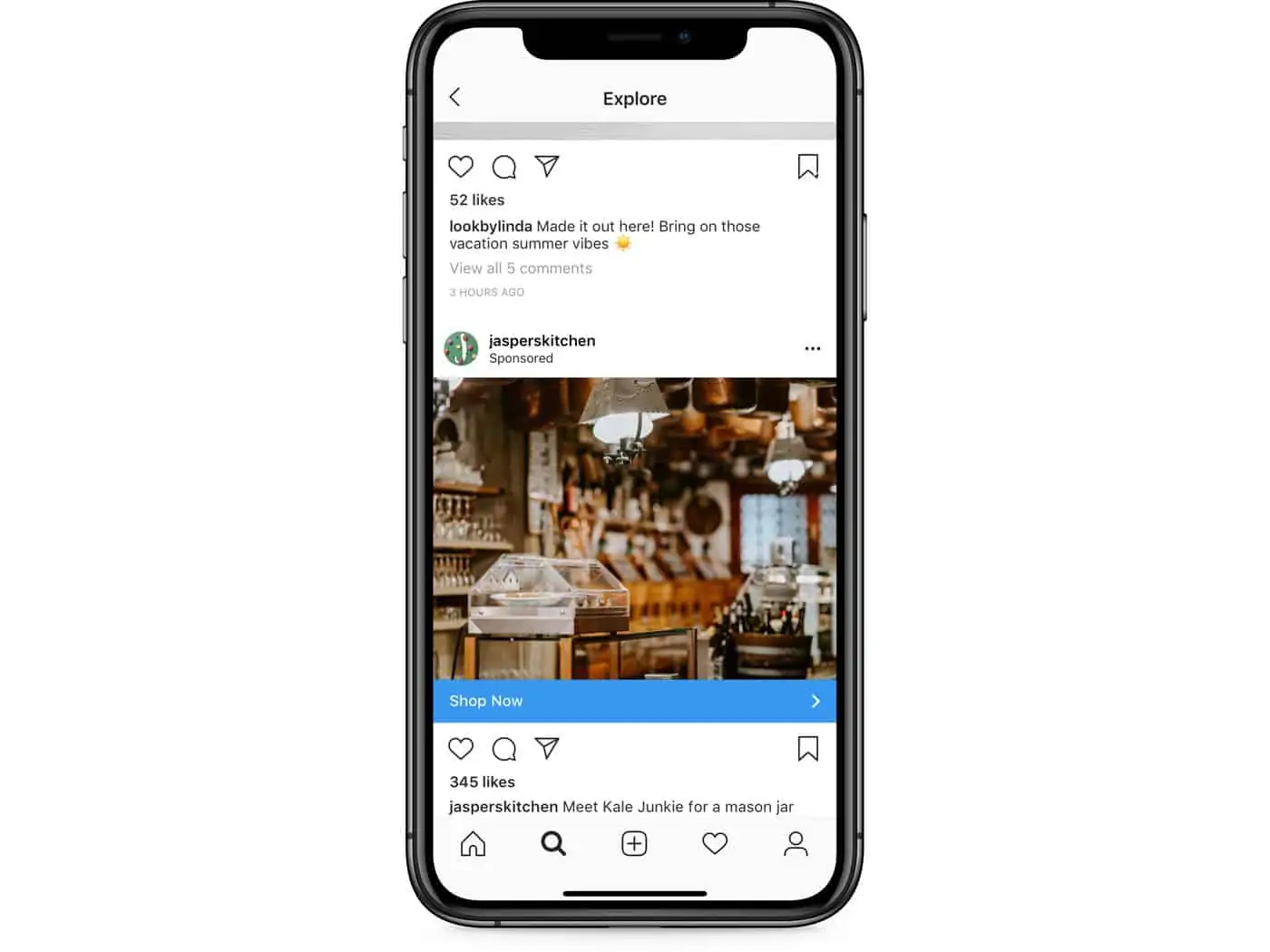 Video ads are similar to photo ads but are in the form of up to 120 seconds long landscape or square format videos with a call to action button.
Carousel Ads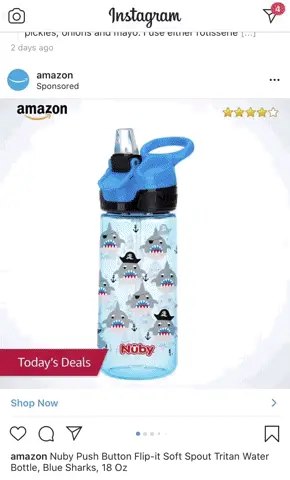 Carousel ads are an extension to traditional ads where the user can swipe to see additional photos or videos in a single ad.
Collection Ads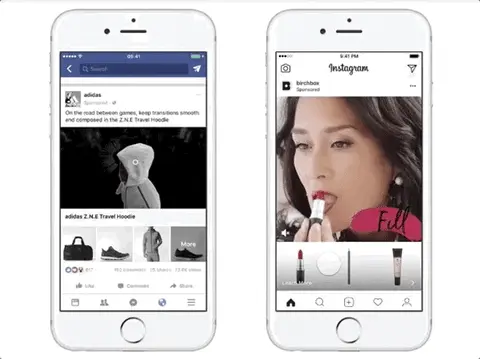 Instagram's collection ads include swipeable carousel display of product images below a cover image or video.
Ads In Explore
Instagram's explore page is a source of real-time content curation that presents different posts for every user from accounts they don't follow yet based on their likes and interests.
Ads in explore are used by brands to target audience with discovery mindset and generate awareness.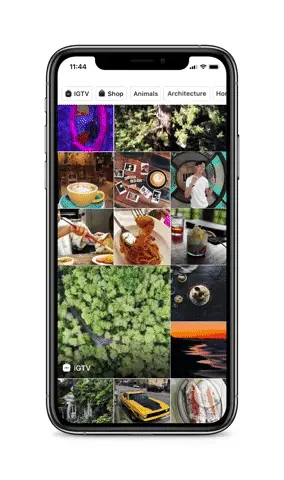 IGTV Ads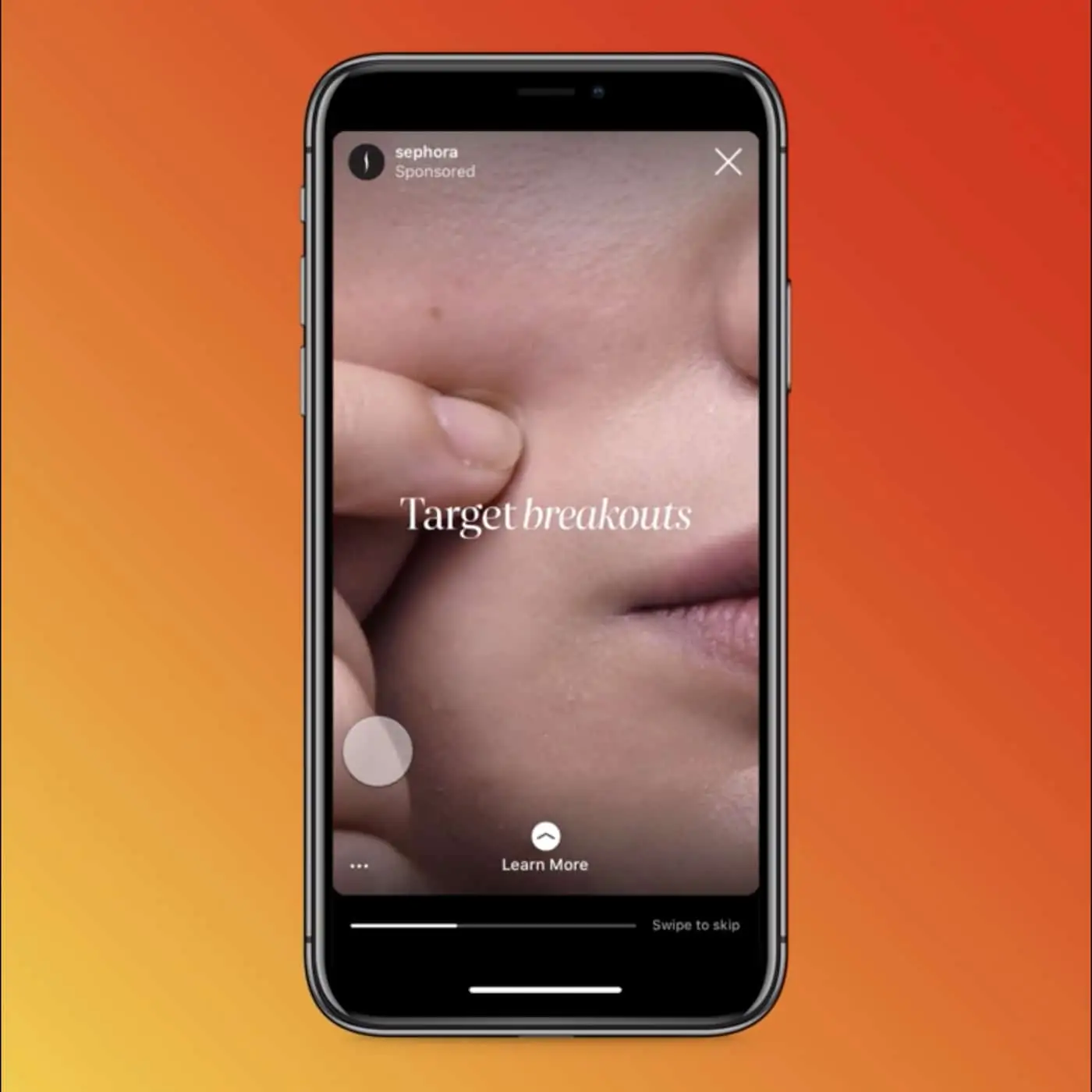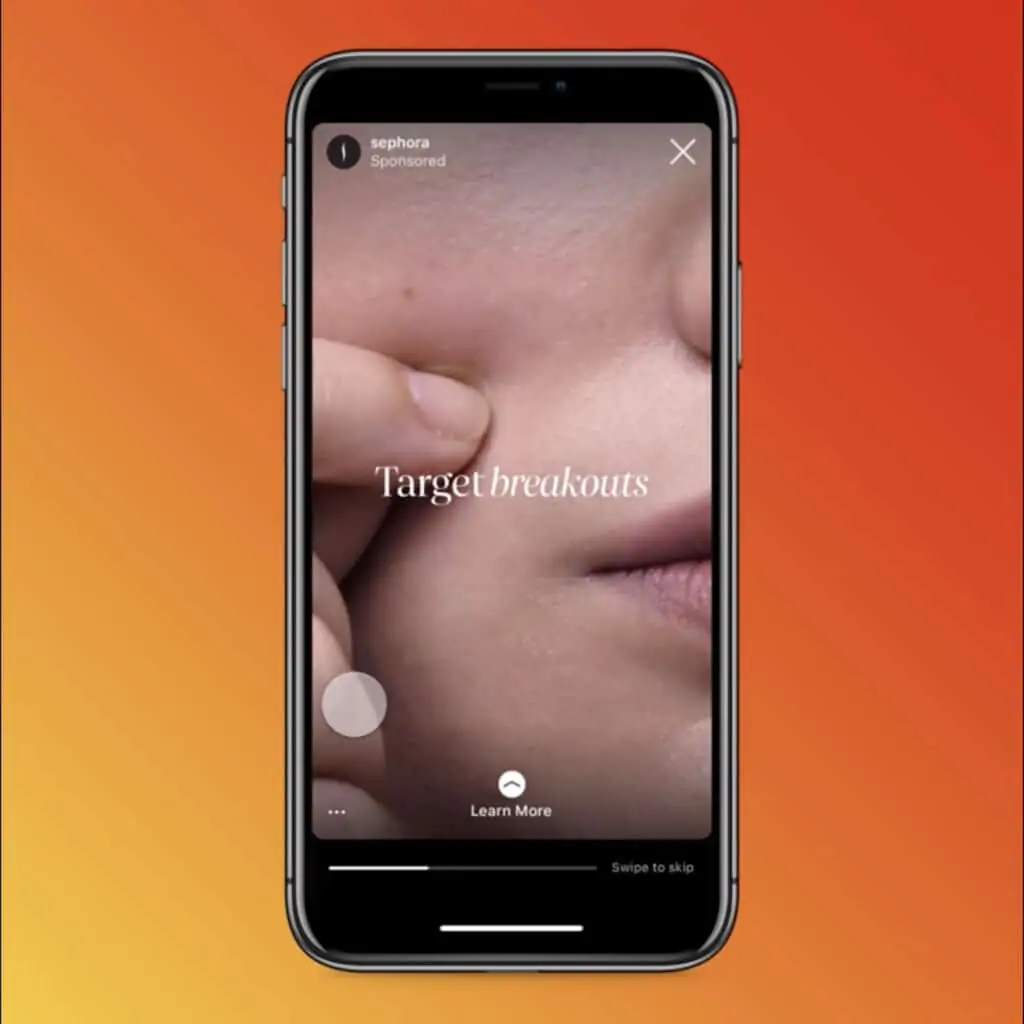 IGTV is a vertical long video platform that runs on user generated content. It is almost like YouTube or TikTok but has a different positioning than both.
However, Instagram monetizes this platform just like YouTube – through ads; and sharing the revenue with the creators.
Shopping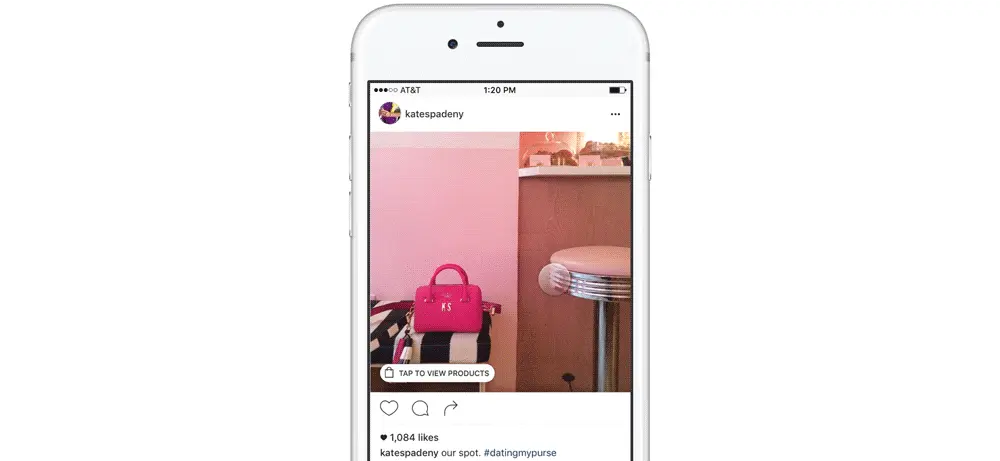 Since Instagram has also positioned itself as a discovery platform just like Pinterest, it has also copied some of Pinterest's revenue earning strategies as well – the shopping feature.
Instagram Shopping is a set of features across Instagram that let people shop your products directly from Instagram.
In simple terms, Instagram Shop lets you integrate your product catalog with your Instagram profile. With Instagram Shop, you can –
Add a Shop tab within your profile that allows visitors to see all your products without leaving the Instagram app.
Add and tag Shop products in your posts in the same way you would tag a friend.
Promote your product in Instagram Stories.
Run an Instagram Shopping ad.
The company makes money with shopping in the following ways –
The Checkout Fees – Instagram lets customers to buy the product on the Instagram app itself. It, however, charges a fee from the sellers for the same. This is how checkout works –

Brand creates a shoppable post;

User clicks on its product tag;

This opens a product page inside the Instagram app;

The user can view images, read descriptions, and browse similar products;

The user clicks on "Shop Now", "Add to Cart", "Check out now" to buy the product right in the app.

Instagram Shopping ads – These are extension to the traditional ads with a tagged product that can be bought either on Instagram or on other channels.
The Future Of Instagram
Instagram is a prime example of the rise social shopping. Facebook understands the bleak future of traditional advertising and has smartly introduced new advertisement and shopping features within the Instagram application which has a great future because it is, in fact, paving the way for future discovery and shopping experience.
The launch of IGTV and positioning it as web TV is a great strategy to get users engaged while the company make money with user generated content.
Instagram has also given way to the influencer revolution which has developed a network effect competitive advantage for the platform which will be hard for any brand to break, be it Google or Snapchat.
Go On, Tell Us What You Think!
Did we miss something? Come on! Tell us what you think of our article on 'how does Instagram make money?' in the comments section.
A startup consultant, digital marketer, traveller, and philomath. Aashish has worked with over 20 startups and successfully helped them ideate, raise money, and succeed. When not working, he can be found hiking, camping, and stargazing.