Pinterest is one of a kind visual-oriented social media platform with an enormous 454 million active users worldwide. With a net worth of $28.13 billion, it is a leading internet platform and one of the fastest-growing social networks. Launched in 2010, Pinterest has progressed astonishingly and has become a social media star by targeting different demographics through its diverse attention vying content.
Moreover, it is interesting to note that Pinterest is a visual search engine and discovery platform with no direct competitor. Google being the closest competitor, however, has an entirely different set of features.
So let us understand how Pinterest works? What value does it offer to its customers? Why has no player ever come close to this giant? And how does it make money?
What is Pinterest?
Pinterest is like an online version of a scrapbook or a monthly planner that lets users share, save and organise their pictures and ideas in one place.
The versatile free-to-use platform enables you to build a profile, browse for ideas, save things that interest you and share your own ideas in the form of pins.
Moreover, these pins enable you to explore the entire internet visually. The virtual gallery of catchy and attractive photographs and short videos suiting the users' needs is what makes Pinterest unprecedently popular.
Now let's dig into the details and closely explore the business model of Pinterest.
Pinterest's Target Audience
Based on the purpose of usage, Pinterest essentially targets users and advertisers.
Users are individuals who either create original content or re-pin to create collections or assemble pinboards to add to the content catalogue for free.
Advertisers, however, are small and big businesses and brands that exclusively showcase their products and services on the platform by paying for them.
It is interesting to note that Pinterest attracts multiple generation brackets. In comparison, Gen-Z and Millennials are the most prominent target audience accounting for 36% of total users aged between 18-29. The platform is also popular among the Gen-Xers and Boomers.
According to a study by Pew Research Center, Pinterest is used equitably across all income groups with slight deviations. The usage by different economic groups can be attributed as:
| Yearly Income | Percentage Users |
| --- | --- |
| <$30,000 | 30% |
| $30,000- $49,999 | 32% |
| $50,000- $74,999 | 31% |
| >$75,000 | 35% |
As far as gender demographics is concerned, 45% of the women actively use the site compared to only 17% of men. Geographically, the United States of America hosts the maximum number of Pinterest users amounting to 89.9% of the audience, followed by Brazil, Mexico, Germany, the UK etc.
What Value Does Pinterest Provide To The Users?
Pinterest is like an interactive visual encyclopedia that can keep us hooked for a long time. But why exactly does it happen?
It is because Pinterest combines two of the most compelling elements of social networking, i.e., visual content and sharing individuality, which can address the users' pain points. It delivers high worth to the pinners whereby they can:
Browse conveniently: Pinterest is a site that connects the users to a million other websites and apps simultaneously. It displays the most explicit and popular content related to the search and gives a birds-eye view of the entire internet landscape without visiting each site separately. Moreover, the user-friendly interface makes interaction with the website/app easy. The feed displays content according to preferences categorised according to age and geography make the experience even more customised.
Explore visually: Pinterest is like a visual scrapbook that hosts a plethora of ideas and themes from A to Z. For example, on searching for the word 'Holiday,' the search results show novels, movies, tour packages, blogs, gifting items, themes, ideas, short video, photoshoots etc. that are closely associated with Holiday. Moreover, users can search and discover visually through images rather than text-based content, making the customer experience fun and memorable.

Curate content: The platform hosts two types of content creators. The users are the ones who explore ideas on the site and create pins and pinboards by saving and organising similar content together. These pinboards are also visible to others on the network; therefore, they create content for others. On the other hand, small and big businesses and creative people curate original content, products, and services and surface it on the platform by creating pins of their exclusive content to advertise themselves. These entities add new content to the site either by paying or not paying for it.

Plan and organise: Users can manage their pins on different boards around different themes or projects. Furthermore, the user can create unique pinboards by re-pinning similar pins and adding new themes to the platform. Therefore, Pinterest serves as a guiding map for undertaking various professional and personal tasks.


What Value Does Pinterest Provide To The Advertisers?
Pinterest is generating massive revenues from its promoted pins or advertisements. Businesses and brands can effectively captivate the audience using visual imagery and display their offerings better. This is turn, incites the users to act and make purchases. Advertisers are choosing Pinterest because they can:
Target ad campaigns: People visiting Pinterest have an intent. This means they are driven to the site to explore, purchase, discover ideas, etc., which is why they are more likely to act after seeing advertisements. Therefore, advertisers are effectively reaching out to those people only who are likely to become their customers on Pinterest. This is why ads on Pinterest are more rewarding than those on social media.
Get an incredible reach: When the content brought in by the business is trendy, customer-targeted, and engaging, the content itself gets re-pinned again and again on different dashboards and pinboards and highlights the content even more on the platform. Therefore it continuously drives more and more people to the advertisers' website.
Discover customer experience: Advertising on Pinterest is not just about selling the product or service. It has more to it. Businesses get a chance to tell a visual story and build brand awareness on the platform. Therefore companies gain insight into customer experience right from the beginning till the end.
Create a long-term impact: Pins make a visible presence on the platform and have a longer lifespan than tweets and Instagram posts. A pin may reappear on the home feed even after months of being initially posted. This longevity is a powerful asset for advertisers.
Pinterest Business Model
Right from 2010, Pinterest was right on track with a web social catalogue business model. It didn't take long to be recognised as a social networking platform as the business model included public pins and pinboards that could be re-pinned according to users' interests.
Today, the Pinterest business model has ecommerce, cataloguing, content aspects, and social networking features. Like its counterparts (Facebook, Snapchat, etc.), Pinterest has developed an advertising revenue model that benefits from the users visiting the websites. Before moving on to how Pinterest makes money, it's essential to discuss the significant elements of the Pinterest Business Model.
How Does Pinterest Operate?
To understand how Pinterest works, we need to break down various key factors: elements, activities, partners, techniques to market itself, channels for reaching out to customers etc.
To better understand how Pinterest works, we first need to break down its key elements. They are as follows: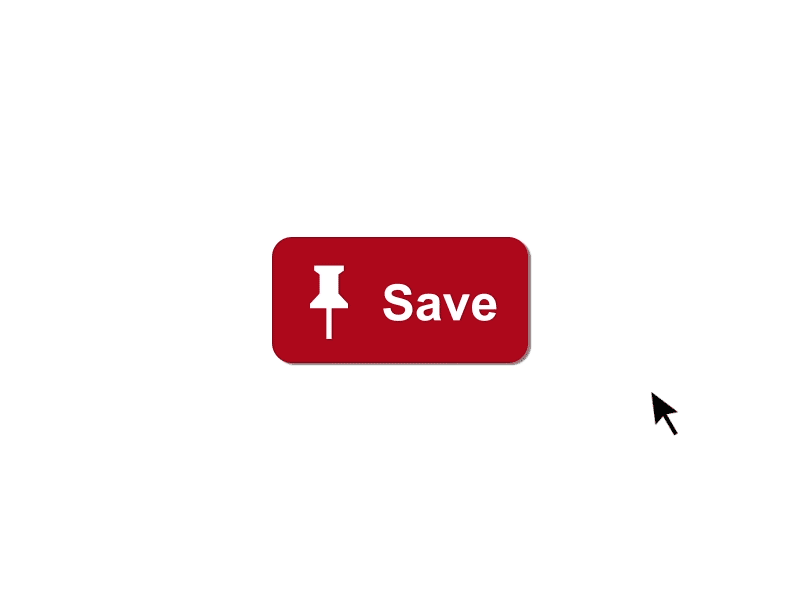 The pin is the image that is added to Pinterest. Registered users can save anything they like on the web in the form of pins. These pins can be saved using the browser extension of Pinterest or through uploading pictures on the Pinterest website. It includes photos, description, user ID, board pinned on and the category of the pin. Pinterest boasts about 240 billion+ pins saved by pinners today.


PinBoards are a virtual collection of the users' saved pins. A particular user may have multiple boards depending upon interests. Pinboards can be both private and public. Public pin and pinboards can be viewed and re-pinned by other users. Whereas only the user can access private boards. Pins and pinboards have a longer retention value in the search results than other shared stuff over websites like Facebook and Twitter. More than 5 billion boards are organised on Pinterest at present.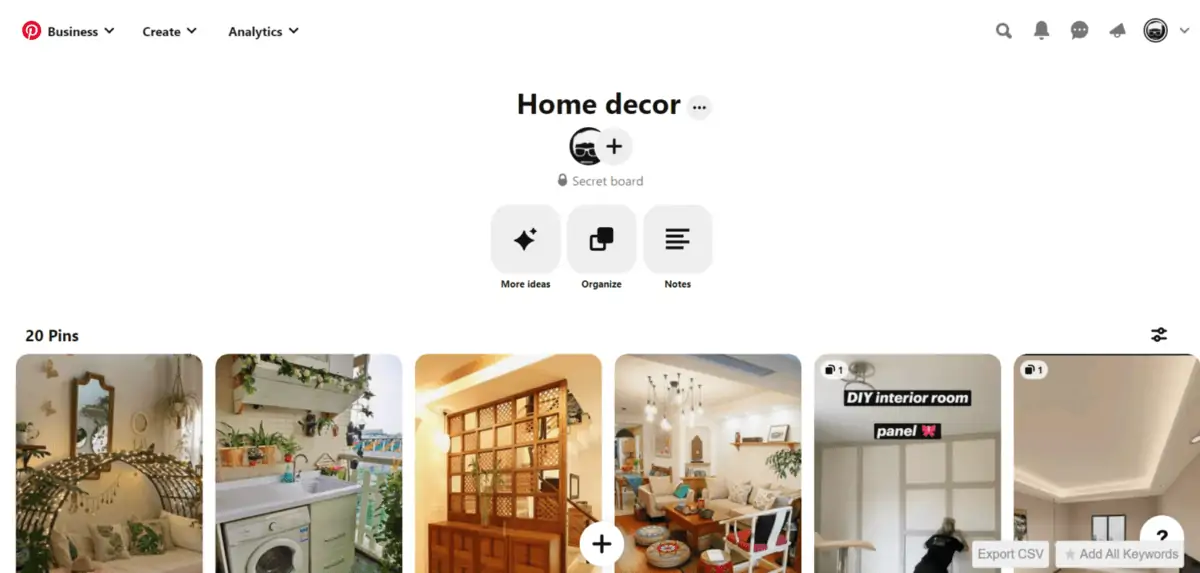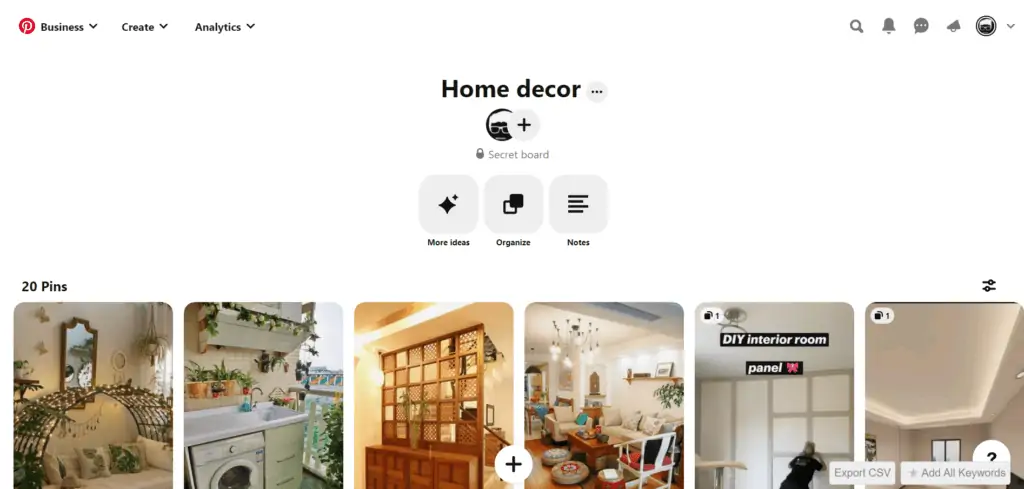 Monthly searches are the number of times people looking for a keyword land to the Pinterest site. On average, a Pinterest user types a search eight times a month, giving it globally 2 billion monthly searches.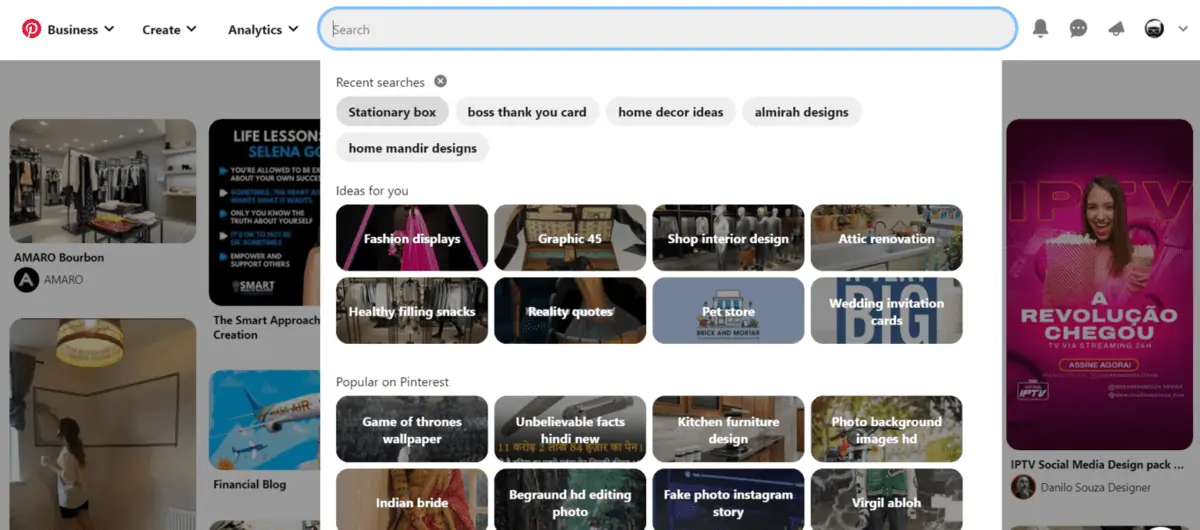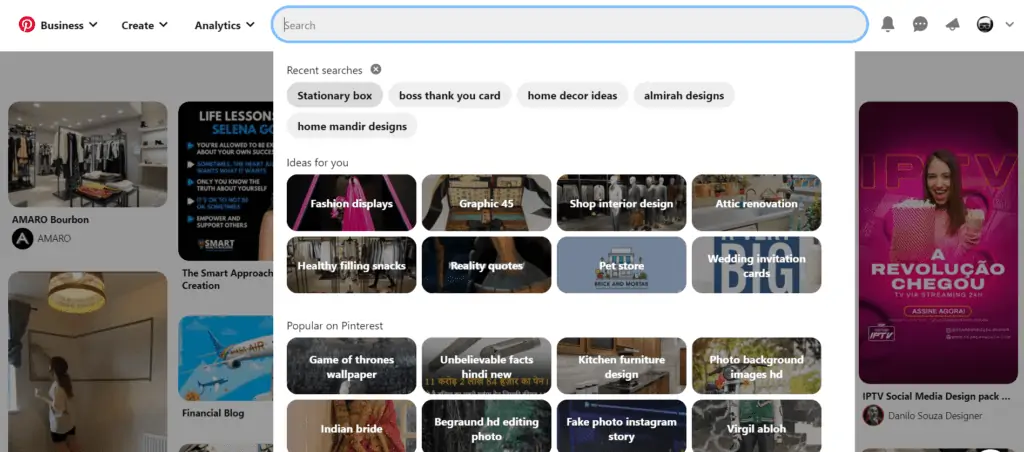 Interests are the site themes based on which images, videos and short gifs are organised. These interests are employed for user searches, content categorisation, and ad targeting. Pinterest hosts around 6700 interests on the platform.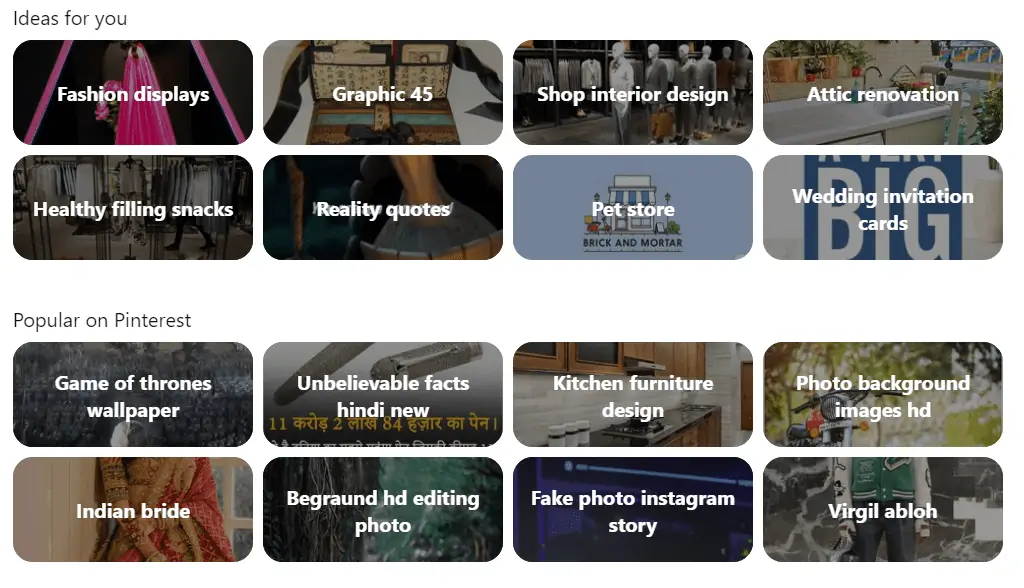 How Do Users Operate Pinterest?
Pinterest boasts a multi-million user base because of its unique interactive interface allowing users to:
Build a profile: Users create their profiles to create an identity on Pinterest. The unique user ID enables people to use the platform, search and explore ideas, save pins, create personal boards, create pins, follow famous collections and brands etc. Others can view the profile on the network and explore the content it contains as well.

Discover ideas: The search bar enables users to discover ideas, businesses, and brands related to the search keyword. The recent activity builds the home feed and shows pins closely associated with the browser's interests. The home feed becomes customised and personal to the user with relevant content from followed interests, themes and pinboards.

Create Pins: A pin is created by adding images or short videos and a brief description and link to the source on Pinterest. These pins may be images, videos and gifs on diverse themes for personal and professional undertakings.

Save, share and shop Pins: Pins are the virtual bookmarks saved in one's profile. Users can also create pins by saving the content they love. These saved pins are like bookmarks and can be shared with friends and families through different social media platforms. The pins also display products and services advertised by brands and businesses, and users can shop from the same.

Create Boards: Users can arrange the saved pins in the different collections according to their tastes and preferences by creating different pinboards. These pinboards can also have additional notes, checklists or reminders. In case users want to keep their pinboards private, they can create secret pinboards as well.

How Do Advertisers Operate Pinterest?
Create a business account: Advertisers need to create a business account as the first step to advertise on Pinterest. They can either convert an existing account to a business account or create a new one. This helps them to get the necessary assistance and know-how of creating ads for the platform. Moreover, installing the 'Pinterest tag' tracks people visiting their websites through Pinterest ads. Therefore from the very beginning, analytics come in handy in Pinterest Business.

Build the campaign: Businesses should designate a name for their campaign closely associated with their offerings. In addition, to provide a direction to the business dealings, it is essential to have a goal. Pinterest allows businesses to set up this campaign goal to streamline their advertising process. It may be driving traffic, building brand image, generating sales, getting views, app installations etc.


Choose their target audience: Pinterest allows advertisers to set parameters for their potential target audience. They can choose between gender, age, language, location and devices through which their ads can reach their customers. This is an effective way to get more views because ads are directed according to people's latest trends and preferences.

Select ad placement and add interests: Advertisers need to select their preference for displaying their ads either while browsing or searching or both. Their budget helps in this ad placement selection.
To further expand the advertisers' reach, Pinterest allows them to add interests and keywords associated with their campaigns. Businesses can choose from thousands of interests and keywords to match customers' needs or even convert them.


Set budget and schedule: Advertisers fill in the start date and end date of their campaign.They also set up the campaign budget suiting their preferences by fixing their daily spend limit and lifetime spend limit (lifetime spends the spend between the start and end date of the campaign). Finally, the campaign timings and display can be scheduled for promotion.

Pick the promoted pins: The campaign is finalised by choosing the pins to be promoted or advertised on the platform. Advertisers should ensure that the pins selected are saved on their profile and not added to a secret pinboard. These pins should contain the destination URLs and should have original content.
Monitor campaign performance: The Pinterest Ads Manager dashboard allows advertisers to analyse their campaign performance. It helps evaluate the reach and actions their ads instigate in the audience through key metrics and analytical tools. It also inspires the advertisers for their next campaign by considering the customer response to their previous and ongoing campaigns.

What Are Pinterest's Key Resources?
Pinterest can deliver top-notch value to its customers because it uses its valuable assets. These assets are the company resources that are built and nurtured for the growth of the business. Pinterest's assets are classified as:
Digital Assets
The chief resource of Pinterest is its proprietary software platform that hosts its website and application. The website is accessible through a desktop or tablet, and the application is available for android and ios devices; that eases the process of visual discovery on Pinterest.
Human Capital
The employees are the human resource at the back of all Pinterest operations handling technical, content, and other assets for delivering the value proposition. It has a diverse workforce of 2500+ employees.
The top human capital is its technical employees who provide technical support to Pinterest to constantly build and improve its platform. They optimise its virtual presence and make its operations effective—E.g. App developers, social media managers etc.
Pinterest has been associating with internet service providers and expanding zero-rating agreements. Zero-rating agreements allow the internet service providers to enable browsing of certain websites free or subsidised. In other words, Pinners can use the site/app without counting upon their internet data. ,
Who Are Pinterest's Key Partners?
Pinterest has built some strong relationships with people and businesses that make its business operations effective. Pinterest maintains the Pinterest Partners program, which consists of firms that provide services and tools to help brands on the site evolve and optimise their earned, paid and owned content.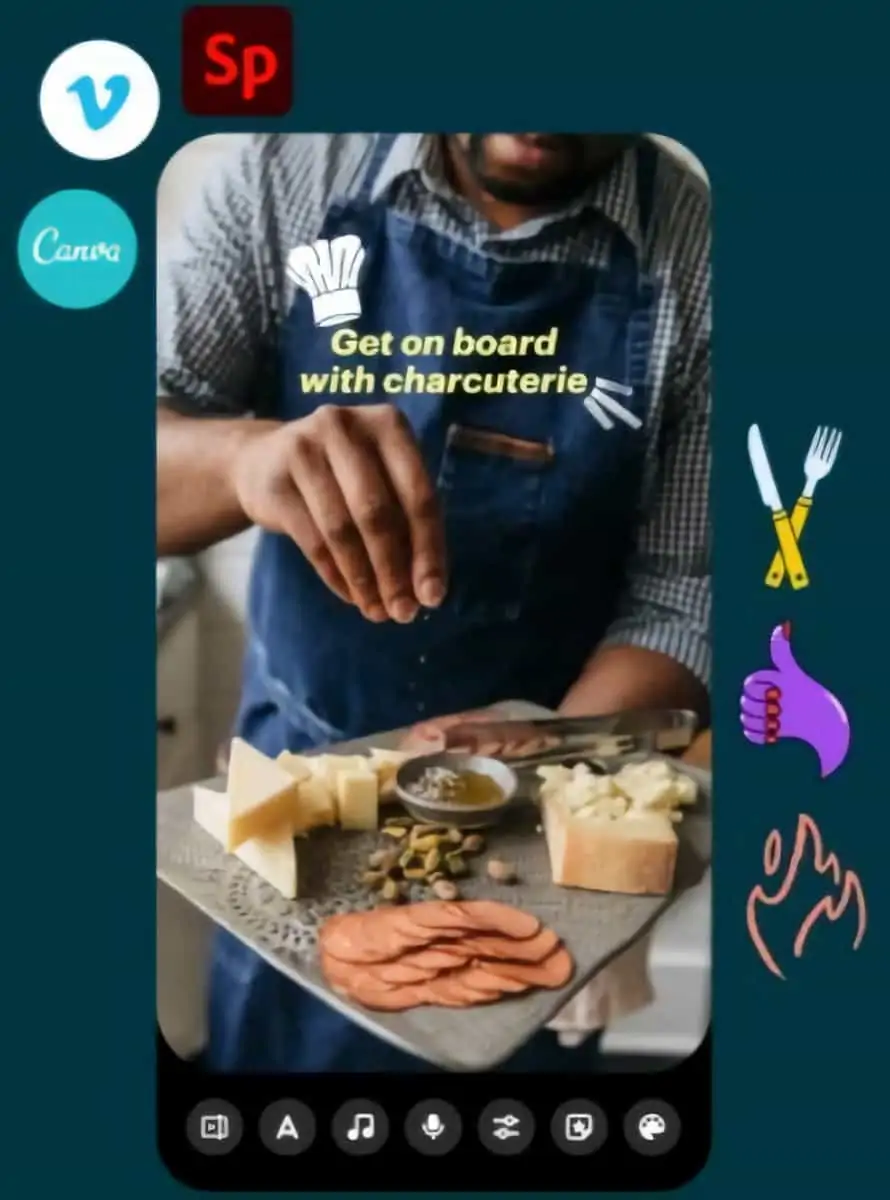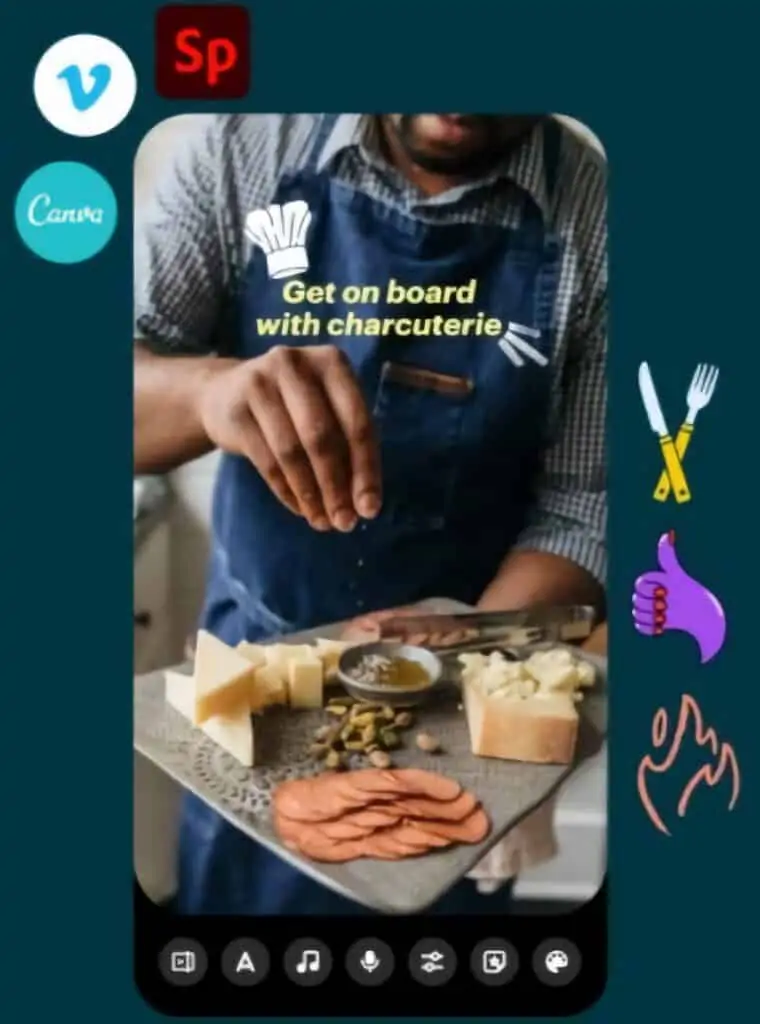 Pinterest's key partners include:
Advertising Partners: They help businesses to create an effective media strategy. They help in creating engaging ads and managing marketing campaigns for the brands on Pinterest. Kenshoo, Smartly.io, Sprinklr are some advertising partners of Pinterest.
Audience Partners: They help businesses discover customer experiences and use the insights to build a more targeted brand. MikMak, Shoppable, SmartCommerce are some audience or shopping experience partners of Pinterest.
Content Partners: They help businesses to optimise their content on Pinterest by using tools like Pin schedulers and engagement dashboards. It helps to create a strong presence on Pinterest. Buffer, Newscred, Tailwind are some of Pinterest's content partners.
Creative Partners: They help businesses scale up their success by adding creativity to the content. They employ special tools to design vying attention content. The Online Studio, Social Native are some creative partners, while Adobe Spark, Canva are some creative tool partners of Pinterest.
Measurement Partners: They help businesses analyse and track data to create more fine-tune targeting promotional content for the platform. They employ expert analytics and measurement tools to shape the brands.
Shopping Partners: They help businesses quickly set up an online store and attract customers. They help in managing the feed and bringing good customer experiences. Shopify, Ecwid, WooCommerce, Feedonomics are some shopping partners of Pinterest.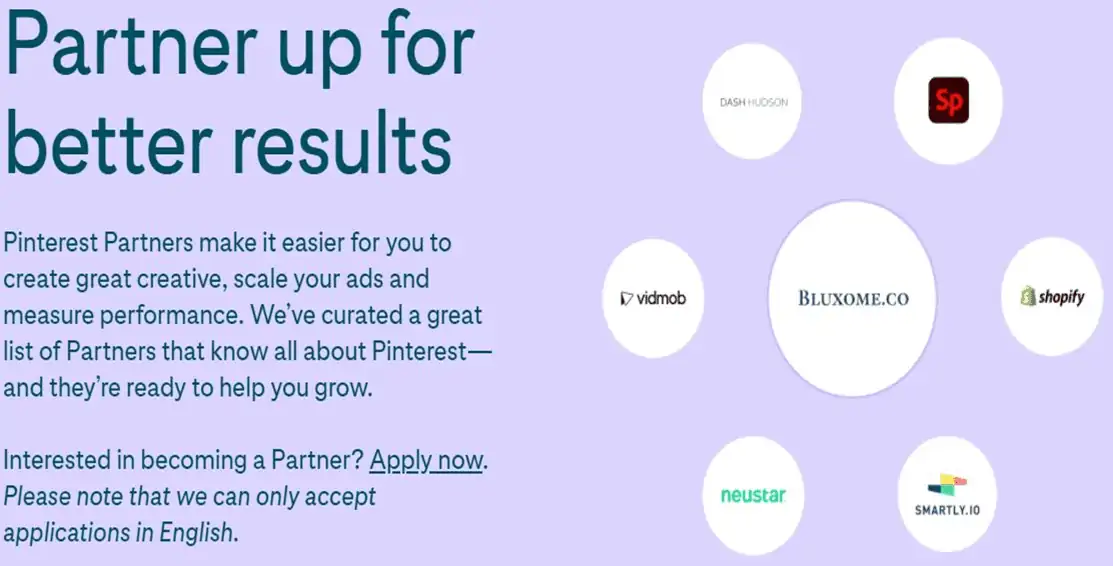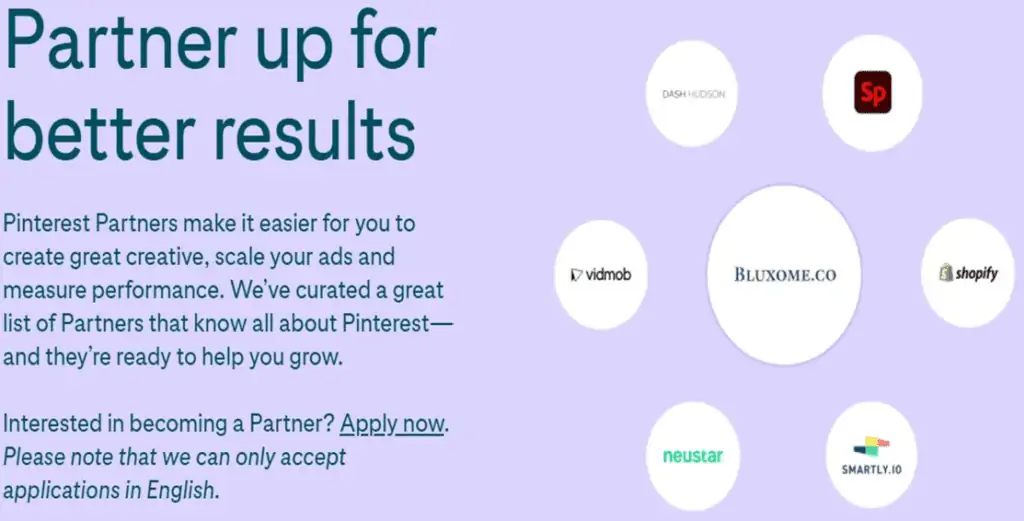 How Does Pinterest Reach its Customers?
Pinterest uses specific communication channels to reach out to people, make a presence and provide its services. These key channels offer hassle-free access to the platform.
In a bid to attract the customers to the platform for the very first time, Pinterest makes use of the following channels:
Website and Application: Users can directly access the platform through a website or application available for both android and ios. The website and app interface are quick and straightforward to learn for beginners as well. The well-organised website in mobile and desktop versions further makes online browsing simpler.


Search engines and social media platforms: Pinterest can also be accessed through indirect channels as well. Search engines like Google and social media platforms like Facebook are also Pinterest's indirect channels. E.g. Google uses images sourced from Pinterest on their image search results, and Pinterest allows sharing of pins on Facebook, among other social platforms. This way, browsers are directly routed to the website. Twitter, Linkedin, Youtube etc., are some other sources that help Pinterest reach its potential users.

In a bid to retain its users and engage with them for the long term, Pinterest makes use of monthly email newsletter, push notifications, business and resource pages, word of mouth publicity, established blogs etc.
Pinterest's Revenue Model
Pinterest didn't have a revenue source till 2013 when it released its new feature – the promoted pins. Promoted pins are advertisements in the form of pins on the user dashboard, search results, and other places on Pinterest promoted by an identified sponsor and redirected to the sponsor's website or application; thereby, Pinterest follows an advertising revenue model.
The promoted pins, just like promoted content over other social media networks, are user targeted so that the user and the advertiser get what they need. Their reach depends on the bids by the sponsor, and the bids depend on the target interests and other demographic factors.
Pinterest's Revenue Streams
Pinterest posted revenue of $1.6 Billion in 2020, up from $24 Million in 2014 when it first generated revenue via its promoted pins by charging fees from the respective brands. These pins get prominent placement on the platform. These promoted pins were associated with a specific purpose like video view, conversion, brand awareness, shopping catalogue, app install, directing traffic, trials, sign in etc., which once fulfilled generates revenue for the company.
There are different format types of Pinterest pins:
Promoted Standard Pins: Standard Pin format is the most famous pin format on Pinterest and allows users to showcase products and content in simple vertical or square dimensions. When the user clicks a standard pin, they are redirected to the original website.
Carousel promoted pins are similar to standard pins, except they allow users to swipe through multiple images or videos, also called cards. Various cards make up a carousel, and each card has its title, description and link. This is an effective way for more conversion through a single pin. These promoted pins essentially capture the audience and build brand awareness.

Promoted Video Pins: Promoted videopins contain a video instead of a static image. These pins work more or less like standard pins and are a great way to share stronger stories with the audience. Moreover, Pinterest reports that users are more likely to make purchases after watching a video ad. The size of the video pin may vary from the size of a regular pin to that across the width of the feed. Video pins proactively engage the users and aim at getting maximum video views and building brand image.

Story/ Idea Pins: Idea pins bring the ideas to life using music, stickers, tagging, videos etc. Story pin is a new format of advertisement, whereby multiple static images and videos along with voice recordings and music can be used to deliver the brand to the users. It allows businesses to publish exclusive content on Pinterest rather than bringing together different sources.

Promoted App Pins: These pins are action-oriented and drive app downloads, sign-ups etc., for the advertising brands. They are linked to the Apple store and Google Play store, and once the user clicks on them, the linked app can be downloaded without leaving the Pinterest home screen.

Shoppable/ Buyable Pins: They are like standard pins and allow brands to upload products from their catalogues on Pinterest. These shopping pins contain explicit product details, and they're marked with indicators that users can easily tap to see more product information. They enable the users to shop snd get similar product recommendations within the interactive interface of Pinterest. Shopping becomes hassle-free because buyers do not have to leave the platform to access different products.

Collections: A collection pin is used for building brand awareness or generating catalogue sales. This format typically appears in a mobile format. It displays a primary image, also called the hero image, and three other secondary pictures or videos to complement the primary image. This helps in exploring the idea better.


Pinterest's Cost Structure
Pinterest's annual reports give us an insight into the extensive costs incurred by the company. The costs can be categorised into:
Cost of Revenue: The cost of revenue of Pinterest includes all the costs incurred to deliver the service and value to customers. For example- the cost of maintaining the website and app, salaries of employees, payment to partners, transaction fee, other overhead costs etc.
Research and development: The research and development expenses include all costs incurred on personnel and facilities associated with the research and development of the service—for example- salaries to engineers etc.
Sales and marketing: The sales and marketing expenses include all costs incurred on personnel and facilities related to sales, sales support, marketing, business development and customer service functions. For example- marketing employee expenses, professional hiring fees, advertising and promotional expenditures etc.
General and administrative expenses: General and administrative expenses include all costs incurred on personnel and allocated facilities for general functions, administration, legal and financial purposes. For example- salaries to accountants and managers, administration overhead costs etc.


Bottom-Line
Pinterest is an exciting social media platform that has revolutionised the way we interact with the internet. The San Francisco-based company also allows users to share their individuality through their photos and videos. It practically acts as a visual search engine and entices people to act. Besides this, bookmarking and planning projects on the platform have become a trend.
With its unique and strategic business model and increasing popularity, it is estimated to grow more success in the upcoming years. Moreover, Forbes predicts that Pinterest's Revenues could rise by roughly 2.5x from estimated levels of a little over $1.45 billion in 2020 to close to $3.5 billion by 2023.
Go On, Tell Us What You Think!
Did we miss something? Come on! Tell us what you think about our article on Pinterest business model in the comments section.
A fervent reader, research maniac, and a go-getter with a knack for opinionated content. Janvi has actively contributed to educational institutions, startups, and non-profit organisations through her structured and expressive writings. Often found socialising, playing with dogs, and photographing.