With a mission to help professionals connect globally, Linkedin has positioned itself perfectly as a professional community in this competitive market. The platform currently has over 500 Million users in over 200 countries and territories, 80% of which consider professional networking important to their career success.
The business model of Linkedin is a freemium model where the core features are provided for free, but the company charges money for extended features to recruiters as well as job seekers to aid job search.
What is LinkedIn?
LinkedIn was founded by a well-known American internet entrepreneur and a venture capitalist, Reid Hoffman, with a motive of creating a community for professionals to connect. The community reached over 1 million users in August 2004 and has been growing at an incredible rate since then. The mobile version of the website was launched in February 2008 and the company was bought by Microsoft in February 2016 for $26.2 billion.
Just like Facebook, you connect with other professionals on Linkedin by sending them requests. Your profile works as your resume and others have access to your professional information which includes your current and previous jobs, your aspirations, experience, etc. Even though it is one of the fastest-growing social networks, Linkedin still is unknown to most of the population of the world. This one of a kind professional social networking platform has over 106 million active monthly users and is used by professionals and corporates to build their personal as well as corporate brand online and connect with millions of other professionals.
The professional community also hosts millions of jobs listed by over 9 million companies and even lets you share your thoughts in the form of blogs on LinkedIn Pulse.
LinkedIn Business Model
LinkedIn not only connects you with other professionals but also with companies and recruiters. The company has uniquely positioned itself as the only platform worthy of professional networking. Along with professionals, it also serves companies and even charges for providing certain premium services. Unlike other social networks like Facebook and Twitter, users even pay to stand out on this platform.
How LinkedIn Makes Money?
While most social networking sites earn most of their revenue through advertising, LinkedIn has a totally different business model in place. The revenue model of LinkedIn can be divided into two parts: Business solutions & Premium Subscriptions
Business Solutions

LinkedIn is a one-stop solution to increase your professional network and find new opportunities. Every user on LinkedIn has a different set of requirements. Be it finding new networking opportunities, potential employees, marketing of new campaigns, searching for a sales lead or learning business concepts, LinkedIn business solutions have services to fulfil most of these needs.

Business solutions is a collective name given to the premium services offered by the company to its users. It consists of –
Talent Solutions
With over 65% contribution to the total revenue, talent solutions are the most important services and tools included in the LinkedIn business model. Talent solutions include premium recruiting tools for the companies and recruiters to help them find the most suitable employees/partners for their business. The primary services offered under Talent Solutions are LinkedIn recruiter, job slots, recruitment media, career pages, and work with us ads.

One of the key differentiators of LinkedIn from other job portals is that users usually don't join LinkedIn just to look out for jobs, they join LinkedIn to create and promote their personal brand which, in turn, is what the recruiters look for. Recruiters get a better image of the person on LinkedIn than on any other job portal like Indeed or Monster Jobs. Apparently, LinkedIn Talent Solutions is also a major service which helps recruiters poach employees from competitor companies.
Marketing Solutions
LinkedIn apart from being the best recruitment platform is also a sought-after social networking website by marketers to execute their marketing campaigns. This service contributes to over 18% of the total revenue of the company and offers features which let companies to not only create a company page but also enhance their marketing efforts by creating sponsored content, sponsored InMails and text advertisements.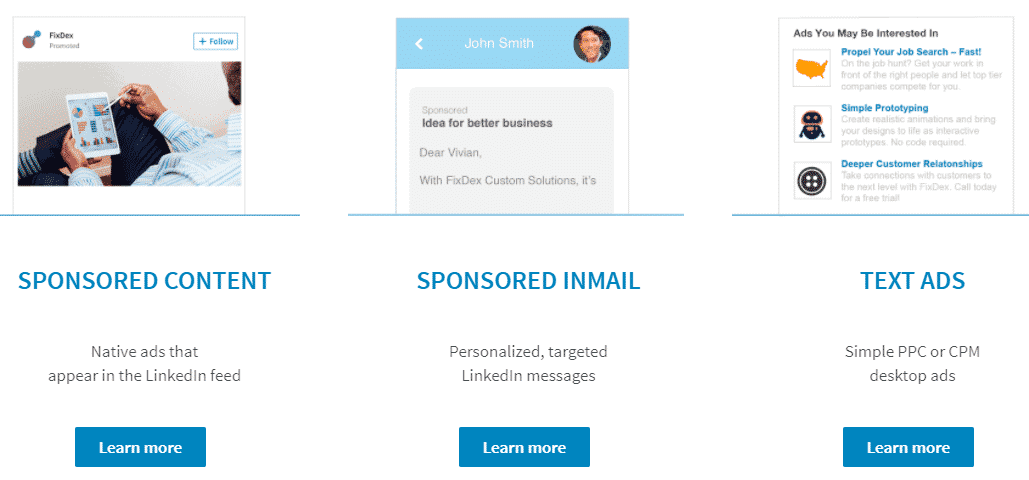 Premium Subscriptions
Premium subscriptions are premium solutions catered to individuals on LinkedIn. It allows users to unlock certain features that are not available to normal users. The premium plans are designed to cater to the specific needs of the users. The subscriptions include
    Career
    Business Plus
    Sales Navigator
    Recruiter Lite

Career solutions
With an upgrade to a premium career account, you can deepen your visibility, get a wider reach and have access to applicant's insight which lets you compare your profile with others. You can get a clearer picture of who is looking at your profile and get access to online video courses and salary insights.
Job search solutions
With an upgrade to a premium business account, you get access to unlimited profiles search and suggested profiles – – up to 3rd-degree. You can access the features of InMail, which allows you to contact anyone on LinkedIn, even those with whom you aren't connected yet. There are more detailed business and career options in the premium version.
Sales Solutions
Linkedin premium sales solutions boost your social selling strategies by providing tools like enhanced search with lead builder, sales insights, InMail, lead recommendations and saved leads.
Recruitment Solutions
The recruitment solutions subscription offered under the premium solutions is a lighter version of Talent solutions. With this subscription, you get access to smart suggestions, automatic candidate tracking, integrated hiring, and recruiting-specific design of the website along with usual features like inMail messages, who viewed your profile, etc.
Acquisitions & Partnerships
LinkedIn has also expanded its business model through many acquisitions which include some very renowned names like:
Linkedin Learning
Lynda is one of the most recent acquisitions by LinkedIn. It was an eLearning platform with a subscription-based revenue model which let users learn business, software, technology, and creative skills through videos.
The company changed its name to Linkedin learning but didn't change its operating model.

Slideshare was acquired by LinkedIn in 2013 with an aim to give its members a way to discover people through content. LinkedIn Slideshare is a slide hosting service which lets its users upload content privately or publically in powerpoint, PDF, keynote or OpenDocument format.
The service is provided free to everyone.

What makes LinkedIn Business Model different?
Michael Holland, chairman and founder of New York, N.Y.-based investment firm Holland & Co, said:
LinkedIn may well have a better chance than the others at showing staying power in the marketplace.  Facebook and Twitter get a lot more media time than LinkedIn, but LinkedIn is unique in that it actually serves a greater purpose. It has the potential to help young people with their careers and enables them to live better lives, so it has a hook for them. Facebook and Twitter can seem a little frivolous by comparison.
LinkedIn business model has an upper hand over other social networking platforms as it has clearer motives and a revenue model which isn't entirely dependent on advertisements. Furthermore, time spent on this social network isn't considered as the time wasted by the users which, unlike Facebook, Twitter, or Snapchat, differentiate it as a legit social networking platform.
The platform isn't as popular as others but is seeing strong growth perspective in the future. Ever since its acquisition by Microsoft, LinkedIn Business Model has been expanding at a greater rate than ever.
Go On, Tell Us What You Think!
Did we miss something?  Come on! Tell us what you think about our article on How LinkedIn makes money? | LinkedIn Business Model in the comments section.
A startup consultant, digital marketer, traveller, and philomath. Aashish has worked with over 20 startups and successfully helped them ideate, raise money, and succeed. When not working, he can be found hiking, camping, and stargazing.