WhatsApp may not be the first to come to your mind when you hear the phrase social media marketing, but it should definitely not be ignored, considering that it's the most popular messaging application and the second most popular social media network in the world after Facebook.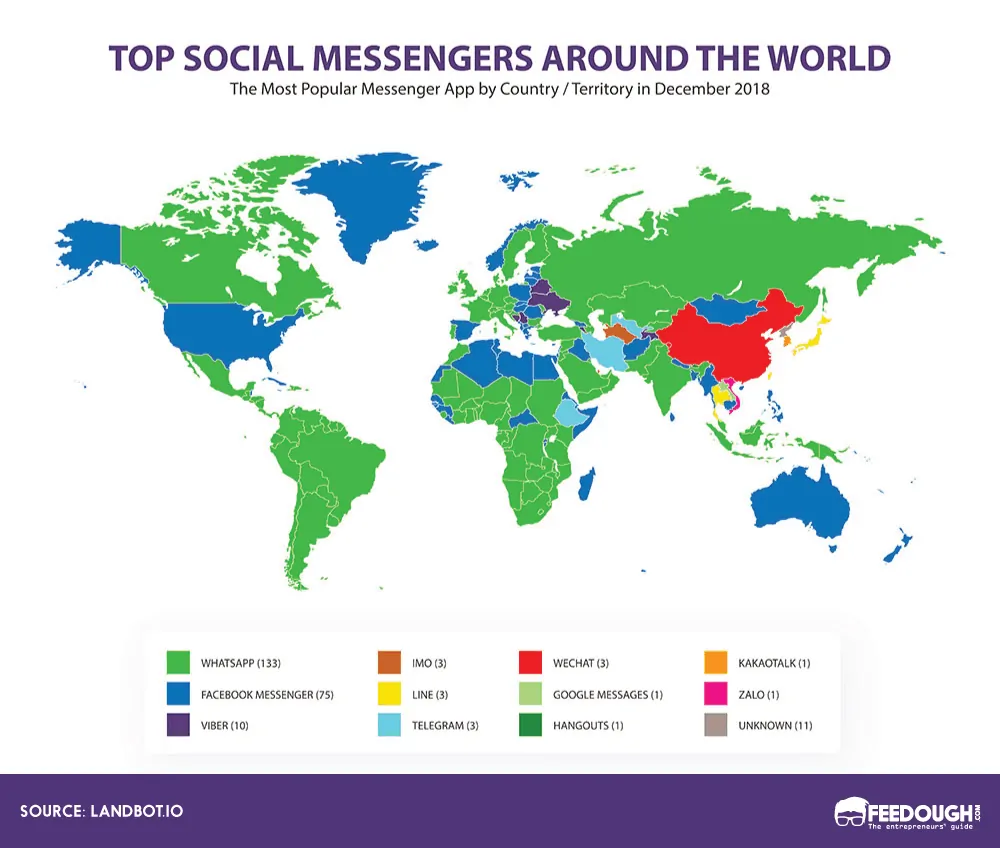 More than 1.5 billion people in 180 countries use WhatsApp. Many of them are your existing customers, and many others can be if you just reach out to them.
But,
Unlike other social media marketing channels, WhatsApp isn't for mass marketing. It is restricted to catering to limited people as you can't broadcast messages to strangers.
But the same platform can be used to market your offering to people who have you in their contact list and execute your relationship marketing strategies even on a large scale.
How, you ask?
Well, here's an actionable guide explaining all the intricacies of WhatsApp marketing and how you can start with it.
What Is WhatsApp & How Does It Work?
WhatsApp is a Facebook-owned free yet secure instant messaging application which also offers internet calling feature and social networking feature like adding audio/visual statuses and textual bio.
Often considered as the best alternative to smartphone's native calling and texting service, WhatsApp turned out to be a boon for Asian and European residents ever since it was launched in 2009. It, however, isn't that famous in the USA because unlike Europe, South America, and Asia, sending text messages over phone lines was essentially free for a long time in the USA, even before WhatsApp entered the market. Hence, there wasn't much incentive for them to download and use the application.
Who Uses WhatsApp?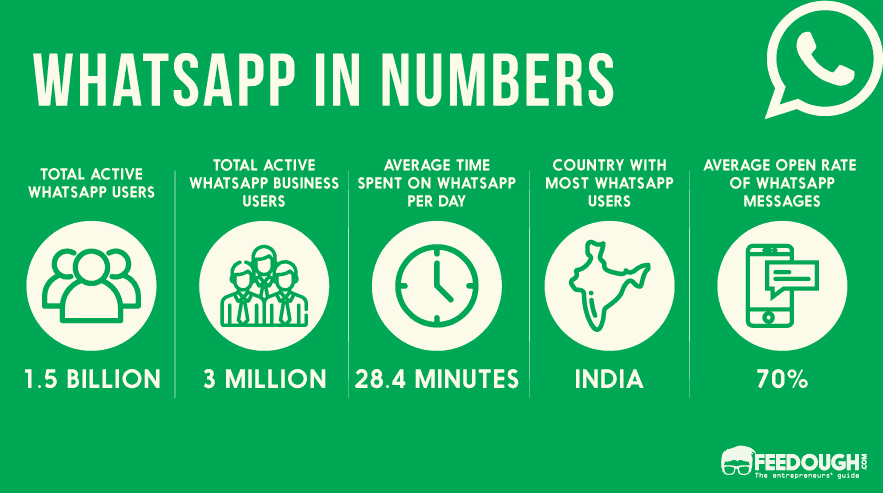 Here are some WhatsApp stats to understand its users (and your target audience) better-
5 billion active users in 180 countries
India is the biggest market for WhatsApp with over 400 million users. Brazil is the second biggest with over 120 million users.
500 million users add WhatsApp status daily.
3 million companies use WhatsApp Business.
WhatsApp messages have an open rate of over 70%.
What Is WhatsApp Marketing And How Can You Use It?
Just like Facebook, Twitter, LinkedIn, and even Youtube, brands use WhatsApp to market their offering to their customers. But unlike these social media channels or even SMS channels, WhatsApp doesn't let anyone mass-market to unknown contacts.
But this hasn't stopped people from marketing their offerings on the platform. Small businesses market their offering to their special customers by making exclusive groups and broadcasts lists to develop good relationships with them. However, the work is done manually, and more than one broadcast lists and groups are created as WhatsApp only lets you add 256 contacts per group and broadcast list.
Medium and large-scale businesses, on the other hand, use the new premium WhatsApp Business API to delight their customers by informing them about the status of their orders, taking customer feedback, and even sending them regular updates. There's no limit to the number of users when it comes to WhatsApp API and most the messages are automated.
Besides this, many also use WhatsApp to reach out to prospective clients as messages on this platform have the best open rate.
Using WhatsApp Marketing To Your Advantage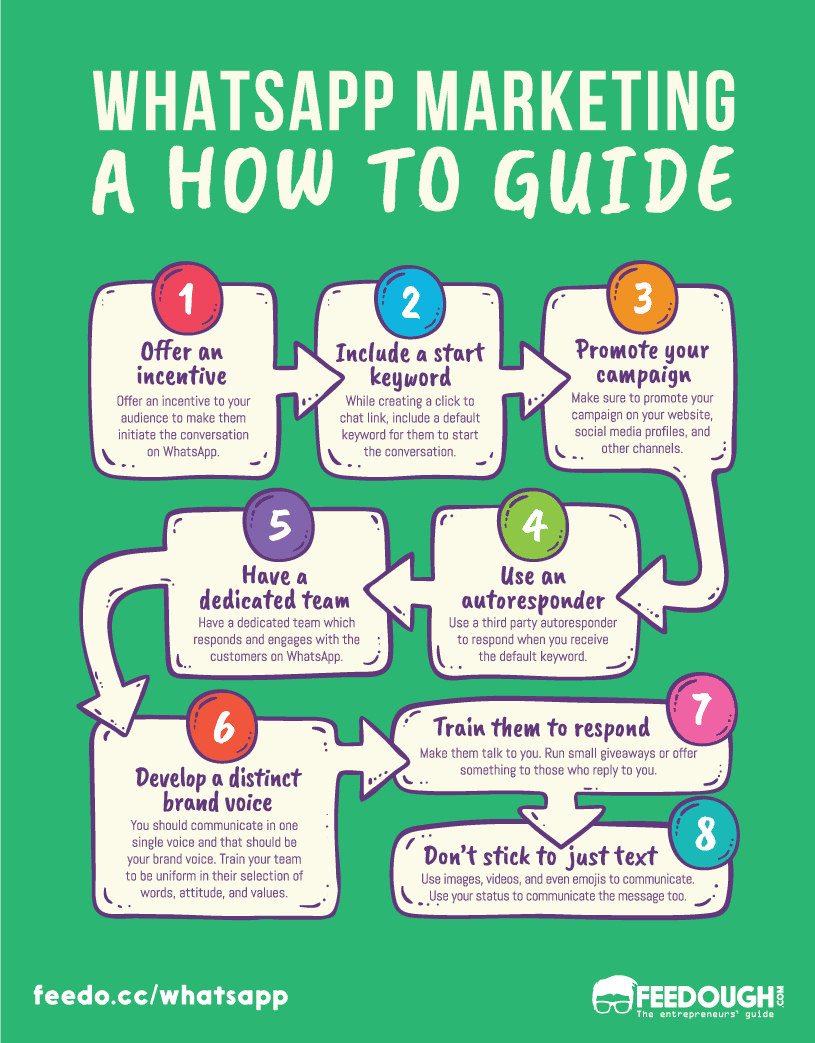 The task here is to capitalize on the most used social media network while not interrupting the usual messaging habits of the customers.
The opportunity being, you might turn out to be a pioneer of WhatsApp marketing in your industry.
Here's how you move forward with it-
Set Up WhatsApp Business Presence
Whatever you do to market your offering, just don't do it using your personal WhatsApp account.
Ever since the company was bought by Facebook, WhatsApp opened its doors to businesses by launching two add-ons to its service –
WhatsApp Business Application – For small and medium business to create their own business profiles showcasing their website, open hours, and email, to integrate chatbots, and to automate welcome and away messages. WhatsApp Business Application is completely free to use. However, you might incur some charges if you use third-party services to integrate chatbots.
WhatsApp Business API – For large businesses and financial institutions who wish to send automatic updates and notifications to their customers. This requires them to join hands with one of the Facebook Business Partners and pay for messages they send. (Yes, this is how WhatsApp makes money.)
Whether you choose WhatsApp Business Application or WhatsApp Business API totally depends on your needs and your size of the operation. Just note that if you can only get a verified tick beside your name if you use WhatsApp Business API.
Make Them Text You First
Unlike other marketing channels, WhatsApp marketing is a pull strategy where the first move is made by the user (by texting first) and the marketer only gives him an offer with an incentive to start a conversation on WhatsApp. Some examples of offers are –
Getting website updates on WhatsApp


Getting job offers on WhatsApp


Getting special offers on WhatsApp


Getting a pass for an exclusive event on WhatsApp
Getting recipes from chefs on WhatsApp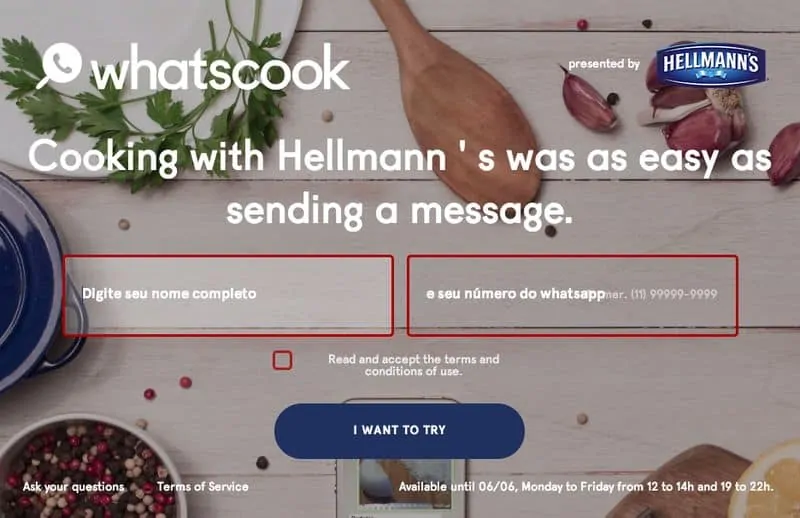 …and a lot more. You too can create a tailor-made incentive for your target audience and invite them to start the conversation with you. But keep these things in mind –
Use Other Channels To Bring More To This Channel
The engagement rate on WhatsApp is way more than any other channel. An average user spends 28.4 minutes a day on WhatsApp.
But,
Since WhatsApp marketing for small businesses requires customers to make the first move, your initial focus should be to promote the campaign on different channels like on websites, social media profiles, and even PR channels to get more people to start the conversation.
Create a WhatsApp click to chat link using the short link feature on WhatsApp business application or online tools (like this by Postcron). Make sure you mention a default keyword in the link for them to start the chat.
Focus On The Utility
Remember that WhatsApp is a messaging application and people would like to connect only if you're offering something exclusive or something that can't be offered anywhere else; say personal connect, for example.
Make Your Campaign Seem Exclusive
If it is offered to everyone, it might lose its charm. Try to market your campaign as an exclusive offer to the target audience.
Make Use Of WhatsApp's Features And Add-Ons
Build an autoresponder to respond to the default keyword. WhatsApp Business application doesn't let you do this task but you can easily find third-party applications like this on the Play Store.
This makes the brand look more professional.
Other than this, make sure to add the users' contacts in your broadcast list or WhatsApp group(s) where you plan to send your marketing messages to. Also, ask them to save your number in their contacts list as your broadcasts won't be sent to people who don't have your number in their lists.
…and never forget to keep a keyword to stop the messages if you go for a broadcast list.
Your Customers Subscribed To You On WhatsApp, Now What?
Have A Dedicated Team For This Campaign
When you give an option to your target audience to ask questions, be ready to answer hundreds or thousands of them at the same time.
Hint: Have a team ready which controls the communication over WhatsApp.
Develop A Distinct Brand Voice & Tonality
Remember, it's not an individual talking to the person, it's the brand. Make sure you train your team to align with your company's brand personality in every communication message they send.
Choose The Right Time To Send Messages
Find out the best time when your target audience is most likely to respond and engage with your message and send your messages only at that time.
Train Your Audience To Respond
WhatsApp is a two-way communication channel and you should focus on using it that way. Train your audience to reply to your messages. Make them feel that there is an incentive in replying to you.
Host small giveaways where only the users who reply can take part. Provide insights into matter your target audience is interested in and offer to answer their questions.
This makes them feel that there is more to the brand than product promotion and sales.
Don't Stick With Just Text
Since your customers save your number to their contact lists to communicate with you, they will surely be able to see your WhatsApp status and bio. Make sure to update them from time to time and use them to execute your holistic marketing strategies.
Besides this, make sure you just don't stick to text while sending your marketing messages or while interacting with your audience. WhatsApp lets you send images, videos, GIFs, locations, and even files. Make use of them to draft more engaging messages.
What Else You Can Use WhatsApp For?
Even though WhatsApp doesn't let you do much if you want to market your offering using the free WhatsApp Business application, there's a lot that can be done using the paid WhatsApp API.
If you don't know what an API stands for and how it works, read this article on API economy before moving on.
Here are some use cases of WhatsApp API to broaden your marketing horizons –
Alerts And Notifications: WhatsApp API can be used to send mission critical alerts like flight notifications, bank notifications, booking confirmations, and delivery alerts. Uber has started using this feature in select countries to send communications like customer support and account updates.
Customer Support: Many CRM solutions have an option to integrate with WhatsApp and let you handle the customer relationships on WhatsApp.
User Verification and 2FA: WhatsApp's end-to-end encryption and API results into a perfect channel to securely protect customer accounts using verification and 2FA.
Recommendations: WhatsApp is also used to send recommendations and suggestions by ecommerce website according the user activity. Netflix has been spotted using WhatsApp in India to send account messages and suggestions on what to watch according to users' activities on the platform.
Many companies like Smooch by Zendesk, Twilio, Messagebird, etc. provide you with an option to use WhatsApp API to your advantage.
Note: WhatsApp API allows you to respond to messages from WhatsApp users for free up to 24 hours, but charges for responses sent after that point on a per message basis.
Successful WhatsApp Marketing Campaigns Examples
While many are just pondering on the fact that marketing is possible on WhatsApp, many brands have successfully made use of WhatsApp even as early as in 2013.
Café TC's Liquor Ticker
The campaign:
Café TC's Liquor Ticker WhatsApp marketing campaign is one of the most creative and engaging marketing campaigns we've come across so far. This popular Delhi restaurant partnered with a leading ad agency to create a custom API which resulted in a running ticker in place of a WhatsApp status and a GIF in place of a profile picture.
This ticker displayed new offers, menus, and gigs to the customers who had saved the café's number. These customers, on the other hand, were asked to take a screenshot of the offers and send it to them to avail the offers.
The outcome:
The campaign resulted in café's enquiries go up by a whopping 117% and the sales increased by 28%. The creativity also resulted in good word of mouth marketing and the campaign was featured in many publications as well.
Hellman's WhatsCook
Hellman is a mayonnaise brand operating in Brazil. In 2014, the company came up with an idea to use WhatsApp to increase brand exposure and engagement.
The users were acquired through a special WhatsCook website set up by the company. It required users to give their details including name and phone number, and by doing so, they were personally contacted by a human chef on WhatsApp.
The chef then prompted them to upload the ingredients they had and gave advice on what they can cook with those ingredients. He even sent instructions using images and videos to help them.
The outcome:
The campaign was a huge success as it witnessed over 4 million users on the WhatsCook website and over 13 thousand registrations. Users spent around 65 minutes on an average interacting with the chef which is a lot considering they actually interacted with a marketing campaign.
Oyo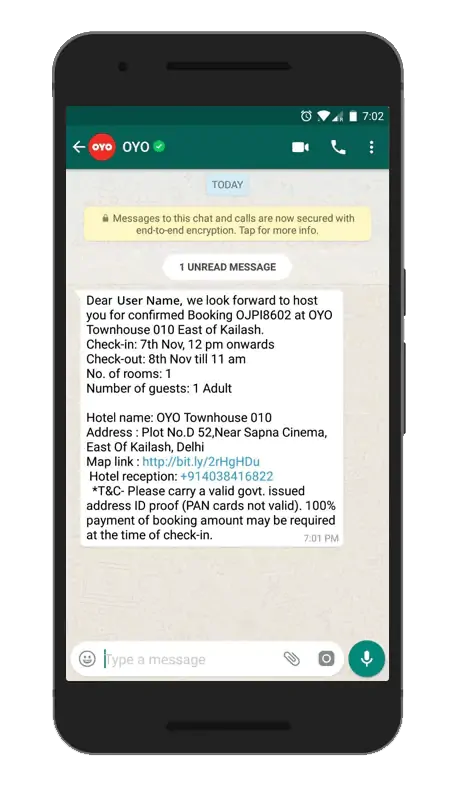 Oyo is a branded network of hotels operating in India. The company actively uses WhatsApp API to give confirmation and updates to its customers about the booking and directions, and even collect feedback on WhatsApp after their stays.
Bottom-Line?
Marketing your offering on WhatsApp is a challenging task. There are no pre-defined templates like those on Facebook and no ROI predictors like those for Google AdWords. But one thing that makes this channel stand out is the engagement. WhatsApp lets you hit to the right nerve. It is where your users are most active in.
We suggest you try it once, especially if you operate in countries like India or Brazil where you can use it to engage with the masses.
Go On, Tell Us What You Think!
Did we miss something? Come on! Tell us what you think about our article on WhatsApp Marketing in the comments section.
A startup consultant, digital marketer, traveller, and philomath. Aashish has worked with over 20 startups and successfully helped them ideate, raise money, and succeed. When not working, he can be found hiking, camping, and stargazing.