What if there were a community dedicated just to the developers and inventors? A platform where you get to meet new tech enthusiasts and developers, see what they are working on, share what you are working on, share insights, showcase your previous work, share a new product/app you found on the internet, and reach your goals while helping and taking help from thousands of developers all over the world?
Well, that's Product Hunt for you.
What Is Product Hunt?
Product Hunt is a Y Combinator backed startup which lets you share and discover new products, meet other product developers, entrepreneurs, and enthusiasts, and geek out about everything related to tech.
The platform is a result of well-researched strategy which combines peer referrals with a forum-like community structure which lets you share your product or any other product you liked on the internet, ask questions, start a discussion, find similar products and makers of your niche, post jobs and events, chat and get inspired.
How did Product Hunt become so popular, you ask?
It's all because of its founder – Ryan Hoover who actively cultivated the community in 2013, moderated the product listings, and curated the best products for the email newsletters.
My favorite part about startup investing:

The opportunity to learn from smart people building for the future

— Ryan Hoover (@rrhoover) March 7, 2018
Besides this, the platform operates in a similar way to other community platforms like Reddit where the community decides what's useful and what's not with its votes. Other social and professional features like being able to follow other users, ask for advice and recommendation, job posting, and event and meetup posting makes it a one-stop tech resource for every tech enthusiast.
Product Hunt Business Model
Product Hunt runs on similar lines to that of any other social networking website business model where the company owns or adds no content but at the same time plays a crucial role in managing it.
The main goal of the company is to keep the users engaged by maintaining the quality of the platform and adding more features which Product Hunt is doing very well.
Here are the essential elements of Product Hunt's business model.
Products
Almost everything on product hunt revolves around the products; be it yours or someone else's. A product is brought to the community by hunting it which can be either done by the maker or anyone else from the community. Hunting is an easy process where you link to the product website, add images and descriptions, and state your views about the product.
People get to upvote the product they like. Community members are also given an option to recommend the product to other members by stating its pros and cons.
Other than this, the platform also lists the best products of the day on its homepage to increase the engagement.
Community Forum
The whole platform operates like a community forum where people share new products, talk about them, and even ask for recommendation and advice on the 'ask' page.
The company is also coming up with their new product – makers, which gives even more options to engage with other makers on product hunt.
Ship
Ship is a toolkit designed for the makers to test their MVPs, Beta, and final products, collect leads, gather extra information using surveys, create landing pages (with A/B testing), talk to the target audience, and integrate their product with hundreds of platforms like Zapier, Mailchimp, and Slack.
Ship is designed keeping in mind every need of a product launch. Ship subscribers also get $7500 in AWS credits, access to Stripe Atlas, and subscriber insights from Clearbit.
Jobs
Besides the basic community features, Product Hunt also lets the users find the required partners, employees, and freelancers by posting jobs on the platform.
Events
Events section is another strategy to make the platform feel more like a community. Moreover, many tech event organisers feel Product Hunt is a better option to promote an event as –
It is free to host a PH meetup
Even if they promote an event, they get better ROI as compared to promoting on other social networking websites.
They get quality audience
Newsletter
Besides the daily product list on the website, Product Hunt also sends a daily newsletter with the featured list to hundreds of thousands of subscribers.
Live
Product Hunt Live is an AMA (ask me anything) for the entrepreneur community. It is a step ahead of usual listing where the founders come forward at the launch of their products to conduct a Q&A chat session with other members of the community.
How Product Hunt Makes Money?
Even though this startup was launched in 2013, Product Hunt didn't earn a single penny until the end of 2017 as the platform was focused on building a community than making money out of it.
However, things changed in 2018 and many premium features like Ship and promotions were added to the platform.
Ship
Ship operates on a freemium SAAS model where some services (1 project + limited services) are provided for free while other services (unlimited projects + AWS credits + other services) a provided if a maker subscribes to the paid version. Some of the services provided with ship are –
Landing pages – you can create beautiful and fully-customizable landing pages on PH itself.
Widgets – You can use embeddable widgets to create a buzz and collect leads using the email form, get answers using surveys widget, or chat with the visitors (individually and/or in group).
Targeting – Ship also lets you collect feedback from your users by sending targeted messages/emails based on their answers in the survey or feedback forms.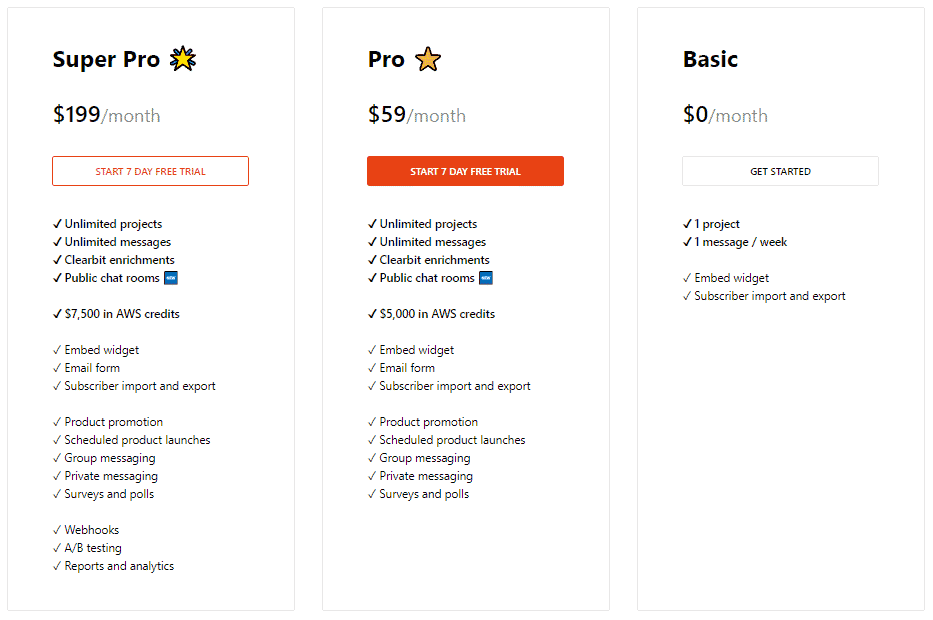 Promoted Products
Just like many other product listing websites, makers get a chance to promote their product on Product Hunt to execute their marketing and sales strategies and get more exposure.
However, what differentiates Product Hunt from other product listing platforms is that –
Only one product is promoted per day
You have to reserve your dates to promote your product
Prices are not fixed but depend on the market demand for that day (usually ~$4,000)
Only the products that have launched on Product Hunt previously can be promoted
Promoted products have a fixed place (4th) in the daily products list.
Promoted products have a fixed spot in the daily newsletter.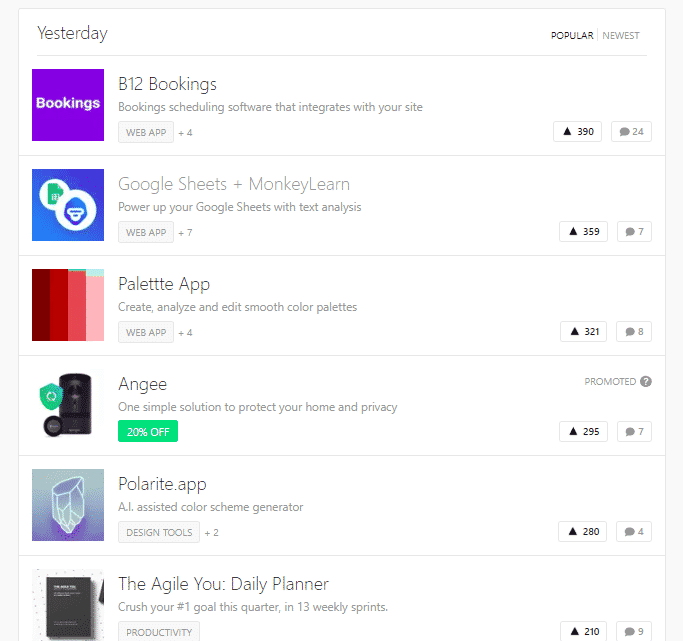 Promoted Jobs
Promoted jobs is another revenue earning source for Product Hunt. Since the community is filled with talented tech developers, even big companies like Instacart, Invision, and Omni prefer to post jobs on the platform.
Unlike products, posting jobs on Product Hunt isn't free. You need to pay $299 for a job posting to be live on the platform for 30 days.
There is also an option for premium listings open to limited (15) companies where they get dedicated spot on the Product Hunt homepage and jobs page.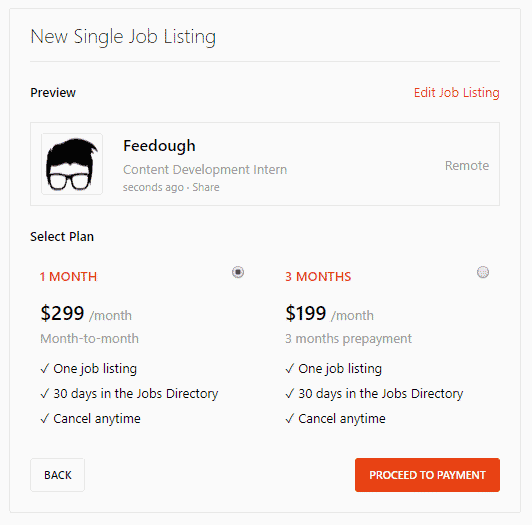 Promoted Events
Even though promoted events is not as big revenue earning source for Product Hunt, it does add to the profits. The promoters/advertisers get to promote their products to millions of product hunt users, get PH merchandises to share with the attendees, and give special discount to people who registered for their events through PH.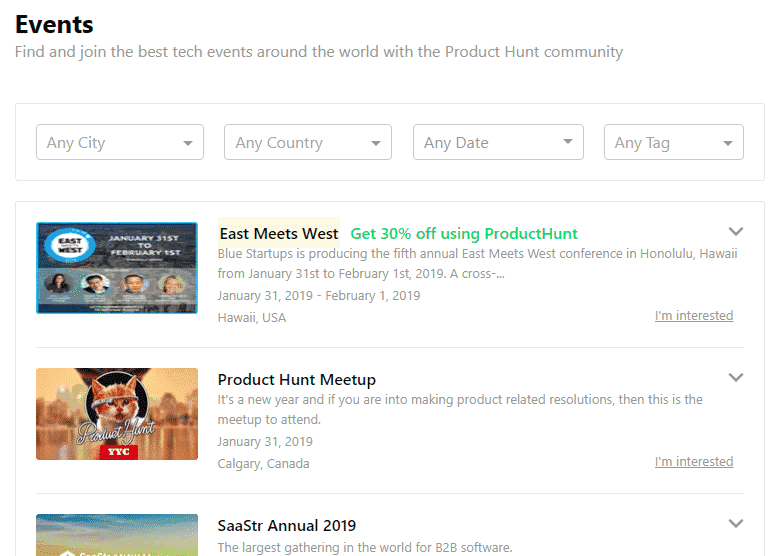 Future Of Product Hunt
Product Hunt has been successful in positioning itself as a one-stop platform for all the tech needs. But that's not all. According to Ryan, the company is planning to add many more features like –
A better mobile application
Sip – a mobile app that delivers infrequent, delightful tech news updates.
Maker Goals – an update where the makers will be able to showcase what they're working on at the moment, get support, and help other makers.
Team Profiles – where makers get to showcase their team.
The biggest advantage of Product Hunt is the community (which is one of the main reasons AngelList bought Product Hunt for $20 million). This community includes all tech enthusiasts from renowned brains of Instacart to not so famous developers who help each other without any profit motive. This model is very hard to copy and to compete with as the company has already capitalized on the network effect. The regular updates and add-on features makes it future even more bright.
Go On, Tell Us What You Think!
Did we miss something?  Come on! Tell us what you think about our article on Product Hunt business model in the comments section.
A startup consultant, digital marketer, traveller, and philomath. Aashish has worked with over 20 startups and successfully helped them ideate, raise money, and succeed. When not working, he can be found hiking, camping, and stargazing.