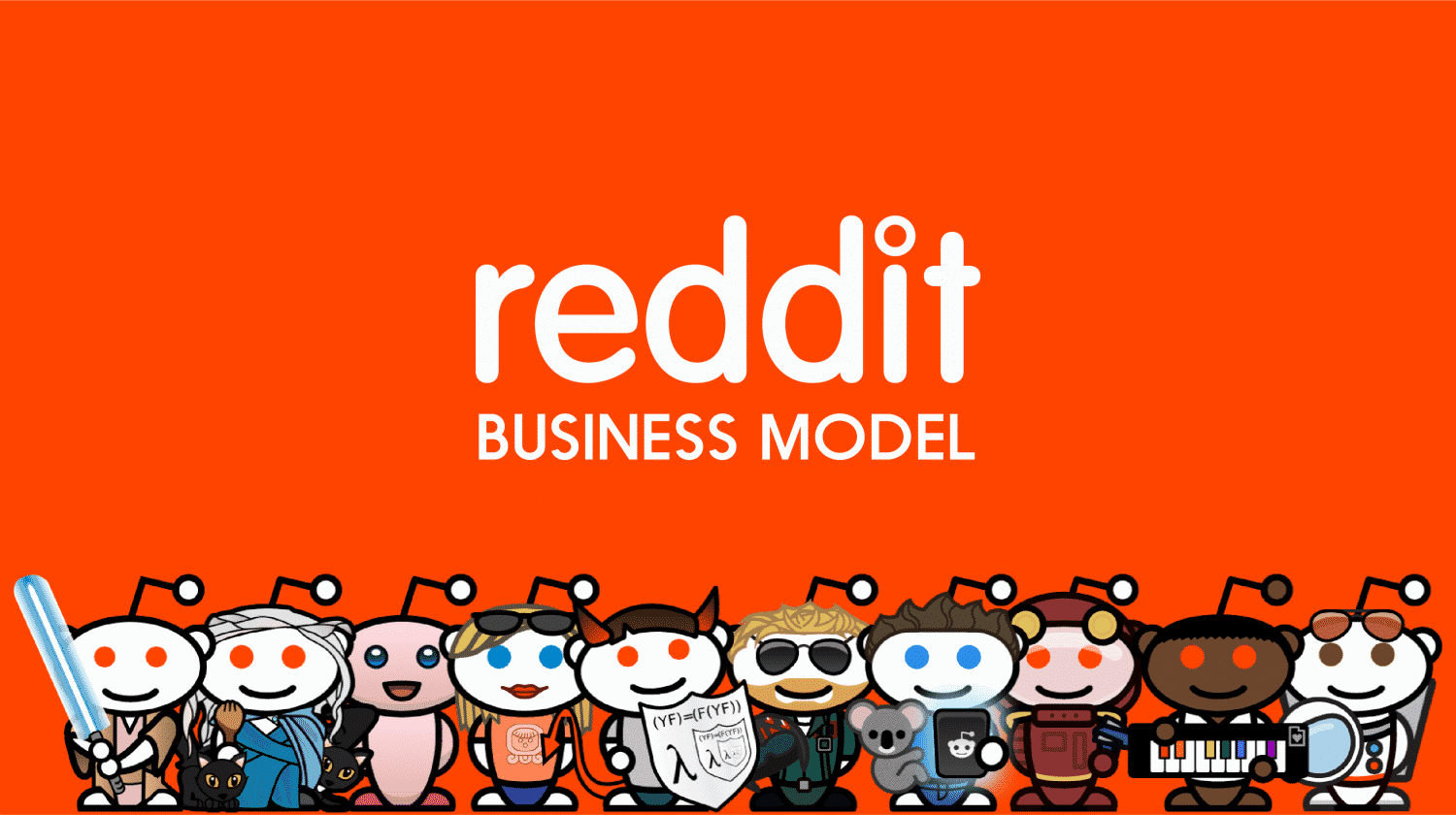 How Does Reddit Make Money? Reddit Business Model
CEO Steve Huffman proclaims that Reddit is the front page of the internet. As of 2017, the company had 542 million monthly visitors (250 million unique users) and an average of 50,000 active communities. Ranked as the fourth most visited website in the U.S. and ninth most visited website in the world, Reddit, after its recent round of funding, is valued at $1.8 Billion.
Reddit Business Model
What exactly is Reddit and how does it work? What is Reddit business model and how does Reddit make money? Let's try to answer most of your questions related to Reddit in the following sections.
What is Reddit?
Reddit is a social discussion forum, a news aggregation site, and an online content rating platform which gained popularity in 2008. The company was founded by Steve Huffman and Alexis Ohanian in 2005 who were roommates from the University of Virginia with majors in Computer science and commerce respectively. Reddit became a subsidiary of Advance Publications; a US-based Media Company, in September 2011. A year later, Reddit became an independent organization, with Advance as its largest shareholder.
According to the founders, Reddit is a source of everything that's new and popular on the web. It's a community of millions of other category specific communities where people post, discuss and vote on basically everything that's interesting in the world.
The name Reddit is a portmanteau of read and it which was chosen to signify the phrase 'I already read it on Reddit', which is actually the truth as Reddit acts as the gateway of interesting stuff to the internet.
How does Reddit Work?
According to most of its users, nearly every viral content on the internet has its roots in Reddit. The platform is made up of many individual discussion rooms known as subreddits, each having its own page, moderators, and subscribers. The communities are created and run by the users who can post content (texts, links, images, and videos) and can comment and vote on other posts.
It is easy to create an account on Reddit, so becoming a "Redditor" doesn't take much time. With over millions of subreddits, Reddit is a great platform to discuss basically anything. It has an enormous amount of loyal and diverse user base. People literally spend days continually surfing through its never-ending posts and comments. It's an ever-growing community.
Millions of links, images, and text posts are posted on Reddit every day and you must be curious to know about the algorithm which ranks and sorts these posts. As already said, Reddit is a community of people by the people. Here the role of votes become dominant. An up-vote on a post gives it more authority and ranks it higher than the ones with lesser votes on them. Nevertheless, Reddit's algorithm also prioritizes newer content ranks newer content higher than older.
Another strategy used by Reddit to keep its users engaged and motivated to post and comment on other posts are virtual points called Karma. Karma act just as a scoreboard for your activities on Reddit. You get post karma for link posts and comment karma for comments on other's posts. You gain more karma when your links and comments are upvoted and lose them when they are downvoted. Karma acts just like a virtual pat on the back for being relevant on the website.
On the Technology perspective, Reddit is written in Python due to the development flexibility the language offers. In 2008, Reddit was made open source and all of its source code (except some security-related portions) were made available on GitHub. Reddit now runs on Amazon's cloud platform called Amazon Web Service.
On the business perspective, Reddit is basically a collection of entries and comments posted by its registered users.
How does Reddit make money?
Just like most of the social networking websites, Reddit too makes money through advertisements. But unlike them, there are a lot more sources in the revenue model of Reddit.
Advertisements
Reddit is a wide-open platform for advertisers willing to spend their time to do a little research. They can make their ad appear on the front page or target on specific subreddits as a sponsored link.
The rate usually starts from $5 and $0.75 per thousand page-views and can go up to $20,000 based on the threshold value which is based on the number of page-views. Higher the number of page views higher the amount.
Reddit also makes money by serving Google Adsense advertisements on its sidebar.
Premium Membership (Reddit Gold)
Reddit had a surprisingly profit yielding Premium (Gold) membership option which was said to improve the user's "Reddit experience" by providing some extra features like options to turn off ads (Users can turn-off the ads anytime they want), more comments per page, saved and categorizing comments where user could save the comment he/she liked and could categorize them to their need, access to custom themes provided by Reddit; a huge community in which users can upload custom-designed themes, custom avatar creation, and a useful option to highlight new comments since user's last visit to the subreddits which is really helpful when a user takes breaks from the subreddit and finally "gold members only" secret subreddits.
Additionally, Reddit gold members could make unpaid Reddit members into Reddit gold members with just a click with obviously a limit. Reddit gold was $3.99 per month, $29.99 per year.
Usually, online discussion forums don't rely much on their premium membership option due to the fact that, most of the netizens prefer free content. But Reddit gold made $961,996.98 in 2016.
Reddit changed its subscription-based business model strategy in 2018. Gold Membership was renamed to Reddit Premium Membership and gold (virtual coin) was converted into coins (you get 700 coins every month) which could be used to buy Silver Award, Gold Award, & Platinum Award. Besides this, almost all the premium features remained the same.
Reddit Coins
Even though you get 700 coins every month with the Reddit's Premium Membership, there is also an option to purchase awards without becoming a premium member. You can use these coins, just like the old Reddit Gold, to award the users who made a good post or comment with a Silver Award (worth $0.4), Gold Award (worth $1.99), or a Platinum Award (worth $5.99).
Such awards make the recipients experience Reddit Premium without even paying for it. However, you don't get to experience Reddit Premium Membership if you just buy the coins.
Reddit Gifts
Redditgifts is a group of total strangers from all over the world who have managed to form a community held together by one thing—being thoughtful and generous to one another. It's amazing that a group of people who have never met each other, and probably never will, can come together to form such a strong, connected community. Being a part of redditgifts is being a part of something huge and magical. If Santa were real, he'd be jealous." – One of the redditgifts users
Started in 2009 as the largest Secret Santa program in the world, Reddit Gifts is an online gift exchange event where complete strangers randomly matched by Reddit, with Reddit accounts as their only common factor, exchange gifts with one another on a marked day. Reddit doesn't charge users for anything.It is completely free to register.
It's completely free to register for the gift exchange. However, just like the parent website, Redditgifts is also a freemium service and offers a premium membership for Reddit Gifts users. The premium or as they say on the website, the elite members are called Redditgifts Elves. The membership costs from ~$3 per month and offers the following privileges to the members:
Go On, Tell Us What You Think!
Did we miss something?  Come on! Tell us what you think of this article on how does Reddit make money in the comments section.