In its very young existence, ChatGPT has already made a splash in the entire tech industry and has gathered the appreciation and attention of 100 million
In the late 90s, when watching movies through DVD cassettes had supremacy throughout, Reed Hastings, who faced a late fee of $40 for submitting back a DVD, got clicked with a revolutionary idea with his partner, Marc Randolph.
The idea: What if you could have them delivered right to the customer's mailbox instead of clumsily heading to a video store to rent movies on heavy VHS tapes or DVDs?
And that was the time when Netflix was born. It was not born as a streaming platform that we have today, but it started a DVD-to-mail service.
Fast forward to the present, and Netflix has become nothing short of an entertainment revolution. It's not merely a streaming service today. It is a global entertainment powerhouse that has forever altered according to how we users consume television and movies.
So, who owns Netflix, the media giant? What milestones has it set throughout the history of Netflix? Who are the founders of Netflix? Let's delve into the tale of Netflix's ownership, its journey, and its founders who started it all.
What Is Netflix?
Netflix is a global entertainment powerhouse that offers a subscription-based streaming service allowing members to watch TV shows, movies, anime, documentaries, and more over the internet. It is an OTT that has completely revolutionised how people consume television and movies. Here's what it offers that has revolutionised the entrainment industry entirely:
Original Content: Netflix is known for its original content, so much so that in 2023, Netflix's library today has 55% of original content. This original content library includes popular TV shows such as "Stranger Things", "The Crown", and "House of Cards". The company has also produced several critically praised and loved films, such as "The Irishman" and "Roma" under the original content section.
Global Reach: As of the second quarter of 2023, Netflix has over 238 million paid subscribers worldwide in 190 countries. As compared to the previous quarter, this is an increase of 5.89 million subscribers. The company has been continuously expanding its reach rapidly in recent years, and it is now available in almost every corner of the globe. By doing so, the company is tapping into a diverse audience and catering to various languages and cultures.
Personalisation: The personalisation algorithm of Netflix has constantly updated, and today, it is known as one of the most sophisticated in the world. That is why Netflix is renowned for its personalisation algorithm, which analyses user viewing habits and suggests content tailored to individual preferences. This personalisation plays a key role in retaining subscribers and keeping them engaged with the platform.
Gaming: Netflix launched its gaming service in November 2021, which has a mix of licenced and original games for you to play on the platform. The service is also available in over 190 countries and offers a variety of mobile games that you can play if you are a subscriber. The games are available to download and play on Android and iOS devices.
These strengths have helped Netflix to become a global entertainment powerhouse. Even though the company faces increasing competition from other streaming services, it remains the industry leader because of its adequate leadership and powerful strategies.
Who Owns Netflix?
Netflix is a publicly traded company, so there is no one owner of Netflix. Instead, their shareholders and investors own the company based on the stakes they have in the company.
Here are the top ten shareholders of Netflix:
| Shareholder | Stake  | Shares Owned |
| --- | --- | --- |
| Vanguard Group Inc. | 7.9% | 35,112,844 |
| BlackRock Inc. | 6.58% | 29,250,564 |
| Capital Research Global Investors | 5.84% | 25,947,098 |
| Baillie Gifford & Co. | 5.21% | 23,140,000 |
| State Street Corporation | 4.81% | 21,357,784 |
| FMR LLC | 4.24% | 18,830,000 |
| Bank of America Corporation | 3.75% | 16,651,000 |
| Morgan Stanley | 3.45% | 15,321,000 |
| T. Rowe Price Associates, Inc. | 3.34% | 14,823,000 |
| Geode Capital Management LLC | 2.99% | 13,274,000 |
Based on our research, these investors are all institutional investors, meaning they invest money on behalf of other people, such as pension funds and mutual funds.
However, Reed Hastings, the co-founder and former CEO of Netflix, and Marc Randolph, the co-founder of Netflix, are no longer among the top 10 shareholders of Netflix.
Netflix Founders
There are two founders of Netflix, Reed Hastings and Marc Randolph.
Reed Hastings
Hastings is a billionaire American entrepreneur and businessman. He has been the co-founder, chairman, and co-CEO of Netflix, currently an Executive Chairman of Netflix. He also co-founded the educational technology company Knewton and sits on the board of many non-profit organisations.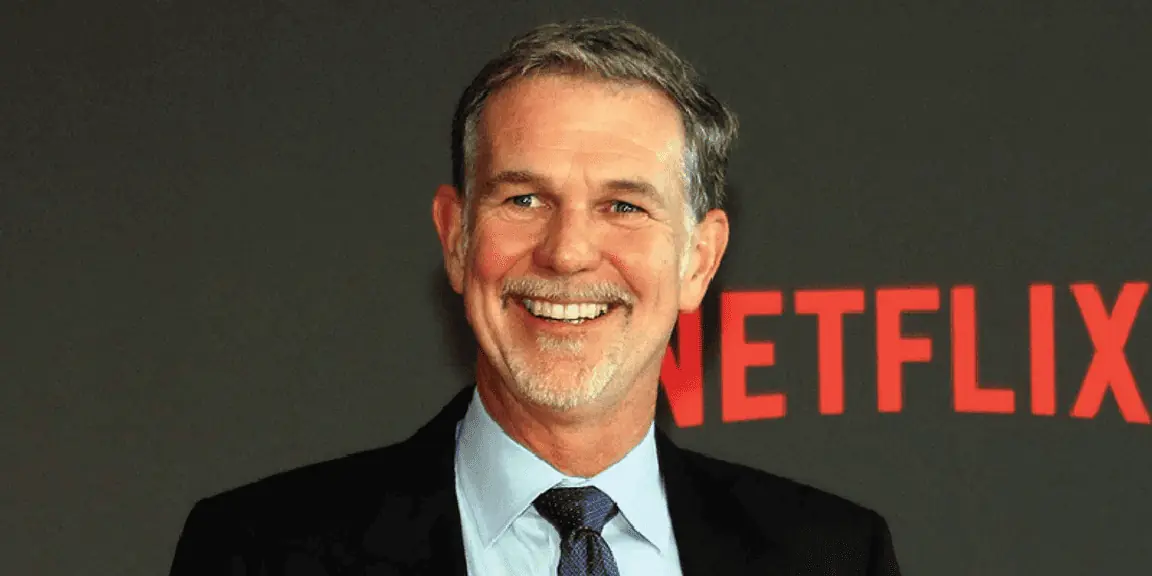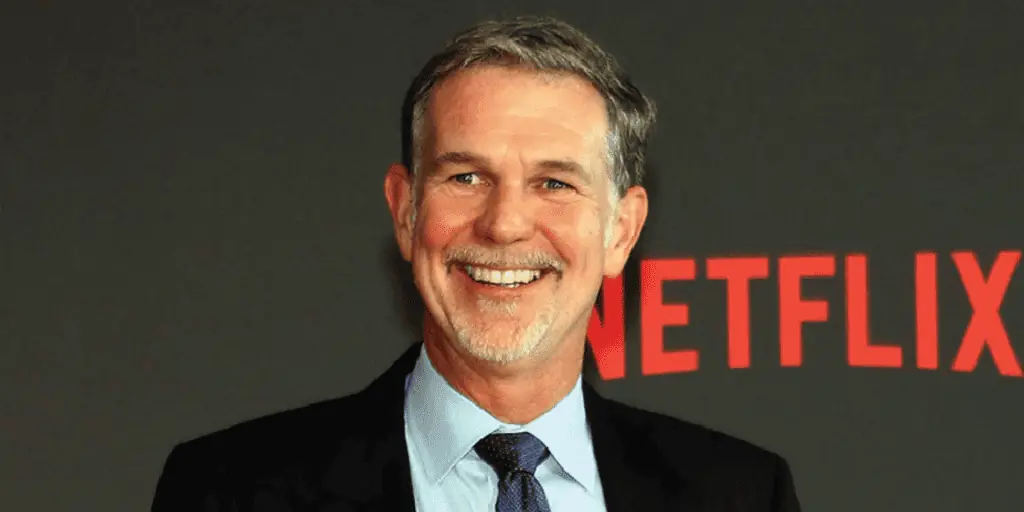 Marc Randolph
Randolph is an American tech entrepreneur, speaker, and advisor. He is the co-founder of Netflix and is the first CEO of Netflix. He is also the co-founder of the online education company Udacity.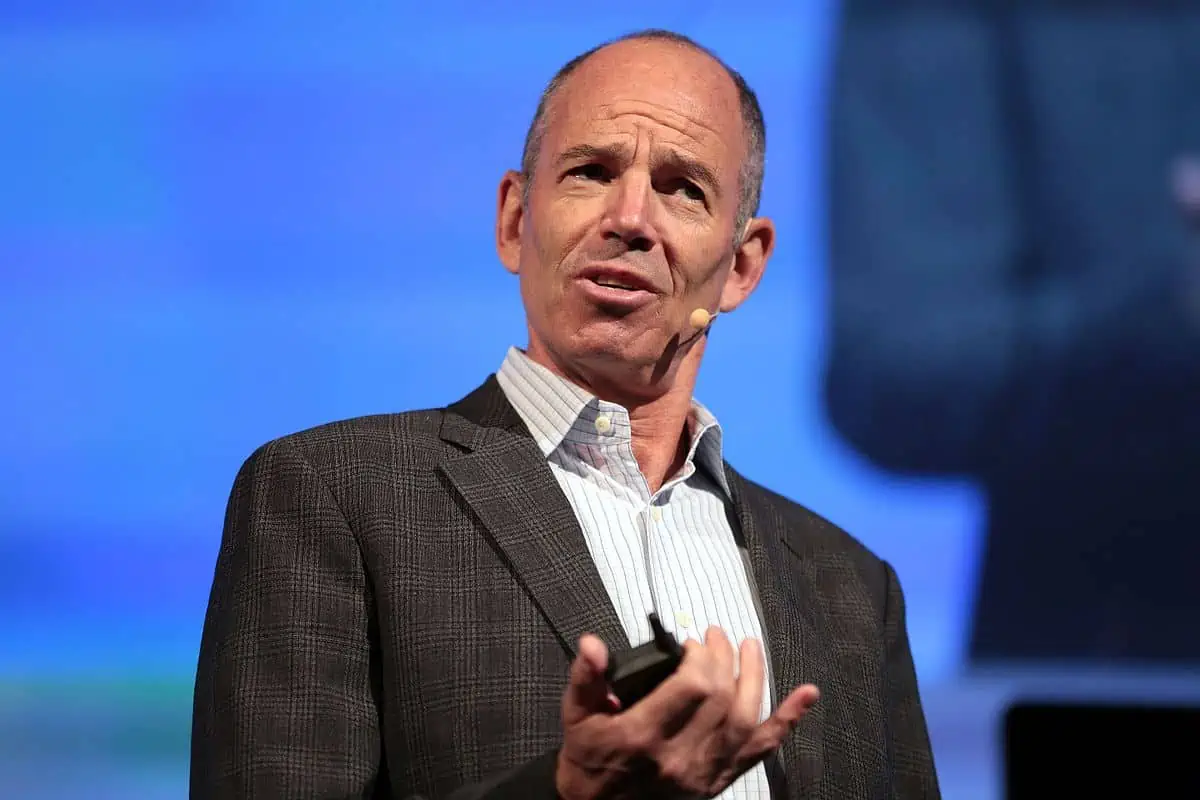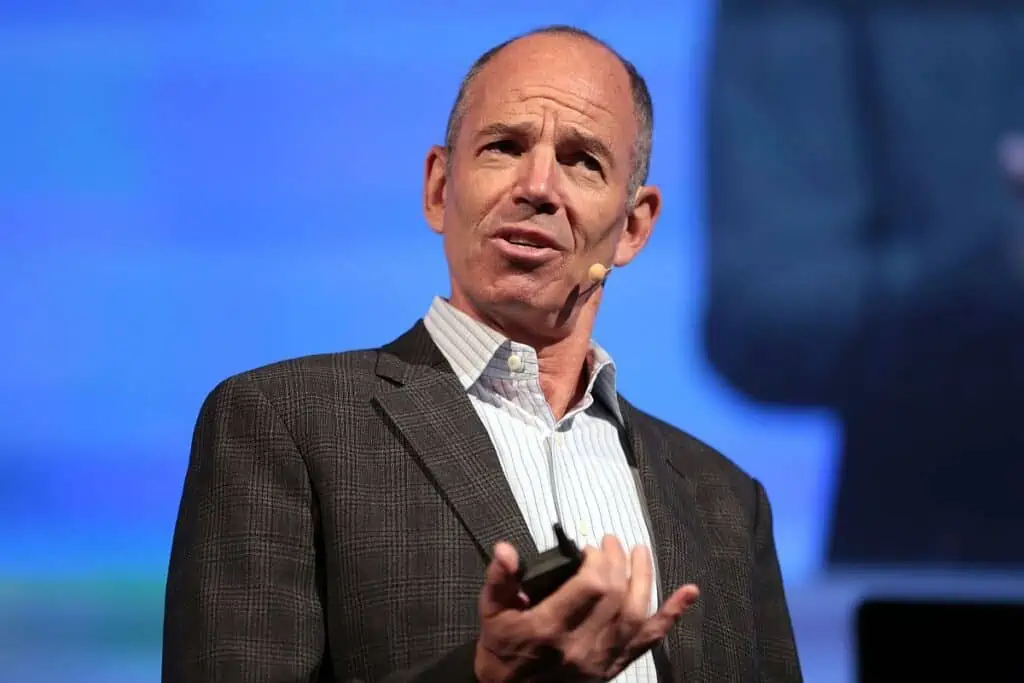 When Randolph was working as a marketing manager for Pure Atria, a software company that Hastings had co-founded, Hastings and Randolph met in 1997.
After one day, when Hastings had to pay a late fee for returning a DVD to Blockbuster, they came up with the idea for Netflix. They believed there was a better way to rent movies and launched Netflix in 1998.
They started Netflix as a DVD-by-mail rental service, but with evolving needs and attention to the change in nature of people on how they want their entertainment, it pivoted to streaming in 2007. The company has since become one of the most successful streaming services in the world.
Key Milestones In The History Of Netflix
Since its inception, Netflix has always served the entertainment industry to the best of its capacity, catering to the right needs.
From DVD-by-mail to OTT streaming of original and licensed content and gaming, StreamingFlix has always been the leader. But in this journey from DVD-by-mail to the best OTT platform known worldwide, the company has set several milestones in between. However, out of which, some of the key milestones in the history of Netflix are as follows:
August 1997: Reed Hastings and Marc Randolph co-founded Netflix in Scotts Valley, California, on 29 August 1997, with the idea to rent DVDs online and deliver them through the mail.
April 1998: Netflix was launched on 14 April with 925 titles for people to rent on a traditional pay-per-rental model.
September 1999: Netflix introduced its monthly subscription model, which allowed customers to rent unlimited DVDs for a flat monthly fee.
2000: Reed Hastings approached John Antioco, the Blockbuster chief, to purchase Netflix for $50 million. However, Blockbuster declined the offer.
2000: Netflix introduced its personalised recommendation system, which uses algorithms to suggest titles based on customers' ratings.
2002: On 29th May, Netflix went public on the NASDAQ stock exchange and raised $82.5 million in its initial public offering (IPO).
2003: Netflix reached one million subscribers in the United States.
2006: Netflix offers a $1,000,000 prize to the first developer of a video recommendations algorithm that beats Cinematch's rating prediction accuracy by more than 10%.
2007: Netflix delivered its one billionth video over the mail, shifting from its core business towards streaming content. It was in January 2007 when Netflix launched its streaming service, which allowed customers to watch movies and TV shows instantly on their computers and other devices.
2010: Netflix expanded its streaming service to Canada, its first international market.
2011: Netflix launched its streaming service in Latin America and the Caribbean.
2012: Netflix debuts its first original series, Lilyhammer, starring Steven Van Zandt as a former mobster who moves to Norway under witness protection.
2013 – 2014: Netflix released House of Cards, its first major original series, which became a critical and commercial success. In 2014, it released more original series, including Orange Is the New Black, BoJack Horseman, and Marco Polo. Netflix expanded its streaming service to the United Kingdom, Ireland, Scandinavia, the Netherlands, Germany, France, Austria, Switzerland, Belgium, and Luxembourg. It also releases more original series.
2015: Netflix launches its streaming service in Australia, New Zealand, Japan, Spain, Italy, Portugal, and India. It also releases more original series like Daredevil, Jessica Jones, Narcos, and Master of None.
2016: After focusing on the expansion strategy worldwide for a few years, Netflix became available in almost every country except China, Syria, North Korea, and Crimea.
2017: Netflix reaches 100 million subscribers worldwide. It continued to release more original series, such as 13 Reasons Why, The Defenders, Mindhunter, and The Punisher.
2018: Netflix invested $8 billion in original content production. It also created Netflix Animation, an American animation studio and a subsidiary of Netflix, as its first production studio.
2019: Netflix wins its first Academy Award for Best Documentary Feature for Icarus. It also releases more original series, such as Sex Education, Russian Doll, The Umbrella Academy, and When They See Us.
2020: Netflix reached 200 million subscribers worldwide during the COVID-19 pandemic, especially when the lockdown made people stay home. It also releases more original series, such as The Witcher, The Queen's Gambit, The Crown Season 4, and Bridgerton.
2021: Netflix dominated the Golden Globe Awards with ten wins out of 42 nominations. It also releases more original series, such as Lupin, The Serpent, Shadow and Bone, and Sweet Tooth
Wrapping Up
Netflix was born to revolutionise our DVD rental system almost two decades ago. Since then, through its constant facelifts based on people's evolving demands, it has become a global entertainment power plant.
With a library now dominated by original content and also filled with rich licenced content, it reached over 238 million subscribers in nearly every corner of the world. From tailoring recommendations through a sophisticated algorithm and even venturing into gaming, this OTT platform has a flourishing future.
Its journey, from mailing DVDs to making its remarkable place in every corner of the world, it all showcases its resilience and adaptability in an ever-evolving entertainment landscape. As competition seems to intensify, Netflix's legacy as a pioneer and industry leader also appears to remain unshaken and quite promising to shape the future of how we consume content for years to come.
Ravpreet is an avid writer, prone to penning compelling content that hits the right chord. A startup enthusiast, Ravpreet has written content about startups for over three years and helped them succeed. You can also find her cooking, making singing videos, or walking on quiet streets in her free time.