Twitter isn't your usual social network. It's not like Facebook, where you can just post pictures of yourself and your friends. It's a microblogging platform where you have 280 characters to get your message across. And if you're lucky enough to be on the right side of the 280-character limit, you'll get more attention from potential customers than your traditional marketing channels.
That's why, as a business, you need to be on Twitter. But how do you make the most of this platform?
Here's a complete guide to using Twitter for business to help you get started.
Using Twitter To Market Your Business
Twitter isn't just a social media marketing channel. In fact, it can be one of the most powerful tools in your marketing arsenal. With over 436 million active users, Twitter can help you in all the stages of your marketing funnel, from creating awareness to driving conversions.
But before you start using Twitter for business, you need to understand how it works and how different it can be for users and businesses.
How Twitter Works?
Twitter is a free social networking platform that allows users to share short messages called tweets. Tweets can be up to 280 characters long and can include photos, videos, and links.
Users can follow other users, and tweets from the people they follow will appear in their timeline. They can also like, retweet, and reply to tweets.
One of the value propositions that separates Twitter from other platforms is the trends feature. Trends are popular topics that people are tweeting about at a particular time.
You can see trends for your location or for the world. Twitter uses algorithms to surface trends based on what's happening worldwide and what people are talking about.
As a user, you can interact with the world using:
Tweets: Microblogs of up to 280 characters, images, videos, or GIFs.
Hashtags: Twitter uses hashtags to surface content around specific topics. You can use hashtags to join conversations or start your own
Mentions: You can mention other users in your tweets by using the "@" symbol followed by their username
Likes: You can like a tweet by clicking on the heart icon underneath it. This is a way to show your appreciation for a tweet or to let the author know you found it useful
Retweets: You can retweet someone else's tweet to share it with your followers. Twitter also has a feature called quote tweeting, which lets you add your own commentary to a retweet
Direct messages: You can send private messages to other Twitter users by using the direct message feature. These messages are only visible to the sender and recipient
Twitter lists: Twitter lists are a way to organise the people you follow into groups. This can be useful if you want to create a list of customers, or a list of people in your industry
Spaces: Twitter Spaces is a new feature that lets you join or create audio conversations. This is similar to a podcast or radio show and can be helpful for hosting interviews or discussions
Moments: Moments are curated stories that Twitter creates based on trending topics or events.
For businesses, Twitter can be a great way to connect with customers and create a two-way conversation. After all, it's one of the earliest two-sided marketplaces. It's also a way to share news and information about your business.

You can even use Twitter as a sales funnel channel by promoting your products or services and driving traffic to your website or blog.
Setting Up A Business Twitter Account
The first step is to create a Twitter profile for your business. Focus on four areas here:
Username: It's the slug that appears after twitter.com/ in your profile URL. Keep it short, simple, and easy to remember. We suggest using your business name to be the username. If it isn't available (someone else has already registered it), look for keyword combinations like 'YourBusiness.com', 'getYourSAAS', etc.
Bio: This is a brief description of your business that appears under your username. Use keywords related to your industry and target audience here, so people can easily find you when they search Twitter. And don't forget to include a link to your website!
Profile Image: Your profile image should be your business logo. If you don't have a logo, consider using a high-quality headshot of yourself or your team.
Header Image: The header image is the large, banner-like image at the top of your profile page. You can use this space to showcase your products, services, or brand. Be creative!
Once you've built a profile that stands out, it's time to start developing your Twitter marketing campaign. But how to develop a Twitter marketing campaign and what all it should include?
Developing A Twitter Marketing Campaign
Most people think a marketing campaign is just a paid advertisement. But that's not true! There are various types of marketing campaigns, and each has a different purpose.
Some of the most common twitter marketing campaign types are:
Awareness: The goal of an awareness campaign is to introduce your brand or product to a new audience.
Engagement: Engagement campaigns are all about getting your audience to interact with your brand.
Conversion: A conversion campaign is designed to get your audience to take a specific action, such as signing up for a newsletter or making a purchase.
These goals can be accomplished using Twitter as a platform in a number of ways:
Using Twitter Ads
Like any other social media platform, Twitter's business model offers targeted paid advertising options. You can use these ads to target new audiences based on their attributes like location, gender, interests, and more.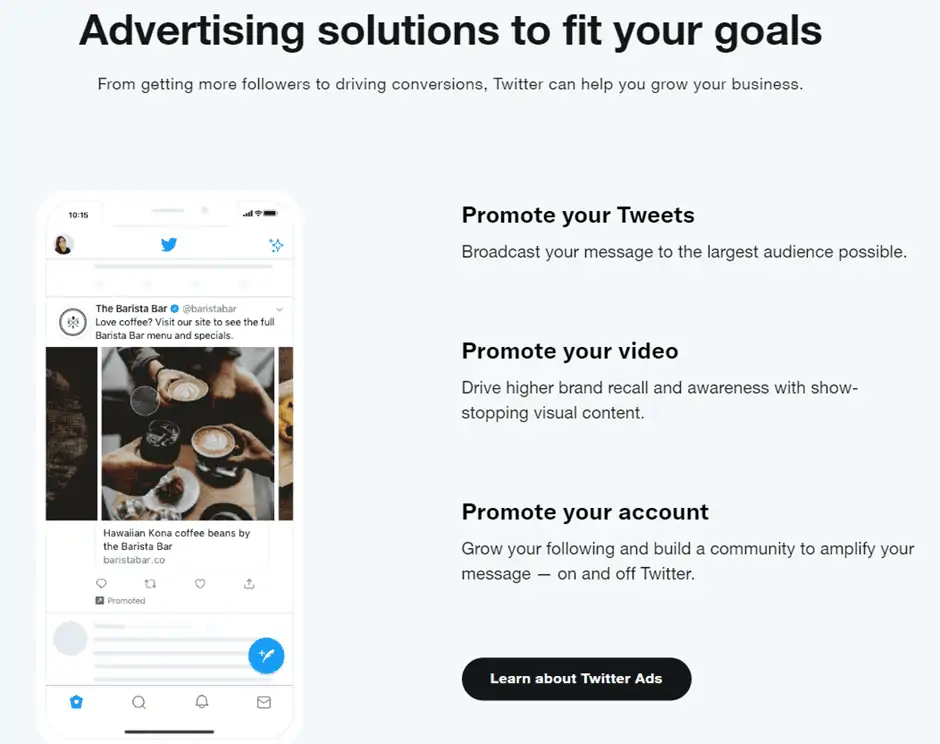 You can also create targeted ad campaigns based on specific tweets. For example, if you tweet about a new product launch, you can target that tweet to people who don't follow you but are interested in the product category.
You can use any of the five types of Twitter ads:
Textual Ads: Traditional, text-based ads that can include links and hashtags.
Image Ads: These allow you to showcase your offering with a single photo along with some text.
Video Ads: These let you use engaging videos to reach out to your target audience.
Carousel Ads: Slideshow-like ads that let you showcase up to six horizontally swipeable images or videos, each with its own link.
Moment Ads: You can even pay Twitter to feature your Moment — a collection of tweets on a particular topic — in the Moments tab, which is prominently displayed on users' Twitter feeds.
Twitter Ads are a great way to reach out to new audiences and promote your product or service. However, it's important to note that Twitter Ads are not cheap. To get the most out of your Twitter Ads campaigns, you need to have a well-thought-out strategy in place.
Organic Twitter Marketing
You can even leverage Twitter for your business without spending a dime on ads. Here's how you can do that.
Provide value in your Tweets: You can get a niche audience to engage with your brand just by providing valuable content in your tweets and being a part of the conversation. Remember, Twitter isn't a post-and-forget platform. You must be active on the platform, engaging with your audience and providing them value if you want results.
Develop a content calendar: A content calendar will help you plan and organise your tweets in advance. This way, you can ensure that all your tweets align with your business goals and objectives.
Build relationships: One of the best ways to get more followers and increase your reach on Twitter is to build relationships with other users. Find and follow people relevant to your industry or niche and interact with their content. By interaction, we don't mean spamming their mentions with links to your own content. Instead, add value to the conversation by offering your insights and perspective.
Use relevant hashtags: The Twitter ecosystem is driven by hashtags. Hashtags help you join conversations that are already taking place on Twitter and get your content in front of a larger audience. If you want your tweets to be seen by people who are not following you, then you need to use relevant hashtags.
Capitalise on trends: Twitter is all about being in the now. If you want your content to be seen, you need to be tweeting about what's trending. This doesn't mean you should abandon your core message. Instead, find creative ways to tie current trends into your brand messaging.
Monitor Keywords: Twitter's search function lets you see real-time results for any keyword or phrase. This is a valuable tool for monitoring what people say about your brand, industry, or product. You can use this information to adjust your marketing strategy on the fly.
Use new features: The platform is constantly evolving, which means there are always new features to take advantage of. For example, Twitter Spaces is a new audio-only feature that allows users to host live conversations. This could be a great way to connect with your audience in real-time. The best part? New features witness high engagement levels, so you're more likely to reach your target audience.
Twitter Automation & Tools
Several tools exist to help you automate and enhance your Twitter activity. This can be a valuable time-saver, but it's important to use these tools wisely. Too much automation can make your brand appear impersonal and robotic.
Scheduling Tweets: It's important to be active on Twitter, but you don't need to be glued to your screen 24/7. Automation tools like Social Bee, Later, and Missinglettr let you schedule tweets in advance. This is a great way to make sure you're regularly sharing content, even when you're busy.
Hashtag Tracking: Twitter is all about hashtags. Use a tool like Hashtagify to find the most popular hashtags in your industry. This will help you get your tweets seen by more people.
Mentions & Direct Messages: It's important to quickly respond to mentions and direct messages. A tool like Social Mention can help you track these, so you never miss a chance to interact with a potential customer.
Competitor research: Use a tool like BuzzSumo to see what content is performing well for your competitors. This will give you ideas about what kind of content to share on your account.
Twitter Analysis: Tools like Followerwonk can help you analyse your Twitter followers to better understand who they are and what they're interested in. This information can be used to create more targeted content.
Creating shareable content: Several GPT-3 powered content creation tools can help you create shareable content for your Twitter account, including Jasper, ClosersCopy, etc.
Or, if you have developers in your team, you can build your own tools like Twitter sentiment analysis, Twitter account analysis, follower growth analysis, etc., using the official Twitter API or one of the many unofficial Twitter APIs.
Influencer Marketing On Twitter
One tweet is all it takes to get in front of a large audience. That's why influencer marketing is such a powerful tool on Twitter.
Even though you'd require a good chunk of money to get big influencers on board, many micro-influencers with good engagement rates are willing to work for a much lower fee and can have a good ROI.
Several tools and guides can help you find the right influencers for your business and even develop an effective influencer marketing strategy. Some tools include Followerwonk, BuzzSumo, and Klear.
When influencer marketing is done right, it can help you reach a larger audience, drive traffic to your website, and generate leads.
Bottom-Line?
Twitter can be a great platform for your business if you know how to use it effectively. Experiment with different content types, strategies, and tactics to see what works best for your business. Also, don't forget to track your results so that you can analyse and improve your performance over time.
Do you have any tips on using Twitter for business? Share them in the comments below!
Go On, Tell Us What You Think!
Did we miss something? Come on! Tell us what you think about our article on using Twitter for business in the comments section.
A startup consultant, digital marketer, traveller, and philomath. Aashish has worked with over 20 startups and successfully helped them ideate, raise money, and succeed. When not working, he can be found hiking, camping, and stargazing.