50% of the users visit Feedough on their smartphones, 47.37% on desktop, and the rest 2.63% on tablets.
But our mobile users are still less when compared to the global average. Mobile has replaced desktop to become the primary digital touch point and now represents over 65% of the digital media time.
According to Google, 57% of the users say they won't recommend a business with a poorly designed mobile website and 40% of the users have turned to a competitor website after a bad mobile experience.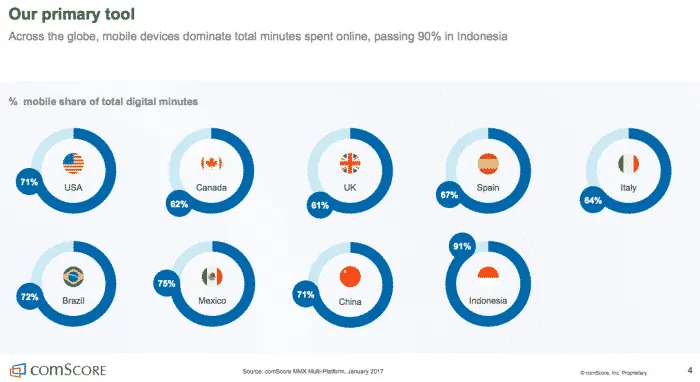 The shift from fixed to mobile has revolutionized the way you browse the internet, listen to music, watch movies, and even shop, and this has led to the creation of a new concept – mobile commerce (m-commerce)
What is Mobile Commerce?
Mobile commerce, also known as m-commerce or mCommerce or wireless eCommerce, is any transaction involving the transfer of ownership or rights to use goods and services, which is initiated/facilitated/completed by the use of mobile/handheld device and wireless technology.
In simple terms, m-commerce involves the delivery of electronic commerce capabilities through smartphones and other mobile devices.
History Of Mobile Commerce
The phrase mobile commerce was first coined in 1997 by Kevin Duffey at the launch of the Global Mobile Commerce Forum. The concept was brought to life in the same year by Coca-Cola which installed two mobile-phone enabled vending machines in Helsinki which accepted payment via SMS text messages.
The idea of the concept was further validated in 1998 when the sale of digital content like ringtones was made possible on mobile devices by Radiolinja.
There was no turning back after 2000. Mobiles facilitated payments and transactions relating to parking, train ticketing, and voting for favourite reality show contestant etc. There was even a shift of wallet from your pocket to your mobile phone in 2004 with the launch of GCash.
And then iPhone happened, which shifted the mobile commerce from SMS messaging to actual applications. Smartphones OS like IOS and Android made the mobile commerce possible as we know it today. We can now buy and rent products, services, stocks, cryptocurrencies and other assets using our mobile phones, carry out all banking transactions using the smartphone, and even use the mobile phone as a prepaid wallet to carry out such transactions.
The Rise Of Mobile Commerce
Trading had witnessed a seismic change with the rise of eCommerce, but the next true frontier is the concept which took the shopping experience in the hands of the customers, literally.
Welcome to the era of mobile commerce.
The rise of the mobile internet has eventually opened more doors for shifting e-commerce to mobile. M-commerce is even rising at a rate higher than eCommerce. While the total online spending rose from $3.34 billion to $5 billion during the Black Friday sale, 2017, purchases made on smartphones increased to 40% from 29%.
Several industry giants and Government bodies have capitalized on the concept and have launched many new services to initiate/complete/facilitate trade on mobile. Amazon has launched its prepaid wallet service – Amazon Pay, National Payments Corporation of India has brought the simpler version of IMPS to mobile in the form of Unified Payments Interface, Google has launched Google Tez to promote transactions through UPI. Many companies like Venmo and Wechat have built their business models around the concept of m-commerce and many ideas are still in process.
With over 80% of internet users now owning a smartphone, mobile commerce is something that can't be ignored.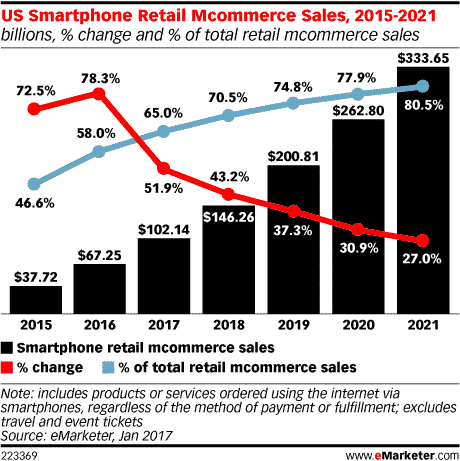 The rise of shopping using mobile phones is not at par with its usage though. During the third quarter of 2017, smartphones accounted for 58 percent of retail website visits worldwide but only generated 38 percent of e-retail shopping revenues. The fashion and luxury retailers witnessed the highest share of mobile transactions followed by mass merchants while the share of mobile transactions in the home category was the least.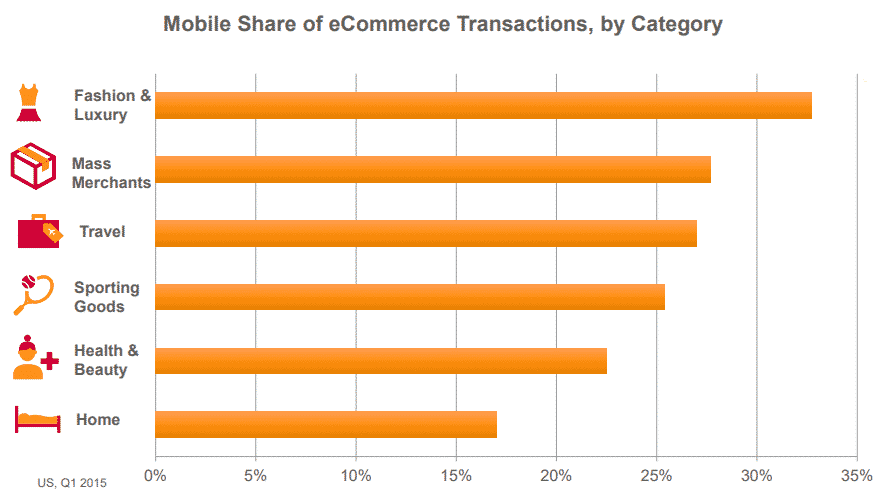 According to Google, the increased role of micro-moments has increased the dependence on mobile phones, and on demand services. People now want everything to be available on a tap of their smartphones. Many unicorns like Uber, Lyft, etc. are designed with the sole idea of disruption in the micro-moments industry.
Go On, Tell Us What You Think!
Did we miss something? Come on! Tell us what you think about our article on mobile commerce (m-commerce) in the comments section.
A startup consultant, digital marketer, traveller, and philomath. Aashish has worked with over 20 startups and successfully helped them ideate, raise money, and succeed. When not working, he can be found hiking, camping, and stargazing.