They say memes are just a waste of time, yet they spend hours looking at memes on Instagram, Facebook, and Reddit.
They say you can't make money with memes, yet Facebook makes billions out of the memes you create.
But, let's be practical. You can't develop a new platform like Facebook just because you want to make money with memes. But there are ten other ways you can monetise memes and make memes drive your career.
Intrigued?
Don't be, as we'll explain every method in detail and even provide examples of people or brands doing the same.
How To Make Money With Memes?
We get it; you already know how and why memes work. We're not here to tell you that. What we'll focus on is the business aspect –
How you can sell memes: The Disaster Girl meme was sold for $500,000; the Overly Attached Girlfriend meme was sold for $411,000, and the Bad Luck Brian meme was sold for $36,000. If you're good at developing original memes. You can sell yours too.
How you can start your own meme business: You can capitalise on several business models, including but not limited to selling meme products, starting a meme marketing agency or a meme platform, or just making memes for brands.
Now, we are not saying that the meme business is super easy; it's not. It requires effort, time, creativity, etc. Before diving into the meme business, you must ask yourself, "Am I committed to making memes?".
Meme As A Product Business Model
Literally speaking, memes sell – not just on Facebook, but on Amazon too.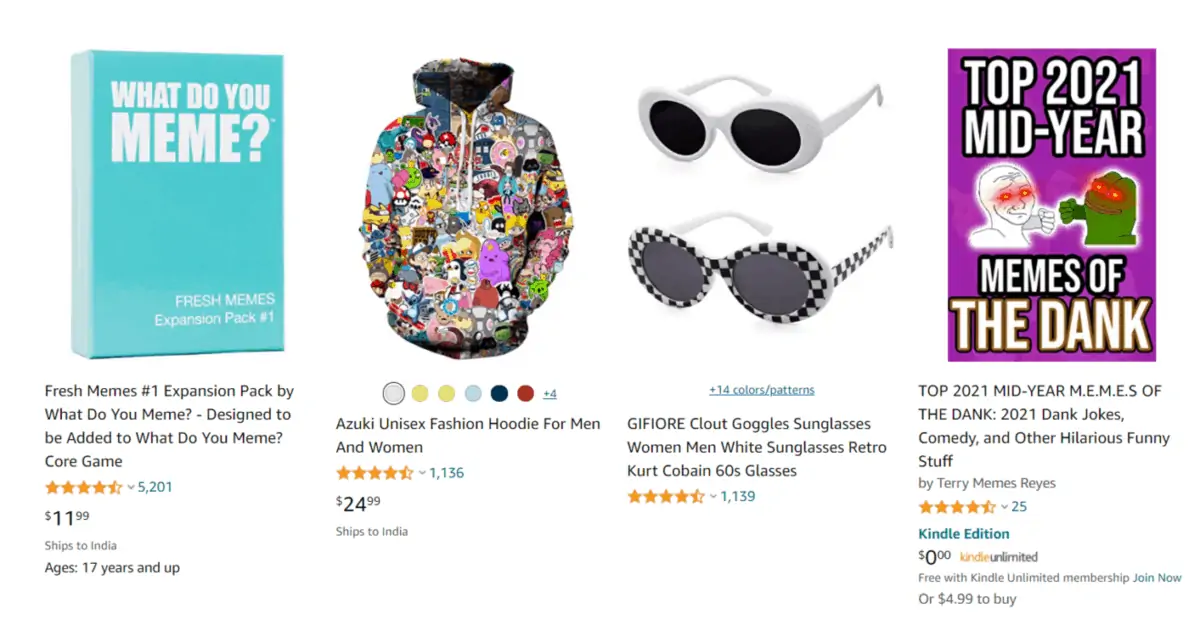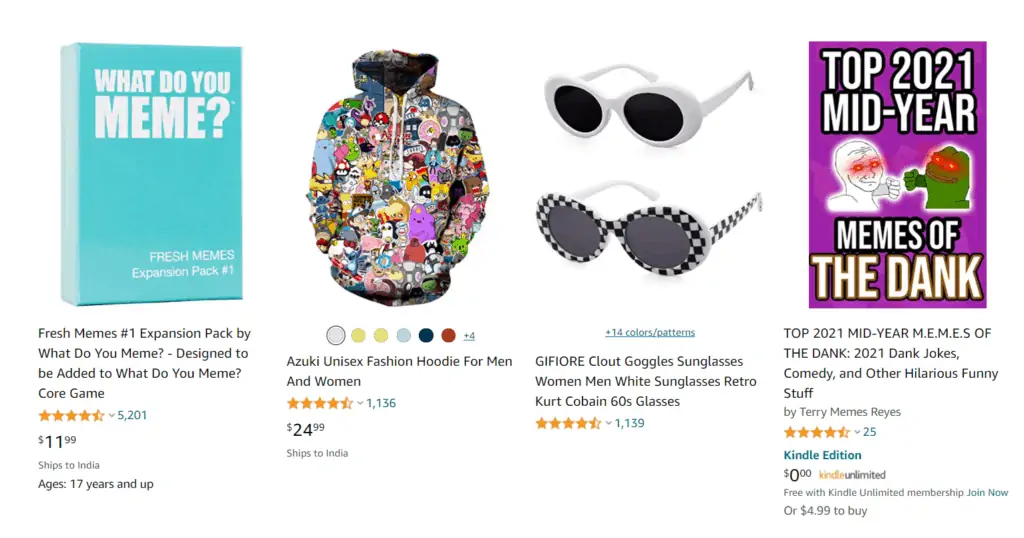 Customers buy meme t-shirts, mugs, phone cases, and even pay for books, courses, trends, and whatnot. These customers include consumers and businesses alike (businesses love to be a part of the trend as well).
Technically, you can categorise meme products into two types – physical products and digital products.
Physical Meme Products
You can actually start an ecommerce brand or a full-fledged ecommerce store to sell meme merchandise like t-shirts, mugs, phone cases, etc. You can either sell these items directly on your site or through third-party marketplaces like Amazon, eBay, Etsy, etc.
But take a note –
You can't sell copyrighted material. While memes come under fair use of the copyright law (they can't sue you for posting memes on Facebook), the copyright owner can sue for making money out of meme merch. But there's a workaround (not legal advice though):
You can sell merchandise that creates a parody of original memes,
Find memes that are not copyrighted,
Find meme imagery that can't be copyrighted,
Develop memes with your original imagery.
In simple terms, instead of using the original meme like this –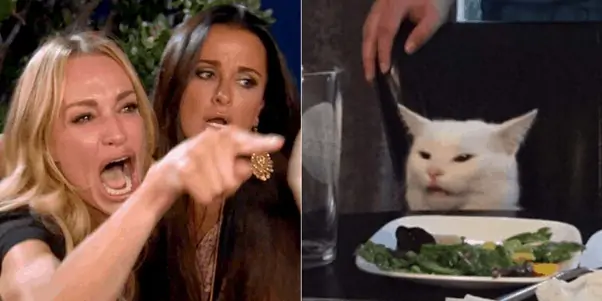 You sell your merchandise with something like this –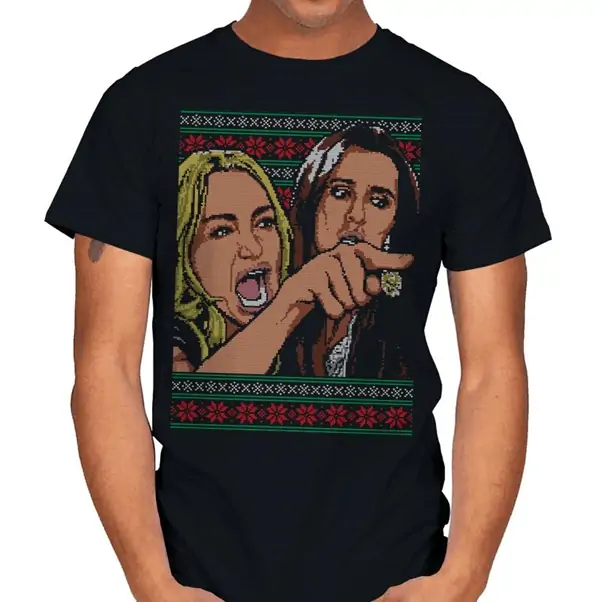 Some of the examples of ecommerce brands that sell meme merchandise are Spreadshirt, Joom, etc.
Digital Meme Products
Meme monetisation isn't limited to physical products. You can also create digital products like ebooks and courses. These products are super popular among online users and can fetch you good money.
Courses: Virality and meme marketing is a topic of interest people do pay to get insights of. You can start a course on websites like Udemy, Skillshare, etc., or start your own course web store to sell your course.
Ebooks: If you promise insights on the meme industry and offer the information, trends, insights, or guidance in the form of a book. There's a market that's ready to pay for it.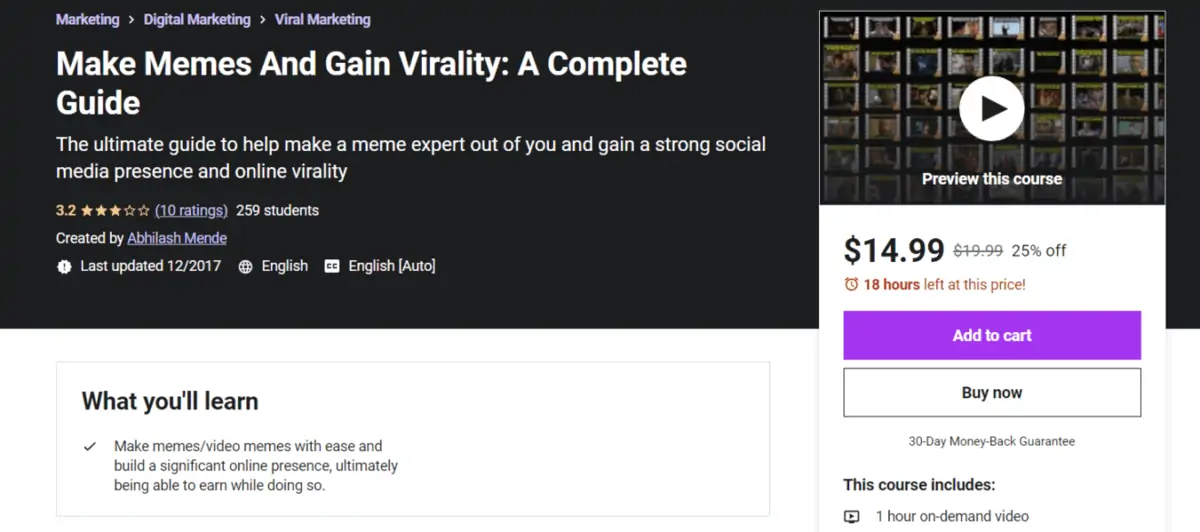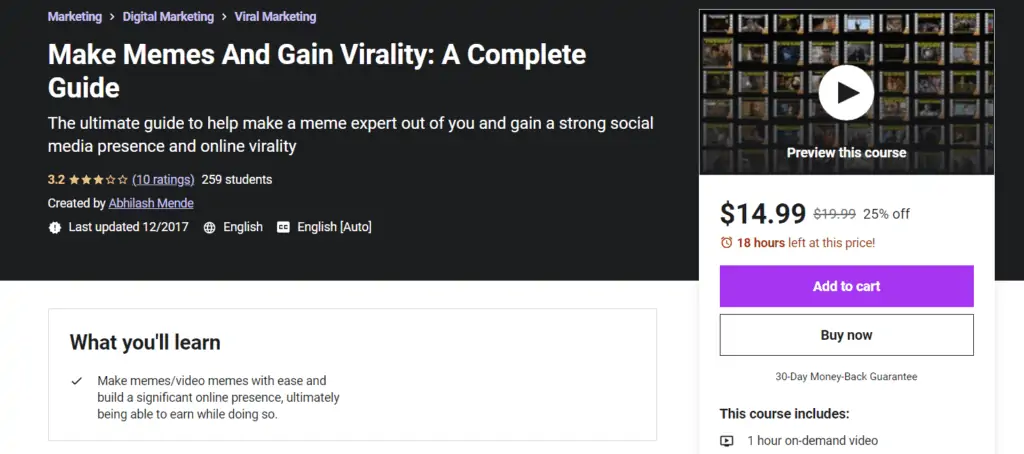 Meme As A Service Business Model
If you're good at developing memes but not someone who'd like to start their own meme product business, you can sell your memes as a service. This means you create the memes for clients and charge them for the service. That is, you can either start a meme marketing agency or become a freelancer who develops memes for clients.
Meme Marketing Agency: There are agencies that help businesses woo their customers by posting relatable memes on their social media profiles. Some even connect these brands with the masses (micro and nano influencers) who post memes promoting the brand.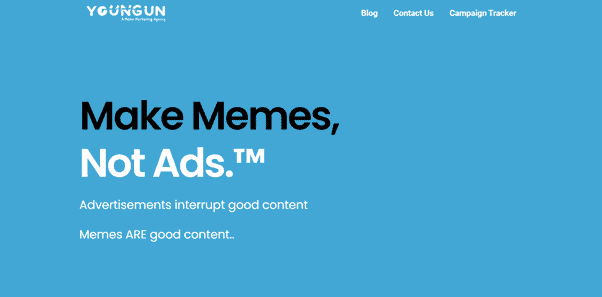 Meme Freelance Gigs: Businesses, event organisers, and even individuals do pay for memes. You can find thousands of meme-related gigs on Fiverr and other freelancing websites. You can post your gig, but you'd need to have a good portfolio and good ratings to get more and better clients.
Another meme business that you can start is meme design monetisation. That is, you provide designs to the merchandise brands and get a cut when your designed product sells. Several print-on-demand websites like Redbubble, Zazzle, Spring, Spreadshirt, etc. exist that do accept new designers and are more than willing to help you develop your own store and sell on social media and other platforms.
Meme Account Monetisation
If you have a social media profile with good followership, you're already an influencer who capitalises on your followership in several ways. Usually, you monetise by selling something to your followers or by promoting other accounts, products, and brands on your channel. For sales, you can direct them to different websites using social media features like product tagging, link in bio, etc., or you can directly put the link in your captions or stories. For partnerships and sponsor posts, you can either reach out to potential clients directly or can make them come to you by including a trigger in your bio or description.
Affiliates: Affiliate marketing is when you sell other brands' products to your customers and take commissions for every successful sale. That is, you find a good product, say on Amazon, develop a good-looking creative image, meme, or video and post it along with your affiliate link. Now, you'll get a commission from Amazon whenever someone buys the product through your link.
Product Sales: You can even start your own brand to capitalise on the huge followership of your meme account. It could be meme-related merchandise or any other brand that you think your audience would love to try and buy. But make sure that your account attracted the audience using memes. So try not to deviate much.
Courses: People love to know the secret behind virality and how viral marketing works. If you think you have enough knowledge and good experience to share, people might be willing to pay to learn from you. Just make sure to release your MVP first before investing much in building a course.
Sponsored Posts: Your reach matters to many people and brands who would be willing to pay to borrow your followers' attention. All you need to do is to make the world know that you're willing to partner, and if you got good reach, you'd get offers. You can also join several influencer marketing agencies like Intellifluence, Join.marketing, etc., to benefit from their agency-level partners.
Meme Content Monetisation
While meme account monetisation requires you to have thousands of followers, you don't require the same to monetise your meme content. All you need is good-quality content and sound knowledge of search engine optimisation and social media optimisation.
YouTube: Meme compilation videos, spoofs, pranks, and meme replies work really on YouTube. Moreover, people do search for meme videos using meme names like "cat meme", "fart meme", "yearbook meme" etc. Develop a good video and get enough subscribers to get benefit from the YouTube monetisation program and earn money as a YouTuber. YouTubers usually make $3 to $10 per 1000 video views.

IGTV: Just like YouTube, you can also make money using meme content if you post long-form videos on Instagram. Though a new feature, Instagram divides the money with IGTV creators.
Facebook: Facebook Watch also pays its creators a share of the revenue generated from advertisements. To be eligible, you need to post original videos (that can be meme-related) that are longer than one minute, have more than 10,000 followers, and at least 60,000 minutes of the 600,000 total minutes of your videos viewed in the last 60 days.
Join Platforms That Pay For Memes
There do exist platforms that pay you for just creating memes for them. Some famous names include MemeChat and PicturePunches. However, while you can rely on such platforms for some extra pocket money, you can't make a lot using such platforms for now.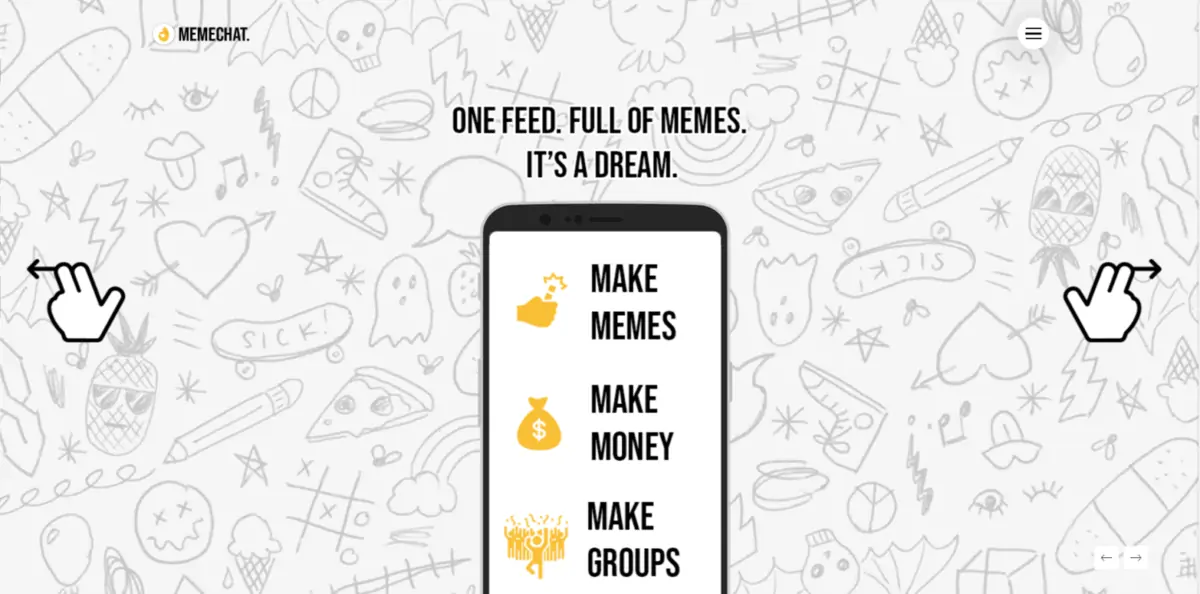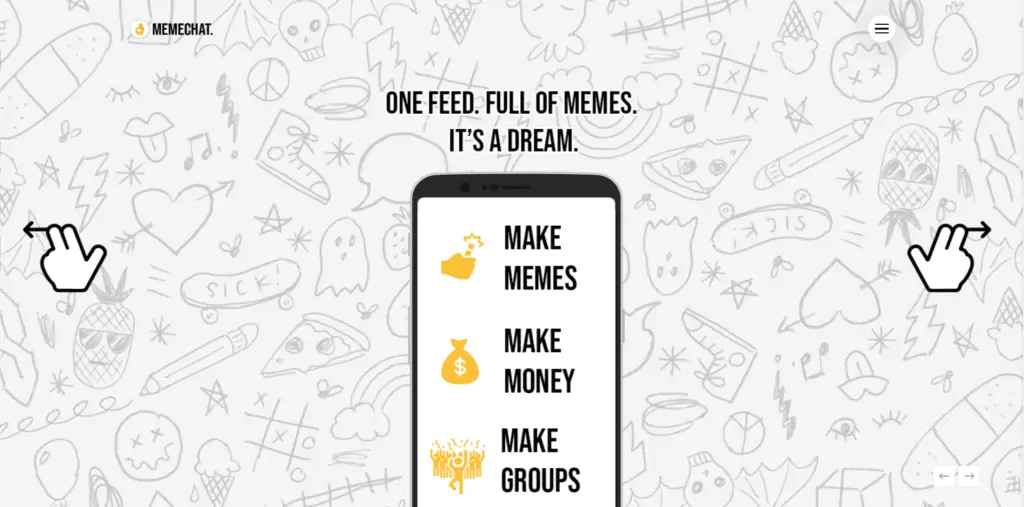 Sell Your Original Memes As NFTs
NFTs or Non-Fungible tokens are original works that can't be replaced. Usually, these are popular imagery, videos, audio, or anything digital that has value.
NFTs operate on blockchain, and memes are now a part of them. In fact, Doge was once a meme. The NFT was sold for $4 million in June 2021.
So, if you're an original meme content maker, you can sell your memes as NFT if they get famous or start a trend.
How do you sell a meme-art as NFT, you ask?
Well, you'd need a crypto digital wallet, some money in the form of Ethereum, and an account with an NFT platform like Rarible, OpenSea, Mintable, etc. Once done, you need to pay the NFT platform to mint or generate your NFT. You pay the same using Ethereum.
Once done, your meme-art is listed on the NFT marketplace and interested buyers may contact you with their price.
Heads up: Make sure of your meme art's demand before you convert it into NFT, as you wouldn't want to pay the minting fees for nothing.
Bottom-Line?
Memes are the lowest hanging fruit in marketing. People love them and they are cheap to create. All you need is a computer, Microsoft Word (or Adobe Acrobat) and you can be making money with these little jokes in less than 15 minutes.
Besides, once you learn the ropes of creating a meme, you can create other original works that have more commercial value. So, go ahead. Make those memes. Make a lot of them. Get creative and sell them. You will be surprised at how well this works!
Go On, Tell Us What You Think!
Did we miss something? Come on! Tell us what you think of this article on how to make money with memes in the comments section.
A startup consultant, digital marketer, traveller, and philomath. Aashish has worked with over 20 startups and successfully helped them ideate, raise money, and succeed. When not working, he can be found hiking, camping, and stargazing.