Ecommerce isn't the same we knew a decade ago. The rise of social media platforms like Facebook, WhatsApp, and Instagram has meant that there's a new way to sell online – through social media platforms. And this is where Meesho comes in.
Meesho is a social commerce platform that started with the aim of making it easy for women in smaller towns and cities to sell online. But its business model has taken a few twists and turns over the years. Today, Meesho is one of India's leading social commerce platforms, with over 18 million registered users.
So how does Meesho operate and make money?
Let's find out.
What Is Meesho?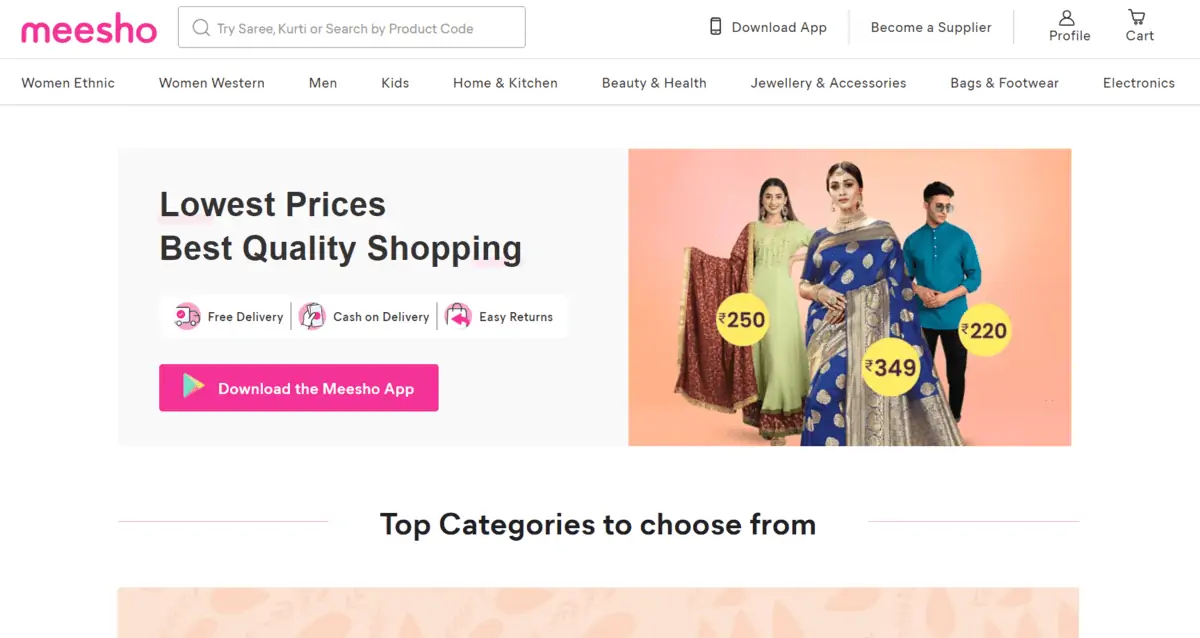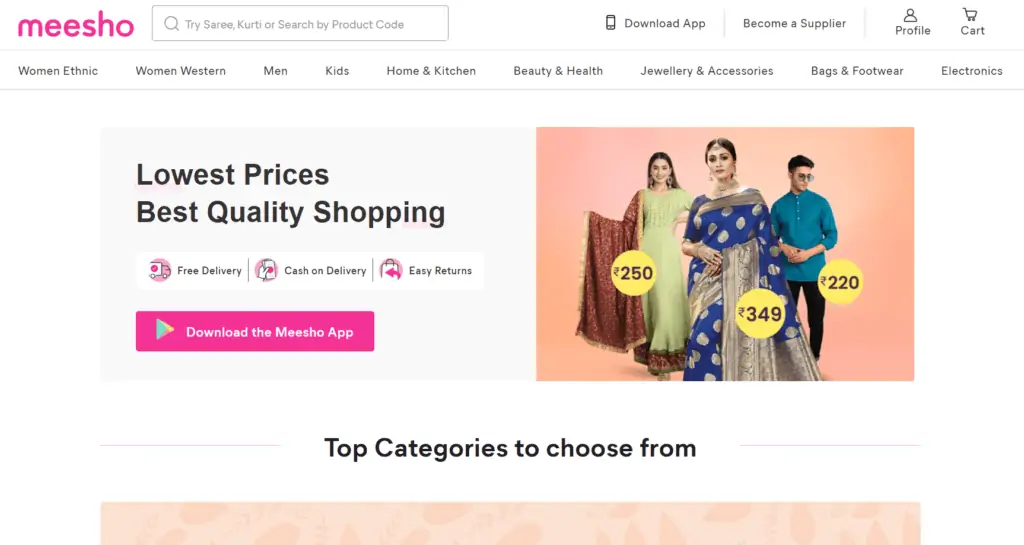 Meesho is a social commerce platform that enables users to sell products online through social media platforms like Facebook, WhatsApp, and Instagram.
Currently valued at $4.9 billion, the platform was founded in 2015 by IIT Delhi alumni Vidit Aatrey and Sanjeev Barnwal to make it easy for anyone (especially women) in smaller towns and cities to develop and launch their own ecommerce businesses.
But unlike other ecommerce platforms, Meesho is a social commerce enterprise. That is, it doesn't sell products directly to customers. Rather, it provides a platform for resellers to connect with manufacturers and suppliers, and sell products through their own social media channels.
This is the unique selling proposition of Meesho – its users can 'resell' products listed by suppliers to earn a margin rate. This is basically a dropshipping model of business made simple.
All you need is a smartphone to sign up for a Meesho account. Once created, you can browse through different products listed by suppliers. You can share these products as white-label on social media platforms like WhatsApp, Facebook, and Instagram, at your own price (cost price + your profit).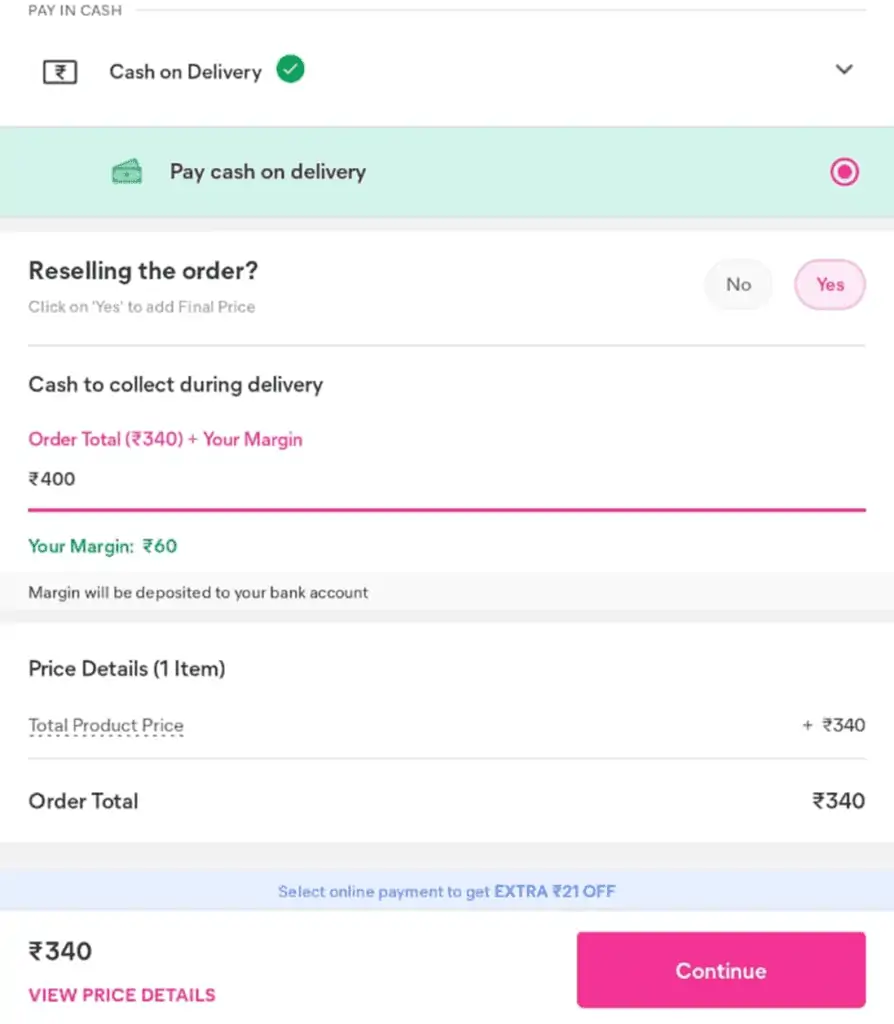 The Idea Behind Meesho Business Model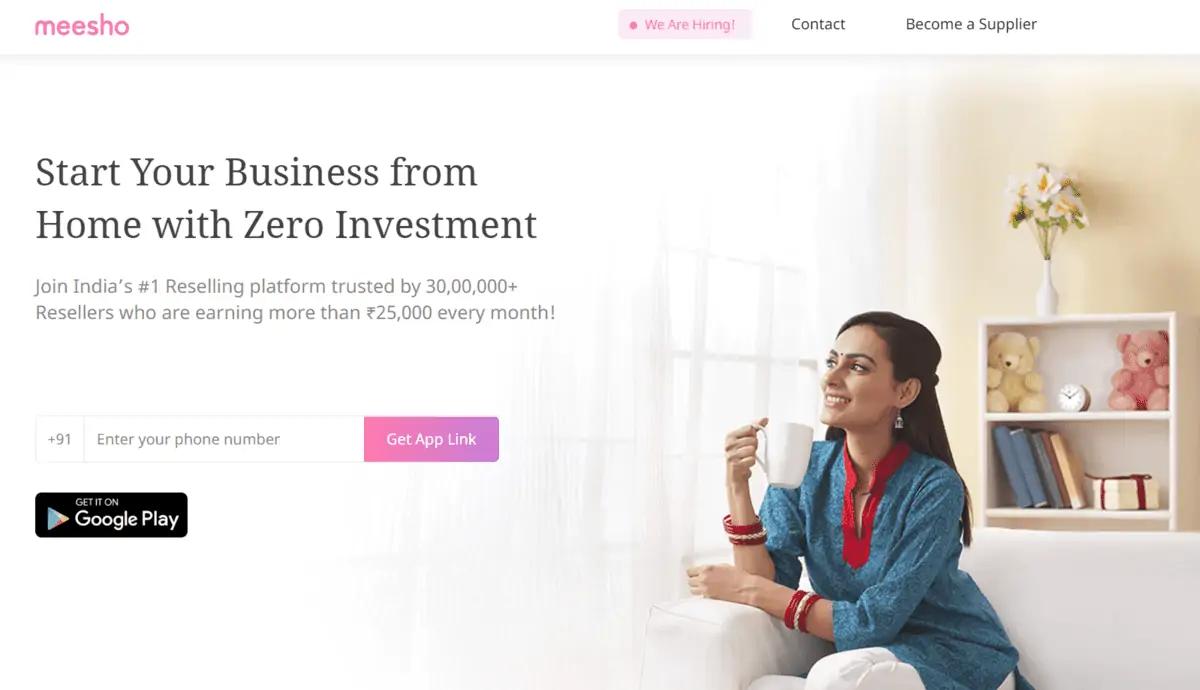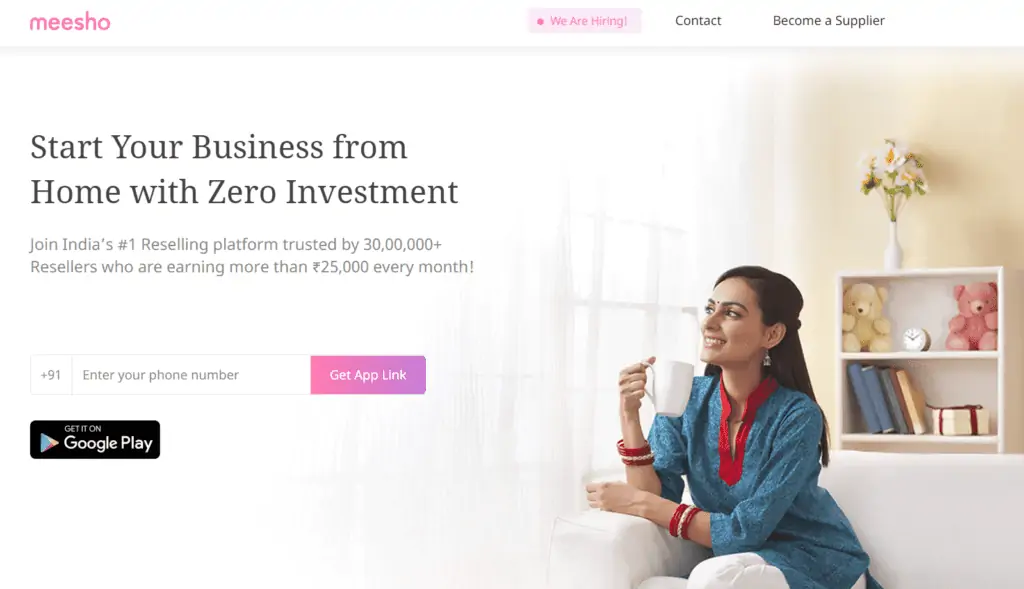 Even when online shopping became more prevalent in India from sites like Flipkart and Amazon, many people, especially the older generation and people from non-metro cities, didn't trust these sites.
For them, convenience stores, small vendors, and other local enterprises were more valuable and trustworthy for their retail requirements.
Moreover, several visionary entrepreneurs in India lack resources and a platform to sell their products. These people include housewives, students, and stay-at-home moms who want to start their own businesses but can't do so because of the lack of an online presence.
Seeing this, entrepreneurs Sanjeev Barnwal and Vidit Aatrey began brainstorming ideas for their firm, "FashNear," in 2015. Initially, they concentrated on developing a hyperlocal business model for fashion and retail, linking local sellers to internet consumers; they dubbed it "Swiggy for Fashion." But there were various obstacles associated with the idea's execution and the model's logistics.
After market research and knowledge of consumer behaviour, FashNear was dubbed "Meri E-Shop" (My E-Shop), aka Meesho. It became one of the first platforms in India to allow local merchants to cater to an online user base and advertise their shops through social networks.
Meesho's business idea quickly gained traction among local retailers and secured backing from various investors. It was one of three Indian firms chosen in 2016 by Y-Combinator, a prominent startup accelerator in California, for a three-month $120,000 programme.
Who Are Meesho's Customers?

Meesho operates on a two-sided marketplace model and has two main customer segments:
Consumers: Meesho mainly targets first-time internet users in small towns and rural areas who want good quality and reliable products at reasonable prices. They are generally more price conscious and do not trust online shopping much due to fear of scams. According to the company, more than 70% of its customers are from tier 2 and tier 3 cities like Jhansi, Mathura, Dehradun, etc.
Resellers: Resellers are customers who act as middlemen between Meesho and the end consumers. They use Meesho's platform to source products and sell them further to their social network at a marked-up price. As of 2022, Meesho has more than 15 million resellers on its platform from all over India. These are mostly housewives, students, and young professionals who use social media platforms like WhatsApp, Facebook, and Instagram to reach out to their personal networks to sell products.
Meesho's Value Proposition
Meesho's strength lies in its social-ecommerce business model. It provides value to its customers in the following ways:
For Resellers


Meesho provides resellers with a platform to start and grow their own business with zero investment. It sources products from suppliers at wholesale prices and offers the same to resellers to sell to their target audience.
Sellers create their branded stores on the Meesho platform and start sharing products with their contacts on WhatsApp, Facebook, and Instagram.
Not just this, Meesho also takes care of
Packaging
Logistics
After-sales activities like customer queries, product returns, and refunds on behalf of the resellers.
This way, resellers can focus on building their business while Meesho takes care of the nitty-gritties.
For Consumers
The biggest problem with online shopping in India is the lack of trust. In the population of 1.38 billion, very few people shop online (150 million) and even fewer make repeat purchases.
The reason for this is the fear of being scammed or duped, especially when it comes to buying products from a new seller or website.
Meesho solves this problem by making a person's acquaintance (reseller) their contact point in buying products online.
Besides this, the products available on Meesho meet the customer's exact needs as they are mostly customised according to their budget, preferences and location.
How Does Meesho Operate?
Meesho's philosophy is to make 'Shopping Social', i.e. people should be able to shop with their friends and family without fear of getting scammed.
The way it works is that a customer contacts a reseller on Meesho, who in turn sources the product from Meesho's platform and sells it to the customer at a slightly marked-up price.
This combines the traditional ecommerce business model with the social selling and dropshipping business model, which is what makes Meesho so unique and successful.
These are the base operations of Meesho. Let's look into some other aspects.
Meesho's Key Partners
From wholesalers to financial institutions, Meesho has partnered with many big and small players in the industry.
The platform depends on five key partners:
Suppliers: Meesho has partnered with suppliers from all over India to offer a wide range of products. These suppliers include wholesalers, manufacturers, and importers who list their products on the Meesho platform. These suppliers get value from the platform in terms of 0% commission, 0 penalties for late dispatch, wider reach, and guaranteed payments.
Shipping Partners: To offer quick and reliable shipping, Meesho has partnered with leading logistics companies like Delhivery, Ecom Express, and Blue Dart.
Payment Partners: In order to offer a smooth and convenient payment experience, Meesho has partnered with leading payment companies like Paytm, Cashfree, and Razorpay.
Marketing Partners: Meesho has special contracts with various marketing companies like DVio Digital to handle its marketing needs. The company also runs an affiliate marketing campaign to reward influencers and opinion leaders for referring new customers. These affiliates form important partners in the Meesho business model.
Financial Partners: The company is backed by some of the best Venture companies and angels, including YC, Facebook, Naspers, Sequoia Capital, Shunwei Capital, and SAIF Partners.
Meesho's Key Activities
Even though it started specifically to aid resellers in selling products online, Meesho has now emerged as a high authority ecommerce platform in India. The company delivers its value proposition by performing the following key activities:
Providing a functioning marketplace: The platform enables buyers and sellers to connect with each other and transact business.
Product quality assessment: To ensure that only quality products are delivered to customers, Meesho has a team in place that assesses products before they are shipped.
Enabling resellers to sell products online: It also provides a white-label reselling platform that allows users to source products from Meesho's catalogue and sell them on social media platforms like Facebook, WhatsApp, Instagram etc.
Generating awareness and traffic: A two-sided marketplace only works if there is enough traffic on both sides of the platform. To increase awareness about the platform and get more resellers on board, Meesho runs extensive marketing campaigns. These campaigns use various digital channels like Google, Facebook etc. to reach out to users.
Order handling: Once a customer places an order, the seller has to procure and ship the product. This requires Meesho to have a team of logistics experts who handle the end-to-end process of shipping products from sellers to customers.
Customer support: In case of any issues with respect to orders, payments, refunds etc., Meesho has a team of customer support executives who help resolve these issues.
Payment handling: Meesho acts as a middleman between the customer and the seller. This means it is responsible for collecting customer payments and transferring them to sellers.
Meesho's Key Channels
Even though the platform targets people unfamiliar with internet commerce, it still requires an online presence to function. There are three primary ways Meesho reaches out to its potential customers:
Operating Channels: Meesho operates primarily on its website and mobile application, which is available for Android and iOS devices. These channel form the primary touchpoints for the company and its customers, where they can browse and order products.
Marketing channels: The platform uses all three – organic, paid, and earned media – to reach out to its target audience. It runs ads on online channels Google, Facebook, etc. and also uses traditional marketing channels like print advertisements and television advertisements. It also has a YouTube channel where it posts videos related to reselling and other guides. The company also has a blog that it uses to post articles related to ecommerce and reselling.
Meesho's Key Resources
From employees to warehouses, the company has to invest a lot of resources to ensure that it can provide a good customer experience. Some of the key resources for the company are:
Human resources: The company has a team of over 6,000 people that it uses for various purposes like customer support, technology, marketing, etc.
Financial resources: Meesho has raised over $1.1 billion in funding from investors like Sequoia India, Shunwei Capital, RPS Ventures, Meta, etc.
Technology resources: The company has built a technology platform that helps it with various operations like logistics, payments, etc.
Logistic resources: The company has to ensure that the products that are sold on its platform are delivered to the customers on time. For this, it has tie-ups with various logistics providers.
Meesho Revenue Model
While providing a one-stop solution for all the needs of sellers, customers, and resellers, Meesho has also devised a unique way to monetise its platform.
Unlike any other marketplace, Meesho charges:
0 commission on product margins
0 penalty charge for order cancellation, late dispatch, or for any other mishaps
0 listing fees
What does this mean?
It means that whatever the price difference is between what a product is bought at and what it is sold at, 100% of that goes to the seller's pocket.
But if Meesho doesn't charge anything from the sellers, how does it make money?
Meesho Revenue Streams
Meesho has devised a unique way to monetise its platform using the following chargeable services:
Shipping Fee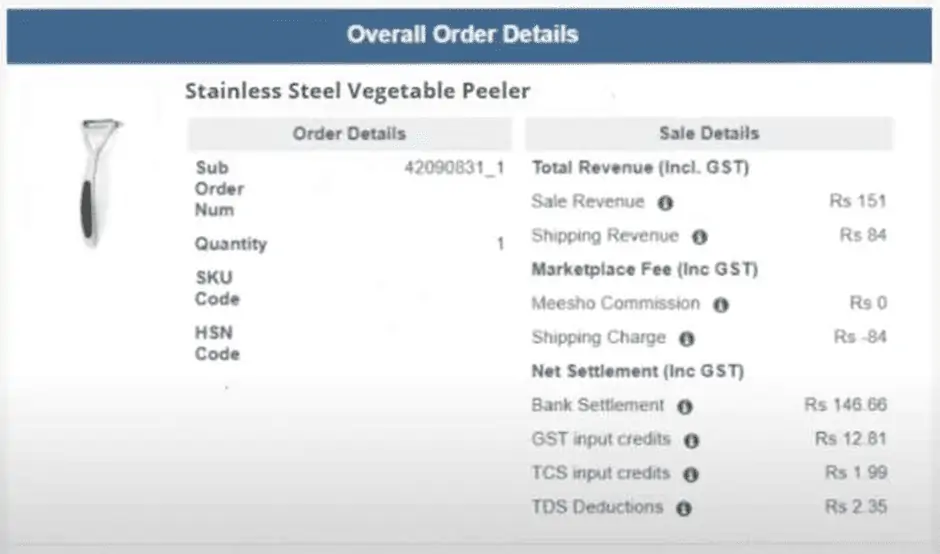 Meesho charges shipping fees from the resellers or the customer. This shipping fee varies a lot depending on:
Package weight
Delivery area
The company has segregated delivery into three segments – local, regional, and national and charges different shipping fees for each.
A part of the shipping cost is paid to the shipping partner, and the remaining is the company's profit.
However, the company adds the shipping cost in the final price shown to the customer and portrays the product offer to come with free shipping to make it more likeable.
Advertisements & Promotion
The company offers to run CPC ad campaigns for interested sellers who want to promote their products. The promoted ads are given preference in search results, get more visibility on the homepage, and eventually, lead to more sales.
The advertisement costs are charged every week from the seller payouts.
Penalties
The company charges the seller shipping fee for products that customers return. The company also penalises sellers who opt for "Next Day Delivery" but fail to deliver on time, with 2.5% of the order value per day.
Besides this, there are several other seller penalties that the company charges if the seller breaches the terms of its supplier agreement.

Meesho Cost Structure
Running a marketplace is not an easy feat and it comes with a lot of costs. Here's a quick run-down of the Meesho cost structure:
Technology Costs
Meesho has built a strong technology team that is constantly working on improving the platform. The technology costs include the server costs, CDN costs and other related infrastructure costs.
Marketing Costs
Meesho spends a lot of money on marketing and customer acquisition. The company has run several TV commercials and other offline campaigns. It also spends a significant amount on online ads.
Operational Costs
The business's day-to-day operations include costs such as rent, order fulfilment, customer support, etc.
Payment Processing Costs
Since Meesho uses third-party payment gateways (like Paytm, PhonePe, etc.), a small percentage of each transaction is charged as the payment processing fee.
Logistics Costs
Meesho has to incur the logistics cost for each order that is placed on its platform. This cost is generally borne by the customers, but a small portion is also borne by Meesho.
General & Administration Costs
It includes the employees' salary, legal and professional fees, etc., along with the general overhead costs.
Future Of Meesho
While keeping the reselling model as its core, Meesho is now trying its hands on full-fledged e-commerce wars with the existing marketplaces.
As of 2022, Meesho's 75% of orders come directly from the consumers and the rest 25% from resellers.
It would be fascinating to observe how Meesho attempts to enhance its connection with resellers, which forms the foundation of its whole social commerce strategy. Nevertheless, with sound unit economics, Meesho seems to have a promising future ahead.
Go On, Tell Us What You Think!
Did we miss something? Come on! Tell us what you think about our article on Meesho business model in the comments section.
A startup consultant, digital marketer, traveller, and philomath. Aashish has worked with over 20 startups and successfully helped them ideate, raise money, and succeed. When not working, he can be found hiking, camping, and stargazing.